Can Betsy DeVos Transform From Lobbyist to Policymaker?
Trump's pick for education secretary will need to prove that she can apply her ideologies in a practical way.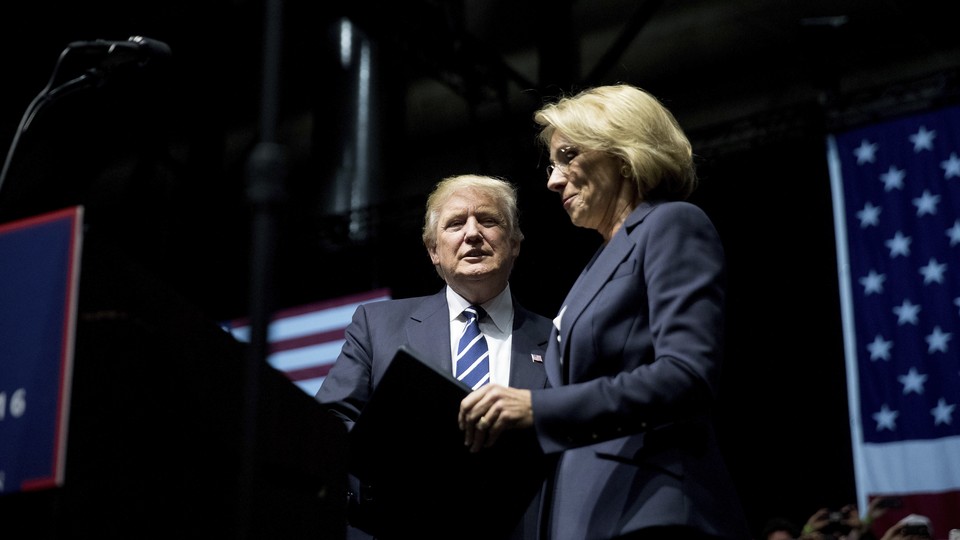 The hearings on the nomination of Betsy DeVos as the next U.S. secretary of education are shaping up to be an angry grudge match between the proponents of school choice, for which the Michigan billionaire and President-elect Donald Trump have been fierce advocates, and the defenders of traditional public-school organization and funding, including teachers' unions.
But looking beyond that could reveal whether DeVos has the ability to shift from her historical role as a relentless advocate for policies and candidates consistent with her philosophical views to a new emphasis on effectively executing the best policies for students. To date, DeVos's activities have primarily been as a lobbyist through the organization she founded, the nonprofit American Federation for Children. The organization is committed to "creating an education revolution" by promoting vouchers, charter schools, and other "pro-choice" initiatives at the state level.
Success as education secretary depends not only on the ability to manage the sprawling education bureaucracy but also on one's flexibility in responding to the practical constraints he or she will inevitably confront when attempting to apply broad theories. If DeVos's overall educational political theory is not a legitimate source of opposition, an unwillingness to modify tactics in the face of new facts is. In the educational domain, intense emotions have led well-intentioned partisans on all sides to doggedly pursue ideologically driven strategies with disastrous results. This phenomenon has played out repeatedly in not just the public sector, but in the for-profit and nonprofit sectors as well. Significant evidence suggests that DeVos shares this tendency. Indeed, in all three domains—public, for-profit, and nonprofit—critics argue that DeVos has demonstrated a propensity for allowing ideology to trump effectiveness.
The impact of the education policies DeVos championed across the nation is controversial. In Michigan, where DeVos has been particularly influential, there is little evidence of improved outcomes but strong documentation of abuses by for-profit charters and lax oversight. DeVos herself, however, seems not primarily preoccupied with understanding what teaching methods or school organizational structures are most effective. Rather, she articulates her objective in terms of simply increasing the absolute number of available choices to all families. To her mind, these should include private schools, charter schools, online schools, virtual schools, blended learning, and, as she said in 2015, "any combination thereof, and frankly, any combination or any kind of choice that hasn't yet been thought of."
In private for-profit educational markets, a veritable who's who of investors and entrepreneurs have seen opportunity in applying market disciplines and new technologies to a sector that often seemed to shun both on principle. As attractive and intuitive as these ideas might be, with surprising regularity, those who pursued them have failed to achieve their financial objectives precisely because they let their political enthusiasms color their business judgements. DeVos has invested in a number of these misguided efforts.
Over a decade ago, DeVos invested in the online charter-school operator K12, which targeted the growing homeschool market. But K12's overly expansive business model made it both significantly less profitable and more prone to regulatory and operating deficiencies than smaller, less ideologically driven competitors. K12 still trades below its IPO price from 2007.
K12 was one of dozens of companies originally backed by Michael Milken's ambitiously named Knowledge Universe, as part of an expansive effort to revolutionize education. When they launched it in 1996, Milken, the junk-bond king, and his partners said they hoped to become "the pre-eminent for-profit education and training company," serving the world's needs from "cradle to cane." In the end, many of these companies, including K12, failed to live up to their hype and were undone by less philosophically inspired and more practically grounded players. For instance, Milken poured over $1 billion into an effort to consolidate a slew of far-flung U.S. childcare businesses without improving their performance or generating a financial return. During the same period, Bright Horizons became a focused and successful leader in employer-sponsored early learning centers. Recently unearthed documents suggest that DeVos and her husband were financial backers not just of K12, but the broader, since-abandoned Knowledge Universe enterprise.
Even when profit isn't the goal, making a noticeable difference in education has proven challenging for some of the U.S.'s most-heralded business minds. Facebook CEO Mark Zuckerberg's $100 million gift to Newark, New Jersey, public schools to revolutionize urban public education evaporated with barely a trace. The Gates Foundation last year issued a public mea culpa over the meager results from its 20-year multi-billion dollar Common Core reform efforts. The DeVos family's foundation has been extremely generous to a wide variety of causes, not just educational ones. But even in the nonprofit context, there appears a tendency by DeVos to allow ideological fervor to drive decision-making even in the face of contrary facts. For instance, the foundation has given millions to an organization that supports "conversion therapy" to change an individual's sexual orientation. Major medical organizations reject conversion therapy based in part on the lack of any empirical evidence of its effectiveness.
The most successful educational advocates, operators, and investors have found a way to retain their passion for education but lose the psychological commitment to particular solutions. Indeed, the tendency to speak in terms of "revolution"—whether Knowledge Universe in the for-profit realm or the American Federation for Children in the nonprofit—has repeatedly led less  successful outcomes than more incremental approaches. Given the stakes involved and the high risk that even the most talented and best intentioned will fall short, the Senate would do well to explore these inclinations in the activities of DeVos across the public and private sectors.