The African American Roots of Betsy DeVos's Education Platform
Expanded school choice is a continuation of forced self-determination.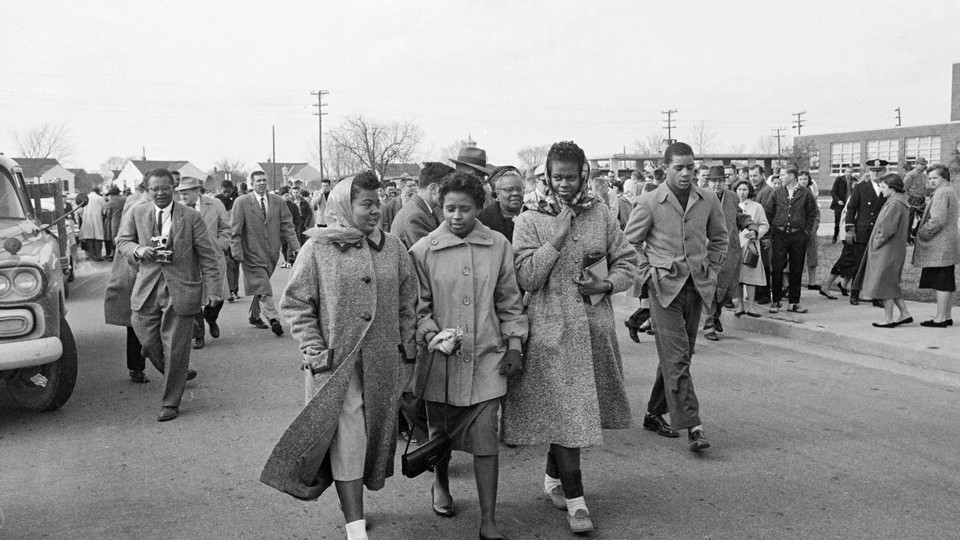 In recent weeks, pundits and scholars have bemoaned the privatization of public education that is likely to occur if Betsy DeVos is confirmed as Donald Trump's Secretary of Education. Democracy Now!, for instance, billed DeVos as "Public (School) Enemy No. 1." Randi Weingarten, president of the American Federation of Teachers, in a statement described her as "the most ideological, anti-public education nominee put forward since President Carter created a Cabinet-level Department of Education." At her confirmation hearing Tuesday evening, Democratic senators grilled her about her track record promoting private control of public education and demanded, to little avail, that she would commit to keeping public-school dollars in public schools.
To numerous critics, DeVos's appointment threatens the integrity of public education that still remains.
DeVos is deeply committed to providing alternatives to public education through school choice, a theory of education reform that rests upon a belief that public education will improve if parents are provided a choice in schools. To implement this in Michigan, DeVos advocated for school vouchers, which families can use to attend private schools. She also supports charter schools—publicly funded yet privately governed institutions. According to the education-policy analyst and historian Diane Ravitch, vouchers and charter schools, particularly under Trump,  are part of the privatization movement that seeks to dismantle public education by turning it over to for-profit corporations.
Privatization skeptics and advocates alike overlook the historical nuances of the prospective administration's support of vouchers, charter schools, and other school-choice reforms that remove schools from public oversight. An analysis of American history indicates that the use of private means was a critical aspect to ensure quality education for African Americans legally excluded from access to public institutions. The volatile role that privatization played in race relations is noteworthy because it underpinned the establishment of schools for students of color while it also informed the creation of alternatives to desegregation and the Republican narrative on the failure of public schools.
American history clearly demonstrates that communities of color have been forced to rely upon themselves to provide an education to as many students as possible. Students of color have rarely been provided a quality public education. As James Anderson demonstrated in Education of Blacks in the South, 1860-1935, black communities consistently had to provide their own schools by taxing themselves beyond what the law required, as white officials never appropriated public money equitably by race. Black civic leaders and educators had to forge alliances with philanthropists and "progressive" whites for further financial support.
Barred from the American social order, black educators, in effect, were forced to rely upon private means to meet the educational needs of their own children. African Americans established schools controlled by the community. Such "community-controlled schools" were by necessity administered by African Americans, taught by African Americans, and attended by African Americans. These schools matched the aspirations of a population that viewed education as an entreé into the upper echelons of professional society as well the means to inculcate vocational skills that led to employment in a changing economy.
Black civic leaders established secondary schools that educated the masses and prepared students of color to live in and challenge an inherently unequal society. Schools like A.H. Parker High School in Birmingham, Alabama; the Avery Normal Institute in Charleston, South Carolina; Lanier High School in Jackson, Mississippi; and McKinley High School in Baton Rouge, Louisiana, were among the premier institutions that prepared thousands of students within and by the black community. Fisk University, Morehouse College, Spelman College, Howard University, and scores of other historically black colleges and universities became politically contested sites as they navigated difficult terrain with local and state school officials and white philanthropists to keep their schools open.
Such schools were sometimes known as "Freedom Schools," devoted in part to challenging institutional racism and preparing students to enter a violently hostile and segregated society. As the education scholar Vanessa Siddle Walker noted in her book Their Highest Potential, these schools hired well-educated and polished professionals who lived in the community they taught, cared for students as their own kin, and fashioned a curriculum grounded in the interests of the families they served. Excluded from white teacher associations, black educators formed their own professional associations, earned advanced degrees, and formed national networks.
Private means to create a public good were an integral part of black education. Yet, as the historians Joseph Crespino, Lisa McGirr, Kevin Kruse, and Charles Bolton documented, white families used privatization for different purposes after the historic Brown v. Board of Education decision of 1954. Faced with the prospect of attending school with black children, white families and supportive lawmakers began to adopt "freedom of choice" plans. Black and Latino families had the choice to enroll in public schools across the South by the 1960s, but the onus fell squarely upon families of color to enroll in white schools. The rates of desegregation were consequently negligible without federal protection or guidelines.
At the same time, private schools and "segregation academies" emerged as an alternative presented to those who wanted to avoid desegregated schools while public schools precipitously dropped in public opinion. When lawmakers began to implement busing policies in the late 1960s to hasten desegregation, Richard Nixon ran on an "anti-busing" campaign as part of his larger southern strategy. Ronald Reagan, meanwhile, advocated abolishing the Department of Education, which his administration declaring that public schools put our "nation at risk." In this way, "the Great Communicator" cultivated a narrative of failure for public schools, which expedited national divestment in public education and hastened white flight.
Privatization and school choice thus emerged as a viable alternative to those with the means to escape the perils of public education. Prior to the nomination of DeVos, the most recent instance of federal support for privatizing education is found in the Every Student Succeeds Act, the education law that replaced No Child Left Behind. Passed in the twilight of President Obama's administration, the act significantly reduced the power of the federal Department of Education and increased funding for private governance of public schools through charter schools. As he exits the White House, one aspect of President Obama's legacy that will be preserved is his facilitation of school choice by entrusting the provision of public education to private entities such as charters.
Ongoing privatization under Betsy DeVos and the Trump administration therefore represents a continuation of policy since the Brown decision in 1954, rather than an abrupt change. The Every Student Succeeds Act, which would be enforced by Betsy DeVos, implies that the federal government is scaling back oversight, which could  allow negligent funding disparities and civil-rights violations to exist. This ideological context, which will likely perpetuate discrimination, is not unlike the bygone era that supported legal disenfranchisement.
Education history suggests that current privatization or charter-school laws allow for communities to regain control of public schools much like civic leaders were forced to do during the era of segregation. Indeed, the Movement for Black Lives recently included "community control" in a comprehensive platform, which included the call for "real community control by parents, students, and community members of schools including democratic school boards and community control of curriculum, hiring, firing, and discipline policies." This draws upon the history of black educators who have utilized private means at their disposal and public funding when available to teach their own children.
In the contemporary era, families of color are free as "private" entities, by law, to control their own schools with public support. In the post-election reality marked with clear indications that the federal government will not intervene in local affairs, an intervention that was particularly useful during the black Southern freedom struggle, families faced with a lack of education opportunity can still engage at the local level to govern their own schools. In the hands of families who need a quality education, privately operated schools wouldn't be charter schools or private schools, but community-controlled schools that connect to a longer history of self-determination.
A move by black and brown families and others disenfranchised to create and sustain their own schools would not be driven by profits or a desire to "save" other people's children—typical hallmarks of charter schools outlined by school-choice critics such as Ravitch and findings by the Civil Rights Project. It is instead a call that more accurately resembles the movement for community-controlled schools observed during the long history to secure a quality education through self-determination.
Ultimately, then, the next four years may prove to be a civil-rights struggle for self-determination that transforms how public education is governed at the local level. Potentially a movement by and for people of color, the overlooked call for self-determination from those subjected to failing schools could provide impetus to new forms of resistance.