The Education Secretaries Betsy DeVos Would Follow
Here are some quirky facts about the 10 people who previously oversaw the department.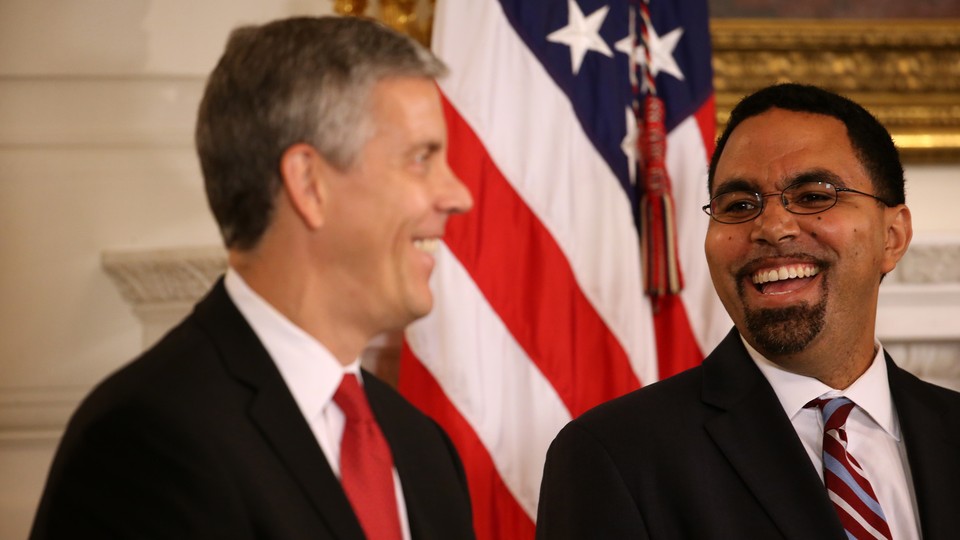 The Senate  Committee on Health, Education, Labor, and Pensions voted Tuesday to approve President Donald Trump's nominee for U.S. secretary of education—the philanthropist and school-choice advocate Betsy DeVos. The Education Department is one of the newer federal departments, created during President Jimmy Carter's administration and beginning its work in May of 1980.
The department's stated mission is to "supplement and complement the efforts of states, the local school systems, and other instrumentalities of the states, the private sector, public, and private nonprofit educational research institutions, community-based organizations, parents, and students to improve the quality of education." DeVos will now face a vote from the entire Senate, and if confirmed, she would oversee a department with about 4,400 employees (including political appointees) and an operating budget of about $68 billion.
If confirmed, DeVos would be the 11th U.S. secretary of education. Here are some fast facts (and a few quirky tidbits) about the other 10 people to hold this Cabinet-level post:
Shirley Hufstedler (1979-81)
Appointed by: Jimmy Carter
As the nation's first education secretary, Hufstedler also became the highest-ranking woman in the federal branch. Hufstedler was one of 72 women featured in a debut set of "feminine" trading cards, intended to compete with male-dominated cards for professional sports. The original set is now on display in the Museum of Modern Art in New York.
Terrel Bell (1981-85)
Appointed by: Ronald Reagan
Prior to the creation of the U.S. Department of Education, Bell was the nation's highest-ranking education official, serving as the U.S. commissioner of education under presidents Nixon and Ford. A member of the Mormon church, Bell focused early in his tenure on trying to ban "controversial" books from schools, including The Catcher in the Rye, Lord of the Flies, and Slaughterhouse-Five. According to a 1981 profile of him, Bell's "favorite dish is pumpkin pie, but he's also fond of a late-night snack of a bowl of bread and milk."
William Bennett (1985-88)
Appointed by: Ronald Reagan
Bennett is the author and editor of The Children's Book of Virtues, later developed into an animated television series by PBS. In 2003, several news outlets reported that the "relentless moral crusader is a relentless gambler, too." While Bennett acknowledged his gambling activities and said that over a decade of betting he likely broke even, subsequent news stories estimated his losses during that time frame at around $8 million.
Lauro Cavazos (1988-90)
Appointed by: Ronald Reagan
A Democrat, Cavazos was the first Hispanic to serve in a president's cabinet and served under two Republican chief executives: Reagan and George H.W. Bush. But Cavazos and Bush clashed over the administration's decision to bar federal aid from colleges and universities that offered scholarships specifically to minority students. Cavazos's "terse" resignation letter "omitted the customary thanks to the president for the honor of serving in the Cabinet," according to The New York Times.
Lamar Alexander (1991-93)
Appointed by: George H. W. Bush
Alexander is the chairman of the Senate committee responsible for vetting DeVos. He praised DeVos during her confirmation hearing this month. As a senator, Alexander was a key architect of the federal Every Student Succeeds Act, which replaced the No Child Left Behind Act as the main federal law for K-12 education. He also served two terms as governor of Tennessee and made two unsuccessful bids for president (in 1996 and 2000). Known for his penchant for plaid shirts, Alexander is a classically trained pianist, and his inspired performance of a Jerry Lee Lewis song brought down the house at a festival in Memphis in 1982 … when he was governor of Tennessee. In 2008, he opened for The Four Tops, performing with the Memphis Symphony Orchestra and an audience of 20,000.
Richard Riley (1993-2001)
Appointed by: Bill Clinton
Riley turned down Clinton's first offer: to be nominated for a spot on the U.S. Supreme Court. That vacancy was eventually filled by Ruth Bader Ginsburg. Riley was so popular as South Carolina's Democratic governor that the state's constitution was amended to enable him to run for, and eventually serve, a second term. After his tenure as education secretary, Riley was named a distinguished professor at his alma mater, Furman University. In 2001, the Washington Post columnist David Broder called Riley one of the "most decent and honorable people in public life."
Rod Paige (2001-05)
Appointed by: George W. Bush
Paige came to Washington after serving as the superintendent of the Houston school district. He is the only U.S. education secretary to have prior experience as a university football coach—and a highly successful one, at that. Among the notable players he recruited and coached at Jackson State University from 1964 to 1968 was Lem Barney, who went on to play for the Detroit Lions and was inducted into the Pro Football Hall of Fame. The No Child Left Behind Act was approved during Paige's tenure as education secretary. Also during his tenure, the department revised Title IX language to allow single-sex classrooms in public schools, provided participation was optional.
Margaret Spellings (2005-09)
Appointed by: George W. Bush
As an advisor to the president prior to her appointment, Spellings helped to write the No Child Left Behind Act. She appeared on celebrity Jeopardy! in 2006, coming in second to actor Michael McKean. Now president of the University of North Carolina system, Spellings recently told NPR that "the reason we've moved the needle for poor and minority students is because we've cared enough to find out how they're doing and made them a priority … The federal role in education is, and has always been, a civil-rights focus."
Arne Duncan (2009-15)
Appointed by: Barack Obama
Duncan's prowess on the basketball court is well-known. Following college, he played professionally in Australia for four years, after being turned down by the Boston Celtics. He was a standout for the NBA All-Star Celebrity Games from 2011 to 2014. Duncan's decision to issue waivers to states from some of NCLB's requirements (a response to the long delay by Congress in reauthorizing the federal education law) was decried as overreaching his authority by some Republican lawmakers. ESSA now prohibits the office of the education secretary from incentivizing states to adopt—or reject—specific academic standards, a response to Duncan's push on behalf of the Common Core.
John B. King, Jr. (2016-17)
Appointed by: Barack Obama
As a student at Phillips Exeter Academy, King rebelled against the strict rules of the elite New England boarding school, and was expelled during his junior year. "I sort of resented adult authority," he told The New York Times. "At the time, I felt like adults had let me down in my life." He later graduated from Harvard and began his career teaching high-school social studies in Boston and Puerto Rico. King also co-founded a charter school and served as New York commissioner of education.
King earned a law degree from Yale, as well as a master's in education and a doctoral degree in educational leadership from Columbia University. As of last year, King was still paying off his student loans.
---
This article appears courtesy of the Education Writers Association.