Video-Game Addicts and Football Fanatics: This Week in Education Writing
Seven days of stories about school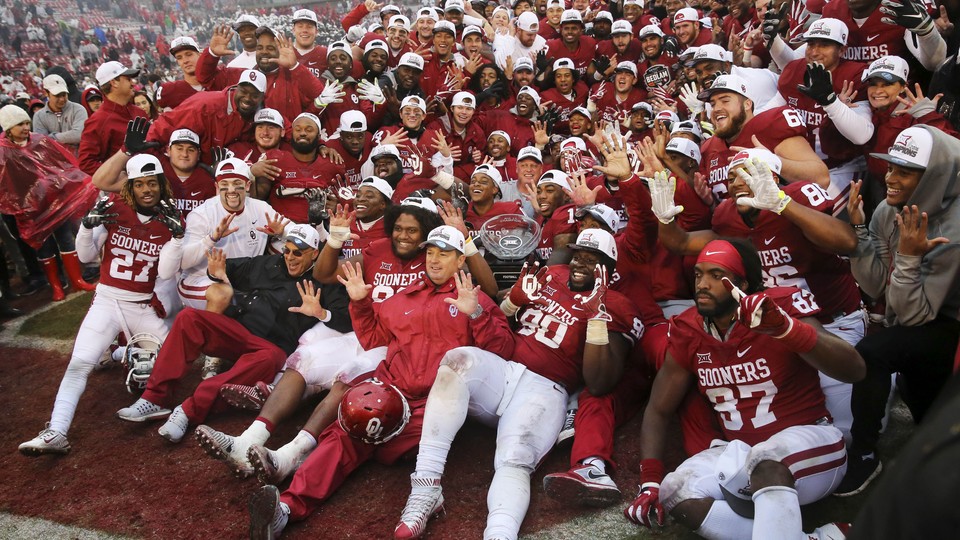 Why France's Affirmative Action Model Is Not Based on Race
Emma Jacobs | PRI's The World
To get into Sciences Po, students typically have to pass a written entrance exam and make a presentation to a juried panel. The CEP program introduces an alternative entry process for students from about 100 specially chosen high schools in state-determined priority education zones, based on factors including income and educational success rates.
These districts are largely located in lower-income suburban and rural areas. …
"In the French Constitution, [it's] written there shouldn't be any kind of discrimination on the basis of race or ethnicity," [the Sciences Po sociologist Agnes] van Zanten says. "That's the idea that even positive discrimination is a form of discrimination."
* * *
The Shifty Political Favors Behind Connecticut's School-Funding Inequality
Jacqueline Rabe Thomas | Connecticut Mirror
Welcome to the messy world of funding schools in Connecticut, where politics often trumps policy in determining how much state aid is sent to certain communities.
Frustrated that the legislature and governor seemed to regularly bypass the complex formula created to ensure state aid is apportioned to cities and towns that need it the most, a Superior Court judge recently ruled after a five-month trial that the state had created an "irrational," and thus unconstitutional, method of distributing education funding that takes place in a "black box of secrecy."
* * *
An Arts College Trapped Between Campus Culture and Fiscal Responsibility
Ted C. Fishman | Chicago magazine
Faced with tens of millions in lost tuition dollars, the [Columbia College Chicago] administration has cut budgets, trimmed personnel, pared back academic programs, enlarged class sizes, and, in a risky gambit intended to attract new students, promised new facilities that will cost tens of millions more. ...
The impending changes haven't quelled unrest at the school; in 2015 some part-time faculty and students occupied the new president's offices and had to be escorted out by campus security.* And many faculty members question whether the turnaround, if it happens, will cost the college the quirky identity that has been its calling card for half a century.
* * *
A Real-Life Addiction to a Virtual Identity
Caitlin Gibson | The Washington Post
Their voices got louder. She doesn't remember exactly what made him reach for the glass on his bedside table. He threw it with such force that it spun across the room and shattered against his closet door, carving a two-inch gash in the white painted wood. Tiny shards glinted on the striped rug.
By then, the family's stately home in New York was riddled with such scars—nicks in the walls, scratches in the floor, a divot in the marble countertop lining the kitchen sink. All remnants of the boy's outbursts, which had intensified over the years, almost always triggered by a simple request from his parents: Byrne, please turn off the game. Please get off the computer.
* * *
The Decades-Old Busing Program with Bipartisan Support
Gene Demby and Audie Cornish | NPR's Code Switch
Gene Demby: "Even in Boston, there was this one school-integration program—a busing program, as it turns out—that wasn't controversial at all. In fact, that program is still around today, and it has support from Democrats and Republicans. It's called METCO, which stands for the Metropolitan Council for Educational Opportunity." ...
Audie Cornish: "What I knew is that one year I had been going to a school with mostly black students, and then one year, I was on a bus and I was going to school  with mostly white students. And you're told you're going to a better place, which sounds creepy when you say it like that, but the implication is you're about to get an upgrade. And then you get there, and for me, I distinctly remember this being the first time I understood the concept of class. It was the first time I saw bigger houses and a nice, carpeted classroom, and toys, and colors."
* * *
Choosing Between Shelter and School
Sascha Brodsky | The Atlantic
The Duncan family has been living in Flatlands since April. Their journey into the shelter system began when Duncan was forced to give up her job as a registered nurse to care for her 4-year-old son Dayle, who has Down syndrome and health problems that include breathing difficulties. After she separated from her husband, a bank foreclosed on her house and she ended up in Flatlands.
Duncan says it's a daily struggle getting her kids to school. She asked to be placed in a shelter closer to her childrens' schools but said she was told there were none available. So, her children have to line up in front of the Flatlands residence at 6:45 a.m. to get on school buses—it can take them up to two hours to get there. They often arrive late and exhausted; a doctor told Duncan that the long trip is bad for Dayle's health.
* * *
The Winding Path to a Big 12 Championship
Jesse Pound | OU Daily
With two early losses squashing playoff dreams and an injury list that seemed to grow by a starter per week, Oklahoma was on the ropes.
Beaten, bruised, and backed into a corner, the Sooners looked up and still had nine rounds left in the season and Big 12 championship up for grabs. So they started swinging.
---
* This article originally stated faculty and students were forcibly removed from the president's office. We regret the error.