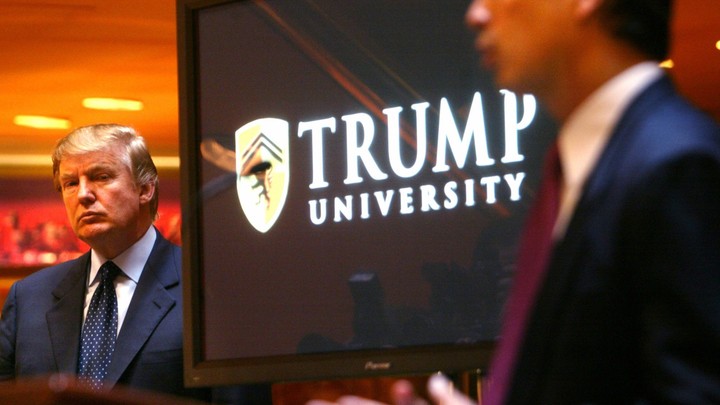 Updated on December 7, 2016
Strayer Education, Inc., the company that owns the for-profit Strayer University, hadn't experienced a sudden, significant increase in its stock price in more than a year. Then, as November 9 came to a close and it was clear that Donald J. Trump had won the election, the company's stock jumped from $58 to $66 per share. It wasn't the only for-profit college to see a boon after the presidential votes were tallied—even those that have faced federal probes, like DeVry and the University of Phoenix, saw their stock values rise.
This was quite a change from the reasons for-profits have usually appeared in the news—often simply a chronicle of which ones had just closed their campuses or filed for bankruptcy—amid the Obama administration's second-term crackdown on select for-profit institutions accused of engaging in unscrupulous recruiting practices and making unfulfilled career promises.
Perhaps investors in the for-profits were optimistic about President-elect Trump's promises to undo as many government regulations as possible. Or perhaps, given that Trump had once operated a for-profit real-estate seminar series, branded as a "university" bearing his name, they saw in him someone who supports for-profit colleges, too.
That particular institution, of course, was recently embroiled in a class-action fraud lawsuit, which Trump settled 10 days after the election to the tune of $25 million (though he said on Twitter that he would have prevailed). On its face, the Trump University settlement would appear to signal caution to those with a stake in for-profits, namely colleges whose business practices have already come under scrutiny. But nearly everything about this particular fraud case was an outlier, from the brazenness of Trump University's "playbook," to its high-dollar class-action settlement, to the fact that it made it to court (and, thus, also the public record) in the first place.
A central tenet of one of the complaints in the class-action lawsuit, Cohen v. Trump, was that operating Trump's seminars as "Trump University" (which went on until 2010), was a blatantly fraudulent act. That is, per the Cohen complaint, not only did the events not offer direct access to Trump's real-estate "secrets," but the operation conferred neither degree nor certification, making it unlike any actual university.
Although Trump himself claimed in a promotional video that the seminars' faculty consisted of hand-selected "professors and adjunct professors" whose quality rivaled those in the Ivy League, the events instead allegedly delivered independent sales contractors, paid in commission. Additionally, the Cohen complaint alleges participants filled out detailed financial statements, ostensibly for the purpose of setting investment goals, but actually "to assess the liquid assets that each student has to spend on the next Trump University program." While the first seminar was offered free of cost, according to the complaint, it upsold to a "Fulfillment Seminar" costing $1,495, which was followed by a $34,995 "Gold Elite" program. (Trump's answer to the Cohen complaint either denied all allegations of wrongdoing, or claimed Trump was "without knowledge or information sufficient to form a belief as to the truth" of those allegations.)
Rather than overpromise a lucrative new career in a hot field, as some for-profit universities have been criticized of doing, Trump University was, according to the complaints, a simple get-rich-quick racket with the word "university" attached—a word that eventually disappeared in 2010, after the New York State Education Department demanded Trump remove it, as using it without any attendant properties of an institution of higher learning was illegal. The primary reason, then, that the American for-profit market doesn't seem rattled by the Trump settlement is that Trump U was, simply put, accused of running a full-fledged scam that had little to do with universities at all, for-profit or otherwise. It's worth noting that some for-profit schools do produce good outcomes for students, with many of the institutions offering more flexible scheduling than nonprofit and public colleges do for nontraditional students. And while the unscrupulous minority of the for-profits, such as the now-defunct Corinthian Colleges, were also accused of running scams, those alleged scams were of a markedly different nature.
The other reason the Trump settlement seems to be having little effect on investor confidence in the for-profits accused of wrongdoing has to do with a popular legal tactic that will likely keep many disgruntled for-profit students out of the courtroom to begin with: mandatory arbitration agreements, in which those who sign them effectively sign away their rights to sue.
According to Katherine Chiarello, a commercial litigator based in Austin, Texas, the primary reason the Trump case made it to court in the first place was that Trump's program "apparently did not have a mandatory arbitration provision," which was "the only reason [the case] was able to get into court and into a public forum, where there could be public scrutiny of the alleged bad acts." (Texas was the site of another Trump University probe, which the state dropped amid controversy.)
An extensive April 2016 report by the Century Foundation found that 98 percent of students enrolled at for-profit universities receiving federal aid must sign mandatory-arbitration provisions in their enrollment materials, compared to just 7 percent of students at traditional nonprofit or public colleges. Chiarello said that for for-profit students who feel they've been defrauded and have signed away their ability to go to court, the arbitrator "may be financially inclined to side with the for-profit university" because of the university's potential as a repeat customer. Further, though agreements vary between institutions, Chiarello explained that they usually "purport to limit the kind of damages you can recover," either by amount or by preventing class actions—and thus, often suits altogether. "It can be very difficult to find a lawyer that can take on an individual's case," as opposed to a class action such as Cohen v. Trump, Chiarello said, "because the risk-reward" of a single client, meaning the potential payoff is insufficient.
Steve Gunderson, the president and CEO of Career Education Colleges and Universities (CECU), an advocacy organization for the for-profit education industry, challenged Chiarello's claims, arguing that mandatory-arbitration clauses are instead in place to protect students at the for-profits. For it's not just that litigators will be loath to take on individual clients—they also have little interest in small class actions either. "In small and medium-sized schools," he said, "class-action suits are not going to happen, because no lawyer will take them on" given the comparatively small number of claimants. "If you want to protect the student, arbitration may be the best vehicle."
The Obama administration, however, was concerned about the effects of mandatory arbitration on students who'd been defrauded by for-profit colleges. In fact, on the cusp of the election, the U.S. Department of Education had actually introduced a new set of regulations, designed to protect both students and taxpayers from "predatory institutions." A key provision of the new regulatory effort, the department explained in an October 28 press release, was "permanently banning any pre-dispute arbitration agreements" for all students who took out federal loans to pay tuition. This would account for almost all for-profit students: Some 86 percent of the tuition funds in this industry stem from federal-aid programs. (Under the new regulations, the student and school could still agree to voluntary arbitration, a provision Gunderson says was added after "they heard us" about arbitration's advantages.)
These new provisions—which Gunderson denounced before they were finalized—will take effect in July of 2017, when Trump will have been president for six months. Given the president-elect's stance on government regulations (and, presumably, being the subject of a class-action lawsuit), there is no indication that the mandatory-arbitration ban will see the light of day. (The press office of the Trump transition team did not respond to a request for comment .)
Today, the stock price of Strayer—a group consistently lauded as one of the industry's better actors—is hovering around $75 a share. That's the highest it's been since November of 2014, just after the Consumer Financial Protection Bureau sued Corinthian Colleges for predatory lending, coinciding with a nationwide decline in for-profit enrollment. With Trump headed to the White House, $25 million settlement or no, investors in America's remaining for-profit universities apparently believe they're headed for a resurgence. As they should be, says Chiarello. As long as for-profits' students have to sign those arbitration agreements, she said, the institutions can look forward to looser regulations and few lawsuits. "I think," she says, "that they are probably feeling pretty good right about now."
We want to hear what you think about this article. Submit a letter to the editor or write to letters@theatlantic.com.
Rebecca Schuman
is a writer based in St. Louis. She is the author of the forthcoming book
Schadenfreude, a Love Story.