The Playground Where Babies Learn to Talk
A campaign to encourage brain development is using parks to deliver its message to children and their caregivers.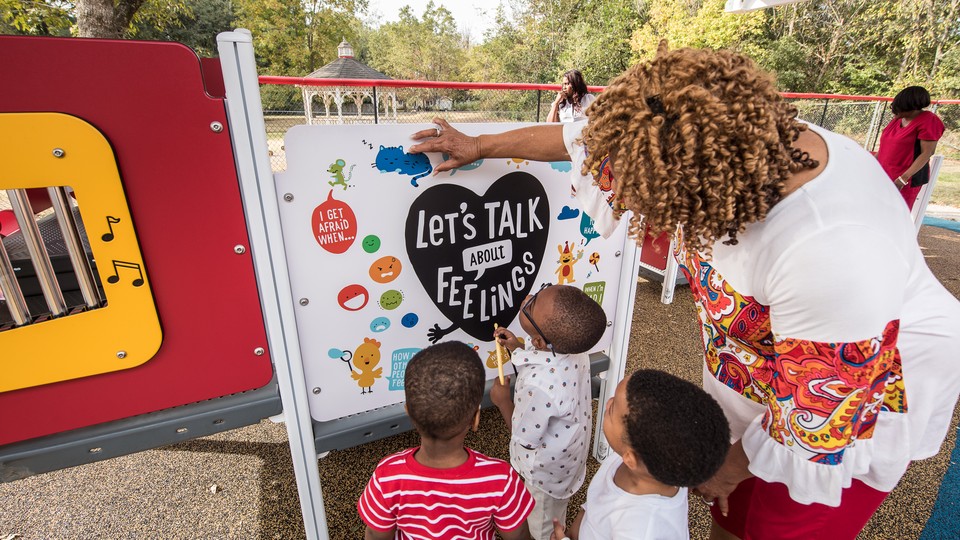 OAKLAND, Calif.—At first, the playground at Officer Willie Wilkins Park looks pretty standard. There's a slide to skid down, ramps to climb up, bridges to cross, and nooks to investigate. But there's also something relatively unusual: words, and lots of them.
Mixed in among the bright primary colors of the structure are white panels plastered with whimsical illustrations and phrases like "let's talk about the sunshine" and "let's talk about food." They're not a random addition; the panels are a deliberate attempt to foster early language and brain development in babies and toddlers.
The park sits in the eastern part of the city, in a neighborhood with high poverty rates and low educational attainment. Studies suggest that a 30-million "word gap" exists between low- and upper-income children: Poor children hear, understand, and use fewer words, which can have long-term negative consequences. Babies who hear fewer words are less likely to do well in school and kids who drop out of school are less likely to be healthy adults.
In the last several years, initiatives small and large have emerged that are aimed at shrinking these language disparities and providing parents, particularly those without resources, tools to engage meaningfully with their babies. Often, these programs have been implemented at hospitals and clinics (which is happening in Oakland, too) where trusted adults like doctors and nurses deliver messages about the importance of talking with babies. And playground developers say they've always tried to foster learning. But using informal playtime to address the inequality specifically and in a concerted, research-backed way is a relatively new idea.
This park with its conversation prompts and emphasis on talking opened just several months ago. (The playground itself existed previously, but just as a typical play structure.) It's a project of Too Small to Fail, a joint initiative of the Clinton Foundation and the Opportunity Institute that is also supported by local nonprofits. (The Atlantic's Next America Early Childhood project receives funding from the Heising-Simons Foundation, which also provides grants to Too Small to Fail.)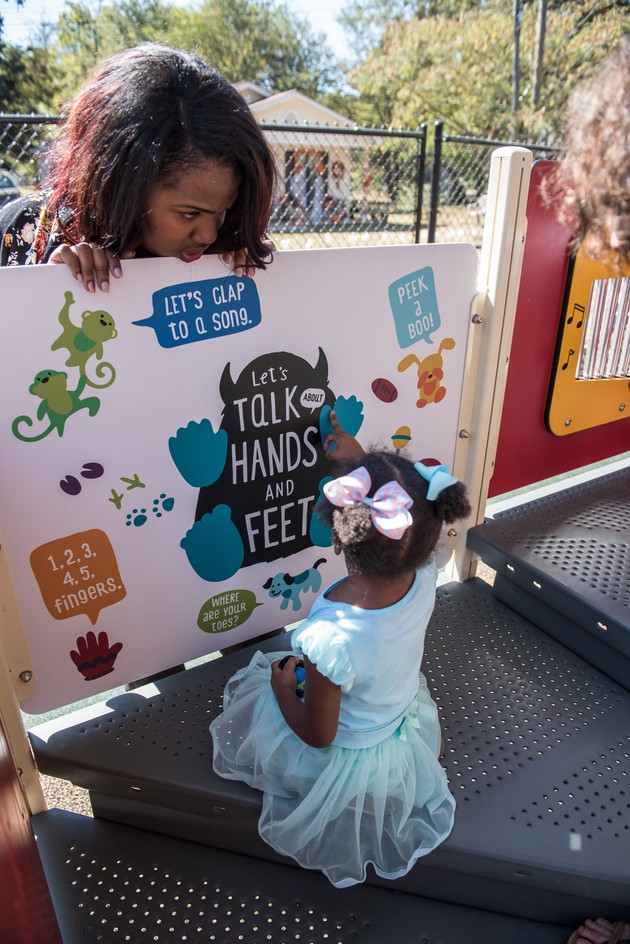 The basic idea is that parents and other caregivers can use the panels (they're image-heavy so that parents who aren't literate themselves can still participate) to spark conversations with their kids while they play. The panels, developed with the help of Goodby Silverstein, the ad agency behind the ubiquitous "got milk?" campaign, don't get in the way of more traditional rough-and-tumble play. But they're also accessible and located near seats, so that adults don't have to squeeze through child-sized tunnels or scramble up ladders to see them.
"We know this kind of interaction can really make a difference," said Kara Dukakis, the co-director of Too Small to Fail, during a recent visit to the park around 10 a.m. on a chilly Tuesday morning. Of course, most parents know they are supposed to talk and interact with their kids, and the vast majority do on a regular basis. But, Dukakis said, some are looking for guidance on what to say and how to say it. Where a parent might typically only participate in a child's park experience by saying "Stay where I can see you" or "Don't climb so high," the hope is that the panels will prompt a parent to see playtime as a time for back-and-forth conversation, also.
The prompts are intentionally open-ended so that one parent (or brother or grandmother or babysitter) might see the "let's talk about food" panel and ask a child about the color and shape of the grapes she's holding, while another might ask his kids whether they'd prefer green beans or squash as a side at dinner. Some of the signs are in Spanish, since the neighborhood has shifted heavily Latino over the years. They encourage parents to engage with their kids in whatever language they are most comfortable using—it's not English that matters, but the number and breadth of words in any language. Another panel prompts parents to talk about feelings, an attempt to help kids understand and process their emotions. The goal is to meet children and their caregivers where they already are, in places like parks and grocery stores and laundromats, and to show them how they can work talking and singing and reading into activities they already do, not to create more work for families where parents are often juggling several jobs with childrearing.
Carla Keener, a senior administrator at First 5 Alameda County, an early partner of Too Small to Fail's work in Oakland, pointed out that "some parents feel vulnerable reading or talking or singing." Placing the prompts in a park and making them accessible to everyone hopefully signals to parents, including fathers who may be less likely to encounter similar prompts at a doctor's visit or in a grocery store (other tactics the campaign is utilizing), that "it's okay" to rely on the prompts for guidance, she said. Parents, Keener added, need to hear the positive message that they are vital, capable teachers, which isn't necessarily common in this part of town.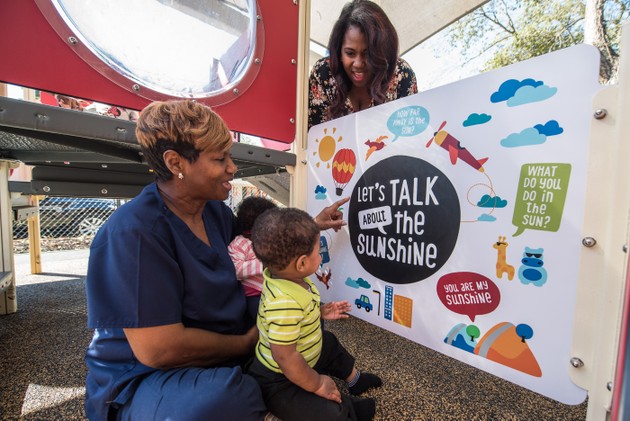 The prompts are meant to empower parents and reinforce positive behavior (in this case talking, reading, and singing with their children), not to be judgmental or preachy. "Play is the great equalizer for everyone," said John McConkey of Landscape Structures, which helped build the playground. "It's easy for the parents to participate and interact. It doesn't feel so prescriptive or institutional. We're having fun. We're making things up as we go. The use of a play environment lets people just relax and have fun, and they don't realize they're really learning and educating; they're just having fun."
There will soon be around 30 such playgrounds across the country. They're designed to reflect the surrounding communities, so that a structure in a farming town might have panels that prompt conversations about animals and crops. Several Head Start facilities, the federally backed early-childhood program, have them. And Landscape Structures is interested in incorporating panels into playgrounds beyond those it develops with Too Small to Fail.
It's too early to tell exactly what the impact of the panels will be, but Dukakis and others say they want to see parents engaging with children early and often. Recent research suggests that similar interventions (signs in supermarkets prompting parents to interact with children, such as a picture of a carton of milk and a cow with the phrase "Where does milk come from?") increase the amount and quality of conversation, particularly for lower-income families. Lower-income children are more likely to hear directives, such as "Don't touch that!" or "Get the milk!" where upper-income children are more likely to be engaged in conversations—about milk coming from cows, for instance. The signage in the grocery store seemed to prompt families in a lower-income neighborhood to engage in the types of conversations more typically heard in upper-income neighborhoods. It's possible evaluations will show the panels in the park prompt positive increases in dialogue, too.
Some researchers have questioned the power of word-gap initiatives and suggested that they might sound nice, but don't do enough to address poverty, a lack of parental leave, and other issues. Yet proponents point out that talking and reading with kids is never a bad thing, and the initiatives can be part of a larger focus on early childhood.
Too many people still think of young children as "blobs" or "blank slates" that acquire knowledge later, Keener said, when, in fact, significant and fundamental brain development happens in the first few years of life. "I think people are still throwing away those first three, first five years," she said. "That's such a rich, fertile time."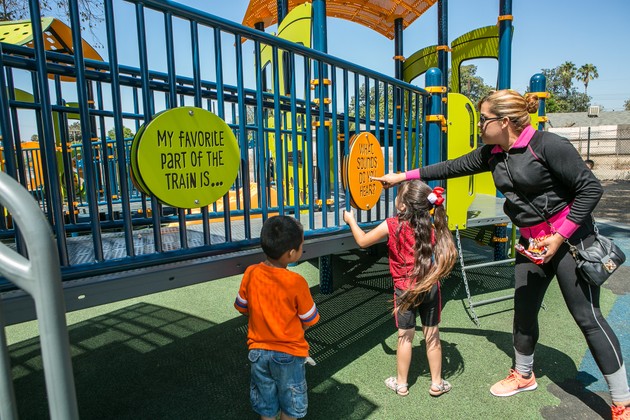 In a few years, she's hoping the campaign will help improve the percentage of children prepared to succeed in kindergarten. According to a 2015 study of kindergarten readiness in the Oakland Unified School District, just 43 percent of Oakland students were "fully ready" for school, meaning they were able to identify shapes and colors, and to regulate their emotions and exhibit self-control. There is clearly work to do.
There's also room to grow when it comes to prompting adults and the children they care for to actually use the panels. During that 10 a.m. visit to the park, the playground was deserted. On a return trip around 3 p.m., just after school let out for the day, a few families cut through the park, but only two stopped to play. One woman with three young children sat on a bench and ate a snack while her children clambered up the structure, ignoring the panels. Another, who did not want to give her name, observed her two young girls as they played on a different structure a few yards away that does not have the talking prompts. Do they ever play on the other one? No, she said, not usually, because it's smaller and doesn't have swings. What does she think of the panels with writing? A lot of kids who play here can't read yet, she said, so they don't really make sense. What does she think about the idea that they're actually aimed at adults and not so much at the kids? It's interesting, she said, but she usually sits on the bench.
Keener isn't surprised by those reactions or too discouraged by them either. The panels have only been in place a few months, she pointed out, and "behavior change takes time." And the panels at the park aren't going to magically end the word gap, but they're part of a broad effort to reach children and families where they are. Too Small to Fail is working with the local children's hospital, UCSF Benioff Children's Hospital Oakland, too, and families might also see subtle messaging at bus stops, on billboards, and in local coin-laundry facilities where kids spend idle time. The idea, Keener said, is to normalize positive parent-child interactions. It's also, she added, an important way to symbolically say to the neighborhood, "we don't give up on any community."
Susan Greenwald, the director of community partnership programs at the hospital, which has worked on the campaign, compared the overall initiative to major public-health efforts like the "back to sleep" campaign to end sudden infant death syndrome (SIDS) or smoking cessation. "It's like raising consciousness," she said, with a simple, straightforward message: talk, read, and sing with your baby.