The Challenge of Manufacturing a Diverse Campus
A charter in Detroit that sought to attract families of all races and incomes is seeing real integration. But it might not stay that way.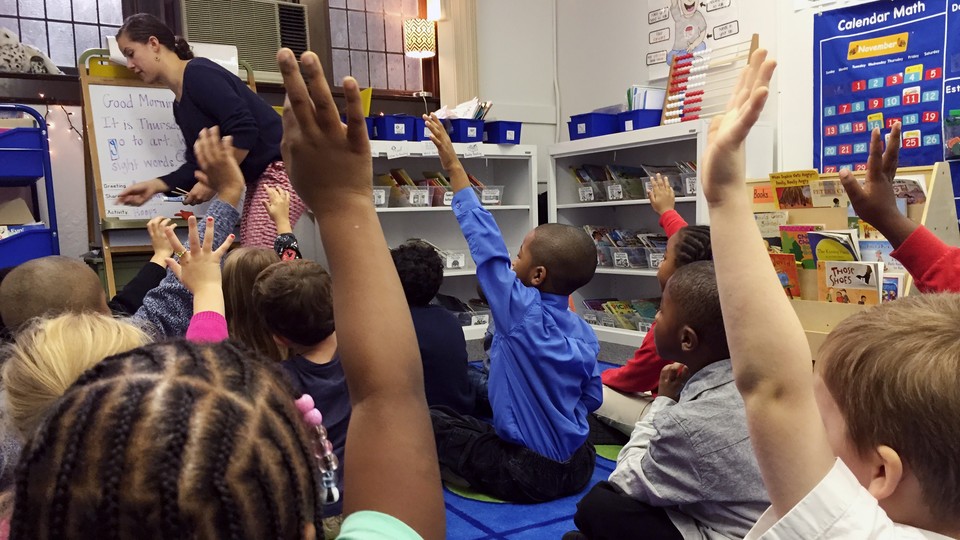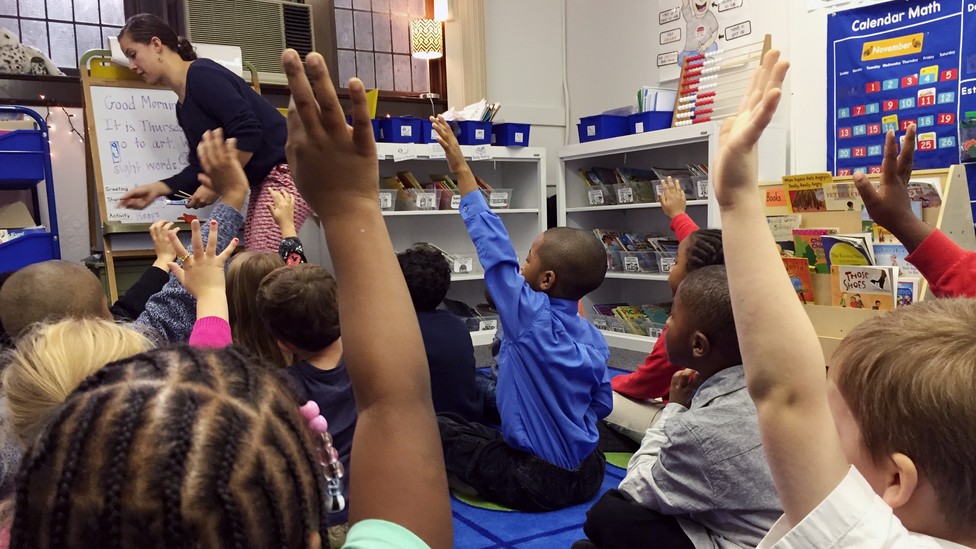 It was four days into the two-week enrollment period for the new Detroit Prep charter school and Kyle Smitley was starting to worry.
Smitley, the school's co-founder, had opened Detroit Prep in September with grand ambitions of building the city's first truly diverse charter school. She had embraced an idea that's gained momentum across the country as educators have increasingly acknowledged that the nation's segregated schools are hurting children and communities, and had managed to recruit an impressively diverse group of black, white, and mixed-race kids for her school's inaugural year.
Smitley hoped her school's integrated classrooms could help heal the historic racial divide in a predominantly black city where a flood of new white residents has brought new investment, new energy—and the hurtful perception that the "new Detroit" doesn't include families who have struggled here for generations.
But the quest for diversity had led Smitley to enroll students in a way that could leave out many Detroiters, opening the school to criticism that it's catering to the "haves" in a city where most children are among the "have nots."
And by the fourth day of enrollment, she had reason to fear for the future of her school's diversity. As she watched early applications pour in, she saw that most of the families were coming from a few middle-class neighborhoods—ones where white families increasingly are choosing to live. She knew that state charter-school laws would limit her ability to keep the balance. And she fretted about what would happen next. "We don't have any control," she lamented as she scrolled through a list of students who applied. "Our mission and vision isn't to serve homogenous groups … but there's nothing we can do."
* * *
In the 20 years since charter schools first opened as a free alternative to traditional district schools in Michigan and around the country, many of the privately run, publicly funded schools have focused on serving poor students in urban areas. It's one of the reasons why charter schools are some of the most segregated schools in the nation.
But a growing group of educators has tried to change that by building schools designed to attract kids from different backgrounds and different neighborhoods.
It's not without controversy. "Historically the charter-school movement has focused on providing better academic alternatives for students in segregated minority communities and communities with high poverty," said Dianne Piché, a civil-rights attorney and the director of the National Coalition of Diverse Charter Schools. "So sometimes when charter schools want to open up in less poor areas, concerns are raised."
But research shows that "students from poverty who are concentrated in a high-poverty school have worse outcomes," Piché said. "It makes a lot of sense to de-concentrate poverty and one way of doing it is opening a diverse charter school where you have middle-income and poor kids together."
That's what Smitley and her co-founder, Jen McMillan, had in mind when they decided to open Detroit Prep as the city's first intentionally diverse charter school. "It was important for us to create a school to serve all kids … rich, poor, black, white," Smitley said. "We think that to really prepare kids for the 21st century … we need to create a space where they're constantly interacting with people who are different from them."
It was the strength of that idea that enabled Detroit Prep to open at all this year.
New charters have been essentially on hold in Detroit for the last two years as city leaders have grappled with an estimated 30,000 classroom seats sitting empty throughout the city.
Those unused seats—the result of rapid charter-school expansion at a time of dramatic population decline—have meant serious financial distress for schools whose budgets are set by student enrollment. School leaders have ramped up pressure on the universities that oversee charters to hold off on new schools until the oversupply is resolved.
The trustees at Grand Valley State University had been pleased with the strong reviews and impressive results at Smitley's first charter school, the Detroit Achievement Academy, which has served primarily low-income kids in northwest Detroit since it opened in 2013. The school famously appeared on The Ellen DeGeneres Show, which spurred hundreds of thousands of dollars in donations including from celebrities such as Madonna.
But when Smitley applied for permission to open Detroit Prep, GVSU officials worried that her second school could destabilize other schools in the neighborhood by competing with them for students, said Rob Kimball, the deputy director of charter schools at Grand Valley.
Smitley addressed that concern by arguing that her new school would be different. Detroit Prep would be located in Indian Village, a neighborhood known for stately mansions and manicured lawns. Rather than draw students from nearby charter schools, she argued, it would attract families who would otherwise choose private schools or flee to the suburbs.
"Our pushback was that we're tapping into a new market," Smitley said.
That might be controversial, Kimball said, but "my response to that is that the communities of Detroit are changing and our schools should reflect that. We shouldn't want our schools to replicate the segregation that much of the charter sector has been criticized for … Why shouldn't we embrace efforts to intentionally integrate schools while maintaining a commitment to open enrollment?"
When Grand Valley trustees green-lighted the school in February, Detroit Prep was the only new charter school allowed to open in Detroit this year.
Smitley and McMillan signed a two-year lease on a church basement in Indian Village. Then they set out to recruit students from across the economic spectrum. They met with families in the elegant living rooms of Indian Village, inviting parents to visit the Detroit Achievement Academy, and convincing them to help build something most Detroit families don't have—a free quality school in their own neighborhood.
The pair also visited the local Head Start centers, which serve low-income children, with a similar pitch, promising small class sizes and a project-based curriculum that teaches math, science, reading, and the arts through a single subject (this year's kindergarteners are spending 14 weeks studying trash and recycling). They touted a learning approach that stresses skills like compassion and cooperation and also offered transportation on a school bus that would make stops at two nearby low-income housing developments.
It worked. When the school opened its doors for the first time in September, its inaugural class of 49 kindergarten and first-grade students was truly diverse: 53 percent of students are black, 38 percent are white, and 9 percent are mixed-race, Smitley said. The school also has economic diversity, with 65 percent poor enough to receive free or reduced-priced lunches.
Those numbers are unusual in a city where just 2 percent of students enrolled last year in the city's main district were white. A full 82 percent of students in the Detroit Public Schools last year were black and 13 percent were Hispanic. Most kids—73 percent—were poor enough to qualify for a free or reduced-price lunch.
Detroit Prep's diversity has won praise from both black and white parents.
"The student body is extremely diverse. There are interracial, black, white, and other families represented, a nice mix of everyone" said Nicole Laws, an African American doctor who lives in northwest Detroit and pulled her children out of a private school this year to take a gamble on Detroit Prep. "The real gift of the school to me, however, is not the racial mix but how they have interwoven the diversity theme into the learning experience, the curriculum, creating a culture of curiosity and respect. This is how you learn. This is how you grow."
Matthew Schmitt, who is white, said Detroit Prep's diversity was one of the major reasons why he selected the school for his daughter, a first-grader, when he moved this summer from Los Angeles to Detroit's Pingree Park neighborhood, just north of Indian Village.
"We're thrilled about … the intentionality around diversity and integrated education," Schmitt said, adding that he and Laws are working with the school to help diversify its board and teaching staff, which is predominantly white, so the adults in the school are as diverse as the students.
Teachers say that diversity changes the dynamic in the classroom for the better.
"From a young age, they're learning about people who are different from themselves," said Shelly Tremaglio, a kindergarten teacher who uses "equity sticks" to make sure she calls on students randomly, rather than allowing personal biases to influence how much attention each student gets.
But as Smitley sets about recruiting students for future years, the diversity her parents, students, and teachers all prize might not be that easy to replicate.
* * *
In some states, charter schools can set aside seats for specific groups of children, such as poor kids or those who speak another language. In others, charter schools are allowed to prioritize students from certain neighborhoods.
But in Michigan, strict "open-enrollment" rules only allow charter schools to offer priority admission to the siblings of current students and the children of current staff. That means that if educators want to build diversity—or influence their student populations in any way—they have to get creative.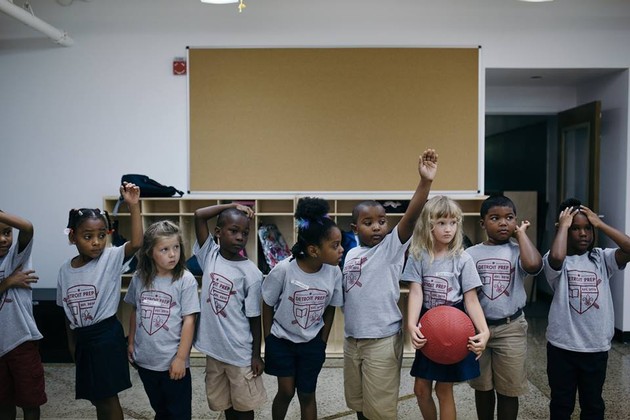 For Smitley this year, creative meant holding her two-week open enrollment in November for next September's kindergarten class. That's months before other schools in Detroit will begin their enrollments and long before most families have even started thinking about next year.
State charter-school law doesn't specify when a charter school should hold its open enrollment. It requires only that the enrollment window be advertised in a newspaper and that it should last at least two weeks. Schools that get more applications than available seats must hold a lottery to determine who gets in, but schools that don't fill their seats during the enrollment window can fill their remaining openings on a first-come, first-served basis.
By holding her enrollment early in the year, Smitley said she hoped the process would stay largely under the radar, drawing few applications and enabling her to spend the rest of the year doing targeted recruitment—similar to the approach she used to attract this year's class.
Early enrollment has other benefits, too, since it helps build community by allowing prospective families to attend events throughout the year. It also gives parents the peace of mind of knowing whether their child has a spot for next year.
But Smitley's methods have opened her to criticism that she's trying to build a school for the elite.
A November enrollment is "unprecedented," said Danielle North, who works with charter schools through a consulting firm called EdReform Partners. "I imagine she followed all the procedures, but no family, particularly lower-income, lower-education, less-savvy families, which make up a large percentage of families in Detroit, would be aware of any open enrollment that would be this early and that would last two weeks."
"In a city that is 82 percent African American, that you would have a public school that has more white children than any other school in the entire city, that doesn't just happen by mistake. It just doesn't," North continued. "That doesn't represent a diverse school."
Early-enrollment windows are used by sought-after schools in other cities, but the tactic is new in Detroit—and for some, it doesn't sit right. "Everything about this to me is very, very concerning," said Neil Dorosin, the executive director of the New York-based Institute for Innovation in Public School Choice, an organization that advocates for school-choice reform. "The law says 'two weeks' and it doesn't stop you from having those two weeks at a time that's so far out of the frame of reference for poor families."
Smitley acknowledged that the approach isn't ideal but said state law gives her few options to build the kind of integrated school that she believes Detroit needs. She rejected the suggestion that there's anything wrong with building a school that white, affluent parents want to send their children to.
"It's no more controversial than the mayor consistently saying that for people to stay in Detroit, we need schools that serve their kids," she said. "For Detroit to move forward, everybody who lives here has to have a public school that they feel really excited to send their kid to."
What Smitley didn't count on was that so many families would be excited about the prospect of Detroit Prep, which is why she was so worried on November 3, the fourth day of enrollment, when a reporter visited her school.
Smitley had advertised her open-enrollment window, as required, placing a classified ad in October in The Michigan Chronicle, an African American newspaper. She also advertised the enrollment window on Facebook and asked the parents of current students to help spread the word about the two-week window.
But she assumed that her school was so new—it had been in existence just seven weeks when enrollment began—that only a handful of families would actually apply.
She was wrong. And somehow, news of a promising new school had made a bigger splash on the playgrounds of the city's more affluent neighborhoods.
(I know this because I live in one of those neighborhoods and have a child who will be starting kindergarten next fall. Though I knew very little about Detroit Prep at the time, the first thing I did on the morning of October 31 after dropping my children off at preschool was submit an application to Detroit Prep. I heard two weeks later that my daughter had landed a spot. Plenty of my neighbors did the same.)
The school got a flood of applications on the first day of enrollment that, judging by their addresses, Smitley guessed "were skewing pretty white and pretty affluent."
Suddenly, she was faced with the prospect that affluent families could claim all 40 kindergarten seats, turning what was was supposed to be a diverse school into the opposite: Detroit's first charter school for rich kids.
"Then it's not a diverse school and that's what no one wants," Smitley said.
In the end, just 17 of the available 2017 kindergarten seats filled during the enrollment window, giving her the rest of the school year to try to reach out to churches, neighborhood groups and Head Start centers to fill the remaining 23 seats with a mix of kids.
But when she starts the process again for 2018, the challenge of keeping her enrollment diverse could be even more difficult.
"Next year we'll have to have a speakeasy enrollment system," she said. "We'll just do targeted outreach and not tell anybody or put it on Facebook, not post it anywhere, which doesn't feel good … Or I could talk the state into doing an income-based lottery, which isn't going to happen."
Dorosin at the Institute for Innovation in Public School Choice said he doesn't blame Smitley for wanting to create a diverse school—he blames the state of Michigan for its restrictive laws.
"It's really a shame that the system makes it so that in order for her to offer that product to people, she has to do it in an unfortunately sneaky way," he said.
Smitley is open to changing her enrollment process but says she has no interest in giving up on diversity.
"I think we're failing our kids if we allow all kids to sit in rooms with kids that only look like them and that are from the same background," she said. "So if people think we're going about it in a bad way, I welcome that feedback because we want to hear all perspectives, good and bad."
---
This post appears courtesy of Chalkbeat Detroit.