Choosing Between Shelter and School
Antiquated procedures and limited resources prevent many homeless children from having a stable education experience.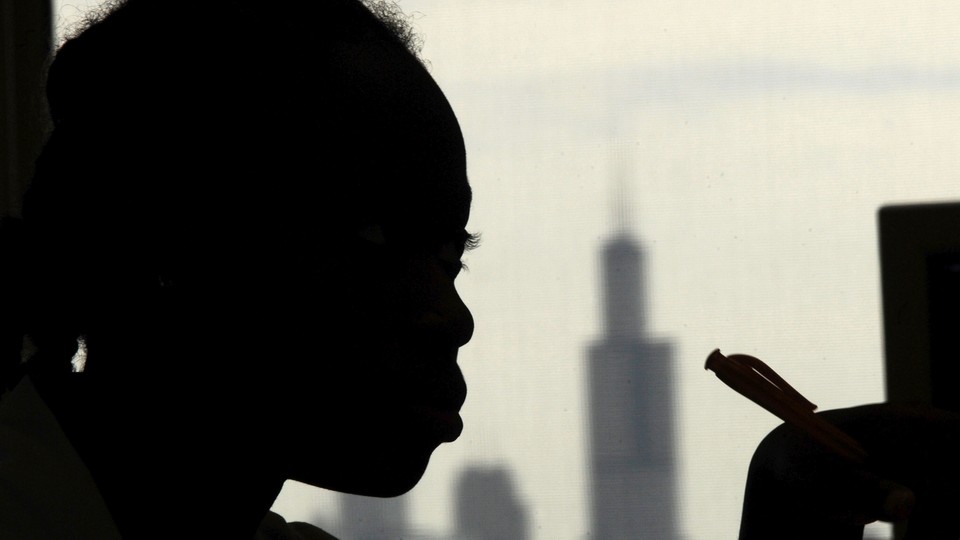 The Flatlands Family Residence is a shelter for homeless families that sits near the end of a subway line in Brooklyn next to a truck depot and across the street from an industrial air-conditioning business. Drawings made by the children who live there are taped on the walls of a hallway that extends past a metal detector manned by security guards. Those children include Diana Duncan's four kids, who sleep on bunk beds and often do their homework at a small table in the kitchen.
The Duncan family has been living in Flatlands since April. Their journey into the shelter system began when Duncan was forced to give up her job as a registered nurse to care for her 4-year-old son Dayle, who has Down syndrome and health problems that include breathing difficulties. After she separated from her husband, a bank foreclosed on her house and she ended up in Flatlands.
Duncan says it's a daily struggle getting her kids to school. She asked to be placed in a shelter closer to her childrens' schools but said she was told there were none available. So, her children have to line up in front of the Flatlands residence at 6:45 a.m. to get on school buses—it can take them up to two hours to get there. They often arrive late and exhausted; a doctor told Duncan that the long trip is bad for Dayle's health.
"I just don't know how we can continue like this for much longer," said Duncan, 45, who was carefully dressed when I spoke to her, wearing a black sweater and matching scarf and eye glasses with rhinestones set into the frame. "My kids are at a breaking point."
* * *
Dealing with the logistics of getting to school can be a major challenge for the increasing number of children in New York City who are homeless, many of them shuffled from shelter to shelter, according to a recent report by the city's Independent Budget Office (IBO). The location of shelters is one major obstacle, as families are often placed in shelters far from their children's original schools. On top of that, parents are often bogged down by bureaucratic procedures that they must follow so they can stay in shelters. These are challenges faced by homeless families across the country.
Roughly 73,523 homeless people—defined as those without a consistent place to sleep who might stay in shelters, transitional housing programs, or safe havens—live in New York City, a 38 percent increase from 2007, according to Shantae Goodloe, a spokesperson for the U.S. department of Housing and Urban Development. Another recent report, by the New York City-based Institute for Children, Poverty & Homelessness (ICPH), found that more than 127,000 New York City public-school students—or one in eight—have been homeless at some point in the last five school years, more than the total population of Boston and Seattle's school systems combined. On the national level, homelessness remains a problem, although by some measures it's on the decline. The national rate of homelessness in 2015 fell to 17.7 homeless people per 10,000 people from 18.3 in 2014. About 1.36 million students in the U.S. were homeless in 2014, according to the U.S. Department of Education.
The vagaries of New York's shelter system often force families in shelters to make tough decisions. Under the federal McKinney-Vento Homeless Assistance Act, students have the right to continue at the school they attended before they entered a temporary shelter. But if a family is placed in housing far away from the school a child originally attended, parents must choose whether to put their child in an unfamiliar school close by or to keep their kids in their original school and deal with long commutes.
The IBO report found that during the 2014-15 school year, only about half of homeless families in New York City were placed in housing located in the same borough as their youngest child's school, which represents a decline of 30 percent since 2011. Many children end up bouncing from one school to another as they relocate from shelter to shelter: During the 2013-14 school year nearly 1,500 homeless children attended three or more schools, according to the IBO report.
Duncan has fought to keep her children in their original schools despite the long commutes they face. She said that Department of Education representatives suggested that her children move to schools closer to the shelter where she was living, but she declined because her children are attached to their teachers and fellow students. Her son Dayle, the one with Down syndrome, "loves his teachers and he is comfortable with them," she said. "The staff all know him."
Even for students without disabilities or physical health problems, children living without permanent housing are under "constant psychological stress," said Robin Veenstra-Vanderweele, the chief strategy officer of Partnership With Children, a New York City-based nonprofit. Staying in one school can be critical for the well-being of children in temporary housing. The recent ICPH report found that students who lived in a shelter for all four years of high school graduated at nearly the same rate as low-income students in regular housing. "Even if they are living in a shelter, the stability of staying in one location can provide a platform for regular attendance," Veenstra-Vanderweele said.
But staying at one school comes with its own problems. "The families we spoke to talked about the basic challenges transportation caused," said the IBO report's author, Liza Pappas, an education-policy analyst. "Like, how do you feed your kids a decent meal because they are now spending four hours a day on the bus? Longer travel times mean not being able to participate in after-school programs."
It can also mean higher rates of lateness and absenteeism, according to Meghan Dunn, the principal of the Riverdale Avenue Community School in Brooklyn. "I have a family with a first-grader who live in a shelter in the Bronx," Dunn said. "It's a two-hour bus ride. They get on a 5:45 a.m. and his mom puts clothes on over his pajamas because he is asleep when he leaves." Nearly two-thirds of students living in shelters in New York City were either "chronically absent" (missing more than 20 days, which is about 10 percent of the school year) or "severely chronically absent" (missing more than 40 days, or 20 percent of the school year) during the 2013-14 school year, according to the IBO report.
These challenges are mirrored nationally as many school districts struggle with high rates of absenteeism among children in temporary housing. In a recent study of New Jersey students, for example, although homeless students made up only 0.6 percent of the total student population, nearly 28 percent of these students were chronically absent. Some districts have access to programs aimed at ensuring educational stability for children constantly on the move. In one Florida county, homeless students are provided with out-of-zone transportation so they don't have to lose touch with their teachers and friends. In Charlotte, North Carolina, a local nonprofit provides transportation and other social services to homeless students in an effort to reduce absenteeism. California schools work to "coordinate with local housing authorities and placement agencies to house students near their school of origin," according to the state's department of education.
"We need to be thinking about how homelessness impacts the life of a child, and there are ways in which they can be supported," said Jennifer Erb-Downward, a policy analyst at ICPH. "Keeping students in one place is critical."
Advocates for the homeless say that city agencies should open more shelters so that families can be placed closer to schools, but available resources for temporary housing in New York City are becoming increasingly scarce as the need for shelters grows. "Right now, the City has a very limited ability to keep homeless households in their home borough due to capacity issues," said Steven Banks, the commissioner of New York City's Department of Social Services, in an emailed statement. "That's why we are continuing to expand our homelessness prevention and permanent housing programs and are working to open more shelters across the city."
Toya Holness, a spokeswoman for the city's Department of Education, said that the school system is working "to implement critical programs" to ensure student in shelters "receive an equitable and excellent education." The department, according to Holness, is hiring teachers to work directly in 23 shelters to supplement regular schooling and adding social workers to 32 schools serving large populations of students in shelters.
Still, it's hard for the department to offset the burden of navigating the shelter system's bureaucratic procedures, which the IBO report highlights as another major obstacle when it comes to educating homeless children. Like most homeless families in New York City seeking refuge in temporary housing from the Department of Homeless Services, the start of Duncan's journey into the shelter system began with a visit to a sprawling office in the Bronx called PATH, or Prevention Assistance and Temporary Housing. It's where the city's Department of Homeless Services checks to make sure a family really needs shelter and finds them housing if they do. According to the IBO report, children need to be present at the appointment when families are making their first application for housing—or when they're reapplying after initially being deemed ineligible.
Indeed, parents spend a lot of time simply applying for housing and making sure they can stay in shelters, often waiting long hours with their children in the PATH office before they are placed in housing. Duncan said she waited in the office for more than 12 hours with her four children before she was placed in a shelter. Her son Dayle needs constant access to medical equipment, including an oxygen bottle that she had to tote around while waiting. Duncan's family, she said, was finally placed in a shelter after midnight. Waits like these can make it harder for families in temporary housing to get their children to school, observers say.
Under new DHS rules, school-age children won't need to appear at the appointment if the family has applied for housing in the previous 30 days. Once a family is in temporary housing, though, other bureaucratic obstacles await. In some New York City shelters, parents said rooms are inspected in the evening, which can disrupt children's schedules when they're studying or keep them from sleeping.
Then there are the mundane difficulties of life in shelters, which can hinder children from getting to school. Simple tasks like washing school uniforms can be a challenge, and families in shelters are sometimes too embarrassed by the stigma of homelessness to ask for help, said Drema Brown, the vice president of the School-Age Division of the Children's Aid Society, a New York City nonprofit group. "Families living in shelters have nowhere to wash school uniforms so they won't send their kids to school because they are embarrassed," said Brown, adding that her organization keeps extra school uniforms available for such situations. Meanwhile, families low on cash sometimes don't have enough money for bus fare for students and are reluctant to ask for help. Duncan, for her part, would like to drive her children to school to make the travel time shorter but often doesn't have enough money for gas and tolls.
Despite the challenges, Duncan tries to stay positive. She recently got a part-time job as a school nurse and says her children are getting good grades. "My dream," she said, "is for my kids to be as successful as they can possibly be."