How Comedy Became Education's Best Critic
Late-night hosts including John Oliver and Samantha Bee devoted air time to school-related issues this year, pushing the topics into mainstream conversation.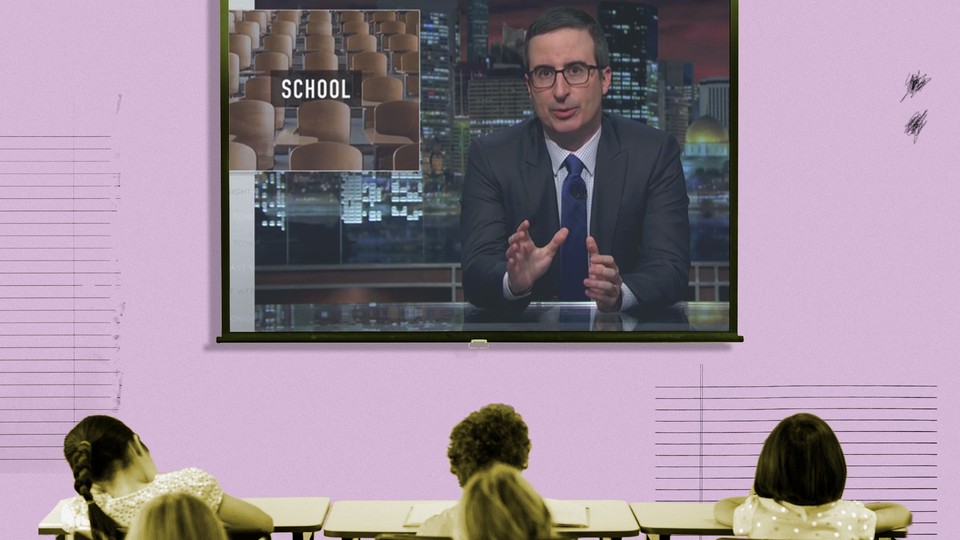 This is the second installment in our series examining the intersections of education and entertainment in 2016. Read a previous entry on a documentary, and check back for future pieces on a play, animated movies, and television.
It's no secret that politics has been especially central to late-night comedy over the past year or so. Some would argue that shows—from The Daily Show to Full Frontal With Samantha Bee—have served as more robust sources of political news than traditional broadcast news. According to a recent analysis by Tyndall Report, since the beginning of 2016, ABC's World News Tonight, CBS Evening News, and NBC Nightly News devoted just 32 minutes to coverage of policy issues.
"What we're witnessing, actually, is a movement in these longer-form satire programs in the direction of exploring in-depth, complicated policy issues," said Dannagal Young, an associate professor of communication at the University of Delaware's Center for Political Communication. "I think what humor offers that's particularly useful is the ability to reframe complex policies in really clear, simple, accessible terms."
One of the themes that saw a notably prominent presence in late-night comedy in 2016 was education. Trevor Noah interviewed the professor Sara Goldrick-Rab about Paying the Price, her new book about the financial strain of higher education in the U.S., on The Daily Show. Samantha Bee looked at how schools are responding to fears about mass shootings. John Oliver was particularly keen on talking about education issues on his HBO show Last Week Tonight, devoting two segments to them in 2016, one on school segregation and another on charter schools. The latter was so controversial that the Washington-based Center for Education Reform, a pro-charter nonprofit, offered a $100,000 prize to the charter school that created the best rebuttal to Oliver's tirade; Natomas Charter School in Sacramento, California, won.
We wanted to highlight the education-focused political satire in 2016 because it's an underrecognized source of information about issues related to schools and higher education. Late-night comedy shows may even have a pronounced impact on the way viewers react to the information they're receiving. According to Young's research, the reason its often highly polemical commentary can be so compelling is because of the way the brain processes humor and criticism simultaneously. When a brain is engaging in humor, it's attempting to understand a joke—to, effectively, solve a riddle. The goal, of course, is to laugh. That gets complicated when the brain is also trying to navigate what young described as "serious, didactic, persuasive rhetoric"—the kind of speech, in other words, that you'd hear from your everyday politician or political commentator.
"In humor, because we have this other simultaneous goal of getting the path of the joke and finding the missing piece of information to solve the riddle, that other process—of actively scrutinizing and preparing to counterargue—is deemed less appropriate," Young said. "We are not good at processing toward two goals at the same time. And this is why some of my colleagues have even gone so far as to say, 'Laughing and counterarguing are mutually exclusive.'"
Over all, Oliver has apparently covered education issues more than the hosts of other political-satire shows. He had an episode on student debt and for-profit colleges in 2014 and one on standardized testing the year after. Both Young and Amy Becker, an assistant professor of communication whose specialties include public opinion and political comedy, seem to agree that Last Week Tonight's model makes it particularly apt to comment on controversial education issues in a powerful way. Not only does the HBO platform allow for him to go on a continuous rant for an entire segment commercial-free, his show also has more of a "call-to-action" undercurrent than other shows.
Becker in her own research has focused on the "experimental effect" of Last Week Tonight and found that Oliver can have extensive influence on political participation. After his segment on net neutrality, in which he called on readers to comment on the Federal Communications Commission in response to a proposed regulation, the FCC site got so much traffic the day after the show that it crashed. Interestingly, Oliver's segment had a marked impact on the number of women commenters on the site; traditionally, the people who'd commented were predominantly male. "He narrowed the gender gap," Becker said, "so he made it more of a democratic discussion online."
Here's a roundup of the education-focused late-night comedy episodes from 2016:
John Oliver on school segregation:
John Oliver on charter schools:
Samantha Bee—"Duck and Cover":
Trevor Noah with Sara Goldrick-Rab: