From SATs to Sports: This Week's Top 7 Education Stories
The best recent writing about school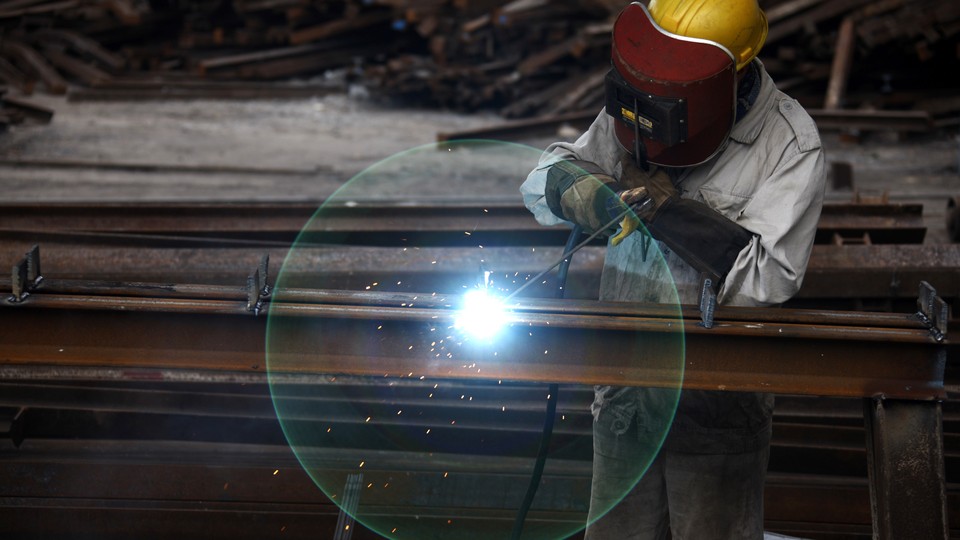 The SAT's Hazy, Common-Core Based Future
Renee Dudley | Reuters
"Shortly after taking over the College Board in 2012, new CEO David Coleman circulated an internal memo laying out what he called a "beautiful vision." It was his 7,800-word plan for transforming the organization's signature product, the SAT college-entrance exam. The path Coleman laid out was detailed, bold, and idealistic—a reflection of his personality, say those who know him.
Today, less than a year after the new SAT debuted, the College Board continues to struggle with the consequences of Coleman's crash course to remake the SAT and its companion, the PSAT, a junior version of the exam. 'It was a bad year, and I'm sorry,' Coleman said in September, at a conference of university admissions officers and high-school counselors. 'It is no good to have vision if you don't deliver.'"
* * *
Can Montessori Bring Families to Detroit?
Erin Einhorn | Chalkbeat
"'DPS has definitely disappointed everyone,' [Yolanda King, the mother of a student,] said. 'Even before I had kids, it saddened me some of the things they did in the district.'
But four years later, King doesn't even live in Detroit any more—she moved this year to a nearby suburb—but she drives Carlton into the city every day to attend a public school.
It's not that Detroit schools have significantly improved. Despite a recent financial overhaul that resulted in a new name—the Detroit Public Schools Community District—and more money for classrooms, the district still faces severe academic and financial challenges. But something happened this year to change King's thinking about the district: It started offering Montessori instruction."

* * *
The City Poised to End Child Abuse
Natasha Gardner | 5280
"Although the federal government has established basic guidelines for identifying child abuse and neglect to determine prevention funding amounts, the responsibility for defining child abuse falls on each state. About 702,000 kids are abused in the United States each year. …
There might be no better place than Denver to stop child abuse. That's because our modern understanding of the problem—and the efforts to remedy it—developed here in the early 1960s. The New York Society for the Prevention of Cruelty to Children dates to 1875 and was modeled after an existing effort to prevent cruelty to animals. But it was parents raising baby boomers in the comparative comforts of a post–World War II world who shifted child-rearing trends away from basic daily survival to 'what's next?' questions."

* * *
What Successful Factory Towns Have in Common
Bob Davis | The Wall Street Journal
"The political backlash that led to Donald Trump's presidential triumph this year was powered partly by anger that global trade and technological innovation didn't deliver prosperity or social stability. Many college towns have been able to withstand those economic challenges, research shows.
A nationwide study by the Brookings Institution for The Wall Street Journal found 16 geographic areas where overall job growth was strong, even though manufacturing employment fell more sharply in those places from 2000 to 2014 than in the U.S. as a whole. Among the 16 surprisingly resilient areas, half are home to a major university."
* * *
Concussed Student Athletes Continue to Take the Field
Matt Rocheleau | The Boston Globe
"A newly released survey has found that half of Massachusetts student athletes who said they experienced concussion-like symptoms continued playing that day. At the same time, more than 200 schools have violated state rules by failing to report data on head injuries students suffered during the 2015-16 academic year.
Experts worry that the survey findings and lack of compliance with reporting requirements are signs that concussions aren't being taken seriously enough, despite efforts in recent years to increase awareness about the health risks.
'It's playing with fire to keep playing with a concussion,' said Dr. Robert C. Cantu, a leading expert nationally on the traumatic brain injuries."

* * *
The American Obsession With Parenting
Alia Wong | The Atlantic
"A recent study published by the American Educational Research Association aimed to get a better sense of how those income-based differences in parenting behaviors have evolved over time, drawing data from four nationally representative, longitudinal surveys conducted between 1988 and 2012. The research findings are promising in that they show lower-income parents are engaging in activities like reading and educational excursions more than ever before. But they also show that, for six of the eight behaviors studied, the disparities only grew."
* * *
The Optimistic Oncologist on Campus
Sam Turken | The Duke Chronicle
"Despite his more than 30 years of experience treating the most lethal forms of cancer, [Henry] Friedman—a lead neuro-oncologist and deputy director at the Preston Robert Tisch Brain Tumor Center—is as hopeful as ever. He's seen treatments improve and has also relied on his family, different responsibilities, and positive demeanor to stay sane as most of his patients die.
Clinical consultations and patient checkups on Mondays and Tuesdays are just part of what he does. He helps oversee one of the country's premier brain tumor centers, works with drug companies to create new reagents, and has led efforts to develop new cures."