Where Students Get Two Years of College in High School for Free
A small private school in western Massachusetts has launched a network of tuition-free early colleges across the country.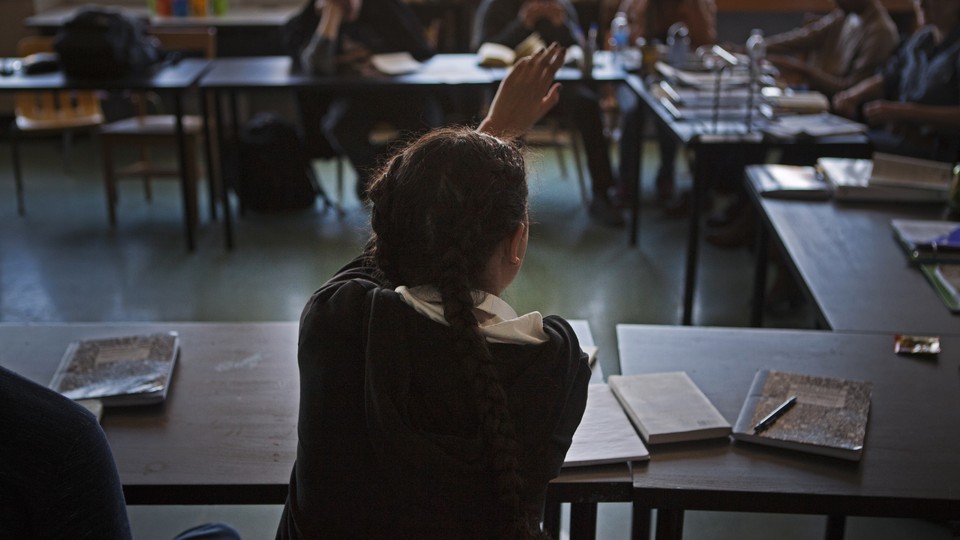 BALTIMORE—In the last few years, hundreds of schools across the United States have endorsed the idea that giving teens access to college classes while they're still in the relative cocoon of high school helps ease the transition to higher education. So it wouldn't be unreasonable for casual onlookers to think of "early college" as a relatively recent invention.
Yet Simon's Rock, a tiny private school nestled in the western Massachusetts town of Great Barrington (perhaps best known as the birthplace of W.E.B. Du Bois), has been piloting the concept for some 50 years. Now, as more cities and states contemplate the general idea, Simon's Rock is looking to preserve and spread its definition of early college to more students—one grounded in the liberal-arts education it worries too many newer early colleges are eschewing.
Affiliated with Bard College since 1979, the school is a full-time, four-year, accredited institution designed for students who are ready to start college after two or three years of high school. For years, it was alone in the early-college market. It operated with (and continues to abide by) the notion that a strong liberal-arts education is the foundation for a lifetime of learning.
A few decades ago, that would've seemed pretty standard. But now, as more states and cities explore the early-college concept, many are focused on equipping students with vocational skills. "Nobody ever wants to have dual-enrollment programs that have any kind of liberal-arts or humanities emphasis," said Tony Carnevale, the head of the Georgetown Center on Education and the Workforce. "They just don't." High-schoolers in the Houston area, for instance, take welding courses at local community colleges to pick up the skills they need to work after graduation in the oil and construction industries, an arrangement driven in large part by employer demand. And too often, critics like Ruth Lopez Turley, the director of the Houston Education Research Consortium, worry, these programs have attracted lower-income students of color who might have succeeded at a four-year university if given the chance.
At Bard the goal is to attract those students and then provide them the instruction and environment they need to earn a bachelor's degree or higher. "Our model is based on actually challenging them," Ian Bickford, the provost of Bard College at Simon's Rock, told me over coffee in Washington, D.C., recently.
It hasn't always been that way at Simon's Rock. Bickford acknowledges that the Massachusetts school was for years considered a retreat for a small number of gifted kids who were looking for an accelerated education. Attending involved tuition, and children of color—who are disproportionately likely to end up in high schools with few resources and, often, little guidance on how to get to college—weren't always equally represented.
But in the last 15 years, Bard—in partnership with local school districts—has launched the Bard Early College network, which aims to export the liberal-arts-focused model to public-school students across the country. The objective, as Bickford explained, is to maintain the rigor of the education students get at Simon's Rock while also expanding access to higher education to thousands of public-school students who wouldn't ordinarily find themselves at a private school in New England.
One of the issues with even the phrase "early college" is that it's tossed around with a variety of meanings. Sometimes people use it when they talk about giving high-schoolers access to college classes online. Sometimes they use the term when kids spend half their day at high school and half on a nearby college campus. At most Bard locations, students essentially complete ninth and 10th grade and then transition to a two-year, tuition-free college curriculum in the liberal arts and sciences. At the end, most have an associate of arts degree (about 60 transferable credits) and a high-school diploma. Instead of having to leave campus to go to an affiliated college, Bard students are generally taught in all four years by teachers with Ph.D.s. Unlike at Simon's Rock, the schools are public and students do not have to pay, meaning they can earn an associate's degree at no cost. Most of the expense is covered by the partner school districts, but Bard does also receive some private funding from groups like the Carnegie Corporation.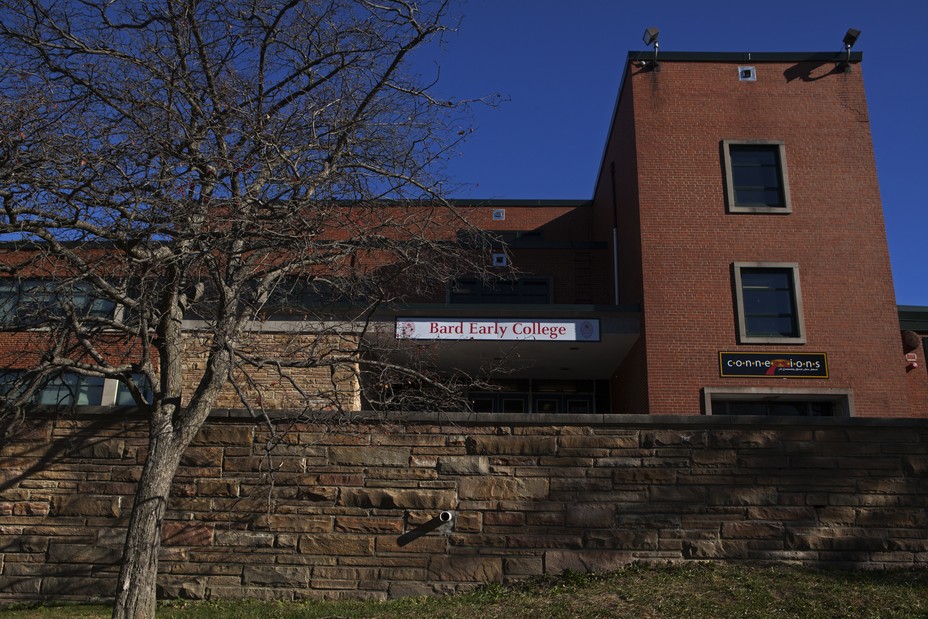 Days before the planes struck the Twin Towers in Manhattan, the network opened its first publicly funded high-school-early-college combo across the East River in Brooklyn's Greenpoint neighborhood. "It completely revolutionizes the traditional high school-college model into a single program," then-New York City Schools Chancellor Harold Levy told the New York Daily News at the time. "It breaks the mold on high schools … I don't have the slightest doubt that this will be picked up and replicated in other parts of the country."
Levy, now the head of the Jack Kent Cooke Foundation, wasn't wrong. In the intervening years, Bard has opened a handful of other campuses in places like Cleveland; Newark, New Jersey; New Orleans, and, last year, Baltimore.
About 40 percent of the network's 2,340 early-college students are black, a quarter are white, 16 percent are Latino, and 15 percent are Asian. More than 60 percent qualify for free- or reduced-price lunch, and many are the first in their families to attend college. The schools generally perform well. Both high-school and associate-degree graduation rates are above 90 percent, and an independent analysis of the Bard schools in New York City found that black students were more than twice as likely to earn a bachelor's as similar students in the city's traditional public schools. More than 90 percent of the early-college graduates complete a bachelor's degree within six years of enrolling at a university after leaving Bard, a significantly higher figure than the national college-completion rate of about 60 percent.
Students have to apply to attend one of the early colleges, and Bard is unapologetic in saying that its programs aren't for everyone. But it's also not relying on traditional indicators like past academic performance or attendance to determine which prospective students make the cut. Students take a writing assessment and sit for interviews. The schools are looking for kids who are intellectually curious, even if they haven't had access to good teachers and lessons in the past.
But the expansion of Bard High School Early Colleges (as they are officially known) has happened at a relatively slow pace. That's partially because the people behind the network wanted to be sure they could scale the quality, culture, and liberal-arts ethos of the private Simon's Rock in a public-school setting.
And Bard complicated that task by moving into cities where educational rigor hasn't exactly been the standard, particularly for the black and Latino kids who have traditionally been confined to lower-performing schools. Ultimately, Bickford and his colleagues want to work with students who don't necessarily have access to a high-quality liberal-arts education, including many who haven't even dreamed of college as a possibility.
In a place like Baltimore, where college-going rates are relatively low and most of the city's public high-school graduates do not have the grades, test scores, or class credits they need to enroll in a four-year college, the sense among students that college isn't for them can be palpable. Yet, Bickford said, give students who want to learn a chance to actually go to college without "jumping through hoops" to get there and the mental shift is "mind blowing." Or as Ella Geismar, a graduate of one of the schools in Queens who now works as a program associate for the network, put it: "You're already in college and so you know you can do it."
* * *
A few weeks after my coffee with Bickford, I sit down with a handful of Bard High School Early College (BHSEC) Baltimore students at their school about five miles northwest of downtown. Opened last year in partnership with the local school district (teachers are members of the local union), it's expected to serve about 500 students by 2019.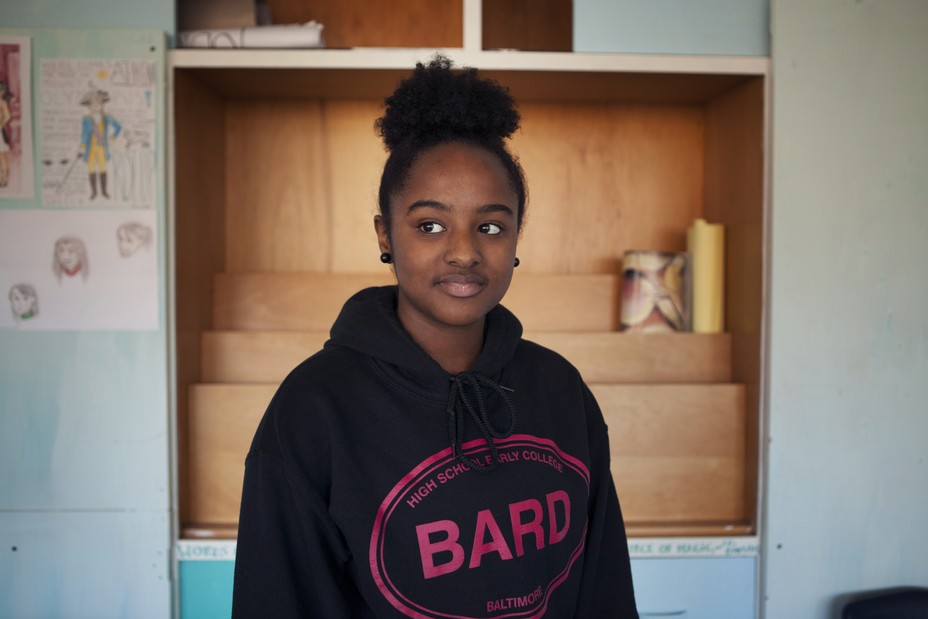 Aubreigh Dehinbo is a 16-year-old who spent the first part of high school in Georgia before moving here to live with her dad. At her old school, she said, she went through the motions of being a student, but she didn't really get the sense that people were personally invested in her success. She figured she'd become a paramedic, she said, "because that's good enough for me." Here, teachers and classmates push her to express herself, to think critically, to argue intelligently. "It makes college feel more attainable," she said. Now, she wants to go into emergency medicine. "Before Bard, I would never have thought of that."
Despite the high-school feel of the somewhat shabby structure itself, the conversations taking place in the courses here remind me more of college seminars than any class I took in high school. Emily Hayman's students are seated in a horseshoe discussing Virginia Woolf's use of brackets in To the Lighthouse. There is no lecture, no sleep-inducing slideshow. There are no admonitions to slouching kids to sit up straight, or attempts to wake the student dozing, head on desk. Students come and go to the restroom as they please, no hall pass required. With very few exceptions, the young people in Hayman's class are alert and engaged, trading ideas and thinking deeply.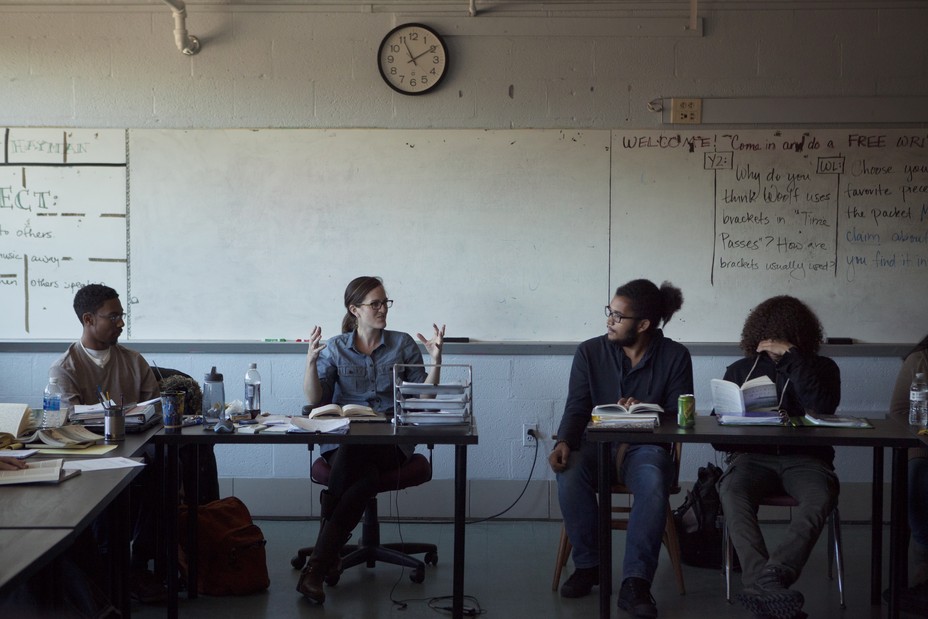 Hayman is guiding them with questions, but doing very little of the talking herself, which requires a teacher trained and confident enough in her own ability to succeed to allow the conversation to progress, to embrace the idea that there is no "right" or "wrong" at all. (Bard says it emphasizes professional development and creates opportunities for instructors at different campuses to engage and share ideas.) The 31-year-old holds a Ph.D. in English and comparative literature from Columbia University, where she used to teach freshman. That's not unusual. Most Bard instructors have advanced degrees. Hayman, like many of her colleagues, made the switch to BHSEC Baltimore from a traditional university to work on the front end, to help young people make that transition to college. "I absolutely believe if we talk about these big ideas, everybody is going to be up to the conversation," she said. "They're pretty good at jumping in."
Where some critics—early-college advocates among them—have decried a focus on a liberal-arts heavy curriculum as unnecessary and burdensome in today's tech-driven world, Hayman and others in the Bard network think it actually makes more sense than ever. "It's about teaching students how to think," she said. It gives students "a common vocabulary of thought." It also, she added, empowers students "to be able to see your way around how people talk," something that may be more important than ever for Americans who, among other things, have just selected a president prone to exaggeration and outright lies.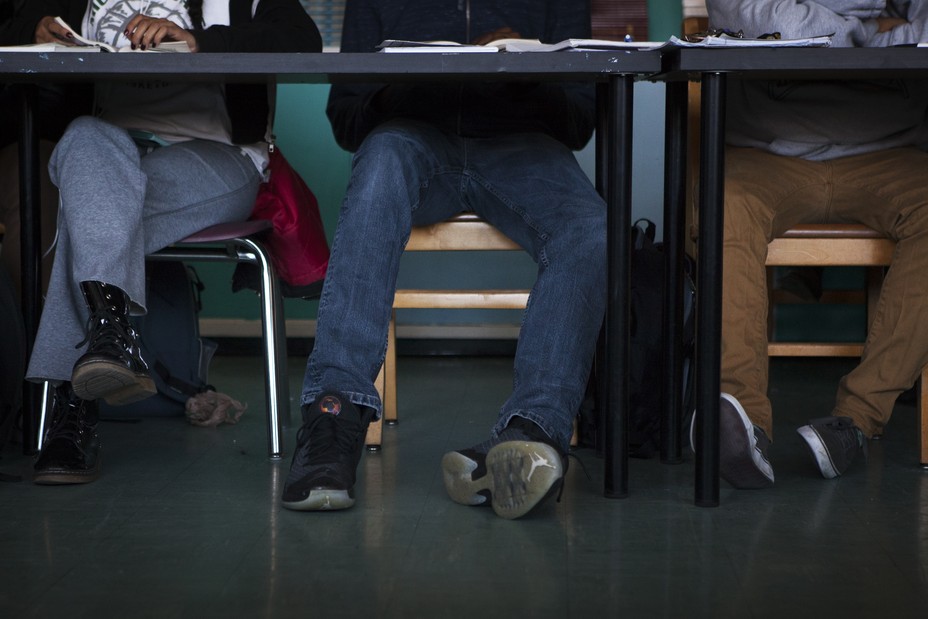 And it's not like focusing on the humanities is something the Bard early colleges undertake at the expense of science, said the head of the Baltimore school, Francesca Gamber, during an interview in her office. Students take science and math classes, too. But she pointed to research that suggests people with liberal-arts backgrounds have better career and salary outcomes, and more economic mobility, than those who have very specific skills. The focus on liberal arts, she added, is really an insistence on a lifetime of engagement as a citizen and member of society. Vocational education in particular, she said, can predetermine so much—what skills someone will possess, exactly which jobs they'll be qualified for. As Bickford said, the last thing Bard wants is for early college to turn into early tracking. "It's planned obsolescence for human beings and it's really sad," he said. Instead, he and Gamber want their students to have the freedom to explore beyond that.
That makes a lot of sense if you consider research from people like Carnevale at Georgetown. Carnevale and his colleagues have pointed out that schools today are tasked with educating students for a workforce and an economy that are evolving so quickly, no one knows what precise skills its workers will require. The key, they argue, is the ability to think and collaborate and continue to learn and adapt. In one sense, Carnevale said, education should be a "fundamental commitment to human flourishing," a way to keep democracy alive. But, he said, there's a growing push to educate students so they can make a living. Too often, those goals haven't overlapped, and they've been highly segregated by race and class, he said.
"I applaud what they're doing," he added, of Bard's focus on the liberal arts and its desire to expand access through a network of early colleges. But, he cautioned, Bard and other schools also need to equip kids with the skills and knowledge they need to support themselves in a capitalist economy that doesn't necessarily care whether they're capable of parsing Woolf's use of brackets.
Students begin their Bard experiences with a writing-and-thinking workshop. It's not about "saving kids," said Gamber, because they don't need that; it's about giving them the same opportunities that wealthy kids have by nature of their birth. In cities like Baltimore, which lets its students apply to attend any public high school in the city, regardless of what neighborhood they live in, the network is working with groups like Americorps Vista to reach out to students at lower-performing schools who might otherwise be overlooked. "There's a presumption of intellectual equality," she said, noting that Du Bois himself wrote about black students and a lack of access to education in a way that is still all too relevant.
If the students at BHSEC Baltimore are any indication, when young people have the chance to develop confidence in their intellectual ability in a setting with a little more scaffolding than, say, freshman year at a huge public university usually entails, their perception of what they are capable of balloons. "It really broadens your horizons," said Peter MacKinnon, a 10th-grader who will soon transition from the high-school phase of the Bard experience into the college portion. "The students, they have a voice here. Their thoughts matter."
Taylor Spann, 17, agrees. Classes at her old school "sort of felt robotic," she said, and a lot of classes felt too easy, like the work didn't really matter, like teachers didn't really care about pushing students to expand their understanding of various topics. "Comfortable is not a good place for me," she said.
Christopher Johnson said that before he arrived at Bard, he "was a student in title only."* It felt, his classmate Tyler Williams said, like his old school was more concerned with "creating factory workers" than scholars, and there wasn't much talk about how to get to a good college at all. Johnson said that often it was easier and more pleasant to just skip school and study at home. He was still getting the highest grades on quizzes, he said. At Bard, that would never work. Besides, why would students want to cut? During a unit on James Joyce's Dubliners and Edward P. Jones's Lost in the City, Williams's "Literature of the Cities" class spent a day tromping through Washington, D.C., stopping off at The Dubliner, an Irish pub near the Capitol, for good measure. "I wanted to go," he said.
* * *
Although Simon's Rock has been around for half a century and Bard has been expanding its early-college model for more than a decade, the coming years stand to bring more rapid growth, both within the network and more broadly. The concept was recently acknowledged in federal legislation for the first time, and the U.S. Education Department is exploring the use of Pell grants, federal funds low-income students use to pay for college, for such programs. It's a concept that actually enjoys some bipartisan support. In January, the College in High School Alliance coalition, which counts Bard along with groups like Jobs for the Future and the National Alliance of Concurrent Enrollment Partnerships as members of its steering committee, will officially launch with the aim of promoting policies that advance such programs.
"The high-school diploma is a vestigial credential," Bickford said. Now, he added, the goal for proponents is to show that quality early-college models are scalable, and that they can help reduce achievement gaps and dropout rates not by dumbing things down, but by challenging kids and exposing them to new opportunities.
---
​ * This article originally misattributed a quote to Tyler Williams. We regret the error. ​​​​​​