5 Numbers That Explain Education in 2016
From record-high graduation rates to the percentage of students who attend charters, here are some figures that help tell the story of U.S. schools over the last year.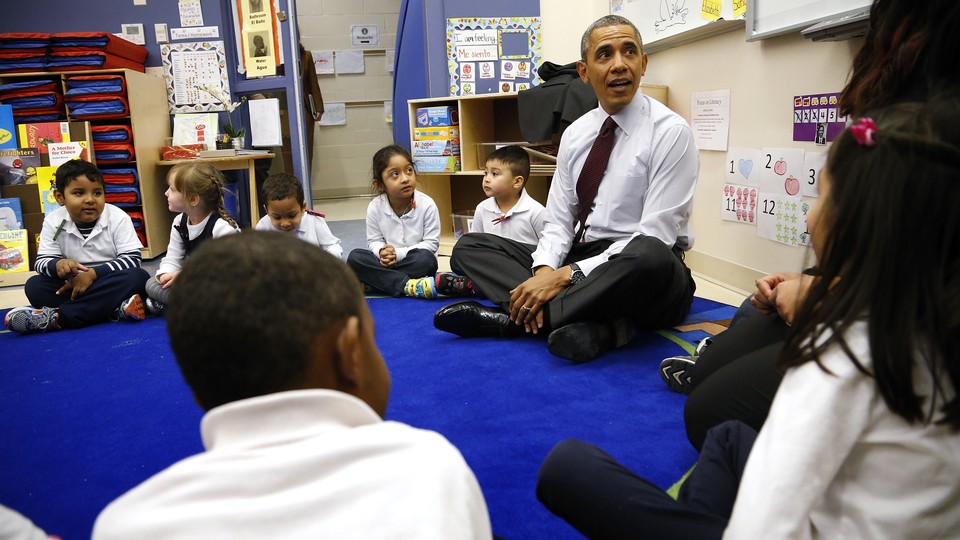 As a writer, I generally favor words over numbers. But sometimes a good number is worth a thousand words. Or something like that. In that spirit, here are five numbers that help explain the state of education in 2016 (with a smattering of words thrown in for good measure).
83
This is the percentage of American high-schoolers who graduated on time during the 2014-15 school year (the most recent year for which there is data available). While 83 percent is a record-high overall graduation rate, the rates for some groups of students, such as blacks and Latinos, are much lower. Although persistent gaps remain, schools and nonprofits are finding creative ways to serve what is an increasingly diverse student body.
5
Five is the number of states that do not provide any funding for preschool. While expanding early-childhood education is increasingly seen by both Republicans and Democrats as a valuable investment, Idaho, Montana, New Hampshire, South Dakota, and Wyoming have held out for a variety of reasons. How long these states remain outliers is unclear. There is more brain science than ever to suggest investments in the early years pay off. And there is an increasing amount of attention being paid to how preschool and quality childcare can help reduce the multimillion gap in the number of words babies from wealthy and poor families hear. Yet even when states and cities do invest in preschool programs, it's not always clear that they're funding approaches that are the best for kids.
2.8 million
Fewer students are being booted from class for misbehavior than in previous years. Yet 2.8 million students still received out-of-school suspensions during the 2013-14 school year, the most recent year for which data is available. A disproportionate percentage of those students were children of color or children with disabilities, which has prompted the Obama administration to frame school discipline as a civil-rights issue. Research suggests that students who are kicked out of school are much more likely to struggle as adults. Yet the administration's support of concepts like restorative justice, which keep kids in school, has left some teachers feeling abandoned.
6
According to the National Alliance for Public Charter Schools, around 6 percent of students enrolled in U.S. public schools attend charter schools. That translates to not quite 3 million students nationally, and a more than 60 percent increase since 2010. That number could rise even more dramatically in the coming years if the Trump administration succeeds in its mission of expanding school choice. Betsy DeVos, who is set to become the next U.S. secretary of education, has supported efforts to expand access to both charter schools and vouchers, which let students use public money to pay for private school. While her pro-charter views have earned her praise from a number of Republicans, teachers' unions have repeatedly alleged that charters harm traditional public schools.
30
Pinning down the exact number of first-generation college students (or even whom that term covers) is difficult, but the general consensus seems to be that at least 30 percent of today's college students are the first in their families to pursue higher education. These students are less likely than their peers from families who have experience with college to graduate on time. So, as more first-generation students make their way to college, schools are grappling with how to serve them, whether that means developing mentor programs or even sending students text reminders about financial-aid deadlines. There's still plenty of room for improvement, both when it comes to expanding access to higher education and to helping students succeed once they reach campus.