The Push for Sanctuary Campuses Prompts More Questions Than Answers
It's not clear how far colleges would or could go to stop the deportation of students.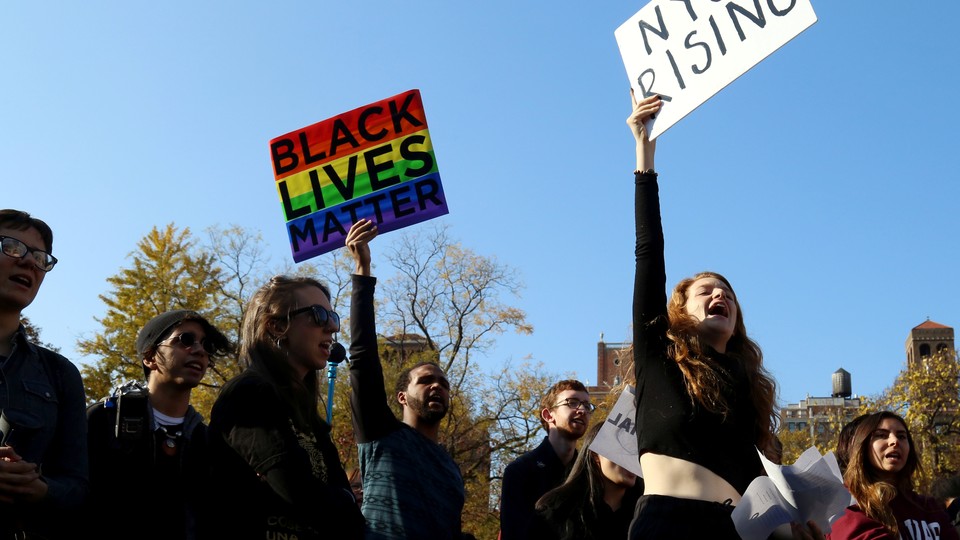 Students at colleges around the United States are asking their school leaders to establish so-called "sanctuary campuses" following President-Elect Donald Trump's win. The idea behind these demands is to protect young people who feel threatened by his victory. But it's not clear exactly what the term "sanctuary campuses" means or how far universities will go to comply with the request.
Yet some schools are moving to define and adopt the term already. On Sunday, the president of Wesleyan University said after consulting with the school's legal counsel and board of trustees that the college would become a sanctuary campus, according to the student newspaper. The school, one of the first in the country to adopt the identity, has reportedly created two clauses explaining in part that it would not willingly assist with government efforts to deport undocumented students, faculty, and staff. According to the Wesleyan Argus:
These clauses are meant to give the University legal backing on constitutional grounds in a variety of cases. The most immediate would be preventing any University staff from assisting federal authorities in deportation efforts. The University's statements also hedge against a potential federal lawsuit or seizure of funds, of which the federal government provides around $200 million to the University each year.

It is unclear to what extent the "voluntary assist[ing]" clause will be applied if federal authorities were to come to campus, but it does ostensibly ensure that resources such as Public Safety and the registrar's office would not be called upon to aid a potential deportation force.
Trump has promised, among other things, to deport millions of undocumented immigrants who are criminals and end an Obama-administration program that grants some young people in the United States without papers temporary relief from the threat of removal. He also at one point proposed barring all Muslims from entering the country, though that pledge has since morphed into one that would instead involve "extreme vetting" of immigrants from certain parts of the world. So in response, students in the U.S. are calling on their universities to support undocumented students and other people who might be vulnerable under a Trump administration by becoming "sanctuary campuses." That term has no standard definition, though, and while Wesleyan has moved to adopt it, other schools are questioning how feasible becoming a sanctuary campus really is.
The term is generally derived from the "sanctuary city" concept, which also varies in meaning. Broadly, major cities like Chicago and New York have said they will serve as "sanctuaries" for immigrants, typically by saying they will not turn over undocumented immigrants to federal immigration officials. San Francisco, for instance, more than two decades ago passed a law prohibiting local police from holding undocumented immigrants if they are not facing charges or do not have a record of violent felonies.
Students have asked dozens of schools across the country for similar assurances. They want the schools to refuse to turn over the names of undocumented students, for example, and many have asked their colleges to provide confidential counseling and legal services for such students.
* * *
Trump promised on the campaign trail that cities choosing not to cooperate with immigration authorities would "not receive taxpayer dollars." Trump can't make that happen by himself; it would require approval from Congress, and the reason for withholding federal funds from cities would likely have to be tied to their proposed use. In previous years, Democrats have blocked attempts by Republicans to cut off federal funding. But Republicans now control the House and Senate as well as the White House, so there's a chance that future attempts to limit funding for these cities might be successful.
Could a Trump administration, with backing from Congress, also threaten to withhold federal funding for colleges by, say, refusing to issue student loans to students at sanctuary campuses? Could they withhold federal research grants? It's hard to say right now.
For instance, the California State University system recently reiterated that it would remain a welcoming space for undocumented students. But the chancellor, Timothy White, seemed to acknowledge during a recent meeting of the board of trustees that the system could be legally forced to turn over information. According to the Los Angeles Times, "Unless forced to by law, he said, Cal State 'will not enter into agreements with state or local law enforcement agencies, Homeland Security or any other federal department for the enforcement of federal immigration law.'"
Faculty at Trinity College in Hartford, Connecticut, who would like to see the school become a sanctuary campus, met on Monday with administrators to "have a better sense of what their expectations are for a sanctuary campus," said Joanne Berger-Sweeney, the school's president. Her faculty expressed interest in the school declining to pass immigration information to federal authorities, and in establishing a network of alumni who are willing to offer pro bono legal help to undocumented students.
While Berger-Sweeney says she wants to support students, including undocumented ones, she said that at a recent conference, college presidents discussed the sanctuary-campus concept and "admitted that we are not yet sure what is being requested of us." Financial retribution is "of course, a concern," she said. Many of the presidents in attendance also acknowledged their obligation to consult boards of trustees when a decision—to become a sanctuary campus, say—carries "fiduciary implications." Berger-Sweeney indicated she would be speaking with her school's board about what it would mean to become a sanctuary campus.
Berger-Sweeney said she felt reasonably comfortable refusing to turn over information  about undocumented students to federal immigration officials, suggesting that doing so would conflict with student-privacy rights. But if a Trump administration proposed some action that would affect many more students—the school estimates that less than 1 percent of its students are undocumented—Berger-Sweeney added, "I think we would have to all think about where we would draw the line."
And those in favor of policies that limit immigration have warned colleges to keep the safety of all students in mind when responding to calls that they establish themselves as sanctuary campuses. "If there is someone who is a problem on campus, let's say potentially there's an individual that the FBI and ICE are aware is involved in terrorism, and maybe planning a terror attack, and in the course of their investigation they want to find out what kinds of things the student has access to, or what the class schedule is or something that, in furtherance of an investigation that could save lives, I would hope that university authorities would see this clearly and see the need to not just have a blanket prohibition on giving information to immigration authorities," Jessica Vaughan, the senior director of policy studies at the Center for Immigration Studies, told Inside Higher Ed, describing that as a hypothetical worst-case scenario. "I think it's important that university administrators not make arbitrary decisions at this point in time that are inspired by political considerations, or sympathy for illegal alien students."
* * *
Still, many administrators cited particular concern about what the prospective policies mean for undocumented students. While Trump has said in recent days that he would prioritize the deportation of immigrants who are criminals, immigration enforcement generally was a popular topic among his voter base—and targeting college students who have been granted temporary deportation reprieves would be an easy way to identify undocumented immigrants because there is a federal database with all of their information. "That's the scary thing," said Tim Cresswell, Trinity's dean of faculty and the vice president for academic affairs.
Several Democratic lawmakers have asked President Obama to use a presidential pardon (which could not be undone by Congress or a new president) to protect the young people who have received deportation relief under his administration. But the White House declined, noting that the pardon would not give these young people legal status, something only Congress can do.
Cresswell also pointed out an important difference between schools and cities. Where sanctuary cities have police forces that could theoretically face off with immigration officers, schools don't have that manpower. In that sense, identifying as a sanctuary campus "doesn't really mean very much," he acknowledged.
Other universities have said as much in response to student requests for sanctuary spaces. The University of Wisconsin at Madison said in a statement to Inside Higher Ed that the "University of Wisconsin Police Department and Madison Police Department officers have full authority from the state Legislature to enforce laws and applicable rules on campus without seeking permission of the university."
According to The Washington Post, in response to a request by students at Brown, a school spokeswoman, Cass Cliatt, wrote in an email: "Based on consultation with legal counsel, we understand that private universities and colleges do not have legal protection from entry by members of law enforcement or Immigration and Customs Enforcement."
But Cresswell and Berger-Sweeney also suggested that there might be strength in numbers. If many campuses openly identify as sanctuary campuses, how realistic would it be to expect Trump's administration to try to impose sanctions on all of them?
Ramona Hernandez, the director of the Dominican Studies Institute at the City University of New York and a sociology professor at its City College campus, said that it's important not only for schools, but also for community members, to vocally support students who are looking for a safe space. (Her school's interim president, Vincent Boudreau, sent a note around campus the day after the election echoing that sentiment.)
Hernandez, who acknowledged that she is nervous about the possibility of scared students quitting college, said that more than just focusing on the legality of becoming a sanctuary campus, it will be important in the coming months for people in leadership roles to reaffirm that campus is a welcoming place. Students may experience aggression from "the average Joe" in their daily lives, she said, and advocates' basic concern "is that they don't feel afraid in moving to places within campus, to receive services." Right now, those services involve helping undocumented students with immigration questions, among other things. Hernandez wants to make sure those programs remain funded.
At Naugatuck Valley Community College in Waterbury, Connecticut, which recently became a Hispanic-Serving Institution, the associate professor Julia Petitfrere said faculty have been talking about declaring themselves "unafraid educators." "For me personally, if there's some comfort I can be, or some resource I can provide, absolutely come to me," Petitfrere said, acknowledging that the school likely wouldn't have the authority to stop immigration-enforcement officers from coming onto campus.
* * *
At Harvard, students, who met with school officials late last week, have urged college leaders to designate and protect a particular building on campus as a sanctuary space where students facing questions about their immigration status or deportation could go.
That's not a new idea. In some cases, churches have served as sanctuary spaces, welcoming people facing deportation. Just last week, a man scheduled to be deported to Mexico took refuge in a Philadelphia church instead of surrendering to immigration officials. A few years ago, another undocumented immigrant from Honduras took refuge in a church in the city, which also identifies as a sanctuary city. Ultimately, officials agreed to halt that woman's deportation for at least a couple of years.
Last year, the University of California at Davis opened a sanctuary space on campus that provides legal counsel and other supports to undocumented students.
Yet it remains unclear how far cities, churches, and schools can and are willing to go to remain sanctuaries (or how far the Trump administration might go to prevent that). There are more questions than answers around the idea of sanctuary campuses right now. But, Berger-Sweeney, the Trinity president, said that she and other college leaders will continue to explore what they can do to support undocumented students, including urging Trump to support continued deportation relief for students. "I think we are all in the process of moving forward in what feels like very uncertain territory," she said. "That's our job and we will remain vigilant and pay attention to this and primarily be as supportive as we can of our students."