Equipping Grandmas With Childcare Credentials
In one state, a program is streamlining the underground network of early-education providers.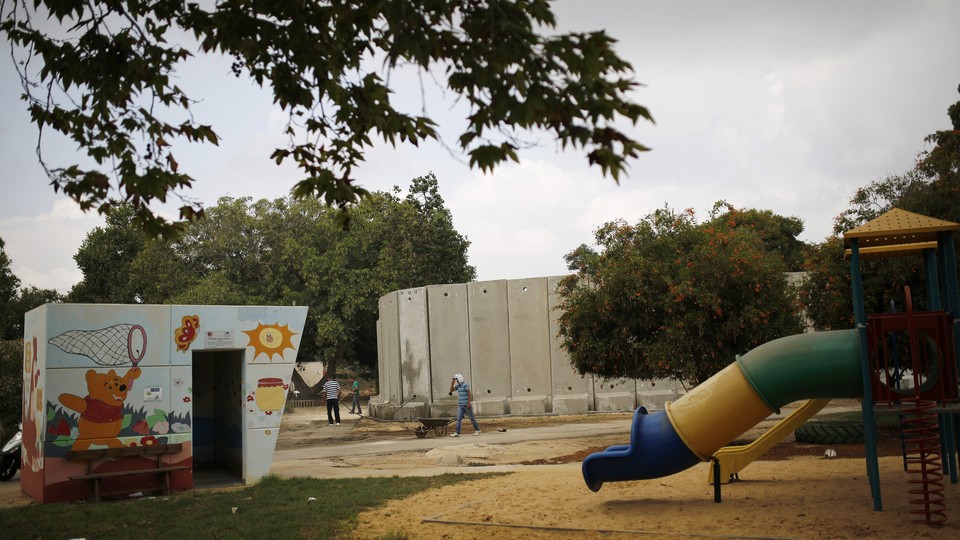 On a recent morning, 15 women gathered in a mint-green classroom at First Lutheran Church in Longmont, Colorado, to learn more about the fundamentals of childcare. They talked about mapping out daily schedules with time for reading activities, group play, meals, and naps. They traded tips about the inexpensive educational materials available at Dollar Tree stores.
But this was no Saturday-morning babysitting boot camp. It was part of a 120-hour training course that will eventually earn participants a national childcare credential.
What made the class unique was the women enrolled. Ranging in age from 20-something to 60-something, they were Spanish-speaking mothers, aunts, and grandmas who care for the young children of friends and relatives in their homes. Some do it for free. Others earn a small wage.
Most are undocumented immigrants and, as a result, they are not eligible to become licensed childcare providers in Colorado. Still, they are a critical part of Colorado's early-childhood workforce—one that is often overlooked in the policy realm.
In Colorado and nationally, so-called "family, friend, and neighbor care" is legal and ubiquitous. It cuts across racial and socioeconomic lines, with many parents choosing it because they know and trust the caregiver. While more than half of young Colorado children with working parents receive such care, the providers are often isolated and invisible.
"There's not a database. They're not connected to any system," said Liz Houston, the executive director of the Early Childhood Colorado Leadership Alliance.
This under-the-radar existence has meant little public awareness or support for such providers—and by extension the thousands of children in their care. But with the growing push to make sure children are ready for school no matter what kind of childcare they get, that's changing.
The training session in Longmont is one example. It's part of a program called Providers Advancing Student Outcomes, or PASO, run by the Colorado Statewide Parent Coalition. Funded mostly by grant money in four communities within Colorado's Front Range, it's received national notice and represents one of the few initiatives targeted to Spanish-speaking providers. "There's not another program that's as intensive as PASO out there," said Valerie Gonzales, the director of operations for the Colorado Statewide Parent Coalition.
* * *
While the women in the church classroom got ready to break for lunch, Maria Perez, a PASO graduate, recounted her own experience in the program six years ago. She was caring for her aunt's three children as well as two of her own at the time. "We didn't know anything when we started," she said. "It's true. The first day I came I was like, 'Wow, we know nothing about early education.'"
But she stuck with it, earning a perfect-attendance certificate and coming to appreciate how each class connected to the last like a series of train cars. Today, Perez, who arrived here from Mexico 11 years ago, heads the team that provides childcare in the church nursery during PASO classes. She seeks out other PASO graduates to assist her because she knows they're well-trained.
Perez is an enthusiastic evangelist for the program and the parent empowerment it promotes. Since she took the course, which is led by instructors known as "tías" or aunts, she's referred 10 other women.
She also urges parents of her young charges to get involved in their kids' schools and in the community. She points to her 17-year-old son—a responsible boy who's helpful with his younger siblings and is taking Advanced Placement classes at school. "This is thanks to the fact that I am always involved," she said. "And I am always trying to learn in any program … I always tell that to the parents: 'Go to the classes and pay attention.'"
Flor Marquez, the community-engagement coordinator for Denver's Early Childhood Council, found the same kind of enthusiasm in the training sessions she led in northeast and southwest Denver over the summer. Participants, who learned about topics such as child-abuse prevention, nutrition, and discipline, saw the power in educating themselves, she said: "They didn't want the group to end."
In fact, the southwest Denver group didn't end. The women in it decided to keep meeting weekly even after its official conclusion. There's no more grant money to support it, but Marquez helps out when she can.
* * *
Preliminary findings from an outside evaluation also show PASO is working. Besides significantly increasing providers' scores on performance assessments, children in their care made gains, too, especially on so-called "social-emotional skills."
But this progress is not cheap. The classes, coaching, and materials cost about $10,000 per person. "There is sticker shock," Gonzales said.
Currently, PASO is grant-funded and gets some additional dollars from the Boulder Valley and St. Vrain Valley school districts. In Aurora, Colorado, the program is now on hiatus because the grant money recently ran out. Gonzales wishes state money were available to help.
Some critics have argued that undocumented immigrants don't deserve such support, but Gonzales notes that the children served by such providers are typically born here and will attend school here. Most come from low-income Latino families and will be on the wrong side of the achievement gap if they don't get a strong start.
Marquez said much of the state funding available to help childcare providers improve is focused on those who are already licensed or heading in that direction. "I definitely think it creates a huge challenge … because these are grassroots programs that require a lot of time and effort for recruitment and sustainability," she said.
With no master list of family, friend, and neighbor providers, groups that want to work with them spend lots of time on outreach—going to churches, laundromats, community events, and even door-to-door.
Houston, who is hoping to secure another round of state funding for mini-grants, said while the state has done a tremendous job making improvements to its licensed childcare system, more needs to be done for family, friend, and neighbor providers.
"It's in the best interest of all of us to support providers across the board," she said.
---
This post appears courtesy of Chalkbeat Colorado.