Post-Election Processing and Rape-Culture Reckoning: This Week in Education Reporting
Seven days of stories about school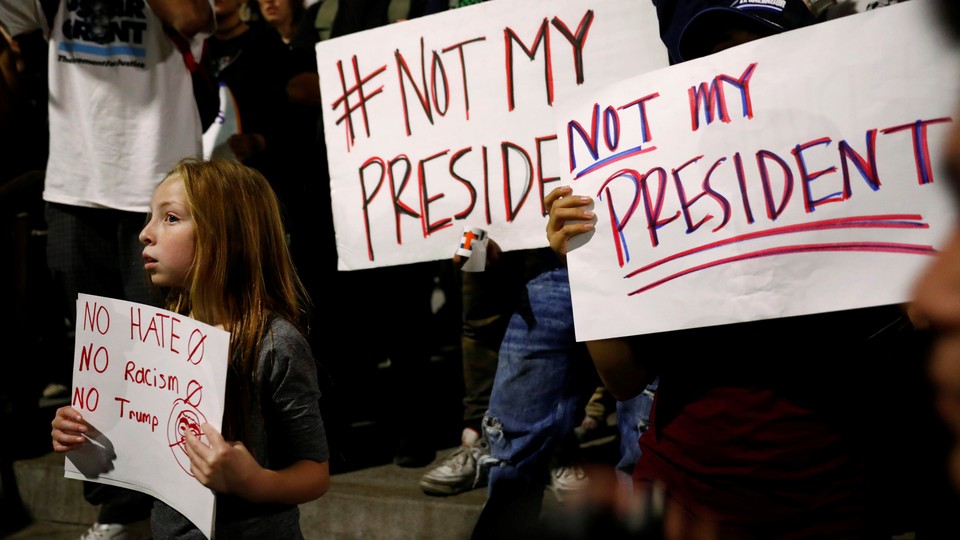 Los Angeles's Heartbroken, Scared Students
Sonali Kohli and Joy Resmovits | Los Angeles Times
"Alonzo Hernandez is a 17-year-old transgender Latino living in South L.A.
When he realized that Donald Trump would become president on Tuesday night,  he said, 'I didn't want to speak, I didn't want to say anything.' But like hundreds of thousands of other students in heavily liberal Los Angeles, he had to go to school and face the facts the next morning."
* * *
Can Rape Culture Be Curbed Without Being Defined?
Jake New | Inside Higher Ed
"While many colleges do define the term in their educational and prevention efforts, a review by Inside Higher Ed of sexual misconduct policies at more than 60 U.S. colleges and universities found no references to rape culture, and researchers and advocates interviewed for this article said they could not recall any colleges defining rape culture in their policies."
* * *
Is Trump's Victory the Jump-Start Civics Education Needed?
Richard D. Kahlenberg and Clifford Janey | The Atlantic
"Public schools are failing at what the nation's founders saw as education's most basic purpose: preparing young people to be reflective citizens who would value liberty and democracy and resist the appeals of demagogues. In that sense, the Trump phenomenon should be a Sputnik moment for civics education. Just as Soviet technological advances triggered investment in science education in the 1950s, the 2016 election should spur renewed emphasis on the need for schools to instill in children an appreciation for civic values and not just a skill set for private employment."
* * *
The Isolation of  LGBT Students at Mormon Schools
Benjamin Wood | The Salt Lake Tribune
"'Most of my religion professors have talked very extensively about the attack on the family,' Kidd said. 'They use gay marriage and gay people as an example of how the world is kind of falling apart.'
The Salt Lake Tribune, in conjunction with the Utah Public Insight Network, asked readers to answer an online questionnaire about their experiences as LGBT students at BYU."
* * *
Vignettes From a Stunned Post-Election Campus
IDS Staff | Indiana Daily Student
"Shortly after President-elect Donald Trump gave his victory speech around 3:30 a.m., Kirkwood Avenue was silent. There was no music from any bars and no crowd celebrating $2 Tuesday.
A car rolled down Indiana Avenue, and the driver leaned out the window to shout at a few stragglers on the sidewalk.
'It's the end of the world as we know it,' he sang. 'It's the end of the world as we know it, and I don't feel fine.'"
* * *
Straddling the Line Between Accreditor and Administrator
Douglas Belkin and Josh Mitchell | Wall Street Journal
"Two-thirds of the officials responsible for policing the quality of the nation's colleges and universities are employed by schools their agencies oversee, highlighting potential conflicts of interest in a system that faces reform efforts in Washington. ... Most commissioners serve as administrators at the schools their agency accredits. One in three serve as college president."
* * *
Japan's Complicated Relationship with Sexual Education
The Economist
"Japan has a complex relationship with the birds and the bees. Sex is everywhere, in gleefully commercialized form. ... Yet in many respects Japan is very conservative: Sex remains a subject that parents and teachers are embarrassed to discuss. When they do, it is usually in the context of having a family. That makes good sex education all the more important, but critics say schools teach too little, too late."