Mariachi Music and Sanctuary Campuses: This Week in Education Writing
Seven days of stories about school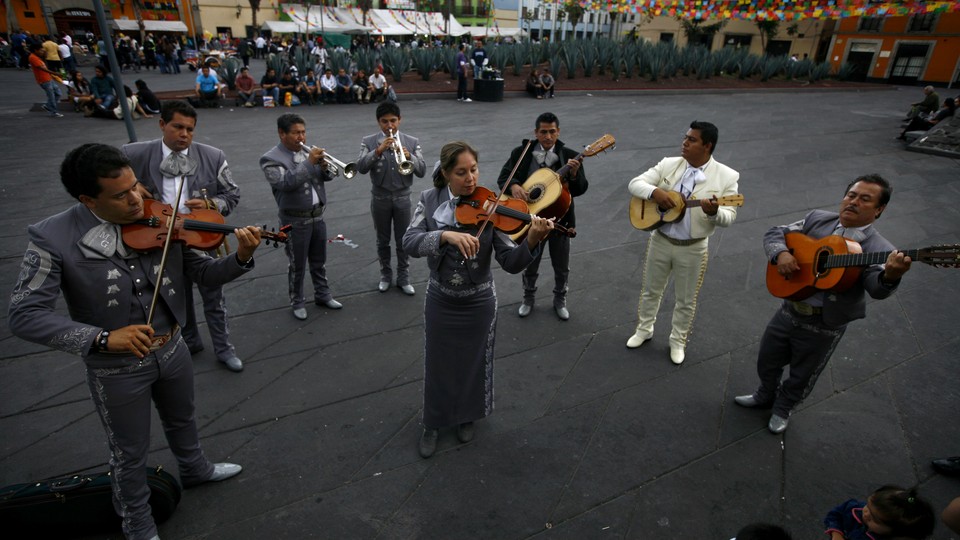 Rampant Faculty Absenteeism Plagues Chicago's Poorest Schools
Lauren FitzPatrick | Chicago Sun Times
"About one of every four Chicago Public Schools teachers missed more than 10 days of school a year, most them at schools serving kids in high-poverty, heavily minority parts of the city—students experts say are most affected by high teacher absenteeism. … Besides the impact extended teacher absences can have on students, replacing them with substitutes costs the cash-strapped city school system tens of millions of dollars a year."
* * *
The Turbulent Journey from Foster Care to College Campus
Elena Mejia Lutz | Texas Tribune
"In Texas, foster youths are eligible for waived college tuition and education-training vouchers as long as they enroll before their 25th birthday. But many eligible students do not take advantage of the program. …
The Department of Family and Protective Services, already facing a $40 million budget shortfall and a backlog of thousands of at-risk children awaiting assistance, faces yet another challenge: getting these children into college."
* * *
The Salary Pitfalls of Vocational Education
Danielle Douglas-Gabriel | Washington Post
"Graduates of career-training programs at public colleges earn nearly $9,000 more than those who attended comparable programs at for-profit institutions, according to a report released Thursday by the Education Department.
The findings are part of a larger effort to hold vocational programs accountable for student outcomes under 'gainful employment,' a controversial regulation that threatens to withhold federal financial aid from institutions whose graduates fail to land jobs earning enough to repay their education loans."
* * *
Countries at War, Children at School
Matthew Tucker | Buzzfeed
"One in every five schools in Iraq are out of use because of its ongoing conflict. In Syria, an estimated 2 million children are out of school. Meanwhile, South Sudan has one of the largest number of children who are not attending school at all. As millions of children in war zones are deprived of receiving an education, they are increasingly facing risks of early marriage, child labor, and recruitment into armed groups. … These photos, all from 2016, show children from war-torn countries continuing their education despite the ongoing conflicts around them."
* * *
The Mariachi Music Transforming a Bilingual Kindergarten Classroom
Deepa Fernandes | KPCC
"The excitement is at a fever pitch in Ron Morris's Jurupa Valley kindergarten classroom. The 5-year-olds squirm on the rug when they're supposed to be adding one plus zero. It's Fall Festival day, and they're going to be performing.
Morris makes it through math and then brings out his guitar. … [and begins singing] the lyrics to the famous Mexican mariachi song, "Cielito Lindo." The choice of song, and of genre, is deliberate. Morris teaches his students in Spanish, as Stone Avenue Elementary is a dual-language immersion school. Yet the strategies Morris employs go beyond those of most bilingual programs."
* * *
Learning in the Aftermath of a Divisive Election
Emily DeRuy, Alia Wong, Hayley Glatter | The Atlantic
"In the last week, we've interviewed close to 40 teachers and counselors (and a few students, too) around the country—in places like Seattle; Houston; Lawrence, Massachusetts; and Olivet, Michigan—about how the election results are playing out in schools. ...
In the following days, we'll publish a series of pieces exploring how teachers and other educators are addressing the election and its results with their students—and vice versa."
* * *
Why Students Are Protesting for Campuses to Become 'Sanctuaries'
Timothy Cohn, Nisa Khan | The Michigan Daily
"Nearly a thousand people gathered on the Diag and marched through University of Michigan buildings for a student walk-out protest against racism on campus following President-elect Donald Trump's upset win Wednesday afternoon, briefly shutting down traffic.
The walkout, which was organized by the student organization Students4Justice, was also attended by civil rights activist Rev. Jesse Jackson and was part of a national movement of walkouts across the country."