Keeping Schools Peaceful After the Election
A highly polarized year in politics has led to heightened conflict on campus.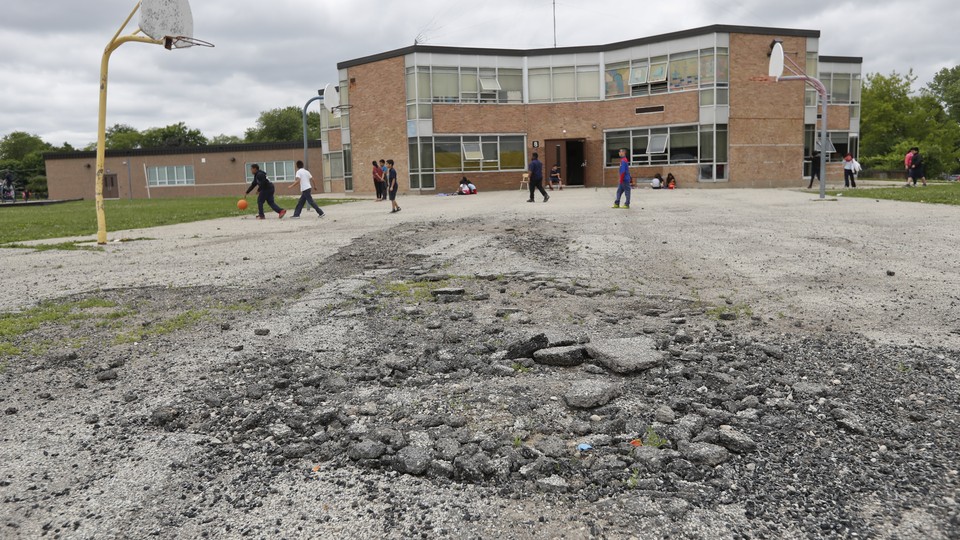 Once again, in the wake of a contentious presidential election outcome, schools have been popular sites for threats, violence, and other incidents sparked by the election. Unlike the threatening behavior that occurred after the election of President Barack Obama in 2008, many of these incidents are being done in the name of President-elect Donald Trump.
News stories from Royal Oak, Michigan, to San Marcos, Texas, have documented threats and violence to groups that either have been targeted by the president-elect in speeches and in video clips or are threatened by the positions he or his supporters have advocated—among them Muslims, Hispanic immigrants, those who identify as LGBTQ, and girls and women.
The New York Daily News writer Shaun King is collecting reports on his Twitter feed, and the Southern Poverty Law Center (SPLC) has said that the most common sites for the more than 400 reported post-election harassment incidents to date are schools.
Students at the University of Pittsburgh participated in an impromptu protest in the early hours of November 9. Sarah Best, a senior at the university, said incidents of groping at a local bar and the story of an acquaintance who had the "pussy" comment yelled at her, have made walking alone at night "terrifying" for her. Grabbing someone's "pussy" has now entered the lexicon of threats against girls, with other young women reporting boys saying this to them at school.
The SPLC counted hundreds of racially charged incidents after the election of President Barack Obama in 2008, too. It's hard to say how the numbers compare: The organization didn't collect that data comprehensively, said Mark Potok, a senior fellow at the SPLC, "because [such a response] was quite unexpected," and 2008 was the first time that he had noted a spike in reported attacks after an election. Still, reports of bias attacks lessened in the third week after the 2008 election, and the SPLC is already noticing a similar downward trend this year. FBI data also shows that schools have become safer for all groups and that hate crimes overall have declined in the past decade.
What's noteworthy this year, however, is that the hate crimes and bias attacks are being conducted in the name of a president-elect—not against one. The SPLC's data tracker even has a new category for vandalism or intimidation that is done in explicit support of Trump. "The majority of what we are seeing is people saying it is in his name," said Nathaniel Manning, the COO of Ushahidi, which makes nonpartisan election-monitoring software that recently added a post-election reporting function to track and vet reports of violence, harassment, and protest. The Anti-Defamation League has also been watching a post-election trend in anti-Semitic and racist graffiti and speech and reports similar findings, with Oren Segal, who directs the Center on Extremism at the ADL, echoing Manning's observations.
Students who are Muslim or immigrants are particularly anxious, expressing to school counselors and teachers fears of being harassed. Students in some schools stayed home, while others came to school to hear classmates say, "you can't come to school anymore; we are going to build a wall," said Kathy Cowan of the National Association of School Psychologists (NASP). LGBT youth have also expressed heightened fears. Hotlines for gay and transgender youth saw a spike in calls on Wednesday: The number of calls to Trans Lifeline, for example, tripled, with many callers explicitly citing the election, according to Greta Martela, the transgender hotline's executive director.
Last Wednesday, NASP sent a letter to all its members—school counselors and mental-health staff, as well as district leaders—giving advice for how to maintain "safe, supportive, and positive school environments" by telling children that they will be okay. The association had never before issued such a letter after an election; Cowan says that it was a response to members' requests and would have been issued based on the volume of requests—even if the outcome of the election had gone the other way.
School-based mental-health professionals, according to Cowan, were "reporting two things: kids coming to them in heightened states of distress and kids being harassed. We were not responding to the outcome of the election but to the heightened emotional state of the country." Indeed, according to principals and superintendents, there was no need to send a letter post-election in previous election years  because they didn't see the same concerns back then.
"Schools perform a stabilizing function," Cowan said. "They have to deal with everything the country throws at them." Children are also barometers of adult anxieties and behavior, according to Jeanice Kerr Swift, the superintendent of Ann Arbor Public Schools in Michigan. "Regardless of who folks voted for, the election has not been a positive and uplifting experience," Swift said. But "we focus on learning and not on things that will be upsetting to [children]."
Students at one Tucson, Arizona, high school, for example, wanted to stage a protest by walking out but Superintendent H.T. Sanchez suggested a "talk out" instead. Their goal was to be heard, they told Sanchez, so the school invited in local media and had a forum that day in the school. Districts need, Sanchez said, to "find positive ways for students to express themselves and have the liberty to have the freedom we enjoy." Meanwhile, in Oakland, California, the after-school program Youth Radio is developing "bystander protocols." LaToya Tooles, a journalism instructor in the program, said the protocols aim to help students who, post-election, have been called racial epithets or jostled in hallways for wearing a hijab know how to respond safely—and to help their peers step up, too.
Some districts, however, may be less willing to address reports of threats and intimidation. In that case, students may find recourse in the law: Firms and pro-bono legal counsel are gearing up to represent youth who may be victims of bullying or hate crimes. Meanwhile, the SPLC is asking teachers who witness or experience harassment to report it on a survey that will collate data.
"If the school does not resolve the harassment and the threat is ongoing, that's an appropriate time to reach out"—to the district or state education agency, to an organization such as the Anti-Defamation League or the SPLC to report a hate crime so it can be tracked, or to the pro-bono arm of the county or state bar, said Michael Lubic, a Los Angeles attorney who is working with his firm, K&L Gates, to represent such students. "There are lots of remedies available to students and lots of adults willing to help, including lawyers. It's most important that kids feel like they are not alone."