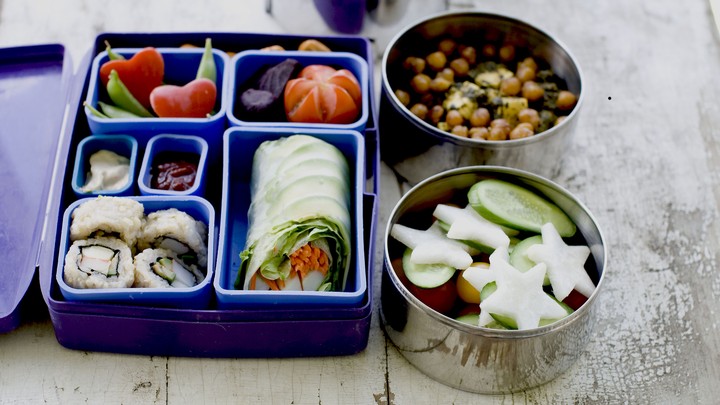 This is the inaugural edition of The Atlantic's weekly roundup of education writing. We'll be highlighting some of our favorite school-related stories from the past seven days, including one piece of our own and one story from a student publication.
---
The Pop-Culture Roots of the Lunch-Box Craze
Kat Lonsdorf | NPR
"The year: 1950. You might as well call it the Year of the Lunch Box, thanks in large part to a genius move by a Nashville-based manufacturer, Aladdin Industries. The company already made square, metal meal containers, the kind workers carried, and some had started to show up in the hands of school kids (lunch pail, meet lunch box). But these containers were really durable, lasting years on end. That was great for the consumer, not so much for the manufacturer."
* * *
After Investigation, Texas Halts Its Special-Education Enrollment Target
Brian Rosenthal | Houston Chronicle
"The Chronicle revealed six weeks ago how TEA officials quietly imposed the 8.5 percent target as part of a school-district monitoring system while facing a $1.1 billion state budget cut in 2004. The officials did not publicly disclose the target or consult with lawmakers, the federal government, or any research."
* * *
A Year in the Life of a College Applicant
Anemona Hartocollis | The New York Times
"In the last month, I have been visiting Topeka High School, talking with seniors, and their parents and guidance counselors, about their college plans as they take standardized tests, decide where to apply, write essays, fill out financial aid forms, and send in their applications. I've followed their successes and mishaps along the way and will look in again in a few months to see where they end up, whether in college, vocational school, a job, or at home."
* * *
Hilariously Sad Photos of Students Who Just Watched a Presidential Debate
Charles Borst | Education Week
"On a whim following the final debate, I asked students to sit for a portrait expressing their feelings about the upcoming election. These pictures offer a snapshot at how suburban Ohio teens feel at a time when they're old enough to have opinions about what's going on in the world, but not old enough to vote."
* * *
Education Became the Election's Forgotten Issue
Rebecca Mead | The New Yorker
"The campaign in its closing weeks has, for educators and parents, become one prolonged, unsavory teachable moment, with the acquisition of new vocabulary words ('misogyny,' 'unconsensual') and the loss of others ('pussy,' in its prelapsarian, feline usage). But it has also been remarkably devoid of any real discussion of educational issues."
* * *
Why Do Colleges Have So Much Art?
Jacoba Urist | The Atlantic
"Historically, college museums have called themselves 'teaching museums'—in other words, places where students can experience objects and artifacts first-hand, as opposed to merely studying them in textbooks or online. Campus collections were meant to push conversations not only in art-history courses, but across disciplines and departments, too. And often, they still do—while filling a cultural gap in college towns."
* * *
Eli Binder | The Brown Daily Herald
"In addition to studying public health, Almilaji said that in the United States, he has had the opportunity to learn about democracy—something that he hopes Syria will be able to achieve. 'This is an environment and a place (where) I can really learn how people practice—even in their daily lives, not only in the elections—the meaning of listening to each other, accepting each other, accepting the others. You are not always correct, and you are not always wrong.'"
We want to hear what you think about this article. Submit a letter to the editor or write to letters@theatlantic.com.