Civics Lessons From the 2016 Election
Many teachers are using the election and its outcome to explain America's history and politics to students.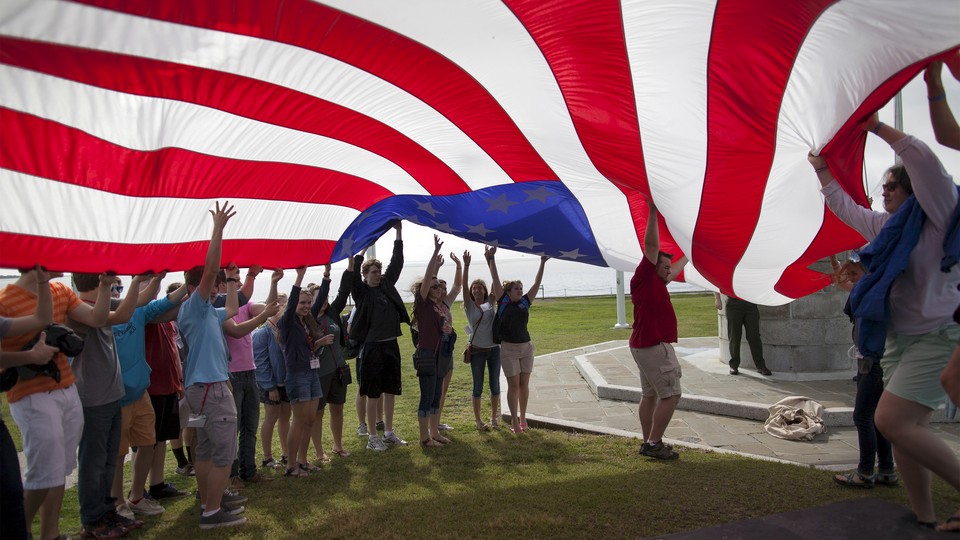 This is the second installment of a series exploring how schools are responding to the election of Donald Trump.
In classrooms around the country, the surprising, unprecedented, and deeply polarizing twists and turns of the 2016 election have become a foundation for lessons on how America works. We interviewed more than 40 teachers about the ways they incorporated the presidential race into their instruction.
For years, civics lessons were a mainstay of public education. But that seems to have eroded in recent years. As Jonathan Cole noted recently, more than 80 percent of college seniors at top-ranked universities would have failed or received a D grade on a basic civics test. That, Cole argued, is a bad thing for democracy, which is healthiest when citizens are knowledgeable about politics and history. So some teachers see the election as a chance to renew civics education.
Jamie Torrano—Sunnyvale, California: Torrano's third-grade class had just finished studying the idea of checks and balances in government, so she used the election as an opportunity to reinforce what President-elect Donald Trump will and won't be able to do in office—no immediate mass deportation, for instance.
Tina Beck—Goshen, Kentucky: Beck teaches U.S. government, advanced-placement comparative government, and psychology at North Oldham High School. She had her students analyze what had happened and how by asking a series of pointed questions about how politics works. It also helped that she'd spent the months leading up to the election discussing political parties and the electoral process—laying a foundation. "I want kids to kind of come to their own conclusion by their own research," she said.  
Marissa Yang Bertucci—Portland, Oregon: Bertucci—a student-engagement specialist and debate-class teacher at Sitton Elementary School—planned to ask her students to design their own mock campaigns. She wanted to have "them talk about what they would do as president. …You're outlining essays; you have your first point, your second point, your third point, and your conclusion … you're thinking about how all the parts of this speech speak to one another and then enlivening that with presentations," she said.
Kate Roseman—San Francisco, California: Each fourth grader at Roseman's all-girls school had researched a historical American woman. During a school assembly the day after the election, the principal acknowledged the work the suffragettes and abolitionists they studied had done. "It gave students the power to look beyond themselves, to perceive the current election as a moment in history," Roseman wrote in an email. "A moment that they can choose to respond to, and shape, just like the women they named."
Erin Smith—Lawrence, Massachusetts: Smith, who teaches seventh-grade history at UP Academy Oliver, originally planned to give a lesson on the Preamble to the U.S. Constitution. But the results prompted her to change things up. "How can I talk about 'We the People' if my kids don't feel like their people are getting recognized at all?" she said. Most of her students are Dominican and rarely see their own history discussed in classrooms. She wanted to change that and will ask the children to compare American and Dominican history and government.
Few of the teachers we spoke with said they'd received clear instructions on how to approach the election; they were left largely to develop their own lesson plans. And where teachers have been offered some guidance, it's often been controversial. The union representing San Francisco's teachers reportedly sent out an optional lesson plan alleging that Trump had been elected by "pandering to a huge racist and sexist base." Local Republicans immediately pushed back that the lesson was unfair, highlighting a tension teachers are facing between condemning some of Trump's more outrageous comments (that Mexicans are "rapists," for instance) and remaining politically neutral.
Instead, many teachers addressed the election through science or literature, rather than focusing on politics.
Peter Podlipni—Chicago, Illinois: Leading up to the election, Podlipni—who teaches 10th-12th-grade science at an elite, selective-enrollment high school—analyzed the candidates' rhetoric and claims through the lens of the Scientific Method with his students. After opening with a discussion on mindfulness and health, Podlipni helped his students process how they were feeling by examining MRIs. He wanted them to understand coping mechanisms and the biological processes that underscore emotions.
Victoria Tuttle—Houston, Texas: An English teacher at a performing-arts high school, Tuttle handed her students the Langston Hughes poem "Let America Be America Again." The class had been talking about how communities create outsiders, and Tuttle discussed with students how some groups both on campus and off felt other-ized by the presidential campaign and election. Students shared experiences of being made to feel of less value for their skin tone or gender identity. The class was also in the middle of reading Jeffrey Jerome Cohen's Monster Theory, which tries to understand societies by examining the "monsters" they've created, when the election results came in. "It was a little eerie for me how important it was given what's happening in the world," Tuttle said.
Andrea Reyna—San Jose, California: As a reading intervention specialist at Hoover Middle School, Andrea Reyna works mostly with kids who are few years behind in reading. To both help kids with reading and address the fear she said some were experiencing, Reyna turned to Harry Potter, specifically a line in which Dumbledore, the young wizard's mentor, reminds the boy that "Happiness can be found, even in the darkest of times, if only one remembers to turn on the light." That lesson choice assumes that most of her students were feeling upset about the election results. In Reyna's case, that was true. Many of the children are Latino and came from families worried about deportation. "If our kids don't feel safe, they're not learning," she said. "And they were not feeling safe."
For many teachers, the best lesson plan was the one they were already planning.
Inez Tan—Irvine, California: "It's possible that the best thing we did yesterday," Tan, a graduate-student instructor at the University of California at Irvine, wrote in an email the day after the election, "was to carry on with the course material of rhetoric composition. It's as important as it's ever been to consider the effects our words have on others."
Teri Hudson—Oakland, California: Hudson, who teaches second grade at a language-immersion school for both native Spanish and native English speakers, tacked a 20-minute yoga session to the end of her class's community circle and then moved on. "The kids," she wrote in an email, "seemed much more relaxed after that, and we went on our day."