The Unlikely Union Between a Trump Supporter and Historically Black Colleges
Paris Dennard is the new head of strategic communications for the Thurgood Marshall College Fund.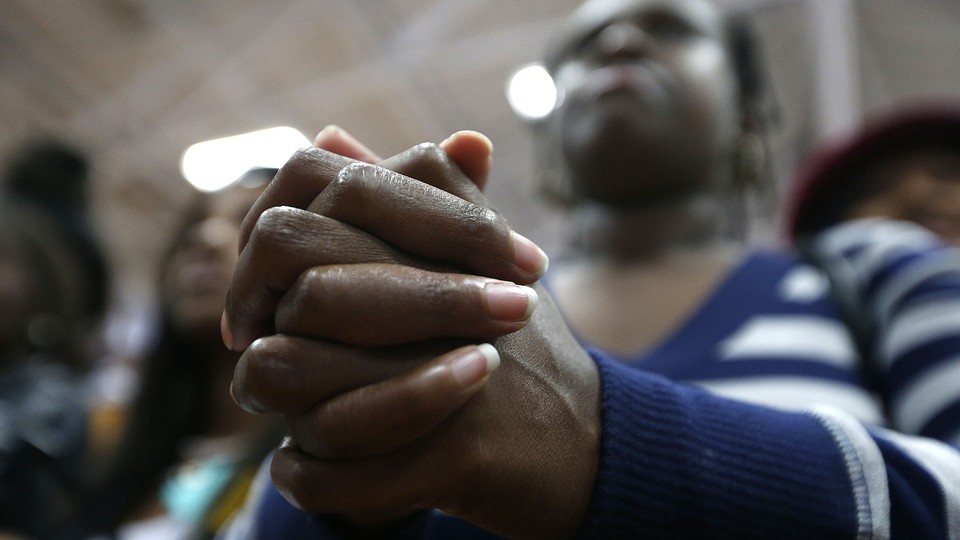 The organization that advocates at the national level for historically black colleges and universities has a somewhat unlikely new communications director.
Last month, Paris Dennard started in that role at the Thurgood Marshall College Fund, a nonpartisan nonprofit that represents nearly 50 publicly funded HBCUs. The reason Dennard is an unusual candidate for the job is that the 34-year-old Phoenix native is also a Republican strategist and commentator who has publicly defended Donald Trump, a presidential candidate who is polling, at best, in the single digits among likely black voters.
"It's not popular at times, but it's really compelling," the organization's president, Johnny C. Taylor, Jr., told Politico recently, acknowledging that Dennard's political views are not always in line with those of the college leaders and students he will now support.
In an occasionally tense but cordial phone interview, Dennard, who previously handled government affairs for the group, said Taylor and a colleague had approached him about the job. "You are a strategic thinker," he said they told him. And he sees the fact that he is openly aligned with the Republican party as an asset, not an issue.
"I'm acutely aware of my politics and persuasion," he said, "but I'm also acutely aware that I'm an advocate for HBCUs, and I will use my position to advocate in Republican circles that I know very well."
"I think my politics has been an addition to, a positive, to TMCF," he continued. "You have to work on both sides of the aisle, and I do." Dennard pointed out that most HBCUs, clustered in the South, are in districts represented by Republican lawmakers, whom he's developed relationships with over the years.
But can he be both an advocate for a nonpartisan cause and a vocal partisan commentator at the same time? Yes, Dennard said. "I am an advocate by the nature of where I work. Johnny [Taylor] makes that very clear," he expanded, "so I will speak up and talk about HBCUs in the political sphere."
(In an email after a phone conversation, Dennard disputed the suggestion that he will be a "spokesman" for the group, writing, "No, actually Johnny C. Taylor Jr. serves as our spokesperson as our president and ceo [sic] … I am not the spokesperson, that would be incorrect.")
Does Dennard's work become complicated when his roles as a Republican commentator and as a TMCF advocate don't align, though?
Michael Adams, the interim dean of the School of Public Affairs at Texas Southern University, one of the fund's member schools, wrote in an email, "This is another example of the beauty of the Right to Free Speech so long as it is not violating any legal workplace policy. As an educator, political scientist, and proponent of tolerance, unless there is a legal violation, I don't support punishing people for political speech. Even President Obama has indicated that we need more tolerance in the academic community, especially on college campuses."
Dennard's selection, he continued, "reflects the political diversity of the African American community and demonstrates the philosophical and ideological strands of the Black community that extends back to W.E.B. Dubois, Booker T. Washington, Marcus Garvey, and Malcolm X and Dr. Martin Luther King. Hence, it reflects the mosaic of the Diaspora that constitutes the African American community and the Black experience that does run through the party of Lincoln. Albeit, Donald Trump is no Lincoln or Teddy Roosevelt."
Still, the possibility of such a conflict concerns people like David DePriest, a 19-year-old sophomore studying politics at the historically black Howard University who has seen some of Dennard's CNN appearances. "There should be less of an apparent conflict of interest," he said, worrying that people will confuse Dennard's dual roles as both a member of the National Diversity Coalition for Trump—charged in part for making the case that Trump is a good choice for black voters—and the director of communications for a large group of HBCUs. "To me, it seems like it might confuse people as to thinking HBCUs are communicating their support for Donald Trump," DePriest said, adding that opposing Trump is "kind of the unifying factor" among the politically active students he knows on campus.
For instance, that confusion could play out in the conversation around free or tuition-free college. On its website in a section devoted to policy priorities, for instance, TMCF lists "an expanded America's College Promise Program," a proposal by president Obama to make two years of community college free for some students. What if Trump doesn't support tuition-free college? The candidate hasn't released a higher-education plan, but what he has said about college affordability hinges on pushing schools to use their endowments to support students, not on eliminating tuition.
Dennard said he would "advocate for anything that is going to help our students," before adding somewhat tersely and after a long pause, "I'm a GOP commentator. I was a member of the Republican party before Donald Trump. I'll be a member of the Republican party after Donald Trump … and so my allegiance is to the party, if that makes sense. So, I mean, I think Ronald Reagan said as long as you agree with 80 percent, you know, I'm not going to toss you out because we disagree on 20. For me, I'm always going to be advocating for HBCUs."
In an effort to show that even Democratic policymakers and TMCF have their differences, he pointed to Taylor's disagreements with the Obama administration over things like Pell grants, adding, "I'm going to speak truth to power … but so far, Mr. Trump hasn't put out a higher-education plan to critique."
And in our conversation, Dennard gave Clinton's team credit for including HBCUs in her campaign proposals. He said he was encouraged, too, by the fact that TMCF has met with both campaigns, including the  Trump adviser Sam Clovis—meetings he called "very substantive, very positive."
James Douglas, the interim dean and distinguished professor of law at the Thurgood Marshall School of Law at Texas Southern University, called Dennard's new role "a sticky issue."
"As long as he makes it clear that when he speaks, he's speaking as a Trump supporter and not as a representative of the fund," said Douglas, who's also the current head of the Houston chapter of the NAACP. "I'm a lawyer, and I'm a believer in the Constitution. I don't agree with his views, but just because he has a job doesn't mean that he can't have a political position different from mine."
When I pressed Douglas on the nature of the job, specifically on the fact that both the role and Dennard's position as a Republican commentator involve taking what could be very different viewpoints, Douglas said, "He's got to make an effort. I think he's got to take some extra steps to make sure people understand he's speaking as an individual."
Douglas said he hasn't met Dennard but suspects he's a "nice" guy. Douglas has socialized, he added, with the conservative African American Supreme Court justice Clarence Thomas, who he also described as friendly, yet Douglas still wonders, he said, "How could you think that way?" He wishes Dennard weren't a Trump supporter "but as far as politics, as far as his right to try to separate his politics from his work," Douglas continued, "I have to support it."
* * *
If Dennard seems like an unlikely person for TMCF to tap, perhaps his background offers some clarity. Raised by a single mother in Phoenix, with "good mentors" and a grandfather he admires deeply, young Dennard attended Brophy College Preparatory, an all-boys Jesuit high school. A friend there brought him to a convention of young Republicans, and encouraged him to run for a leadership position. Not even sure that he was a Republican, he obliged, won, and was presented with a series of questions, after which he says he was told, "You're a Republican." He didn't know, he said, that it was "taboo" for a black person to claim such an allegiance.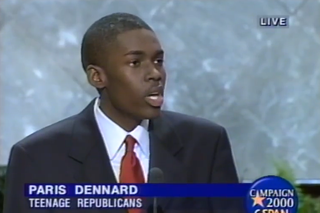 His family wasn't overtly political, but they were civically minded, "fairly conservative," and Christian, Dennard said, and he liked the party's ideals. He would go on to deliver, at age 17, a remarkably poised and confident speech at the 2000 Republican National Convention, with vice-presidential candidate Dick Cheney sitting in the audience. "We are a group of young people that have been inspired by this party and our Republican leaders to commit ourselves to causes greater than our own self interests," he told the ebullient crowd.
After graduating from Pepperdine University in Malibu, he worked in political affairs at the White House under Karl Rove, and then eventually as head of black outreach for George W. Bush. "It's been a very fast ride," he said. When I asked how old he was, he paused for a second before answering. "Who's counting?" he quipped. "I feel like I'm 24."
* * *
Dennard is much more upbeat when I ask about what he'd like to accomplish as the TMCF approaches its 30th anniversary next year. A lot of his work involves "educating" people about the importance of HBCUs, he said, noting that the schools produce a disproportionately high share of the nation's black college graduates, particularly when it comes to law and engineering, despite issues with accreditation and funding.
Dennard insisted that the outcome of the election "doesn't matter" as far as his TMCF work is concerned. He reiterated that he'd pushed both parties to include HBCUs in their policy platforms and that he plans to advocate on behalf of the schools no matter who ends up in the Oval Office next year. "I'm just excited to share the message of what TMCF is all about to anyone who will listen."
Ultimately, "I take my role seriously," he said. "If there is blowback, I think people should just know that I dedicated my professional life to advocating for our community."