The Shattered Pieces of a War-Torn Education
For Syrian students now living in Turkey, the path through higher education is far from smooth.
ISTANBUL—In the middle of a crowded flea market bustling with shoppers and aromas of fresh produce and spices, Khaled Al-Asas stands at his booth selling smartphone accessories: selfie sticks, chargers, headphones, and so on. It has been three years since Khaled arrived in Istanbul with his family. They fled from Syria to Yemen, and then to Turkey—the only country that would welcome them and allow them to work.
"Here [in Turkey], it is better," Khaled said at a café during his Sunday off from work. "It is more similar to Syria than Saudi Arabia and Yemen."
Back when he was still in Syria, Khaled had almost finished his law degree and only needed two years of an internship at a law firm to fulfill his graduation requirements. At the time, Syrian students graduating with bachelor's degrees either continued to their master's or joined the two-year prescribed military service. "I didn't want to join military service," Khaled said. "So I left after a year from Syria."
Khaled started working in textiles when he first arrived in Turkey but wanted a job that would better support him. He thought about joining a university to study English but he needed an income, so at the suggestion of some friends, he started selling phone accessories: "Life here was hard at first ... In the end I feel better now."
Khaled's story of disrupted education is the story of more than 30,000 university-age Syrians living in Turkey. And while data on the number of Syrians seeking postsecondary degrees in the country vary significantly—from 600 to 5,600, depending on the source—it's clear that the vast majority of college-age Syrian refugees have had to discontinue their educations. Of those Syrian students attending universities, the Turkish Disaster and Management Authority reported in May that 1,080 of them were receiving government financial aid.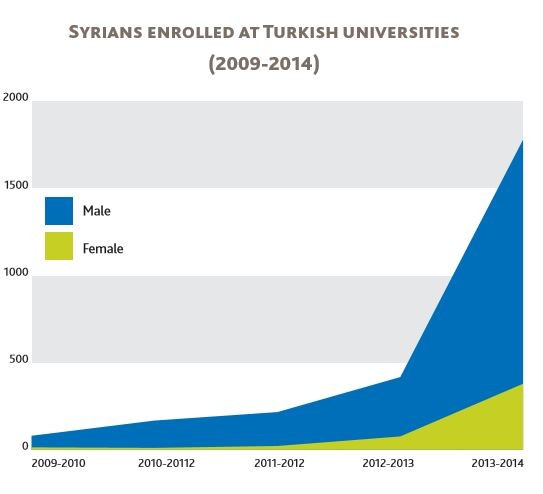 "The increase [of Syrian university students in Turkey] may reflect the reality that Syrians themselves are increasingly finding ways to navigate the higher-education system," said James King, the assistant director of the Scholar Rescue Fund at the Institute of International Education, in a phone interview. Regardless, the newly reported numbers are still only a small number of university-age Syrians in Turkey. The Turkish Ministry of Education failed to respond to questions about these statistics.
Khaled and tens of thousands more Syrians are still attempting to maneuver the higher-education system after having their education trajectories disrupted by the Syrian conflict. Syrian university students face multiple obstacles to graduate with a bachelor's degree: financial obstacles, lack of proper documentation, and cultural and societal limitations. Turkish higher-education institutions have also struggled to adjust their admissions processes for incoming students, with few administrative staff members who speak Arabic and can transfer Syrian course credits to Turkish ones. The process to permanently integrate Syrians into Turkish institutions is one that will take time, and will also require the help of the international community.
* * *
Ali is an 18-year-old from Aleppo, Syria, who works at a wholesale clothing store in the textile district of Istanbul. He left Syria in the middle of his senior year of high school.
Arriving in Istanbul, Ali lived in a cramped group home with 16 other young Syrian men. He tried registering and studying for his senior-year exams without the help of a teacher or other classmates, and he studied for college-admission tests two hours every night and during breaks at work. "The week before the exam, I asked my current employer if I could have the week off to study for the math section of the exam," Ali said sitting at a café. "My boss would not let me take off, so I quit."
"Higher education is an incredibly important alternative to more negative outcomes: crime, radicalization, and early marriage for young women," King said. "Education can provide a pathway to integration within the country and durable solutions for Turkey and Syria." Ali, like so many other Syrians who have been displaced, understands this.
Still, Ali did not pass the tests. "It's like you're not living," said Ali, talking about working rather than going to school. "When I was in Syria," Ali continued, recounting his previous education, "I used to go to English courses every summer. There is nothing such as school in Syria anymore, and even if you find a school you won't find a teacher."
Ali's desire to seek out educational opportunities while having to financially provide for himself is just one of the many challenges young Syrian adults face. According to IIE's report based on findings in Turkey, Syrians face the added challenges of navigating the decentralized Turkish higher-education system and obtaining proficiency in Turkish or English to participate in courses at the university level. They also struggle with lack of or incomplete documentation and ability to transfer past credits.
And young women are especially vulnerable to prolonged disruptions to their education. In Syrian universities prior to the war, the ratio of men to women was 50 to 50, according to IIE's study. In IIE's study in Turkey, however, men outnumbered women three to one. Between 2013 and 2014, women made up less than 1 percent of the Syrians attending Turkish universities. Amid the war, young women are taking on more responsibilities in the home while their male counterparts are going to school, which may set back decades of progress Syrian women had made in terms of entering the workforce.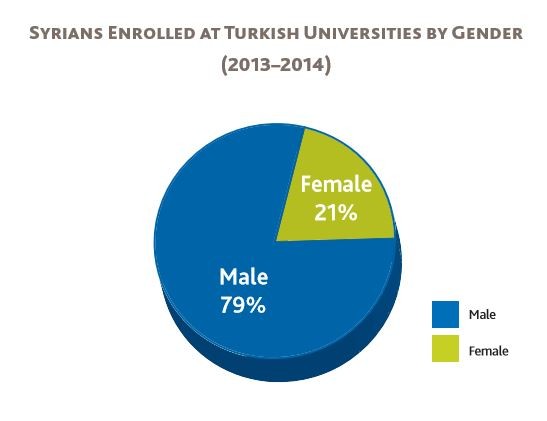 Tasneem, 20, arrived in Istanbul from Aleppo in 2014. Like Ali, she does not have the proper documents, nor can her family afford university tuition. Tasneem spends her days at home helping with her 1-year-old sibling and taking English, French, and Turkish classes at a nonprofit that assists Syrian families called Small Projects Istanbul (SPI).
She would like to return to school in Istanbul to become a chemist but can't scrape together the funds: Her mother doesn't work, and her sisters work for very little. "There really is no money,"she said.
SPI is trying to help Tasneem enroll in school by getting her the necessary documents. In the meantime, Tasneem is part of the SPI's women's craft group, which makes jewelry such as earrings and bracelets to sell for profit, saving money so she can one day continue her education in Europe. "I would like to work there and do something completely new," she said.
* * *
However, there are some anomalies in which some Syrian students have managed to find a way into Turkish universities.  Amer, 30, from Homs, Syria, finished his bachelor's degree in finance this past May. One of the lucky ones, he had proper documentation and was able to navigate the higher-education system in Turkey with SPI's help. In Syria, Amer was in his final year at university and failed his graduation exams three times. When he arrived in Turkey, he received help from friends and sponsors to pay for his tuition to Bahcesehir University, a private institution in Istanbul. "The fun part was the dinner that I would make every month to raise money," Amer said as he proudly sat in a classroom.
Amer's main challenge was repeating two years of his studies because Bahcesehir University would not allow him to transfer all of his credits. Amer recalls the difficulty in 2014 dealing with university admissions and explaining his situation. At the time of Amer's acceptance into the university, Turkey's role began to shift from being a place offering temporary hospitality to being a destination for long-term integration of Syrians into Turkish institutions.
While many universities in Turkey, like Bahcesehir, are proactive about enrolling Syrians, others do not have the will or the facilities to accommodate foreign students. The Turkish government has created government-funded scholarships and elementary-education programs for younger Syrians to slowly start a Turkish curriculum, among other policy initiatives to promote integration, but implementation is left up to the administrations of the individual institutions.
"Policies that support the integration efforts are making Syrians a little bit of a political football," King said. Integration and its direct effect on the lives of Syrians are complicated by Turkish political volatility, especially following the July 2016 attempted military coup.
Still, Amer is not shaken by the political volatility: He is looking to the future. He would like to continue his education and pursue a master's degree in business administration, after which he wants to go into trade or entrepreneurship. "You know, when you build things and then you lose everything," he said, "you start to see that everything is okay."  But when asked if he would like to stay in Turkey for work, Amer paused before saying, "No. I'm not stuck in one place."
* * *
Syria is now categorized as a "low human-development" state with the collapse of its economy, health, and education sectors. Educating Syrians now could help rebuild Syria later. "You also need educated leaders who can help foster diaspora communities with hybrid identities in places like Germany, the U.S., and elsewhere," King said.
The task of funding and supporting educational opportunities for Syrians is not just the job of one government, institution, or nonprofit, but the responsibility of multiple actors. King said more funding is still needed for language instruction in English and Turkish, and for initiatives to open Arabic-language universities. Openness to  Syrian students and transparency of courses offered is crucial for institutions to create ease in the admissions process.
Not all of Turkey's young Syrian transplants are as optimistic as Amer. Khaled, the law-student-turned-cell-accessories-vendor, thinks the conflict has destroyed Syria's future. "The great Syrian minds have mostly fled the country," said Khaled in a disappointed tone. "Guys like me won't play a role in [building Syrian] society as we want to. That is really going to affect Syria for sure."
---
Muhammad Abunassr worked as a fixer/translator.
This piece was funded by the International Center for Journalists.