The New Focus on Children's Mental Health
Most teachers don't feel equipped to meet their students' emotional needs, but some programs are working to change that.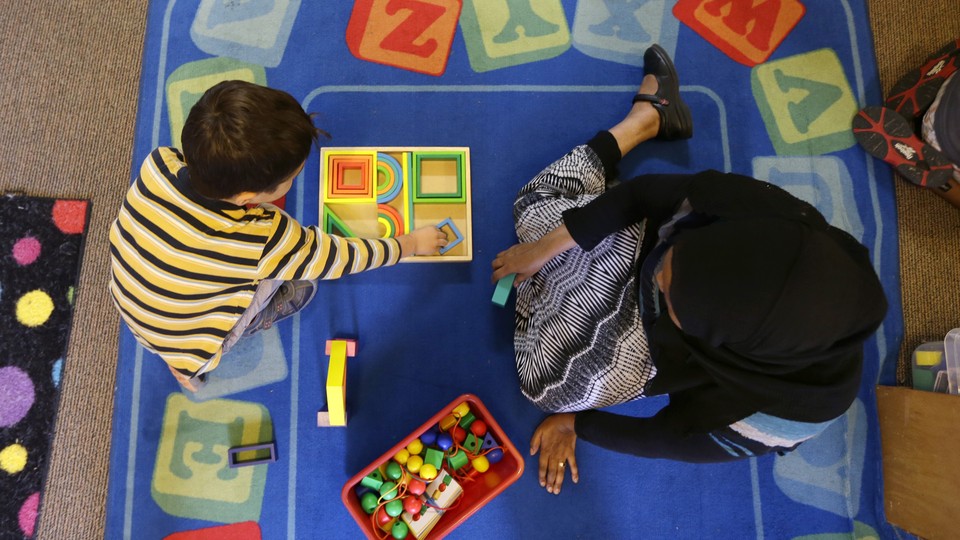 This is the first in a three-part series about the relationship between education and mental health.
Across the United States, up to one in five children suffers from a mental disorder in a given year, according to the Centers for Disease Control and Prevention. This equates to more than 17 million young people who meet criteria for disorders that affect their ability to learn, behave, and express their emotions.
Giving children access to mental-health resources early in their education, however, can play a key role in mitigating negative consequences later in life, said David Anderson, the senior director of the ADHD and Behavior Disorders Center at the Child Mind Institute.
"It's during childhood and adolescence where we have a large concentration of mental-health issues, and school is where many kids are spending a large portion of their day. That makes school the perfect place to focus mental-health resources," Anderson said. "Waiting too long to pay attention to student mental health can easily lead to school dropouts or other problems later in life."
Yet the majority of the nation's youngest students don't have access to mental-health resources at school. Only 23 percent of prekindergarten programs have on-site or scheduled visits from psychiatrists or psychologists, according to the Child Mind Institute's 2016 Children's Mental Health Report. The current shortage of mental-health professionals, which is expected to continue, only exacerbates the problem. The Substance Abuse and Mental Health Services Administration projects that 12,624 child and adolescent psychologists will be needed to meet demand by 2020, but a supply of only 8,312 is expected.
With a lack of mental-health professionals placed in schools, the responsibility to address the needs of children with social, emotional, and behavioral challenges often falls on classroom teachers. This amplifies the call to incorporate learning that focuses on students' mental health and well-being into daily classroom activities—something that can be beneficial for all children, not just those with diagnosable conditions.
One way classroom teachers can make mental health a more robust part of the school day is by integrating mental-health topics into already existing curricula. A recent study of the Mental Health Matters curriculum proves that the program, which is incorporated into sixth-grade English language-arts classes, is successful in increasing participants' knowledge of mental-health illnesses and decreasing associated stigmas.
However, only 34 percent of teachers believe that they have the necessary skills to meet their students' mental-health needs, according to a 2011 School Psychology Quarterly study. Without the proper training and guidance to accommodate students with conditions like ADHD, anxiety, and behavioral problems, teachers are more likely to experience additional stress on the job. And when teachers are stressed, they're far more likely to rely on expulsion to manage children who struggle with behavior problems, according to Walter S. Gilliam, the director of The Edward Zigler Center in Child Development and Social Policy at the Yale Child Study Center.
The repercussions of expulsion and suspension in early education can severely compromise a child's chance at success later in life. This type of disciplinary action is linked to underemployment, unemployment, and higher rates of incarceration. Suspended students are twice as likely to repeat a grade, and three times as likely to be in contact with the law within a year, according to the Child Mind Institute's report.
When preschoolers are given access to mental-health services, expulsions are reduced by 47 percent, but prevention-based programs that teach young students how to contend with their emotions in a positive way rather than focus on punishment for negative behavior are more rare, Anderson said. "What we see much more of are intervention programs at later grade levels, and by then it may be too little or too late," he said.
Researchers at the Yale Child Study Center found that early-childhood and pre-k teachers who establish relationships and regularly consult with mental-health professionals were able to reduce the kind of distracting and challenging behaviors that often lead to disciplinary action for a child. In the study, published in the September issue of the Journal of the American Academy of Child and Adolescent Psychiatry, children received mental-health consultation through a statewide program in Connecticut.
As part of the program, mental-health professionals visit classrooms in which teachers or school administrators report students with particularly challenging behavior. After observing the class and visiting the child at home, assigned mental-health consultants guide teachers and parents through specific strategies to best support their students.
"There will never be enough mental-health providers to help all the children who need it, one child at a time, and so what we really need to do is take our mental-health expertise and give it to, or lend it to, the other people who have real, authentic relationships in the lives of these children," said Gilliam, the study's lead researcher.
Oftentimes, the consultation process begins with identifying a student's strengths—an essential part of finding a solution to the child's challenges, said Linda Flach, a mental-health consultant who used a similar tactic in her work with one particular 4-year-old.
When Flach first visited the child's school, for example, screaming, hitting, and throwing things had become the norm for the student, who was placed in an already-chaotic classroom alongside a number of children who had severe behavioral problems. Flach met with the child's parents, teachers, and school administrators to help get all the adults in the child's life on the same page and to help them recognize that they were all working toward the same goal. She suggested that his parents and teachers focus on helping him identify his emotions through activities like role play and build his emotion regulation skills, which can be taught in simple games like "Simon Says" to promote better impulse control. Other effective strategies, according to Flach, include using visuals like feeling charts and relaxation techniques such as deep breathing, which help students verbalize their emotions before they act on them. Relationship-building is at the core of her role, she said.
Indeed, a key part of the job for Connecticut's early-childhood mental-health consultants involves supporting parents and teachers. Flach gives teachers guidance in stress-management so they can keep their emotions in check in the classroom and exhibit the same feelings of calm they want their students to experience. Getting angry and yelling at a child for acting out is not likely to help a student calm down, she said. At the same time, Flach reminds educators and parents to acknowledge a student's feelings instead of dismissing their anger or frustration as the wrong way to react to a situation. The individualized recommendations and direct support that mental-health consultants can provide by observing a child's classroom and home environment have proven extremely valuable to teachers and parents, Yale's Gilliam said.
"Teaching is not like math or history. Teaching is a performing art," Gilliam said. "And we need to teach our teachers like we teach performing artists: by getting in the moment with them and coaching them different ways to be able to do their art."
The Connecticut consultation program that Yale studied follows specific guidelines as laid out by the Center for Early Childhood Mental Health Consultation. However, experts agree that whenever educators collaborate with mental-health professionals to support students with social, emotional, and behavioral challenges, whether it's a consultation program or on-the-ground mental-health professionals, the outcome results in more well-adjusted students.
Michael Rosenblum, a fourth-grade teacher at the private McLean School in Potomac, Maryland, has seen the success of this approach in action. The school is in part targeted to students who have learning differences including ADHD, dyslexia, and anxiety, which can make just getting through the school day difficult. Although the school does not use the same mental-health consultation program that Connecticut has adopted, through working closely with on-site mental-health professionals, teachers are able to help their students reach their greatest potential.
"We've had students that come to McLean in third, fourth, fifth grade that basically have been told by educators that they will not be able to graduate from high school and that they are not capable of going to a college," said Frankie Engelking, McLean's director of student and community wellness. "Those exact students come to us, are very successful academically, grow emotionally, build confidence, graduate from McLean, go on to four-year programs, and have very meaningful lives and careers."
It's through McLean's comprehensive approach to mental health, which gives children coping strategies rather than punishing them for poor behavior, that allows children to succeed. Teachers are encouraged to give equal importance to teaching skills like kindness, communication, and building strong relationships as teaching subjects like math and science. Using approaches and curricula such as Responsive Classroom and Second Step, educators are able to weave activities that promote mental wellness into daily classroom activity.
"From a teacher's point of view, being in a type of environment where administration, from Frankie and from others—just having the support to make issues of mental health, and stress, and anxiety a priority—is really important," Rosenblum said. "We're really empowered to try these different strategies, and it works wonders with these kids."
While McLean's students don't take any standardized tests, making it difficult to empirically assess the impact of the school's mental-health focus on their achievement, Rosenblum sees the McLean School's success in his students' increased confidence and excitement to participate in class. As students progress through McLean, Rosenblum said, many begin to advocate for themselves more often and learn to cope with anxieties and stressors that were once debilitating to their learning experience. And most students make progress on reading as evaluated at the beginning and end of the school year—a sign that the school's model is effective considering many students enroll at below grade level.
McLean School's approach, however, is not something that all children and their parents can afford to experience. The school does offer financial aid, but  without assistance the price tag for kindergarten enrollment is upwards of $30,000 — and tuition only increases as students get older. This reinforces the need for programs like Connecticut's statewide model that provide mental-health resources for all children, not just those with the means to afford it.