The Most Popular Office on Campus
Demand for mental-health resources has increased, but that doesn't mean today's college students are less resilient.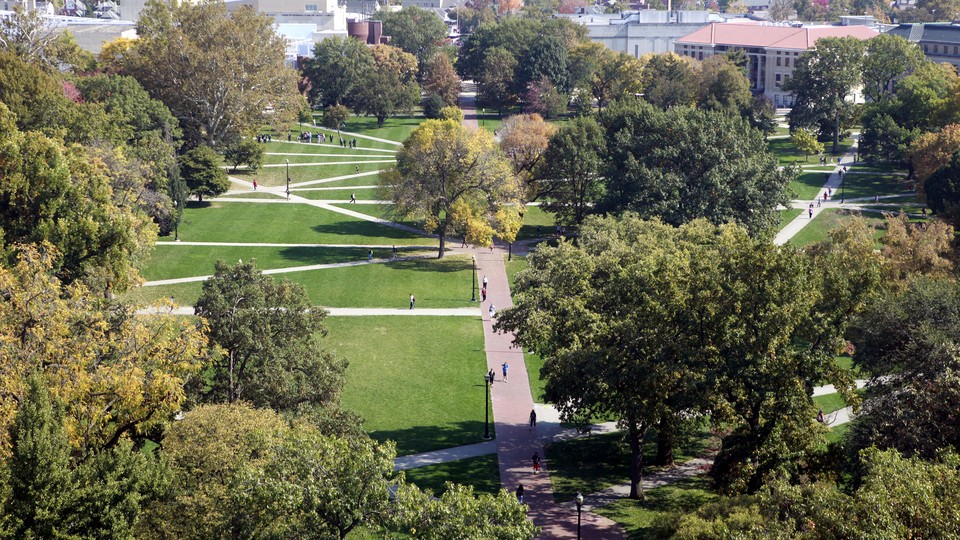 This is the final story in a three-part series about the relationship between education and mental health. You can read the first piece about mental health in early education here and the second on the lack of teacher training to address mental-health issues here.
Today's college students seek campus counseling services more often than any other generation in the modern history of the United States. Most of those who report mental-health challenges cite anxiety and depression as their top concerns.
In last year's 10-year summary report, the Center for Collegiate Mental Health set out to determine whether the overall growth in enrollment at universities was responsible for the increased usage of these services by retrospectively comparing the growth rates of each. What they found was a dismaying gap: Not only did the rise in demand for counseling services outpace that of enrollment growth, it also outpaced it by five times as much.
The increase in demand has sparked a fear, especially among college administrators, that young students across the country are becoming more sensitive and less resilient, which has fed a vigorous national debate between students, faculty, and universities about the treatment of mental health in classrooms. Inevitably, the language of mental health has trickled into higher education. Some universities, like Oberlin, proposed the adoption of trigger warnings, disclaimers intended to protect those with past traumatic experiences such as sexual assault and violence, by forewarning the appearance of disturbing material in text. The pushback against Oberlin's proposal was swift and vehement. Faculty questioned the loss of academic freedom, the Los Angeles Times called it "the glorification of victimhood," and Greg Lukianoff and Jonathan Haidt, in a widely dissected piece for The Atlantic, argued that such policies were enabling students to develop "extra-thin skins" by preventing them from feeling uncomfortable, objectively analyzing their emotional states, and overcoming their setbacks. The emerging picture of the hypersensitive, fragile college student is predicated, in part, on this statistical increase in demand for counseling services.
Is there something insidious exposing college students to higher rates of anxiety and depression? Not quite, say leading college-counseling experts, who point to answers in a nuanced web of cultural, social, and political changes. Ben Locke, the executive director of the Center for Collegiate Mental Health, believes fears that students have suddenly lost coping skills are unfounded. "You don't lose resilience as a country, as a population, in five years," he said. Despite initially discovering that demand for counseling services has increased rapidly in recent years, in further analysis of individual trends, such as rates of attempted suicide, the center found  relatively stable growth rates over the last decade. Only one trend, however, saw a significant jump: the proportion of students seeking counseling services under a category named "threat to self," which involves thoughts of suicide or self-harm. This specificity, Locke said, suggests a surprising conclusion: that large-scale changes in national policy and culture over the last decade have, in fact, worked.
In 2004, Congress signed into law the Garrett Lee Smith Memorial Act, which began funneling millions of dollars toward suicide-prevention research, including early interventions and referral programs. High schools and colleges around the United States started to become more aware of the mental-health issues their students were facing. "When students are in treatment, they are far less likely to be at risk." Locke said. "In the last decade, we have been telling students, parents, roommates, friends, if you see somebody who is struggling, refer them to service." Beneath the statistics, the rise in demand for counseling-center services suggests a heartening prospect: that concerned parents and students did as they were told—helping make visible people who might have otherwise suffered in silence.
Certainly, coming of age in a smartphone culture means that millennials face specific challenges in preserving their mental health, speculated Micky Sharma, the president of the Association for University and College Counseling Center Directors (AUCCCD). "We have a group of students who have led busy, hectic lives since they were pre-teens, all the way to college," he said. This state of technology-enabled busyness has likely contributed to the manifestation of anxiety and depression in young students. However, it's in college that many students, provided with the option of cheap and accessible mental-health services, seek counseling for the first time.
John Park, a recent graduate from Duke University, where I also attended as an undergraduate, first visited the counseling center at Duke during his senior year after his anxiety and depression, which had always been in the background, began to inhibit his daily life. Worried about his grades and whether his choices of major and college had been right for him, his schoolwork suffered. On his worst days, Park said, the anxiety would overwhelm him so much that he would stay in bed, waiting for his brain to shut off. He turned in assignments late and missed meetings and lunches with friends. "I hated going through the spiraling, the anxiety attacks. It wasn't just that half day, it was the next three days because I was behind on schoolwork." He called the center, and two weeks later found himself talking to a counselor who encouraged him to verbalize his feelings. "It was good to hear [my counselor] talk about mental health—like when you go to a physical and the doctor takes your height, weight, and blood pressure. It felt the same way," he said.
Indeed, advocates and counseling directors have long pushed to destigmatize conversations about mental health by placing them on the same, more visible podium that physical problems occupy. With the start of the school year, the National Alliance on Mental Illness released a mental-health guide for students and parents, and public figures like Lena Dunham have openly shared their mental-health experiences.* Most experts and students I spoke with agreed that the general stigma of seeking counseling services has dropped noticeably in the last few years. Hannah Nguyen, a student at the University of Southern California who has organized Mental Health Awareness Weeks at the university, said that on-the-ground initiatives, along with media coverage, have improved the situation. "I think students are realizing it's okay to talk about mental health ... it doesn't make you any different or less or weaker in any way." Kelly Thorne, a director of outreach services at the University of Vermont, said that universities are doing a good job of decreasing the stigma of help-seeking behaviors, but that negative stigma still remains. "We know there's plenty of students out there who are not seeking support or help because of the stigma." This was supported by my own experience writing this article: Despite being eager to talk about visiting their campus counseling centers, some students I spoke to were worried about being included in the story or named, citing concerns that it would affect future social and job prospects.
While about half of students who are treated by centers are newcomers to counseling, for the other half, the complexities surrounding the stigma and management of mental health is nothing new. The presence of these students, who first access mental-health services before college, suggest that counseling centers also act as a support system for people with existing mental-health histories: a promising possibility for the increased demand. In the past, potential students with conditions like depression, ADHD, and Asperger's syndrome were likely discouraged from attending college because they were never treated for their challenges or learning differences. "We didn't talk about [these conditions] as much in the 1980s, but that doesn't mean the diagnosis didn't exist back then," Sharma said.
Now, most four-year colleges and two-year colleges offer mental-health services and personal counseling on campus, and 58 percent of four-year colleges also offer psychiatric services (though only 8 percent of two-year colleges do). The mainstream existence of in-house counseling centers on campus provides a short-term, easily-accessible system for mental-health service users who have not found treatment programs easily in the vicinity of their schools. Pooja Mehta, a current student at Duke University, arrived on campus having previously sought therapy for anxiety and depression. When a panic attack suddenly came on in the middle of exam season, a friend brought her to the center, where a counselor sat with her until she calmed down. "They were good to make sure I was being cared for before stepping away," she remembers. "They didn't leave me in this no-man's land."
Mehta's counselor helped her come up with a care plan that suited her needs, connected her with a long-term therapist, and contacted her professors to ensure that they made provisions for any missed class work. The close intertwining of campus counseling centers with  faculty often helps both professors and students facilitate a better classroom dynamic and translates to academic success. In last year's AUCCCD annual report, which surveyed 518 counseling centers serving over 600,000 students across the country, 71 percent of students surveyed responded positively when asked if counseling services had helped with their academic performance. While once professors might have dismissed poor performance in the classroom as an extension of an uncaring student, now they're often more attentive to potential mental-health conditions that might express themselves in a student's academics. Again, this points to overarching shifts in the culture around seeking help. "We have changed the threshold at which people say, 'Hey, you should get some help,'" Locke said, "so that more students and community members are willing to make that [referral] sooner."
And the open willingness of university staff and professors in having such conversations can especially help students suffer from chronic mood disorders. Juliette Gobin, a recent graduate of Middlebury College who was diagnosed with an anxiety disorder in her sophomore year, credits her dean with helping her balance her illness and her student life. At one particularly difficult time, Gobin's grandmother passed away. While grieving, Gobin said, "the last thing you want to do is have to apologize to people for someone in your family dying." Instead, her dean was able to warn her professors and give her time to recover. "Just the novelty of being able to tell [professors] about this stuff was really important for me." Not all professors were understanding of her chronic anxiety disorder, but those that were motivated her to try harder to not let it impede her work.
"When we make higher education more accessible for more people in the country, that's a good thing," said Sharma, the AUCCCD president. According to the group's report, over half of counseling centers increased their budgets in the last year. At the Ohio State University center, where Sharma is the director, the university has hired 12 new staff members, an unprecedented number. Eighty-five new clinical staff were hired across the 10 University of California campuses.
Meanwhile, in order to keep up, Sharma said, counseling centers have shifted toward having a "menu of options for students." At Ohio State University, one of the largest universities in the country with more than 60,000 graduate and undergraduate students, the center offers daily drop-in workshops, free yoga classes, and files on mental-health management that can be easily picked up by students on their way to class. This allows center staff to attempt balance the staff to student ratio, while serving the large student body as comprehensively as possible.
Unfortunately, that growth has not extended to all areas of the country. Approximately half of counseling centers did not hire new staff, and budgets in a sizable number of centers have not changed to match the increases in enrollment numbers, let alone the increases in demand. And when demand exceeds supply, naturally, waitlists form. At USC, Nguyen said, the waiting period is usually six to eight weeks. "It's awful. It's tough because at USC they're really understaffed and under-resourced," she said, calling on the school's administration to expand services. (Nguyen was able to bypass the waitlist when she was in crisis—having suicidal thoughts and intense post-traumatic stress disorder attacks—after being sexually assaulted by another student earlier in the semester.)
Ultimately, increased accessibility, of course, comes with a cost. While centers have prioritized urgent-response services so that students who are new or in immediate distress are quickly assessed, the problem of sustaining care remains.The Garrett Lee Smith Memorial Act allocates grants for suicide prevention and early intervention but not toward clinical services such as psychiatric counseling. A new bill, the Mental Health on Campus Improvement Act, which was introduced in Congress this year, would allocate more funding for mental-health services on campuses. If it passes, the bill may remedy that provision and allow more flexible funding for both clinical treatment and prevention.
As more students, new and old, continue finding their way to their campus counseling centers, Locke believes the next hurdle is to expand long-term treatment programs, such as regular therapy sessions, that can be crucial to ensuring students fully recover or manage their conditions. Long-term counseling, said Ali Preston, a law student at Stetson University, allowed her to devote more energy to the activities she wanted to be doing. "The experience was life-changing," she said.
Still, not all students had glowing recommendations of their counseling experiences. In defining successful treatment, there is emerging recognition of the importance of having diverse counselors on staff who are well-versed on racial and cultural identities. Park, who is Korean American, said he eventually stopped going to an on-campus counselor because it was too exhausting to explain the intricacies of his cultural background to his white counselor. "Ultimately it ended up feeling like I was trying to educate her on what being a Korean American was, more so than her helping me." Close to three-fourths of counseling center staff surveyed in the 2015 AUCCCD report identified as white, while just 10 percent are black, 7.4 percent are Asian, and 6.7 percent are Latino. A counselor's cultural competency can ease the burden on students of color to explain their identities on top their pre-existing mental conditions.
As student enrollment increases and stigma subsides, the demand for counseling will presumably continue to rise. Blaming this crop of students for being less resilient will be a popular diatribe, but it shouldn't be, Locke emphasized. In fact, it undermines a decade's worth of work by counselors, psychologists, and student advocates who have strived to not only bring mental health to the forefront of public debate, but to reassure students that there is no shame in struggling—that experiencing mental distress is not a sign of weakness. "If anything," Nguyen said, "this is what makes us stronger and makes us more resilient: the fact that I'm fighting for these resources." The result of validating mental health in the culture of schools is that faculty, bystanders, and friends have intentionally led sufferers to the centers that promise to help them. "We need," Locke said, "to follow through on that promise."
* This article originally misstated the name of the National Alliance on Mental Illness. We regret the error.