How the LSAT Destroys Socioeconomic Diversity
The Logic Games section forces test takers to master a new type of thinking—and that knowledge is not cheap.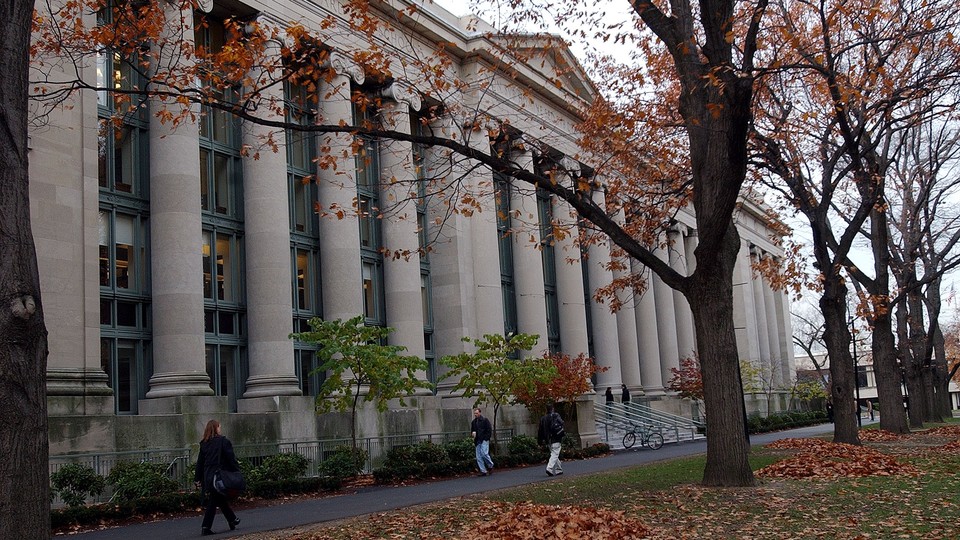 Updated at 5:56 p.m. on August 20, 2020
As soon as I told my friends and family about my plans to take the LSAT, the standardized law-school admissions test, people started warning me about one particular set of questions. Analytical Reasoning, or "Logic Games," is a section that tests your ability to order and group information. The questions are written to seem accessible and unintimidating—they ask you to analyze combinations of ice-cream flavors or animals in a zoo—but, every year, they stop tens of thousands of applicants from attending top law schools.
To get into one of the best law schools in the United States (known as the "Top 14"), you generally need an LSAT score of 165 or higher, out of 180. The first time I took a practice Logic Games section, with no preparation, I only got one of the 24 questions right. That meant that, before I even started any of the other sections, I had a 160. That score wasn't going to get me into a top school.
Luckily, most people who study for the LSAT get a lot better at Logic Games. Every LSAT tutor I interviewed agreed that the Logic Games section is the most teachable part of the test. But in order to improve your score, you need tools—and those tools can be expensive. The average LSAT in-person prep class costs $1,300.
While law schools are steadily becoming more racially and ethnically diverse, they remain overwhelmingly upper-middle class. Only 5 percent of students at elite law schools come from families that fall in the bottom half of the socioeconomic spectrum—a number that has hardly changed since the 1960s. The Logic Games section contributes to this lack of socioeconomic diversity. If you can't afford to adequately prepare, it's a lot harder to earn the LSAT score you need to get into a Top 14 school. The vast majority—180—of the 200 accredited U.S. law schools can't find jobs for 80 percent of their graduates. That means that a low score on Logic Games might stop you from becoming a lawyer.
The Logic Games section is different from all other sections on the most popular standardized tests—the MCAT, GRE, GMAT, and SAT—because it's unlike anything students learn in high school or college. The section relies heavily on formal logic, a concept rarely taught outside of high-level college mathematics or philosophy courses.
"Students have this terrifying realization that every rule they read on the Logic Games section can be turned into an equation with variables," said David Drew, an LSAT tutor and founder of the test-prep company, Zen LSAT. "People are scared by that concept because they've never learned it before."
Most students who apply to law school were social-science or humanities majors in college. Many aren't comfortable with numbers. But even math and science majors struggle with Logic Games.
"I was a biology major. In college, I took three calculus classes, two physics classes, and six chemistry classes," said Laurel Kandianis, a first-year law student at Temple Law School. "And still, when I got to the Logic Games section on the test, I completely blanked. I guessed on 11 of the questions and canceled my score."
LSAT test developers include the Logic Games section to test a student's analytical reasoning skills—the ability to understand and organize a group of conditions and rules, and make deductions based on that information. In the most recent examination of LSAT content by the Law School Admissions Council (LSAC), evaluators concluded that these kinds of skills are crucial to determining how successful a student will be in law school.
"The reasoning skills assessed in the [Logic Games] section parallel those involved in the kind of legal reasoning that is used in law school. Law school curriculum is designed to inculcate those skills that are essential to the profession of law. Therefore, we have good reason to believe these critical reasoning skills are important to the practice of law," said Lily Knezevich, the senior director of test development at LSAC, in an email.
Logic Games are teachable because of their novelty. Law-school applicants typically have a lot of experience with the kinds of questions included on the other two sections of the LSAT. Reading Comprehension and Logical Reasoning rely on skills that humanities majors have been using throughout college: analyzing text and breaking down arguments. By the time they get through undergrad, most law-school applicants have in theory already developed these skills—they're either good at those things, or they're not. As a result, even after months of studying, scores on these sections rarely go up more than a couple of points. But the Logic Games section requires a completely new set of skills. And if an applicant can learn those skills, she can master the section.
Wealthy applicants have an easier time mastering Logic Games for two reasons. First, they can pay for tutors and classes. Before they did anything else to prepare for the LSAT, most of the half-dozen students I interviewed bought a book from a big test-prep company like Kaplan. Books like this generally aren't too much of a financial burden—they typically cost under $60. But after a few weeks with a Kaplan book, every student I spoke with who used one started looking for LSAT help in other places.
"For most of the students I tutor, I'm their second or last stop," Drew said. "Lots of them have taken some kind of free introductory course somewhere else, or they come in with a stack of books from the larger test-prep companies."
The Logic Games section is extremely visual. To answer a set of questions successfully, you need to draw diagrams and charts. It's difficult to master those techniques by reading about them in a book. It's easier to watch someone actually draw the questions out and coach you as you work through them.
You can get that kind of individual attention either from a class or a tutor. The most popular online and in-person courses from the largest LSAT test-prep companies—Kaplan, Princeton Review, BluePrint, PowerScore, and Testmasters—cost between around $950 and $1,600 for approximately 80 hours of class time. Many private LSAT tutors charge between $150 and $250 an hour.
Law-school applicants from affluent backgrounds also have an easier time with Logic Games because they're more likely to have time to study. I spoke with multiple people who either quit their jobs or took several months off to study for the LSAT. For that period of time, their parents supported them financially.
About a decade ago, the longtime LSAT tutor JY Ping founded PreProBono, a nonprofit that offers free LSAT prep and law-school counseling to low-income and minority students. Working with these students, Ping quickly realized how much they struggled to make time for the LSAT.
"We give students involved in PreProBono the resources to prepare for the test, but they just don't have time to study. They actually need to earn money and pay bills. What would be really great is if we could just give them a bunch of money so that they could have time," Ping said.
The good news is that the internet is starting to provide more affordable pathways to a high score on the LSAT. In the last few years, a series of new LSAT prep companies that offer exclusively online resources have started to challenge the existing market. These companies offer access to their own online curriculum, taught through hundreds of hours of short videos. For a fraction of the price of a formal class or private tutor, students can watch a teacher work through Logic Games on paper, then pause the video and try it themselves.
7Sage, a company that Ping founded after PreProBono, is one of the largest of these new, video-based LSAT prep companies. Its most popular package costs $179, barely an eighth of the price of the standard Kaplan course. Founded in 2012, the company is known for posting free video explanations for all past Logic Games online. Ping wanted to lower the cost of preparing for the LSAT and recognized that the Logic Games section was, for most people, the biggest hurdle. If students could watch him solve every Logic Game ever created, he thought, they should be able to do well on the section.
This idea is similar to the one behind Khan Academy, a nonprofit dedicated to offering free online classes on virtually every subject. Like 7Sage and many other exclusively online LSAT prep companies, Khan Academy posts lectures as short YouTube videos. In this way, the organization strives to break the monopoly that expensive institutions have on higher education.
"The traditional LSAT prep companies play this game where they lock up their information. They have the information you need to solve the Logic Games, so what are you going to do about it? But with the internet, information is laid wide open for everyone to see. Their game doesn't work anymore," Ping said.
While many students still take full-price classes from traditional prep companies, more and more are discovering the increasingly wide range of online options.
"I immediately realized that I did not have an extra two grand laying around to hire a tutor, so I started searching for resources online," said Kandianis. She found LSAT Blog, a video-based LSAT prep website run by Steve Schwartz, a longtime LSAT tutor. * Using a study schedule designed by LSAT Blog, Kandianis worked through 200 hours of material.
As these online, video-based companies grow and become more visible, their presence on the LSAT test-prep scene will make Logic Games less of an obstacle for low-income students. The problem of time, however, remains. Because the Logic Games section is so different from anything most students learn in school, to score well, you need to spend a lot of time studying. Students who can afford to spare that time will always have an enormous advantage.
---
* This article previously misstated that Steve Schwartz is a law-school graduate