How Passive Aggression Hurts Children
Studies show that kids are sensitive to quiet marital resentment—not just all-out shouting matches.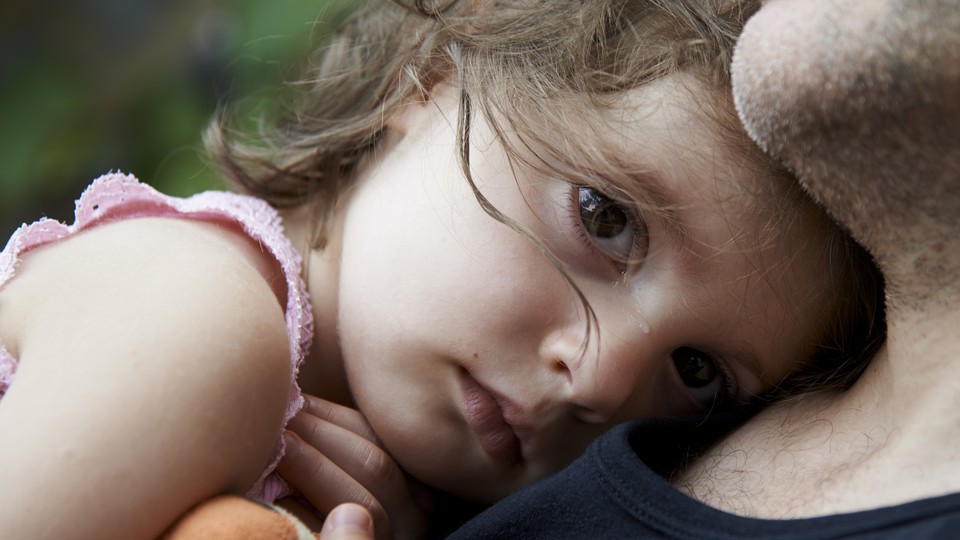 Couples can communicate anger in all kinds of nonverbal ways: giving each other dirty looks or the silent treatment, for example. And while it's widely understood that heated arguments and shouting matches in front of the kids are a bad idea, research suggests that, for kids, nonverbal conflict can be just as upsetting as verbal conflict.
"Children are like emotional geiger counters," said E. Mark Cummings, a professor of psychology at the University of Notre Dame who has conducted extensive studies on the effects of marital discord on kids for more than 20 years. Children, he explained, are incredibly attuned to parents' emotional communication with each other; they're keenly aware that, for their parents, nonverbal expression is key to communicating feelings.
For many couples, holding onto a grudge—smoldering but not letting a disagreement erupt into a fighting match—may seem like the best way to deal with a conflict. But research shows this kind of discord can significantly interfere with a child's behavior and sense of emotional security. When exposed to prolonged unresolved conflict, kids are more likely to get into fights with their peers at school and show signs of distress, anger, and hostility. They may also have trouble sleeping at night, which can undermine their academic performance. In fact, according to various studies that measured children's emotional responses to interparental hostility, disengagement and uncooperative discord between couples has shown to increase a child's risk of psychological problems, including depression, anxiety, social withdrawal, and aggression.
The findings also revealed that preschoolers coping with intense levels of family conflict struggled emotionally—so much so that they had physiological reactions such as elevated heart rate and blood pressure. Kids may also be forced to mediate and negotiate parental conflicts.
To analyze some of these effects, researchers for one of the studies collected data from 232 families, using several methods to examine how parental conflict affected children. They brought parents into the laboratory and recorded videotapes of them discussing difficult topics, subsequently showing the recordings to their children and noting their emotional responses. The evidence indicated that nonverbal hostility—like dirty looks, sulking, or refusing to answer one's partner—was just as upsetting to kids as watching their parents verbally fight or lash out at each other. "It's not a simple matter of what they see visibly—I think people underestimate the sensitivity of kids to their environments," Cummings said.
In another experiment, parents were asked to maintain diaries at home in which they kept track of conflicts that happened both in front of their kids and behind closed doors. Children, the researchers concluded, understand when things are happening outside of their view. In other words, children are sophisticated analysts: They can tell whether parents are only pretending to resolve their problems as opposed to actually solving them. These fascinating studies raise questions about traditional parenting assumptions.
In their book Marital Conflict and Children, Cummings and the University of Rochester psychology professor Patrick T. Davies detail the many different kinds of harmful tactics couples use when they're angry with one another which undermines the family's stability. A partner who uses avoidance, for example, will walk away during an argument or "give in" while letting her anger simmer. These strategies can create a negative family environment that may end up having a cumulative effect on the child's overall adjustment. The book makes a powerful case for rethinking parental tactics for managing anger: It's not just about what parents say to each other verbally—it's about how they react to one another on a daily basis.
It's understandable that parents would only associate "marital discord" with hostile language and openly fighting in front of the kids, but according to Ramani Durvasula, a licensed clinical psychologist in California, "marital resentment creates a greater likelihood for a child to blame herself for the problems."
She noted in an email that a child who witnesses this kind of behavior learns to repeat it in future relationships as she enters adolescence and adulthood. Durvasula's observations echoes another study from earlier this year, which found that when such conflicts occur in kindergarten, that child is also more likely to have coping difficulties into her teens. From the perspective of psychologists, there's a whole cascade of psychological problems that can develop over time from ongoing exposure to unresolved discord, such as heightened emotional insecurity and maladjustment.
Still, some researchers have also concluded that children actually benefit from seeing parents deal with conflict—at least when it's handled well through problem solving and compromise. Although conflict is necessary for healthy marital functioning, when it comes to their children, the critical distinction is whether it's constructive or destructive.
"People don't handle things poorly on purpose," Cummings said. "They think they're doing the right thing, but there [are] actually ways to do it that can be good and not so good for their kids. ... The good news found over and over again in the research is that if partners work together toward a resolution and kids see that positive emotionality, it wipes away the negative impact."
Of course, resolution alone can't salvage every marriage, but there are resources available that can help couples better navigate their relationship and set a good example for their children. In the book The Seven Principles for Making Marriage Work, for example, the authors, John F. Gottman and Nan Silver, note that couples who exercise emotional intelligence and embrace each other's needs rather than constantly disagreeing with and resisting each other are far more likely to transmit this skill on to their kids. This factor, according to the book, also plays as an important predictor of a child's success later in life: A child who is more in touch with feelings and is able to get along with others has a brighter future, whatever her academic IQ.
Cummings and his team are currently developing an intervention program that can help teach parents how to handle discord better. In one of their more recent studies, published last year in the Journal of Abnormal Child Psychology, the researchers found a cyclical educational program comprised of four sessions to be effective in improving conflict-resolution. The focus of the program is teaching parents to distinguish between constructive and destructive conflict and emphasizing the use of communication tactics to resolve disagreements.
"Resolution is like a wonder drug," Cummings said. "Children don't benefit from parents not saying what they feel when they clearly don't feel good about something. Kids pick up on it, whether it's in front of them or behind closed doors."