Jill Biden's Push to Make Community College Free
The second lady has made expanding access to higher education a priority in recent years.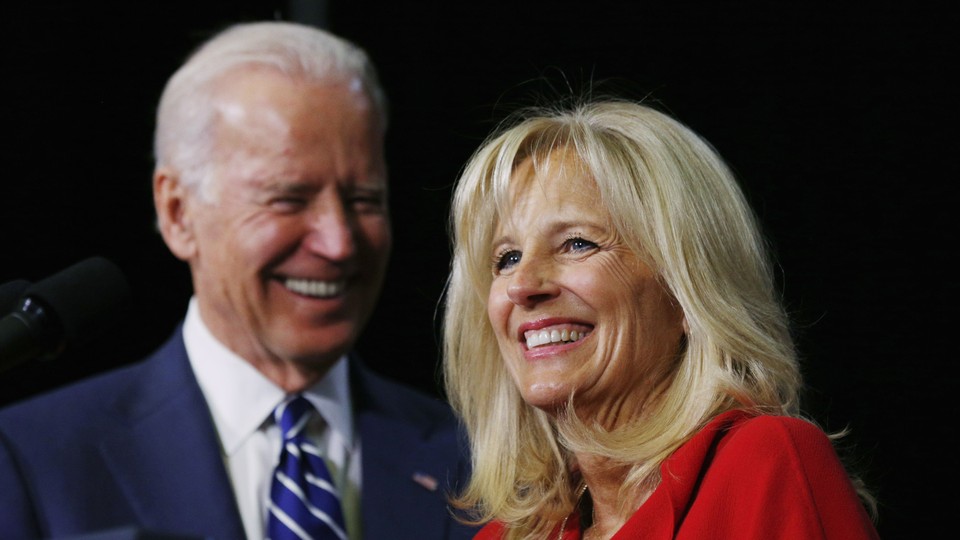 As the Obama administration approaches its conclusion, everyone from the president to his policy analysts are searching for ways to preserve and shore up the work they've done in the past eight years. For Jill Biden, perhaps nothing has been more important, save her work with military service members, during her tenure as second lady than highlighting the role community colleges play in helping men and women, young and old, achieve whatever their version of the American Dream looks like.
And so on Wednesday, she invited dozens of community-college leaders to the vice-presidential residence for a lunch reception. The official purpose was to thank them for their work in recent months to make two years of community college free for some students, an effort that has expanded access to higher education in certain parts of the country for low-income, often nonwhite, students who have traditionally been overlooked. But Biden used her brief remarks to urge the provosts and chancellors assembled to do whatever they can in the coming weeks to do even more, to ensure that free community college becomes a reality around the United States. "This is our moment," she said. "We don't know what we're going to have two months from now."
At the beginning of last year, President Obama called for community college to be free nationwide, a tall order that has yet to become a reality given pushback from Republicans in Congress opposed to Washington intervening in what many see as a state issue. Later in 2015, he announced the creation of a coalition of community-college leaders involving partnerships with local businesses, K-12 teachers, and foundations to pilot free community-college programs at state and local levels. So, even as nationwide free community college remains elusive, a number of states and cities have enacted their own versions of the idea. Tennessee's Republican governor launched a statewide version in 2014 that frequently serves as a model. Oregon and Minnesota have followed suit. So have major cities like Detroit, Salt Lake City, and Boston. Lawmakers from more than 10 states have introduced legislation, and the issue appears to be gaining momentum.
But there's no guarantee that momentum will be maintained. While Hillary Clinton has touted a plan to make not just two but four years of college free for students from families earning up to $125,000, the chances of such a proposal becoming reality anytime in the near future may be slim, and it's unclear how much attention she'll devote to community colleges specifically.
Back at the vice-presidential residence, Biden thanked the college leaders before her for giving her the "opportunity" to inform White House officials about the benefits of community colleges. "You have educated me [about community colleges]," she told them. But it's not a world Biden necessarily needed help understanding. Her own dissertation at the University of Delaware looked at how community colleges could retain students. And in a rare move for a vice-presidential spouse, Biden took a paying job as a professor at Northern Virginia Community College shortly after moving to Washington, D.C., in January 2009. She has continued to teach throughout both terms of the Obama administration. "I have to continue to teach," she said she told her husband. "I'm not a lady who lunches." (Realizing she'd just made the remark at a luncheon, she jokingly clarified that the gathering was a "meeting with lunch.")
The vice president, who cannot resist stopping by a party when it is happening in his own home, made a surprise appearance at the reception and, in typical fashion, cheerfully shared several anecdotes about Dr. Biden's work. She carries a bag all over the world of papers to be graded that "weighs about 300 pounds," he said. "I'll say to her, 'Put! The! Bag! Down!'" he joked. The vice president also gently ribbed his wife for delivering one of her oft-quoted lines about community colleges being the "best kept secrets in the country" as drivers of economic mobility to the commander in chief, to which Obama apparently quipped in reply, "Oh really?"
But Biden grew serious as he praised the college leaders before him for inspiring students, particularly those from other countries, and for giving a renewed sense of hope to people who were hurt by the economic downturn and who might not have otherwise had a chance to attend college. He recalled a visit to a community college in Detroit, which recently made community college free for local high-school graduates, that had reached out to people in their 20s through 50s about learning to code to fill IT jobs in the area. Now, he said, they earn a good living. "I'm telling you, it's going to happen," he said, of nationwide free community college, "particularly if my team wins this race."
While most students still have to pay to attend a community college, the idea of free community college is gathering traction nationwide, said Emily Parker, a policy analyst with the Education Commission of the States during an interview at the reception. A report released this week showed that there are some 150 programs across 37 states offering free two-year degrees.
"I think we're creating a national experiment," Ted Mitchell, the under secretary of education at the U.S. Education Department and the person in charge of postsecondary issues, said in response to a reporter's question about whether the variety of programs allowed by the bottom-up approach was a concern. "Most good solutions are not either or," he added, when asked whether the fact that a number of states have moved forward with their own initiatives meant Congress did not need to act at the national level.
But Parker and her colleague, Sarah Pingel, also a policy analyst, said some states are ignoring older students who could benefit from free community college—people, for instance, who are forced to switch careers as their local economies shift. Some states have a "myopic way" of approaching the issue, Pingel said. Some explicitly restrict programs to recent high-school graduates, Parker added, while others impose implicit restrictions by asking for certain test scores that adults may not have, or requiring students to have graduated from local high schools. A national program might alleviate some of those burdens.
Yet Mitchell said he is encouraged by the "real shift of focus" to the idea of making more than just the current 13 years of public education free and accessible, and by the way local school districts are working with businesses and colleges in places like Long Beach, California, and Knoxville, Tennessee, to make the transition from school to the workforce as seamless as possible for students.
Martha Kanter—who served as under secretary before Mitchell, at one point worked as the chancellor of a large community-college district in California, and currently heads up the administration's national initiative to make community college free—agreed. Momentum has been building for years, she said, particularly as the cost of attending college has risen, and she's confident it will continue.