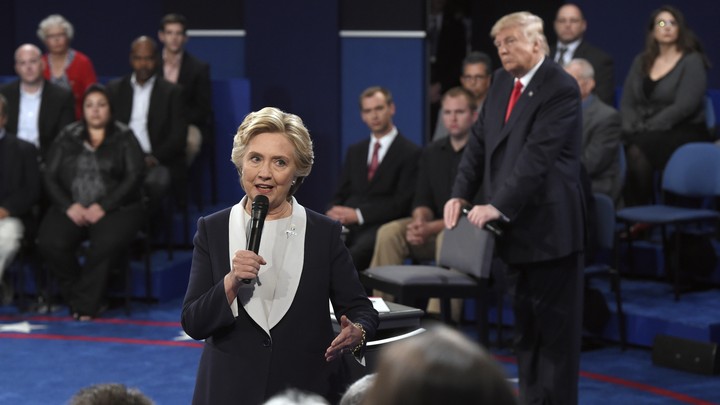 At first, education looked like it might actually play a role in the second presidential debate between Hillary Clinton and Donald Trump as they faced off Sunday evening at Washington University in St. Louis.
YES! Finally a question about education. I feel like I've been waiting for this moment for ages. #debate

— Alia Wong (@aliaemily) October 10, 2016
In a rare move, the candidates fielded a question about education—a natural topic for Hillary Clinton, but a subject that placed Donald Trump in an awkward position amid the focus on his recent comments about women.
The first question came from a teacher: Do you think you're modeling appropriate behavior for the students watching tonight?
Clinton, who has spoken at length about education and has made the welfare of children a priority for some three decades, responded that she would "make clear to our children that our country really is great." She mentioned respecting and building each other up.
Trump, who is facing criticism from educators and parents that his actions and comments are not suitable for young ears, largely skirted the question.
Unsurprisingly, Trump isn't answering whether he feels his behavior is an appropriate model for our children.

Because it isn't.#debate

— Ian Sams (@IanSams) October 10, 2016
So much for hearing about education. Again. #debate

— Emily DeRuy (@Emily_DeRuy) October 10, 2016
In the past several months, teachers have grappled with how to handle Trump's comments in class. One elementary-school student said, "If I talked like Donald Trump, I'd get sent to the principal's office immediately."
Beyond the initial question, education was largely absent, which frustrated debate watchers on Twitter.
Even Katy Perry wanted to hear more about the topic ...
...police reform, gun control, mental health awareness, women's rights & affordable education @HillaryClinton #Debates

— KATY PERRY (@katyperry) October 9, 201
We want to hear what you think about this article. Submit a letter to the editor or write to letters@theatlantic.com.
Alia Wong
is a former staff writer at
The Atlantic,
where she covers education and families.
Emily DeRuy
is a former staff writer at
The Atlantic
, where she covered education.