How Lobsters Are Keeping Students in School
In a small marine community in Maine, the crustaceans have long been a key to economic livelihood—but now, they're entering education.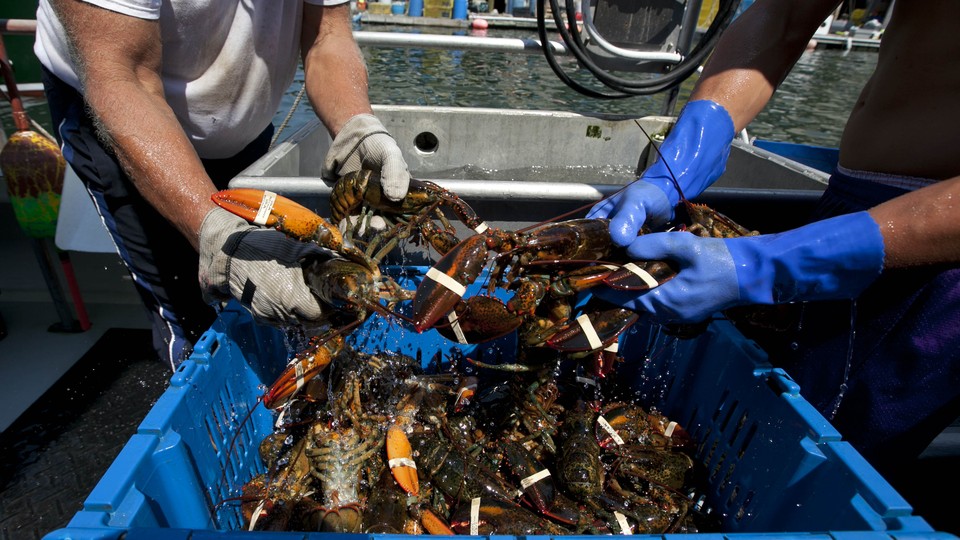 Three hours from Portland, Maine, and two hours from the state capital of Augusta, picturesque Deer Isle has two towns on it (Deer Isle and Stonington), a combined year-round population of about 2,500 people, and not a single fast-food chain—or any chain store for that matter. Those who live beyond the narrow, turquoise suspension bridge connecting Deer Isle to the mainland are called PFAs ("people from away"), even if they work or attend school on the island.

At the southern end of the predominantly middle-class, overwhelmingly white island lies a small but bustling harbor. In 2015, Stonington port brought in $63.8 million worth of lobster, landing it the title of Maine's no. 1 commercial fishing port. The influence of maritime culture is evident at every turn: The local convenience store opens at 3:30 a.m. in the summers to accommodate early-to-rise fishermen. Above the entrance hangs a mural of one of these men in trademark yellow, waterproof overalls. Driving down the island's main thoroughfare, Route 15, one sees rectangular lobster traps piled by the dozen in front yards, draped with multicolored fluorescent buoys. Residents are protective of their island culture, and fittingly, the rocky granite shores that meet East Penobscot Bay can sometimes be covered in a thick, dramatic fog.

This maritime culture isn't just for adults. It seems as though every single young person here works full time in the summer, and those who aren't on fishing boats or in related maritime jobs work at the ice-cream stands, seafood shacks, and art galleries that open to accommodate tourists and seasonal residents. In fact, some students here can make more money fishing in one summer, when lobsters are most active, than their teachers can make in a year. Says a longtime local high-school teacher and island native, Terrance Siebert: "A student we had five years ago could already pay $40K to put a new motor in his boat." Certainly not everyone on Deer Isle fishes, but that work fuels the local economy.

This entrepreneurialism makes Deer Isle a special place. "In many rural communities, everyone dreams of leaving. Not here," says Paul Sacaridiz, the director of a local arts institution.

But getting young people to stay in school is another story. At the island's only high school, Deer Isle-Stonington High School (DISHS), there has been a sense among some students that school is just standing in the way of going off and making money, and some of their parents see school as basically a lousy babysitter.

According to an op-ed from the DISHS principal Todd West in 2010: "A sizable and important minority of our students have low educational aspirations, perform poorly in courses and often fail courses, regularly do not attend school, and cause frequent discipline issues." When West assumed the position in 2007, there were over 200 suspensions in a total population of around 150 students. The students getting in trouble were often boys and usually "the fishing kids," according to West.
DISHS always had vocational marine-trades classes for those "fishing kids." These classes, held in a shed at the back of campus still used today, had the stigma for being a place where unruly boys were sent to keep them out of trouble, a sort of holding tank until they could drop out to join the family fishing business or get a commercial fishing license. These discipline challenges created a negative school culture that affected even the strongest students.

In talking to parents and community members, West realized that the very things distracting some students from school were the key to drawing them back in. The dropouts, troublemakers, and low performers weren't "un-educatable," but the curriculum wasn't always tapping their unique interests and talents. "Our students were inquisitive and hardworking, just not when they walked through our doors during the school day," says West.

In response to a particularly dismal year of dropouts, a team of DISHS staff, teachers, and community members launched a school-wide improvement plan in 2010. The plan  included a concerted effort to prevent course failures, more formalized teacher collaboration, and the creation of the marine-studies pathway. With an emphasis on project-based learning and real-world experiences in the community and on the water, the marine-studies pathway allows students to take up to 75 percent of their core-curriculum requirements in classes aligned to their interests. Students can explore traditional academic topics through marine themes: They can learn algebra and geometry through boat building and navigation, write argumentative papers about winter flounder fishing, and study U.S. history through the lens of the fisheries. Graduates this coming spring will be the first able to take the majority of their classes in the marine-studies pathway all four years.
Since its implementation, the progress of the plan has been dramatic, in some cases. In 2009, DISHS had the worst graduation rate in the whole state of Maine: 58 percent. But by 2014, 91 percent of DISHS students earned a diploma. There were 17 dropouts in 2009 and only three in 2014. West explains: "Our current 10th-grade class came in with a reputation of being a really bad class. In seventh and eighth grade, those kids would say they would drop out at age 16. And their parents were scared to death .... All those kids are now still in school."

DISHS didn't try to force all students to succeed through traditional academic programming. Instead, the approach was remarkably student-centered. Says West: "The underlying philosophy is you can learn and be energized. But we need to make connections to the things you care about while still maintaining high expectations."

This approach was no accident. A unifying theme of the multi-year school improvement plan was the philosophy of personalized learning, which is, according to a new report from Bellwether Education Partners, "...instruction customized to meet a student's individual skill level, learning style, and interests through differentiated learning environments." Another tenet of the plan was flexibility: flexibility on when and how students learn, and flexibility on how students demonstrate success.
Before implementation of the plan, marine-minded students were never expected—or encouraged—to pursue a college education or even something within the marine field other than fishing. Now they can no longer hide from high expectations: They must meet school-wide standards just like everyone else so they can finish high school with the skills necessary to survive unexpected changes and volatility in the fishing industry. Having students graduate ready to run a small business matters to the economic health of this little island.

The pathway program has clearly risen to the challenge, and the courses and external opportunities expose students to necessary professional skills. Craig Kesselheim, a school coach who works with DISHS to support personalization in the classroom, reinforced the centrality of the pathways to DISHS' larger improvement plan: "The pathways are critical to the character of the school now. They have created an opportunity for students to say 'what I'm doing in school is interesting for once and for the first time.'"

How does this approach actually look on the ground? This May, Elliot Nevells, who was a sophomore at the time, started his morning in a marine-studies classroom preparing for an important evening event: the final presentation of the Eastern Maine Skippers Program, an honors component to the pathway. At the event, students from eight regional schools presented projects to a professional audience that included legislators from Maine's Department of Marine Resources. Longtime DISHS marine-trades teacher Tom Duym opened the morning's class: "We have a presentation for 100 people tonight, and we're not ready, but we will be."
Nevells and his classmates reviewed PowerPoint slides for their semester-long project about the possible advantages of wooden lobster traps over the plastic-coated metal ones currently in use. The energy in the room was distracted and nervous. "Do I have to speak tonight?" asked one student. Another lifted a book off his desk, the State of Maine Marine Resources Law Book, and announced: "This is our Bible."

Finally, at the end of a day filled with both pathway and non-pathway courses, Nevells got on a school bus headed to the Skippers presentation. Most of the DISHS boys stayed in their standard outfit of jeans with a baseball cap and hooded sweatshirt, but a few put on button-down flannel shirts, which is about as formal as it gets for them.

When it came time for DISHS's presentation, the boys read off their notes, nervously moving away from the podium when their turn was over. But then-sophomore Skylar Perez looked up to make eye contact with the audience and even softened after he was able to make the auditorium laugh. Considering that at last year's presentation, Perez was so shaky he could barely talk, the fact that he calmly narrated a whole slide with multiple bullet points is a big improvement.

John R. Williams, a successful local fisherman out of Stonington, is a supporter of the pathway. He comes from a long line of fisherman and was involved in groundfishing for bottom-dwellers like cod and flounder before overfishing led the community to focus on lobstering. Williams told me he appreciated that the DISHS students were getting an opportunity to practice the kind of public speaking they'll have to do before regulatory agencies and local fishing councils: "I'm glad these young fellows are able to do it—to stand up and speak for things we never did."

While the marine pathway is but one component of the larger school-improvement plan, it stands out as a hallmark of educational programming that is responsive to the unique needs of the local community. And it has helped garner attention for this small island: DISHS is now a model in student-centered learning for the state—and the nation.
Despite the promising turnarounds, there remain a number of challenges and tensions. It's still hard to get students engaged in after-school activities if they have to miss out on possible earnings, and state test scores at DISHS remain comparatively low. Many agree that getting the rigor up in pathway classes to match traditional classes is a work in progress, something I saw firsthand when shadowing Nevells throughout his day and seeing the different levels of instruction. Natalie Griffith, a DISHS parent, is confident that her son Liam Griffith, who is now a senior, will be prepared for college at Marine Maritime Academy, but she adds that the level of rigor in the marine-studies pathway is uneven: "Some students might coast along."

And importantly, teacher burnout and workload is a huge issue. It takes tremendous time and resources for this small school to develop pathways and to run the co-teaching that pathway classes often require. Kesselheim has heard teachers say: "How many new approaches to my curriculum must I learn each year?" The shift to personalized learning and additional focused support demands a lot of teachers, a particular challenge in a school where employees already wear multiple hats.


If all goes as planned however, by 2019, all students will graduate with a proficiency-based diploma that demonstrates they've mastered required content (instead of just taking required classes). In addition to the marine-studies pathway, there is an arts pathway in existence and a healthcare pathway in the works, meaning more students can fulfill core requirements in classes aligned to their interests. Says West: "We're right in the middle of the messiest piece of it. It might sound anticlimactic, but I would like to see us make it to the other side."