How a Debate Can Shape a College Campus
Longwood University, which will host the vice-presidential duel, is restructuring classes with a focus on civics.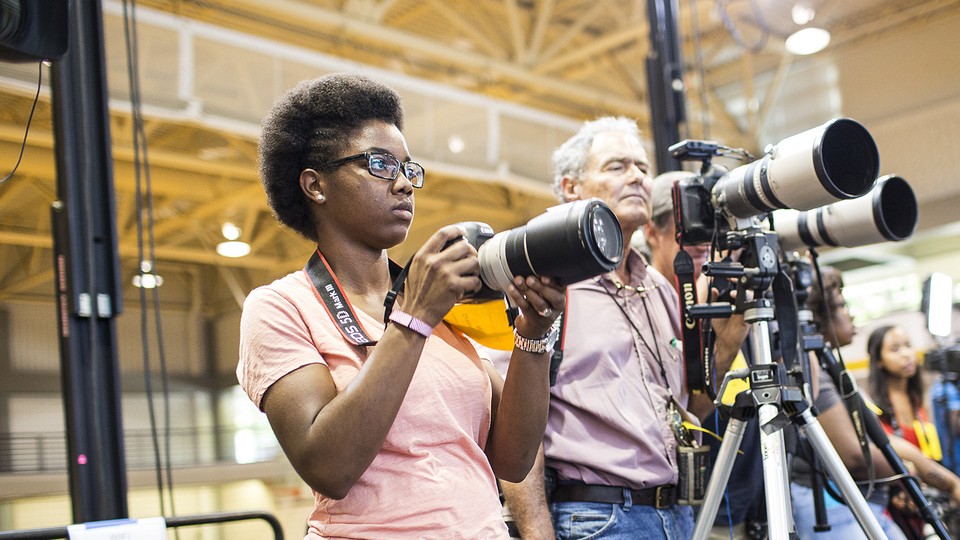 When Mike Pence and Tim Kaine step onto the stage at Longwood University in Farmville, Virginia, the college's president hopes the school will serve as more than just a platform for the vice-presidential debate. W. Taylor Reveley, IV, wants to use the occasion to urge schools to fulfill what he sees as their responsibility to teach young people to be good citizens.
"I really think we're reaping what we've sown," Reveley, 42, said during a recent phone interview, referring to the current toxic political environment.
Several generations ago, schools and universities played a pivotal role in preparing young people to engage in public affairs, from voting to debating issues of the day to volunteering, he said. But since the 1960s and '70s, he argued, liberal-arts colleges have shifted focus away from a broad whole-student approach toward "getting you ready for your career and what economic role it's playing in society."
While Reveley thinks that role is "crucially important," he also thinks too many universities are shirking their duties when it comes to civics education. "It's not as though this is the prevailing or common thought in higher-education circles right now," he said.
So several years ago, Reveley decided he wanted to look into revising the school's core curriculum. The next year, as that effort was getting under way in the fall of 2014, Reveley—whose own background is in the American presidency—was teaching a course on the topic when his class "started on a riff" about how several past debates had Virginia ties. The College of William and Mary (where Reveley's father is the president) hosted the Jimmy Carter-Gerald Ford debate in 1976. The University of Richmond played host to the first town hall-style debate in 1992 when it welcomed George H. W. Bush, Bill Clinton, and Ross Perot to campus. Eventually, somebody asked whether Longwood would ever host, and Reveley rattled off a noncommittal "kind of equivocal, kind of college president-y" response.
But the idea "lodged" in his mind. The more he considered it, the more Reveley thought hosting the vice-presidential debate "would energize what we were already trying to do" with the curriculum revision, he said. Longwood's own history didn't hurt, either, and it's something debate officials were aware of as they considered where Pence and Kaine should face off. The final moments of the Civil War took place slightly north of the campus, and a pivotal moment of the civil-rights movement unfolded south of campus in the 1950s as students walked out of their all-black high school to protest its poor conditions. (Longwood looked the other way for decades and only recently offered a public statement of regret.)
Fast forward to the fall of 2015, when the school was awarded the debate: Reveley asked his new provost, Joan Neff—who had been at Richmond for the '92 debate—and a couple of other faculty members to move on some of the ideas they'd been exploring at the planning level and get them ready for implementation for this fall. Neff, Reveley said, was a good choice for the job because she had "a natural knack and understanding of how catalytic these events can be," and she'd lamented that Richmond hadn't incorporated the excitement around the '92 debate into the curriculum in a structured way, and was eager for the opportunity to do that at Longwood.
Long story short, more than 30 courses were either created or reworked to focus on the debate and, more broadly, the idea of students as citizens-in-the-making. A music-appreciation class has students listening to and discussing works composed for political purposes. A women-and-gender-studies course asks students to examine early debates about women's rights and consider how perceptions of gender play out on the modern campaign trail.
Michael Mergen, an assistant professor of photography, created a class that puts student photographers on the front lines at rallies and protests. Mergen, a photojournalist whose work has appeared in The New York Times and Bloomberg, said the opportunity to design a new course seemed like a "natural fit" with his background, and a chance to discuss with students what it means to be a citizen leader or citizen artist outside of the classroom. And with the school willing to throw some money behind reporting trips, juniors and seniors who had never been on the street with a camera have in the last several months seen campaign events and protests up close. Some of Mergen's students have credentials to cover Tuesday's debate from inside the auditorium, and others will track watch parties and protests nearby.
"You're looking at something bigger than just you and your personal interest," he said during a phone interview. At the outset, half of his 11 students said they didn't care about politics. Now, Mergen doesn't hear those comments much anymore. "There's definitely a sense of what they're doing is so relevant and connected to a larger national and international conversation," he said.
Bringing the debate to campus has fostered an environment in which professors are highlighting more current issues in their coursework, Reveley said, which may help more students to understand how what they're learning in a classroom is connected to real life. "To be able to have a framework in place to kind of maximize the rate of epiphany has been a lot of fun for everybody," he said.
"You can't sit down on certain things when you are being told constantly that you have a voice," said Deja Mills, a 21-year-old kinesiology student from Norfolk, Virginia, and the head of the school's Black Student Association (BSA). While Mills isn't currently enrolled in any of the reworked courses, she and other members of the club are set to volunteer at the debate, and she said the event has sparked a wave of volunteerism and activism on campus. Last year, students from the BSA and several other organizations helped craft a diversity statement that made its way into the student handbook this school year.
Reveley said there has also been "lots and lots of enthusiasm" from professors, but Mergen said there was "not a small amount of skepticism" when the school decided to go for the debate. While he thinks most professors and students are ultimately excited about hosting, and especially the school's willingness to put funding and resources toward fitting the debate into courses, he said there are a "small number" of students and faculty who remain "annoyed" by it all. (The debate will likely cost the university several million dollars, and not everyone on campus thinks it's where the university should be focusing its attention and resources.)
Students themselves seem to appreciate the new course offerings and emphasis on civic engagement, but some are worried it will dissipate once the debate is over. "I have the concern that it will go away," Joe Hyman, a 19-year-old political-science major from Northern Virginia who helms the recently formed College Democrats of Longwood University, said. The sophomore appreciates that professors on the politically divided campus of about 5,000 students don't shy away from political discussions, but he doesn't think most students are even aware the school is pushing civic engagement at all, and he's worried that any talk about the idea "is sort of just tacked on to" the fact that the school is hosting the debate, and not presented as "a lifetime commitment."
Malina Foldesi, the 20-year-old chairwoman of the Longwood Republicans, shares Hyman's concerns, if not his political leanings. It's still hard to convince young people to care about politics in general, she added, placing some of the blame with schools. The school system "teaches you not to discuss these things," she said. "[Politics] is just taboo." She hopes that a shift toward a more civic-minded curriculum will increase interest in politics among students. And perhaps more optimistically, she sees signs that the new focus might be sustained.
Professors, she said, have asked classes if they need help registering to vote. Foldesi, Hyman, and their club members have led voter-registration drives, and the clubs held a mock debate that some students earned extra credit by attending. More than 500 students are volunteering to help with the debate.
But Hyman said he would like to see the college step up its own voter-registration efforts and work on providing students with information about how to volunteer for the campaigns if it really wants to promote civic engagement. "Easy access to that would be more beneficial," he said.
Beyond student concerns is the fact that the restructured courses are not required, so a student, particularly one not studying something like political science where civics is likely to come up anyway, could easily skip conversations about citizenship. Only about a quarter of the school's students are in one of the 30 courses. Likewise, professors were not forced to rework class offerings. Reveley acknowledges that once course patterns "are baked into a given campus … that's not easy to change," and that there are "lots of natural interests around campus among alumni about what gets taught and how and when."
He's also aware that 2016 has "not been democracy's finest hour," but hopes the debate will assuage the disaffection students feel from the current political landscape. The vice presidential debate, he said, may be the election's highlight when it comes to actual substance, a chance for young people to hear thoughtful argument and not just partisan mudslinging.
Reveley would much rather use the debate to force a conversation about the link between education and democracy than on the specifics of this particular election. That two generations have lost sight, as a society, of the role education plays in developing good citizens, he posited, may be the deepest ill that ails the country in 2016. "This is a great chance to really underscore," he said, "the vital connection between education and democracy."