The End of a Labor Strike at the World's Wealthiest University
The university has the largest endowment in the United States, but workers said they couldn't pay basic living expenses.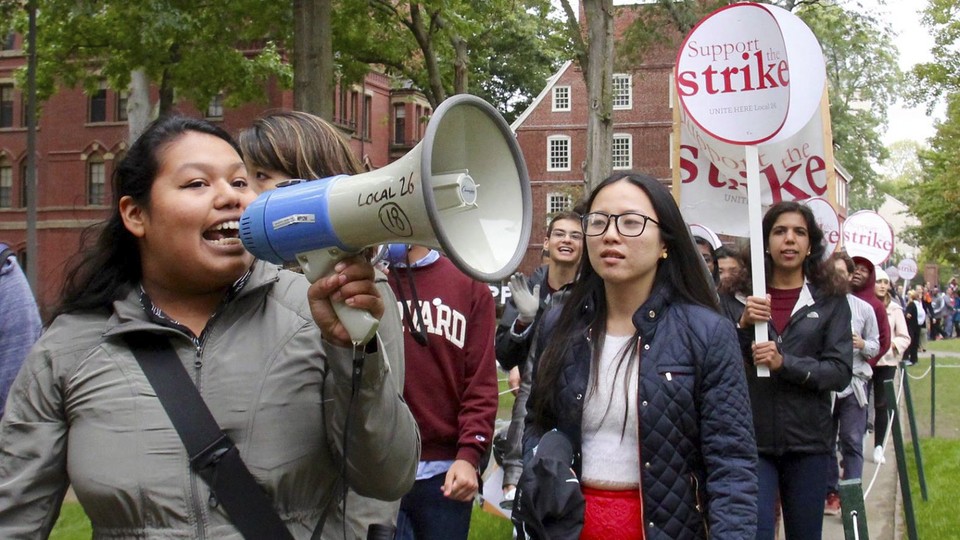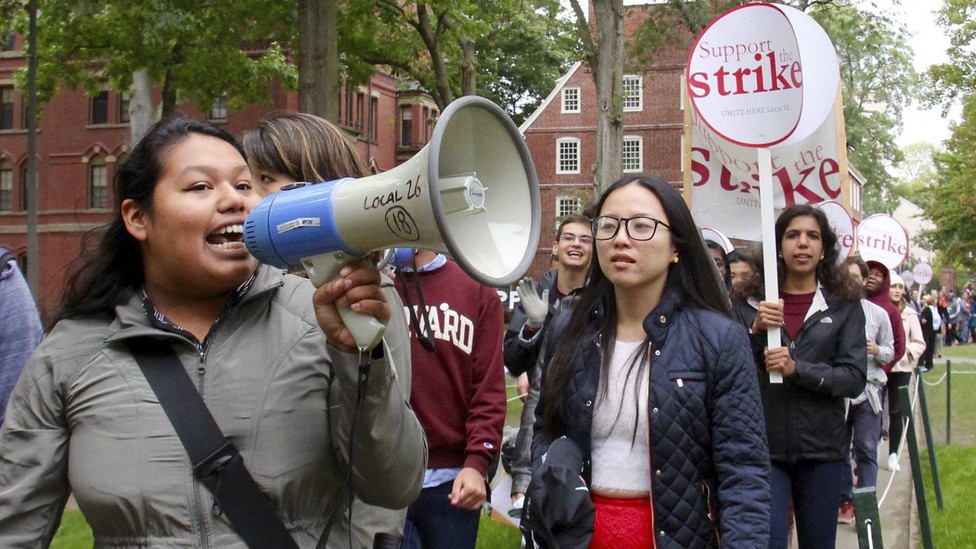 Updated on October 25 at 4 p.m. ET
Harvard University and more than 700 of the school's dining workers have come to a "tentative agreement" over wages and health benefits after a weeks-long strike, the union representing those workers said Tuesday. It's the apparent culmination of a battle that has embodied the ironies of the Ivory Tower and brought into question the role of university endowments.
Brian Lang, the president of Unite Here Local 26, said in a statement that the bargaining committee felt the two sides had hammered out an agreement that addressed "all of the concerns." But he added that the strike would continue until a vote could be taken on Wednesday. The group declined to disclose specific details of the agreement until then. Harvard did not immediately respond to a request for comment.
The university, which has the largest endowment of any school in the United States at $35.7 billion, had been locked in negotiations for months with dining workers, who called for year-round pay (many dining halls close over the summer) and a salary increase of several thousand dollars to $35,000. The workers also asked the school not to raise out-of-pocket health expenses, which some workers said were already in the $4,000 range.
In an opinion piece in The New York Times on Monday, a worker named Rosa Ines Rivera said that she'd passed up on an appointment to get a spot on her lung checked for cancer to limit co-pays after a doctor said her daughter might need surgery.
Rivera, who wrote that she'd been employed by the school for 17 years, added:
Harvard is the richest university in the nation, with a $35 billion endowment. But I can't live on what Harvard pays me. I take home between $430 and $480 a week, and this August, I fell behind on my $1,150 rent and lost my apartment. Now my two kids and I are staying with my mother in public housing, with all four of us sharing a single bedroom. I grew up in the projects and on welfare. I want my 8-year-old daughter and 2-year-old son to climb out of the cycle of poverty. But for most of my time at Harvard it's been hard.
During the weeks of dialogue, in which students walked out of classes in support of workers and staged sit-ins in administrative buildings, the university and its supporters countered that workers were making about $22 an hour, higher than most local food-service workers. The school also pointed out that it had asked all union workers, not just those in dining, to pay more for insurance coverage, and that insurance costs are rising. (The Obama administration announced this week that premiums for Obamacare insurance plans were up 25 percent.)
But the headlines (such as "Harvard Has Billions, So Why Won't It Pay Workers a Living Wage?") and the general sentiment among Harvard students and some faculty members were largely sympathetic to the workers, asking why the richest school in the country and the birthplace of some of the nation's most progressive policies couldn't part with a few million dollars and significantly improve quality of life for the workers who help keep the university and its students running.
"Time for the school to show some moral leadership and set an example for the rest of higher ed," Emil Guillermo, a self-identified working-class kid who attended the school on scholarship in the 1970s, wrote in Diverse Issues in Higher Education. "Harvard can do that easily by taking care of the people who never graduate but choose to give their lives to make Harvard work."
While it is true that endowment funds are sometimes earmarked for specific uses, and that the school's endowment reported a disappointing 2 percent loss this year, the school announced last month that it had raised north of $7 billion in a capital campaign.
Clint Smith, a graduate student at the university, said he hoped the strike and other conversations on campus about whether graduate students should unionize would spark a broader dialogue about representation and whether people on campus are afforded compensation and opportunities "commensurate with what they contribute."
One commenter on the Times article wrote, "Harvard Corporation's response to the strike has been cold and unfeeling. Rather than responding to the personal struggles of the strikers, they simply sent out an email with some cherry-picked statistics, basically calling the workers entitled. Harvard Corp also asked if any students would mind volunteering to set out sandwiches. Unsurprisingly, no one volunteered. It doesn't work like that Harvard, you have to pay people."
Dining-hall employees who don't have the opportunity to work at the university year-round aren't able to collect unemployment because, as an educational institution, Harvard doesn't have to pay that benefit.
The strike highlights growing tension around how wealthy institutions treat their workers, many of them immigrants of color, who keep the campuses running. These are institutions that have been criticized in recent years for educating predominantly well-off white students while failing to adequately open their doors to lower-income, often minority, scholars. While schools were not immune to the recession, many weathered the economic downturn far more easily than the workers who help sustain them.
A Harvard Magazine piece last year pointed out that one of the Harvard endowment's managers earned more than $11 million in 2013. The school's president, Drew Faust, makes in the upper six figures, but also has access to perks like an official residence and retirement benefits that take total compensation north of a million dollars annually.
Yet at the same time as the school's top officials have pulled in lofty salaries and as big corporations beyond school gates have rebounded in the ensuing years, hourly-wage workers have continued to struggle, with median weekly earnings just surpassing a 2009 peak this March. Elite universities, which employ both highly compensated, highly respected academic leaders and low-wage workers who sometimes feel invisible, offer a depressing illustration of the widening gap between the richest and the poorest Americans.
And as cities have gentrified and young professionals earning good salaries have opted to put down roots in places like Boston and Los Angeles, neighborhoods that were previously accessible for hourly workers have grown too expensive, pushing families out of homes and communities they've lived in for decades.
A recent survey of workers in the University of California system, which has an endowment of more than $14 billion, found that seven in 10 workers in clerical, administrative, and support services struggle to afford enough healthy food for their families. Although the system, California's third-largest employer, announced last year that it would pay employees and contract workers a minimum of $15 an hour, the highest of any public-university system in the country, the average wage of the workers in this latest study was already $22 an hour. A 2013 report from the California Budget Project found that a single parent with two kids needs to make about $36 an hour. A faculty strike also over wages and healthcare costs recently ended in Pennsylvania.
The final details of the Harvard agreement are under wraps for now, but the union workers appear to view the outcome as a win. Beyond that, the strike, the union's first on the campus in more than 30 years, seems to have brought together two groups of people—students and the workers who feed and care for them—who usually operate in different spheres despite sharing the same physical space together.
As a dining worker who participated in the negotiation process, William H. Sawyer, told Harvard's student paper, "I'm feeling great about it, everything feels good … The students and everyone behind us [have] been really inspirational… they kept us up, up, up, up and alive about this."
"I hope it's humanized a lot of these people," Smith, the graduate student, said. "Hopefully it's a reminder to many students that the people who serve your food every day are not these sort of invisible people without lives beyond the service of your breakfast, lunch, and dinner."