Colleges Pay Millions to Host a Presidential Debate
Washington University in St. Louis expects to spend between $4 and $5 million to stage Sunday's face-off between Donald Trump and Hillary Clinton.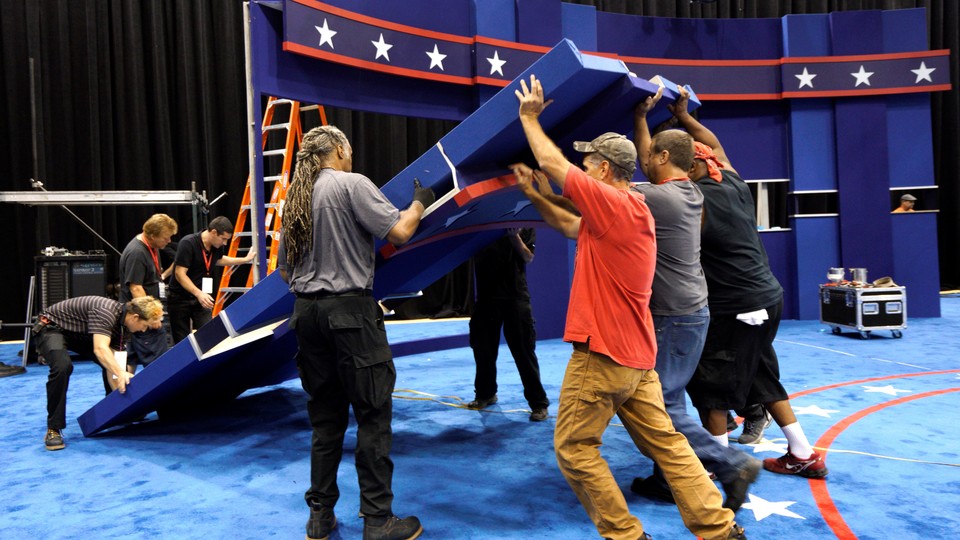 Winning the right to host a presidential debate is an expensive victory. Washington University in St. Louis is prepared to spend between $4 million and $5 million to host a 90-minute matchup between Hillary Clinton and Donald Trump on Sunday evening. That's in line with what Hofstra University (where the first debate of 2016 took place) and Longwood University (the site of this year's only vice-presidential debate) shelled out to bring the candidates to campus.
Why spend so much money on something that's over so quickly? According to Steve Givens, the man in charge of debate preparations at Washington University, "it's an addition to [students'] educational experience here that is almost priceless."
And then there's the fact that $4 million-plus, which Givens says the private university will pay for out of its operating budget without the help of sponsors it has relied on in the past, is a drop in the bucket for a school with $2.7 billion in operating revenues and an endowment of nearly $7 billion. (For context, according to a report from the American Council on Education, just 1.6 percent of all colleges and universities had an endowment of more than a billion in 2012. And while operating budgets and endowments are different, schools often use investment returns from their endowments to support operating costs.)
That clearly limits the number of schools that can host. Hofstra stepped in for the first debate after Wright State University in Ohio, which was originally slated to host it, said costs that had ballooned to some $8 million and mediocre fundraising hauls made it a financially risky prospect. Several wealthy alumni picked up most of the tab at Hofstra. But for schools that can swing it, there are plenty of reasons to sign up.
In the short term, being a debate site graces a school with "a flash of visibility," as Givens put it. (This obviously works best when the candidates don't forget the name of the university at which they're debating.) In the days leading up to the event, local, national, and even international outlets write about the school. Reporters visit the campus and talk to professors and students, sometimes making contacts they'll tap into long after the election is decided. And, if whatever PR apparatus the school uses does its job right, the school will in turn have a spate of new reporters to add to its contacts.
Still, Givens acknowledges all of that is short lived. "That doesn't change anything on a grand scale," he said. The same way that few people who aren't Beltway insiders remember which city hosted the 1992 Democratic Convention (New York), and that few people beyond diehard sports fans recollect where the Winter Olympics of 1984 took place (Sarajevo, in present-day Bosnia and Herzegovina), not many people are going to remember where the second presidential debate of 2016 transpired.
For Washington University, it's the potential for longer-term impact that makes hosting worthwhile.
As of late September, the school had registered more student voters (2,065) through TurboVote than all but three of around 200 participating universities, a ranking Givens attributes in part to the fact that the school is a debate host this year. The school tries to register students every year, he said, but "I think people's consciousness is raised in general, so they see everything that's going on. They know the debate's coming here." People who vote when they are young are more likely to also vote whey they are older. It's unclear yet how many of these newly registered students will actually turn out to cast ballots, but registering is obviously a crucial first step.
Givens also says the fact that the university is hosting a debate for the fifth time—more than any other school—allows it to bolster its reputation as a school that values civic engagement. (That's in line with why the president of Longwood University agreed to host the vice-presidential debate.) No more than a few hundred students will get into the debate hall itself, but they are hosting watch parties and discussions about the debates around the school, and several centers on campus are bringing speakers like David Brooks to campus in the days leading up to October 9 for conversations about things like the future of politics and religion in the United States. Several courses have been created around the election. "That's important to us," Givens said. "Maybe [students will] be a little more civically engaged … because they were here."
Jimmy Loomis, a 21-year-old senior who heads the school's College Democrats and serves as the treasurer of the St. Louis County Democratic Central Committee, said there was "palpable excitement" on campus, and that the debate promised to be a day students "would remember for the rest of their lives"—even if security was "not going to be the most enjoyable." Loomis, who is studying politics and Chinese, said his professors have led discussions and assigned essays around the debate.
For some schools, hosting a debate can even mean a chance to recruit new students who might not have considered attending previously. As the Associated Press noted recently, a survey suggested that high-school students were more likely to have a positive perception of the University of Denver after a 2012 debate there between President Barack Obama and Republican challenger Mitt Romney. Applications, the wire service pointed out, also rose by 5,000 at Hofstra after it hosted a debate that same year. Centre College, in Kentucky, reportedly saw an increase in both applications and alumni donations after it hosted the vice presidential debate in 2000, too.
Givens, who also serves as associate vice chancellor, said that while there has been a rise in applications to the university over the years, and that there may be students who apply or visit the school because they see the debate, any uptick has not been "dramatic." (Schools like Hofstra and Longwood, which don't fare as well as Washington University in prominent national rankings and may not be as well known, might see more of an increase as a result of hosting.)
Other schools, including Longwood, tout the economic benefits to the school and surrounding area, which some estimates put in the $10 million range. Press and politicos fly into local airports, they rent cars, they stay at hotels, and they eat at nearby restaurants.
That doesn't mean that every school with the means to host a debate wants in on the act, or that students and faculty are necessarily thrilled, though. "We couldn't believe we're having a debate on this campus at a time when we're not supporting the candidate. But now we're excited again. It's really quite a big deal," Ruben Schuckit, the president of the school's College Republicans, which is not backing Trump, said to the St. Louis Post-Dispatch. Back in 2012, Mike McCurry, the co-chairman of the national Commission on Presidential Debates, told the Daily Beast that while dozens of schools express an interest at first, many ultimately shy away from the cost and commitment. "They learn that you have to load up on your power, bring in new air conditioning, pay for a lot of security. The financial commitment the school makes is a minimum of $1.5 million," McCurry said. This year, that fee, which the commission uses to pay production fees, is even higher, at $1.9 million.
And there's also the question of whether a school might do better to take the several million it would spend on a debate and put it toward scholarships for low-income students who might not otherwise be able to attend. Washington University is among the nation's least economically diverse top schools, with only around 7 percent of students receiving federal Pell grants, money given to students from families making less than about $40,000 a year. Givens pointed out that the school has "doubled down" on efforts to recruit more low- and moderate-income students, pledging to up the share of Pell recipients to 13 percent by 2020. "We are spending a lot of money on that stuff, too," he said, adding that the school sees the debate as an investment that will bolster the reputation and visibility "for all those students we're going to bring here."
This will be the fourth debate that Givens has overseen. In the beginning, "You don't know what you don't know," he said. But now, "I think we're a little more at ease." Building a security perimeter around the debate site doesn't phase him. Nor does setting up the tables and wifi and cellular system for the 3,000 or so members of the media who will descend on campus.
Each day this week, Givens has gathered his steering committee to go over what needs to be done, right down to assembling the welcome bags for press. There was the debate-commission guy who hurt his leg and needed, last-minute, a motorized scooter, and the logistics of where certain people were going to park their cars. On Sunday, he'll rise at 5 a.m. and drive the half hour to the school to oversee final preparations. "It's just a lot of stuff that adds up," he said. The team has covered the athletic-complex floor with plywood and carpeting, and built platforms at the back of the room for the television cameras that will film the duel. They've made sure there's seating for the people who will be on the floor for the debate. They've moved the machines and equipment that usually occupies the complex out of the way and into storage, and secured alternate space for teams to play for a few days. They've installed signage all over campus that will direct out-of-towners and tell locals where they can and cannot go. But Givens says the school's prepared for its moment in the spotlight. "They're all little things at this point," he said. "I actually feel really good."