A Plan to Teach Every Child Computer Science
A group of nonprofits and educators wants all students, even kindergartners, to know the fundamentals.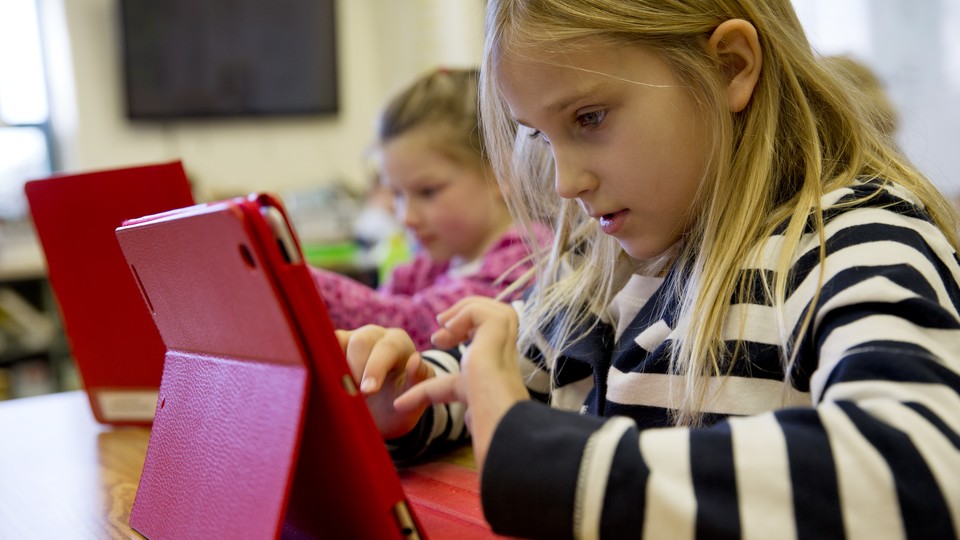 More and more jobs are requiring some knowledge about how computers work. Not just how to start one up and surf the web, but how they actually run, how—at the simplest level—a series of inputs leads to a series of particular outputs.
Yet, across the United States, few children are being taught even the basics of computer science. It's a discipline left largely to the self-motivated YouTube watchers and the kids lucky enough to be born into tech-minded families with resources.
According to a new national survey from Google and Gallup, just more than half of seventh- through 12th-grade students attend a school that offers a dedicated computer-science class. Black students are less likely than their white peers to have access to such courses, and teachers and parents are more likely to tell boys that they would be good at computer science than they are girls. That a disproportionate number of technical workers at companies like Google, Apple, and Facebook are white and male is no surprise.
But a group of nonprofits, educators, tech companies, states, and districts want to change that. And after more than a year of work, a carefully crafted yet adaptable framework for what computer-science education should look like at each grade level went live this week. The writers hope it will help more states craft standards and ultimately bring the subject to classrooms across the country.
The K-12 Computer Science Framework is a "response to the history of inequity in computer science," said Pat Yongpradit, the chief academic officer at Code.org, one of the organizations steering the initiative.
People had different motivations for participating. Some wanted to make sure their states have a strong pipeline of workers to fill local tech jobs. Others think basic coding is up there with reading and writing as a skillset that 21st-century American students need to possess. And still others hope that creating a framework will help roll back the mindset that computer science is for a select few, and begin to diversify what is a largely white, male space.
Yongpradit sees computer science as "a literacy for the modern age." Right now, many people use dating apps with no idea how the algorithm that could literally help them meet their future spouse works, he pointed out. It's hard to understand what all the talk around Hillary Clinton's emails means without a basic understanding of a server, he added. Equipping young people with a fundamental understanding of computer science will provide them with a "richer experience as a citizen in this modern age," he said.
According to the groups involved, this is the first time that people from across the computer-science spectrum have come together for such a broad task. Perhaps contrary to other disciplines where teachers aren't exactly clamoring for someone to tell them how and what to teach, most educators don't have a background in computer science, and states and districts seem to be welcoming the input.
Mark Saunders is the director of the Office of Technology and Virtual Learning at the Virginia Department of Education, one of just a handful of states actively working to develop K-12 computer-science standards. The state plans to use the framework as the basis for its own standards.
"It's bigger than just preparing students for potential jobs," Saunders said. "At the core of computer science is computational thinking, and, to me, computational thinking and that algorithmic process is a key skill that every student should have, that they can use in a lot of different professions and in everyday life."
And the framework will help the state's teachers, particularly at the elementary level, where computer science will likely be integrated into the day and not framed as a pull-out class, think through how to teach concepts.
Most of those concepts don't even require a computer to learn at the early stages, said Rebecca Dovi, the director of education at the Virginia nonprofit CodeVA, which works with teachers and students to improve computer-science education. At a recent camp, Dovi, whose group reviewed the framework, said, her team worked the programming concept of a loop—which essentially hinges on repetition—into a cheer routine a group of young girls was planning for fun. On a piece of paper, the girls drew symbols to describe different movements. Two lines for a clap. A dot for a foot stomp. Then, they learned that they could use those symbols to describe the routine on paper. "That's very, very algorithmic," Dovi said, "but not necessarily needing to be on a computer."
States and nonprofits like Dovi's are working to train more teachers in how to teach computer science. But there's general acknowledgement that the lack of computer-science savvy among those who will be asked to teach the subject as more states work it into standard curriculum presents a significant hurdle. "I think it's a low supply right now," Saunders said. While a number of states, including Virginia, and nonprofits provide teacher training for existing teachers, there are still few pathways in most states to computer-science certification for teachers. Yongpradit pointed out that few new teachers come in prepared to teach computer science, so the pipeline is still sparse. There's also, he acknowledged, the challenge of losing teachers who are highly qualified to teach computer science to the tech industry, where salaries are often higher. (Some districts offer signing bonuses to certain teachers, but they're generally pretty small.)
But Leigh Ann DeLyser, the co-chair of the national CS for All consortium and the director of education and research at the New York City Foundation for Computer Science Education, characterized the idea that computer-science teachers are more likely to leave the classroom than other teachers as "complete mythology." And in the last six months, she said, around 600 teachers in the city have been trained to teach the basics of computer science.
One of the trickier challenges is getting parents and, more broadly, communities on board with the idea that computer science is for everyone. For many years, the only computer-science education that was broadly codified was the AP course at the high-school level. There was an assumption, DeLyser said, that students "had to be special or smarter to do computing." She hopes the framework will help change that.
But there's work to do. According to the Google-Gallup survey, while a whopping 93 percent of parents say they see computer science as a good use of resources, just 28 percent have told a teacher or other school official they feel that way. And parents often cite a lack of interest in the subject as a key reason women are underrepresented in computer science, yet they are perhaps unconsciously less likely to tell girls they would be good at it.
Saunders, at the Virginia Education Department, also said that some counselors may be more likely to think students with high math aptitude will succeed in computer science, which he thinks is too limited a view.
Sepi Hejazi Moghadam, the head of research and development for K-12 education at Google, which supports the new framework, finds that mindset concerning because it masks the fact that there are very real differences in access and encouragement both at school and at home that are creating those gaps. "It's kind of suggesting that there's not higher representation because they're just not motivated," he said.
Moghadam thinks more school principals are beginning to look at incorporating computational skills into lessons, though, and he hopes the framework will accelerate the pace.
That a framework was developed at all is something of a minor miracle, given that there were more than 25 writers and hundreds of people on the periphery offering different opinions. They didn't always agree. DeLyser, who was one of the framework writers, said, for instance, that very technical things about routing protocols were included early on and then simplified when it was pointed out that the minute details weren't necessarily things every child needs to know.
But now the framework is here and computer science is maybe having "a moment"—heavy emphasis on the maybe because even the people who want desperately for it to happen say it's too early to tell. Last year, President Obama said every student should have the opportunity to learn computer science. He called on the federal government to approve funding for states to make that goal a reality. The nation's new K-12 education law names computer science as a core subject, up there with writing. And in the last several years, Yongpradit said, there has "definitely been a wave of activity at the federal and state levels." Arkansas, Indiana, and Florida have made major computer-science pushes at the K-12 level, as have major cities like New York and Chicago. California is moving, albeit slowly, toward its own standards. So are Virginia, South Carolina, and Washington state.
What they're designing isn't necessarily ideal. Activists think some states are too focused on cranking out programmers instead of teaching every student to think computationally. But ultimately, said Dovi at CodeVA, the framework is a chance to show teachers how they can introduce every child at every grade level to computer science. "We have this really beautiful opportunity to really disrupt some of the inequity that's been in place," she said. That, she hopes, will draw all students and not just a select few into conversations and lessons about big data and cybersecurity and privacy, critical issues that today's children will have to grapple with as adults. "We have," she said, "to prepare."