When Colleges Forget the Calendar and Focus on Mastery Instead
Competency-based education allows students to progress through topics as they master them and could help reach underserved populations.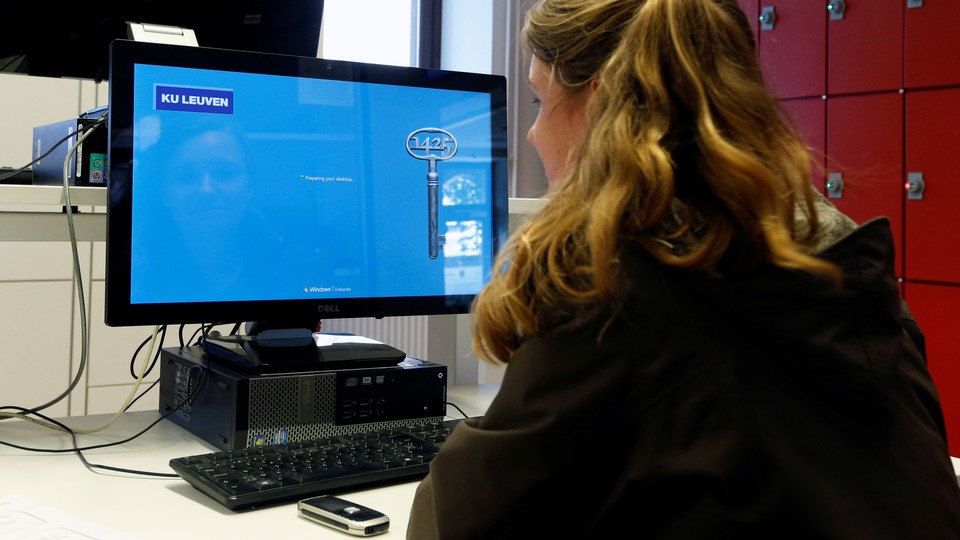 Scrap the lecture halls, final exams, degree plans, and traditional semesters.
In a growing segment of higher education, students can enroll in a personalized online degree program that allows them to move through lessons as quickly as they can demonstrate mastery of the material. Formally known as competency-based education, this format gives students the opportunity to draw from the skills and knowledge they may have acquired during  decades of on-the-job experience in their fields and offers the flexibility that advocates say could do a better job of reaching a demographic of students who have been traditionally underserved in conventional degree programs.
"I have a very Pollyanna view about competency-based education and our role in service to students who have otherwise have had no opportunities or have been able to pursue opportunities," said Cori Gordon, an assistant clinical professor at Northern Arizona University. Gordon was hired by the university four years ago to develop its competency-based education (CBE) program.
In Northern Arizona University's program, students range in age from 22 to 72, Gordon said. Some come with years of work experience, others arrive with a dozen college credit hours but no degree to show for them. This option appeals to students who previously have been "the adults that throw their hands up and say, 'Well, I can't be at this campus 50 miles away for three hours on a Monday night,'" because of work or family responsibilities, she said.
CBE programs started in the 1950s, resurged in the 1970s, and have recently been growing in popularity. These programs differ in model and format, Laurie Dodge, a board member of the Competency-Based Education Network, said. For instance, some programs award students a certificate, while others offer full bachelor's or graduate degrees. Additionally, though many of the resources are offered online, some programs are a blended mixture of face-to-face interactions.
CBE programs typically are more affordable than traditional degree programs. At Brandman University in Irvine, California, where Dodge is vice chancellor of institutional assessment and planning and vice provost, these programs cost $5,400 a year with no additional textbook fees.
If students want to move quickly through the program, they can begin the next bundle of competencies at no extra charge.
Many students at Brandman come to the university with 40-60 credits from community colleges under their belt, but the CBE students arrive with very little college credit, indicating the more personalized program is attracting students that the university would not otherwise have reached, Dodge said.
But while there has been anecdotal evidence that CBE is working for certain types of students and serving them well, there hasn't been much high-quality evidence or research to prove it. Early evidence suggests a mix of good and not-so-good outcomes, said Matt Soldner, a principal researcher at American Institutes for Research who described himself as these programs' "critical friend" as opposed to Gordon's Pollyanna.
It's difficult to draw comparisons between students in CBE programs and their peers in traditional degree programs. Due to a lack of data, people use proxies for quality, like wages, to draw comparisons, but even those figures are hard to come by, he said.
Data on retention is also tricky. While some students are what Soldner called "sprinters," others—perhaps those not using financial aid that requires them to take at least 12 units per six months—take advantage of these programs' flexibility and "meander" through, taking much longer to complete.
Still, institutions that are doing CBE effectively have put a significant amount of time and effort into figuring out the optimal alignment of faculty, students, and everything that goes into the "learning journey," Soldner said.
And just because brick-and-mortar programs have been using the same lecture-hall approach for decades doesn't mean it's necessarily working better than what these CBE programs are rolling out. Educators have long been working on finding the best approach, he said.
A recent Ellucian-American Council on Education survey of more than 250 college and university leaders found that the majority of respondents, 68 percent, are looking to CBE to expand opportunities for nontraditional, diverse learners across age and demographic groups. The same percentage of leaders considered CBE a solution to address workforce needs.
"Competency-based education is not going away," Dodge said. "It's not a fad. It is something that's growing."
---
This article appears courtesy of the Education Writers Association.