Where Sixth-Graders Run Their Own City
The idea is to improve kids' economic knowledge—and it appears to be working.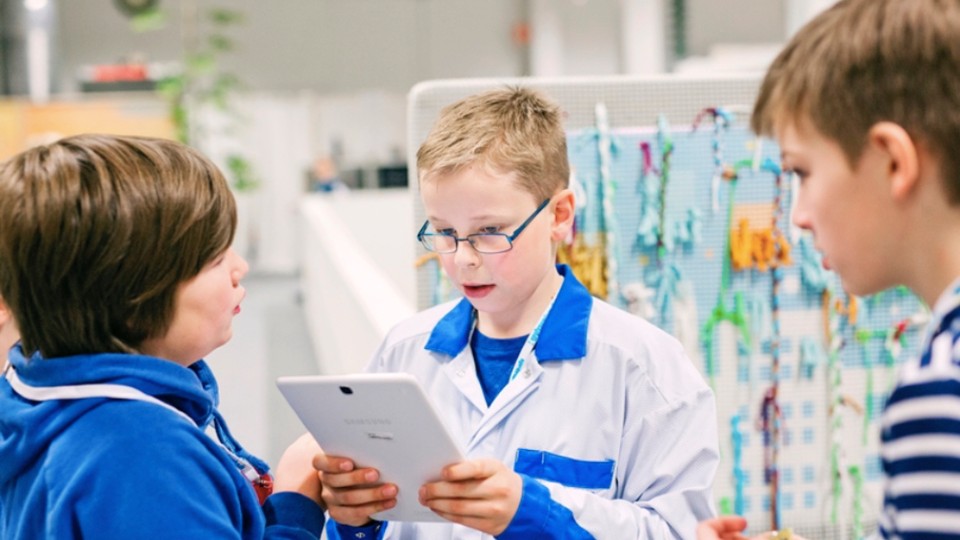 It's 9:45 a.m., and the "game" officially begins in one hour. Dozens of Finnish sixth-graders are standing nervously in cubicles in a 6,000 square-foot space resembling a miniature city, equipped with its own city hall, grocery store, and bank. Many of the children are whispering and finger-pointing, as they adjust to this unusual learning environment during their brief orientation. Each student has been assigned a profession (such as a reporter, a sales associate, or a custodian) in a particular business, in a specific cubicle, where he or she will work until the last shift ends at 1:25 p.m.
For weeks, these sixth-graders have prepared in their classrooms for this one-day visit, studying the topics of entrepreneurship, working life, citizenship, and the economy. In their cubicles, these 12- and 13-year-olds carefully review their daily schedules and professional responsibilities on iPads, as trained adults offer their assistance. Meanwhile, their classroom teachers are encouraged to sit back and relax; some of them elect to sip coffee from the city's tiny cafe as they watch the action unfold.
The first shift begins at 10:45 a.m., and the miniature city springs to life. The profit of every business is at stake, as is its reputation. Some children start with free time, in which they fetch their own bank cards, allowing them to purchase goods and services from the city's other businesses. Most sixth-graders begin working: Bosses pay the salaries of employees (through a digital banking system) and establish contracts with the city's energy and waste-management companies, while other professionals turn their attention to customer service. The place buzzes as the 80 children role-play.
This school year, more than 70 percent of Finland's sixth-graders will undertake a similar experience through a program called Yrityskylä ("Me & MyCity" in English). This initiative has gained traction in this Nordic country, growing from a 2010 pilot group of 800 sixth-graders to 45,000 students annually, who visit one of eight different locations throughout the country. The Me & MyCity program is organized by Finland's Economic Information Office (a 70-year-old nonprofit), and its costs are covered through the Ministry of Education and Culture, municipalities, private foundations, and a handful of Finnish corporations that are featured as actual businesses in the learning environment.
When Tomi Alakoski—executive director of Me & MyCity and a professional acquaintance of mine—envisioned this widespread initiative and pitched it to the Economic Information Office years ago, he was told by a (former) board member that it was a crazy idea and it would never work. Alakoski didn't give up easily. He noticed that, during his earlier years as a classroom teacher, his fifth- and sixth-grade students were eager to learn beyond the walls of their school—through trips to a nearby forest and a Helsinki arts center, for example. He dreamed of seeing Finland's elementary-school children learning about entrepreneurship and working life through an experiential approach.
Although Me & MyCity is already internationally recognized as innovative, this Finnish learning model was in part inspired by an American program called "BizTown," started by an organization called Junior Achievement. According to Pasi Sahlberg (my colleague and the author of Finnish Lessons 2.0), Finland has a habit of borrowing pedagogical ideas from the United States, developing them, and implementing them on a national scale. But why hasn't America done the same with its own innovative learning concepts?
Sahlberg told me it has to do with a difference in national educational policy: "Much of what goes on in American schools is about what school boards decide," he said. But in Finland, Sahlberg explained, there is a clear, agreed-upon national educational policy, which "sets the priorities, values, and main directions for the entire system"—and this ultimately provides the nation's educators with sufficient leeway to implement ideas like Me & MyCity.
The learning benefits of Me & MyCity are compelling, based on research presented at the Association of European Economics Education conference in August. In this recent study, about 900 Finnish sixth-graders completed two surveys (a pre- and post-test) with multiple-choice questions seeking to gauge their economic knowledge and (reported) savings behavior. Here's a sample question: "A library is a public service. How are its costs covered?" Based on the results, Panu Kalmi—a professor of economics at Finland's University of Vaasa and the author of the study—concluded that participation in Me & MyCity was "clearly" associated with greater economic knowledge. Furthermore, more than 75 percent of sixth-graders reported that the program increased their interest in economic issues and saving money. According to Kalmi, this shows that these students felt motivated by Me & MyCity. In fact, the researcher found that those sixth-graders whose interest in saving money had grown substantially (after completing the program) also reported a significant increase in their own savings behavior.
"My students were extremely motivated [by Me & MyCity]," said Mona Paalanen, a Finnish elementary-school teacher who taught sixth-graders in Helsinki last year. Many of Paalanen's sixth-graders had already heard about Me & MyCity before she announced their participation in the program, and "for once" she didn't need to motivate her kids to do their schoolwork, given their sky-high enthusiasm. One of the most exciting moments for Paalanen and her class was a round of job interviews she conducted prior to their one-day visit, which was something the program's curriculum encouraged. One by one, she met with her students, grilling them with questions about the roles they wanted to play in the miniature city. After the interviews, her sixth-graders laughed about how "tough" she had been, and how it had been "a bit scary." That same day, one parent emailed her asking if her daughter could have an interview over the phone, since her child was too sick to come into school. Her sixth-grader badly wanted to interview for the job of mayor. Paalanen told me that her student's "devotion" helped her to win this job.
In conversations with other Finnish teachers who have experienced Me & MyCity, I've heard a common takeaway: The program was exceptionally motivating for students, and this appeared to boost the learning, both in the classroom-setting and in the 6,000 square-foot learning space. Perhaps more than anything else, Me & MyCity has achieved impressive learning results in Finland because it offers young children a rare taste of working life, which makes this thing called "school" seem much more purposeful.