When Kids Sit Alone
Lessons from the viral photo of a college football player eating lunch with a young boy who has autism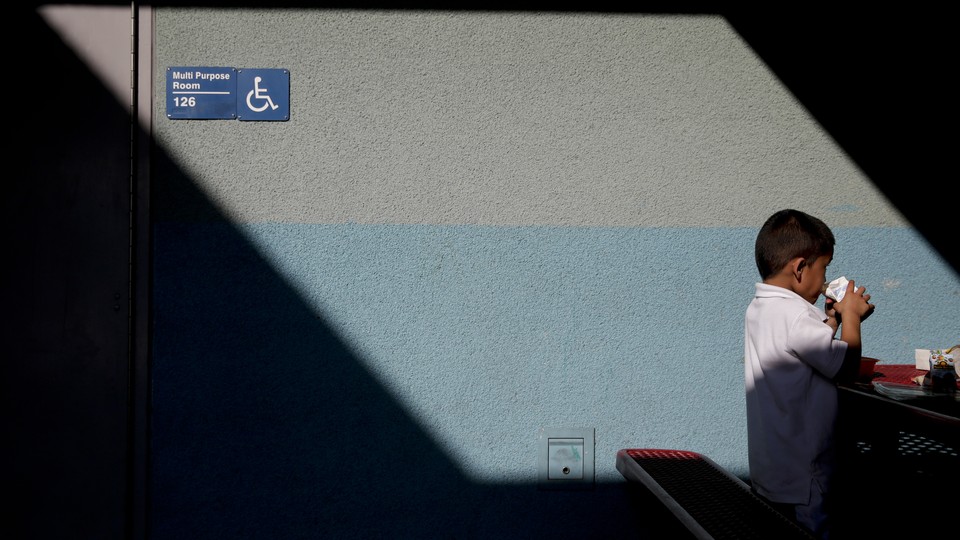 Travis Rudolph, a wide receiver for the Florida State University football team, was touring a Florida middle school with other players this week when he noticed Bo Peske, an 11-year old with autism, eating alone in the school cafeteria. Rudolph sat down and chatted with Bo, while eating a couple slices of pizza. A school employee took a photo of the two at the table and gave it to his mom. His mom later shared the image on Facebook, along with a note about her appreciation of this small act of kindness.
The mom, Leah Paske, wrote, "A friend of mine sent this beautiful picture to me today and when I saw it with the caption 'Travis Rudolph is eating lunch with your son' I replied 'who is that?' He said 'FSU football player', then I had tears streaming down my face. Travis Rudolph, a wide receiver at Florida State, and several other FSU players visited my sons school today. I'm not sure what exactly made this incredibly kind man share a lunch table with my son, but I'm happy to say that it will not soon be forgotten. This is one day I didn't have to worry if my sweet boy ate lunch alone, because he sat across from someone who is a hero in many eyes."
Paske's Facebook image was shared widely—more than 14,000 times in three days. It was discussed in Time, People, and BuzzFeed. Kathy Lee and Hoda chatted about the image on the Today Show. Perhaps all this attention to the needs of kids with autism will expand the number of lunchroom support groups for kids like Bo.
I am very familiar with kids like Bo and his anxious mom. That's my kid and me. Like Bo, my kid attends the local middle school and has high functioning autism. Every autistic kid has some sort of stigmatizing behavior or social-communication impairment, which isolates him from his peers. Some flap their hands, others hum. My kid eats alone in the cafeteria because he isn't very good at chit-chat. When I ask him who he ate lunch with that day, he mumbles, "I don't know."
Chatting with other parents about this picture, many questioned the attitude of other kids in the lunchroom. Why didn't they sit with the autistic kid? Why did they shun him? Kathy Lee blamed the parents for failing to teach their kids to be kind.
Well, there's no question that kids could be nicer, more tolerant, and less concerned with their own social standing. They could be more aware of neurological differences. However, I'm not terribly optimistic that middle-school kids will morph into an army of Mother Teresas after a stern lecture from mom. Chances are, most preteens are struggling with their own social development and aren't able to reach out to others. Still, schools are aware of this issue and are slowly responding.
Some schools have organized "lunch bunches," where a school therapist or a special-education teacher will gather together a group of kids who may be sitting by themselves at opposite ends of the cafeteria. Sometimes the teacher will ask typical kids to join them at the table for a week and guide conversation among the kids. Sometimes she'll simply create a safe place, a sanctuary lunch table, for the autistic kids to sit. These "lunch bunches" are organized differently at different schools, but the daily presence and guidance by a trained adult is an essential component.
Involvement in the social life of a school cafeteria is new territory for schools. Traditionally, the lunchroom, like the school bus and the gym locker room, are places where kids fend for themselves with minimal involvement of adults. These environments are difficult for any kid, but for kids with social deficits, they can be downright dangerous.
Even if autistic kids aren't being bullied in these environments, they still need help. While it might appear that autistic kids don't mind sitting alone, they do. They might not have the tools to engage in typical middle-school conversations. They might prefer to sit quietly during lunch time. But they still want to sit next to other kids and feel their companionship. They just can't manage this task without the support of an adult.
While it's impossible clone people like Rudolph to assist at schools around the country and we can't expect much improvement in the behavior of middle school kids, "lunch bunch" programs can be a lifeline for kids who eat alone.