The Road to Higher Education With an 'Invisible Disability'
More schools are working to make a degree attainable for students with learning differences.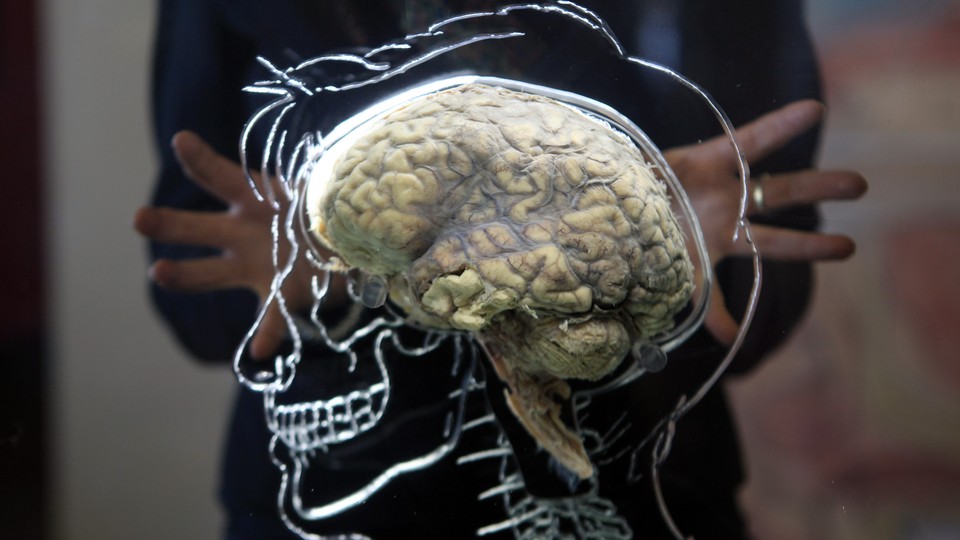 Rae Jacobson said she flunked out of two colleges and worked several "crummy" jobs before enrolling at Landmark College in Putney, Vermont, one of two U.S. schools that exclusively serve students with dyslexia and other learning differences (LDs).
Jacobson, who has ADHD and dyscalculia, a condition that makes it hard to make sense of numbers and math concepts, earned an associate's degree from Landmark; a bachelor's degree from Lesley University in Cambridge, Massachusetts; and a master's degree from Loyola University New Orleans. Today, she is a writer for the New York-based Child Mind Institute, a nonprofit that focuses on mental health and learning disorders.
"We used to have a saying at Landmark whenever someone would find out about our learning differences and respond with, 'But you seem so smart.' We'd say, 'Stupid is not an LD,'" said Jacobson, now 33. "It doesn't mean you can't learn. It just means you haven't been taught in a way that makes sense."
Students with LDs, which also are referred to as "invisible disabilities," are finding that college is within reach. More schools are providing better services to students with conditions ranging from ADHD to Autism Spectrum Disorders to target a growing market. And although the stigma attached to various conditions still exists, advocacy groups have helped reduce some of it, making it easier for students to seek support. But as with "typical" students, finding the right college "fit" is just as important—perhaps more so—for anyone who learns differently.
"The sky is the limit," said Stephanie Whitham, a 23-year-old graduate of the University of San Francisco (USF). Whitham was told that she would be lucky to graduate from high school and shouldn't even consider college because of her nonverbal learning disability, which means she has trouble understanding communication that isn't verbal, such as body language and tone of voice. "The key is to sit down with the school's office of disability services and get all the help you have a right to."
Getting the right help is more possible today than ever before, but it is neither easy nor cheap. My spouse and I, who have six college degrees between us, spent several years, countless hours, and tens of thousands of dollars finding the right treatment and academic interventions for our now thriving 12-year-old daughter, who has ADHD and dyslexia, a reading disorder. Despite what many may believe, learning differences do not correlate to lower intelligence or an intellectual disability. In fact, students with learning differences who have normal to above-normal intelligence can succeed in school with the right academic instruction and accommodations.
Brain-based learning and attention issues such as ADHD and dyslexia affect an estimated one in five children in the U.S., according to The National Center for Learning Disabilities. That means their parents, educators and therapists, and eventually, their employers, are affected as well. LDs stem from neurological differences in brain structure and function that "affect a person's ability to receive, store, process, retrieve, or communicate information." The most common types affect reading, math, and written expression, and include ADHD, dyslexia, dyscalculia, and associated disorders such as auditory or visual processing deficits, executive function deficits, and nonverbal learning disabilities.
About 67 percent of students with LDs enroll in some type of postsecondary education within eight years of leaving high school, which is the same as the general population. The most common services offered in college to students with LDs include tutoring and coaching, additional time for coursework, tests and assignments, note takers, quiet spaces for test taking, audio books, and assistive technologies such as equipment, software, learning materials, screen readers, and voice-recognition programs.
However, students with LDs attend four-year colleges at about half the rate (21 percent) of the general population. And just 41 percent of students with LDs graduate from a four-year college in six-years, compared to 52 percent of all students.
The reasons for the lower graduation rate include added costs and trouble satisfying the documentation requirements. In the K-12 system, for example, schools are required to test students and offer appropriate accommodations for free. At the college level, schools are not required to provide specially designed instruction to accommodate students with disabilities. But college students may be eligible for academic adjustments, program modifications, and extra services, usually for an additional fee. Students also must self-identify as disabled, and documentation of their disability must be provided.
Three federal laws help ensure that students receive appropriate special-education services and fair treatment in K-12 public schools and post-secondary educational systems: The Individuals with Disabilities Education Act (IDEA), Section 504 of the Rehabilitation Act of 1973, and the Americans with Disabilities Act (ADA).
In the K-12 system, schools operate under IDEA, which provides special education and related services to students aged 3-21, as well as Section 504 and the ADA to make sure students receive the supports they need. In college, however, IDEA no longer applies; only Section 504 and the ADA are used.
The array of special education laws and the alphabet soup of acronyms can be confusing. But in the end, it means that college students must be academically prepared, ready to live independently, understand the nature of their learning differences, be able to describe the services and accommodations they may need, and have the ability to advocate for themselves. That's easier for some than others.
"For some students, when a parent is no longer helping them at the kitchen table like in high school, a student may need a more robust system and set of resources to help them succeed in college," said Peter A. Eden, the president of Landmark, which now offers bachelor's degrees in addition to associate's degrees.
* * *
Stories about "competitive parenting" and how it is harder than ever for a student to get into the college of her choice are rife. So are reports of rising rates of student anxiety and depression. I've been teaching at the university level for 17 years and have personally seen the increasing fragility of students in recent years. Adding learning and attention issues to the mix can complicate matters even more.
The good news is that there is a wide variety colleges that can serve students with LDs. In The K&W Guide, a popular college handbook for students with learning differences, Marybeth Kravets and Imy F. Wax describe basic programs as those that comply with the federal mandate to provide reasonable accommodations to all students with appropriate documentation. Services are requested on a voluntary basis, and there may be some limitations as to what can be provided. The next level up are what the authors call schools with coordinated services. At these colleges and universities, services are provided by at least one certified learning-disability specialist.
Structured programs are the most comprehensive, according to Kravets and Wax, and have a director and staff certified in learning disabilities or related areas. These include schools like Landmark and Beacon College in Leesburg, Florida, the only two schools in the country that exclusively teach students with LDs, as well as traditional schools such as Lynn University in Boca Raton, Florida, and the University of Arizona in Tucson, Arizona.
* * *
A big mistake students and their parents make is assuming that a college or university will take learning and attention issues into consideration during the admission process and then change the curriculum after they get accepted and enroll. In fact, classes maintain the same rigor for all students. The only difference is that students with learning and attention issues may be able to get some extra help and accommodations to complete the required work.
That means that "transition planning" for students with LDs who want to go to college has to start much earlier—in middle school, said Ernie Rose, a professor of special education and educational leadership at Loyola Marymount University, in Los Angeles. "Students have to prepare for the kind of academic rigor that's required at two- and four-year colleges," he said.
Middle school courses bridge to more demanding courses in high school, where the stakes get even higher. Students must take the right classes, especially in core subjects such as math, science, and, if possible, foreign language, said Joseph Madaus, the director of the Center for Postsecondary Education and Disability and the associate dean of the Neag School of Education at the University of Connecticut. "Decisions made in the ninth and 10th grade related to course selection will have a significant impact on a student's preparation and eligibility for college admission," he said.
Even with the right high-school preparation, students may still lack the confidence or emotional maturity to leave home for college. They may also be burned out. In that case, a gap year—a year between high school and college—may prove beneficial. Studies show that taking a gap year has many benefits for all students including increasing readiness for college. Rita Eichenstein, the author of Not What I Expected: Help and Hope for Parents of Atypical Children, agrees. "Have they had so much remediation [in high school] that they really haven't experienced life yet? If so, it may be a good idea for them to get a part-time job or explore their passions in art or music or drama that they didn't have time for because of educational therapy, speech therapy, or other remediation," she said.
Although community colleges will never win the "prestige battle," they are another low-stress, low-cost way to begin the college experience, spend time maturing, and plug academic holes. Many four-year schools also have agreements with community colleges that ensure classes are transferrable. And SAT or ACT scores often are not required for students transferring from community colleges.
In the end, college may not be for everyone, whether or not they have learning and attention issues. "Some students are interested in mechanics or carpentry or other fields. If so, they should pursue programs after graduation that support this interest and talent," said Marissa DeSiena, the interim director of the Upper School at Westmark School in Encino, California, a second-12th grade school for children with LDs that nevertheless sends 99 percent of its students to college.
* * *
Although the stigma of learning and attention issues has decreased, it can still be tough for students to "out" themselves. Madaus from the University of Connecticut, who also is an educational-psychology professor, said many students just don't want their peers or faculty to know about their conditions. "Some are afraid of being viewed as less capable or getting an unfair advantage," he said. "Others who have gone through the K-12 system just don't want to deal with it anymore."
Celebrities, such as the comedian Whoopie Goldberg, the actor Daniel Radcliffe, the director Steven Spielberg, the Olympic champion swimmer Michael Phelps, the CNN anchor Anderson Cooper, and others have begun to speak out about their own learning disabilities and how they overcame their challenges thanks to groups like Understood.org. A one-hour film titled Being You, produced by Roadtrip Nation, debuted earlier this year on PBS featuring three young adults with learning and attention issues, including Whitham from USF, traveling across the country interviewing successful entrepreneurs, filmmakers, authors, and musicians with similar challenges. Dozens of books also are available that describe various learning and attention issues to children as young as 3 years old.
However, even students who have learned to accept their learning and attention issues and advocate for what they need may also need the fortitude and family support to make a change if the school they are enrolled in is not working for them.
Wax, co-author of The K&W Guide, said if a school is not providing a student with what she needs to succeed, then look for another one. "Students are not signing four-year contracts," she said. "They should transfer to a place that will help make them a star."
Jacobson, who attended Landmark, agreed and reminded parents and students that "now" is not forever. "It took me a long time to figure out what to do, but I got there. People forget it's a long game," she said. "Twists and turns aren't necessarily bad. What seems like a disaster will feel like a blip in three years."