The Hidden Epidemic of Teen Hunger
Food insecurity has become normalized among American adolescents—who are also particularly vulnerable to its risks.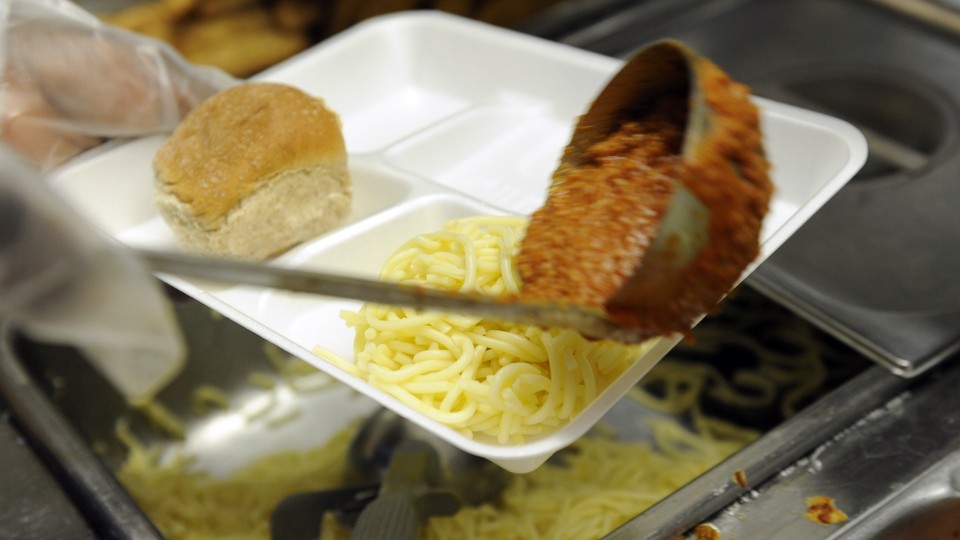 A few years back, Susan J. Popkin was investigating sexual-health interventions in public housing in Washington D.C. The veteran housing and poverty researcher got wind of stories from parents that some teenagers in the community were essentially trading sex for food. "We were stunned to hear it," she says.
The problem of child hunger is a vast one—one in five American children live in food-insecure households, according to the U.S. Department of Agriculture. But most of the resources and research are directed toward younger children; adolescents at the upper end of the age spectrum often get overlooked. "It's easy to line up little kids and give them a backpack filled with food," says Popkin. "But you can't really do that with teens. There are stigmas about not wanting to stand out. I think they're often seen as too hard to get to."
But in some ways, teenagers are particularly vulnerable to the risks of food insecurity, as they take on adult-like responsibilities, feel powerful social pressures, and engage in impulsive behavior. A new report by the Urban Institute and Feeding America flashes a wide spotlight on this understudied issue, finding that a high and common risk of hunger is pushing U.S. teens to dangerous consequences. The report estimates that nearly 7 million young people between the ages of 10 and 17 struggle with food insecurity in the U.S., a figure that's likely grown since the recession, even as the economy has improved.
In qualitative, focus-group-based surveys of youth around the country, the researchers found disturbingly consistent themes: Food insecurity is widespread among adolescents, the stigma it carries prevents many of them from asking for help, and teens sometimes turn to highly risky behavior—including shoplifting, selling drugs, and selling their own bodies—just to get enough to eat.
Perhaps most shocking about the researchers' findings is how normalized food insecurity has become. "Not one kid said, 'Oh, that doesn't happen here,'" says Popkin, a senior fellow at the Urban Institute and the lead author of the report. "This wasn't just homeless kids, or kids living in poverty. These realities were something that kids were aware of wherever they lived, even if they themselves were not food insecure, even if they were stably housed."
It should also be noted that even teens who don't "look" hungry may struggle with food insecurity—both circumstances are consequences of economic disadvantage. In fact, research has found that U.S. teens from food-insecure households can be more likely to be obese than their peers who don't struggle with hunger.
To begin to fill holes in the research, Popkin and her associates gathered nearly 200 teens between the ages of 13 and 18 in 20 separate focus groups across 10 communities around the U.S. to talk about their experiences with hunger—what they and their peers do to combat it, and how they could get better involved with food assistance programs.
The kids came from a wide cross-section of backgrounds: Some lived in public housing, others in market-rate rentals and houses. Some came from rural communities in the Midwest and the South (where food-insecurity rates are the highest, according to previous research by Feeding America), while others came from coastal urban centers, large and small. About half came from counties where child food insecurity was already known to be high, and the majority came from counties with higher-than-average poverty rates.
Popkin and her team found that teenagers aren't really less sensitive than younger kids are to hunger's harsh realities. In some ways, their developmental stage makes them even more vulnerable as they take on caregiving roles for their siblings, friends, and even parents. In the report, one girl living near Champaign, Illinois, describes how she'll prioritize her younger siblings when food runs low: "Younger kids are still growing, so they shouldn't have to worry about being hungry," she says. "The older kids make sure they give to the younger kids first."
Unlike younger peers, teenagers are also acutely aware of the food barriers their families face, such as a lack of grocery stores, limited transportation options, and the high price of healthy choices. "All the healthy stuff is expensive while all the junk food is cheaper," one girl living in public housing in Eastern Oregon observes. "That's why most Americans are overweight." They see the trade-offs that their families and communities make in order to afford food on a regular basis. A girl in rural North Carolina talks about the self-imposed service cuts her family makes in order to afford food: "We would have one thing off a week—cable, heat, power," she says.
And they devise all sorts of ways to find enough to eat, sometimes relying on neighbors, friends, and family members outside their homes to get by. Often these strategies reflect the stigma associated with food insecurity. A Chicago boy describes sometimes inventing reasons to eat at a friend's house: "I'll have an excuse," he says. "'It's too late; I got to stay for the night.'"
Though it's not the norm, sometimes strategizing for food can lead to criminal behavior, especially in communities with extremely high poverty rates. Kids told researchers about shoplifting, robbing stores, or sliding a few extra items into their bags at self-checkout stations. And in all 10 communities, teens said that they were aware of some peers using sex to make ends meet. A boy in rural North Carolina explains: "When you're selling your body, it's more in disguise. Like if I had sex with you, you have to buy me dinner tonight … that's how girls deal with the struggle … That's better than taking money because if they take money, they will be labeled a prostitute."
Though their report is very much an early step into an important territory of research, the authors also dive deep into federal policy implications, including adjusting SNAP benefits so that older youth get a quantity of food that's proportional to their age, experimenting with ways to keep kids fed when school lunches fall away in summer, and devising better programs to support teen employment. On a state and local level, Popkin says that teenagers who engage in criminal or risky behavior, particularly when it comes to sex, must be treated with sensitivity and care. "We need more diversion and support programs, rather than charging these girls as status offenders," she says.
And if their developmental stage makes teens unusually vulnerable to the risks of food insecurity, it can also makes them particularly strong agents for change. Popkin points to a very successful, teen-focused "harvest share" program devised by a group of Portland youth, with the help of the researchers and local food organizations. The teens plan and coordinate monthly bagged food distributions for community members. The events are held in a dedicated space that can also host events like movie nights and cooking classes, which helps ease the stigma.The teenagers themselves are gaining knowledge and leadership skills, says Popkin. "They'll go onto do great things," she says. "We want to capitalize on all of their energy"—and not ignore it anymore.
---
This post appears courtesy of CityLab.