The CEOs of Sorority Row
Despite negative stigmas associated with Greek life, affiliated women leverage their chapter experiences in the job search.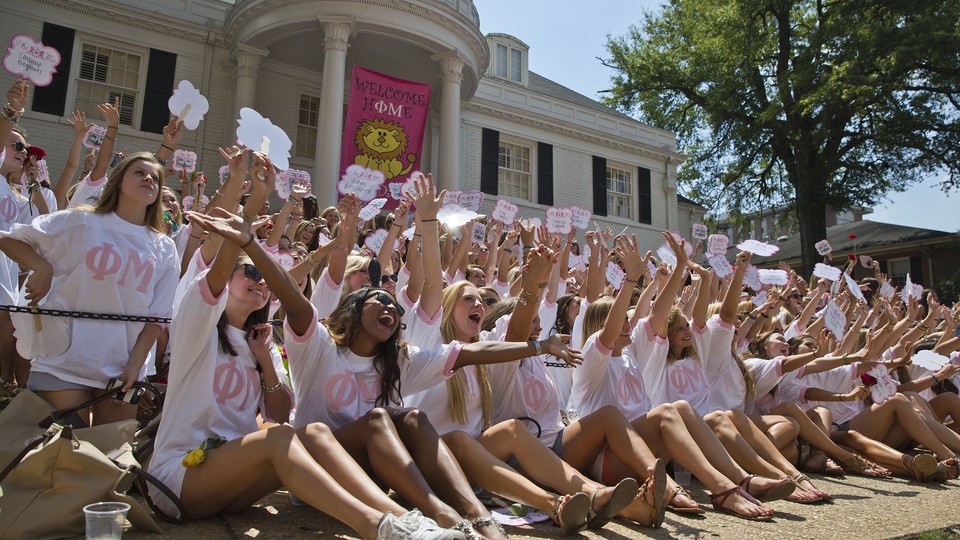 Being crowned the "Sweetheart of Sigma Chi" is a big deal. After all, "You've heard about [her] all your life, and up until now she has been purely a dream girl." At least, that's according to a 1936 Atlanta Constitution article that details the competitive crowning ritual encompassing tug-of-war, potato-sack races, and sorority costumes that just "made the prettiest picture as the girls paraded before the judges' stand."
This pageantry seems antiquated today, and women in National Panhellenic chapters are increasingly working to shed the strictly feminine mystique associated with Greek life, both in the classroom and on the job.
According to the National Science Foundation, there was a 6.4 percent increase in the number of women intending to major in science and engineering fields between 1995 and 2012. On top of that, the National Panhellenic Council reports its undergraduate membership was 58 percent higher in 2015 than it was in 2007. And so it follows that as women become more likely to study STEM-related fields, so too are women who decide to "go Greek."
And yet, even as presumably more and more women are balancing what it means to be both technically minded and involved in Greek life, the stigmas associated with sororities continue to range from the foolishly feminine to the flagrant.
"Sororities sort of sound like an air-headed field to be involved in," said Devon Naftzger, an investment-banking analyst and the former CEO of Princeton University's Kappa Alpha Theta chapter. "A lot of people who are on the outside picture sororities at every school, including Princeton, as just craft-making, hand-clapping, hair-braiding types of groups."
There is certainly reason to criticize the Greek system—it has a long way to go in terms of nearly every aspect of diversity, among other serious problems. And the popularized images of sorority life that repeatedly elicit an eye roll from the general public can feel like a potential red flag during the job-search process. So for the women in Greek life who are entering male-dominated fields in particular, the stigmas associated with sororities could feel like a risky association to use as a resume builder.
"Sometimes, depending on who you're sitting in front of or who you're on the other end of the phone from, they may or may not be a big fan of Greek life," said Jessica Long, an assistant director in the Office of Personal and Career Development at Wake Forest University. At Wake Forest, 51 percent of women are affiliated with National Panhellenic chapters. "We encourage them to focus not on the social aspect of their Greek involvement."
Indeed, despite the caveats, career experts generally do recommend that women involved in sororities include it on their resume.
Naftzger graduated earlier this year, and for her part did include her sorority involvement on her resume when applying for a job. That decision was motivated to some extent by how formative she said her time as CEO was during college; she honed leadership skills, made meaningful connections, and considered her role to be a full-time job in addition to being a student. Naftzger also said her interest in finance was fostered by an older member of her sorority and she has made an effort to help younger members with similar goals.
And on a national level, Naftzger's chapter is taking steps to legitimize and professionalize the experiences of its campus leaders. Beginning in the fall of 2011, Kappa Alpha Theta fully implemented changes to the titles of its chapter officers, moving from "president" to "CEO" and eliminating the general "vice president" name in favor of more specific "chief" titles like "chief financial officer," in addition to other shifts in nomenclature.
Jenni Broughton Schmaltz, the chief operating officer for Kappa Alpha Theta, said in an email that these changes were not accompanied by an increase in responsibilities, but they do make the leaders' duties "more transferrable to the 'real world.'"
"[The change] allows members to include their Theta experience on their resumes without having to add extra explanations of their responsibilities in the role," Schmaltz said. "The titles add credibility to the work our chapter officers are doing." This work—which Schmaltz said could include managing a million-dollar budget or overseeing operations for a chapter with 400 members—is, in theory, granted a more professional air because of the nominal changes.
It certainly wouldn't behoove a job candidate to focus strictly on the crafts she made for her pledge daughter and the formals she can't quite remember. But that, of course, doesn't mean sorority affiliation should be axed from each and every resume. For one, its inclusion can be used as a networking tool, said Vicki Salemi, a career expert for Monster. Whether two people were actually in the same chapter is moot—what matters is the connection that any Greek affiliation could create with a future hiring manager or boss. If sorority involvement is left off a resume, there's no chance to find and leverage a potential commonality. Additionally, Salemi, who has worked in corporate recruiting and human resources, said seeing Greek life on a resume is an indication that a candidate was well-rounded and able to balance multiple responsibilities.
Once on the job, however, casual references to a woman's sorority days could lead others to undermine her ideas, Salemi said. "You need to get really specific and granular to demonstrate it in a positive light so people just don't shut down or already think, 'Oh yeah, whatever, she's a sorority girl,'" she said.
Carolyn Saund, who works as a software developer at a technology start-up, doesn't hide the fact that she was involved with her sorority in college while at work. The 2015 Tufts University graduate was both an officer in the Alpha Omicron Pi chapter and the president of the Women in Computer Science club.
However, though some of the men in her office—who may have graduated from college more than a decade ago—have mugs or shirts with their fraternity letters, she hasn't been so quick to physically identify her Greek affiliation. "I can't say for sure whether or not I would be comfortable or anyone would treat me differently. I just know that, as of now, I would not want to advertise that quite so overtly," Saund said.
While at school, Saund said some of the men in the computer-science department were surprised to learn she was also an active participant in Greek life. Her interests in both computer science and sorority life lead her to perceive some cognitive dissonance in her scientific peers. "Being in a sorority still holds this very heavily feminine air to it whereas being technical still kind of has this neckbeard connotation," Saund said. "Even though everyone can consciously separate those and understand … it's not ingrained that those things can coexist peacefully."
Although there is still a wide gap between the percentage of men and women who study and work in the STEM fields, the nationwide push to encourage women to pursue science carries on. But as the number of women who join National Panhellenic chapters continues to swell, it's safe to assume that more women involved in Greek life will someday enter science and engineering fields. The notion that these women—because of the negative stigmas attached to sorority life—cannot also be technically minded is being challenged in traditionally male-dominated workplaces.
"I really like reminding guys, or just people, that, no, people can be very varied and still be very technical," Saund said. "You can be any number of things, you can belong to any number of clubs and still be in this technical area."