Why Georgetown's Offer Falls Short
Treating the descendants of the slaves Georgetown sold just like the children of university alumni during the admissions process ignores a financial responsibility.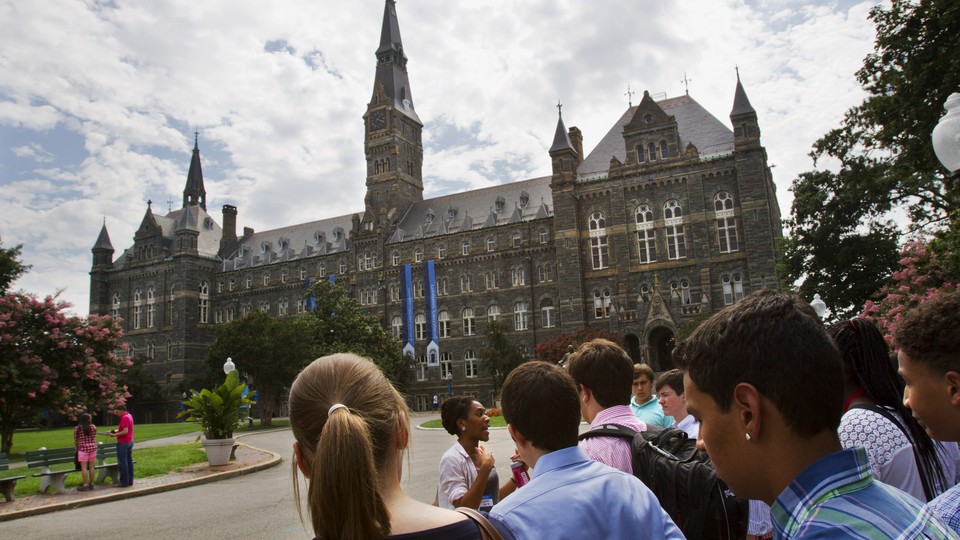 In 1838, the priests at the helm of Georgetown University sold 272 slaves who worked on Jesuit plantations in southern Maryland, the proceeds of which were used to pay off the university's debts. Now, nearly two centuries after they made that profit, university officials are trying to make amends to the families of those slaves.
The university announced Thursday that in an effort to "respond to its historical ties to the institution of slavery," the descendants of those 272 slaves will receive admission to the university in the same way it treats other legacy applicants whose parents or siblings are alumni. According to The New York Times, the policy will apply to descendants of all the slaves whose labor benefited Georgetown, not just those sold in 1838. The university did not respond immediately to a request for clarification.
"The most appropriate ways for us to redress the participation of our predecessors in the institution of slavery is to address the manifestations of the legacy of slavery in our time," said Georgetown President John J. DeGioia, who will offer a formal apology detail the university's plan at a press conference Thursday afternoon.
While this treatment of student descendants of slaves in admissions is unprecedented, the announcement follows similar news from elite universities like Brown and Harvard, which have also made efforts to publicly reckon with the racism that is cemented in their pasts. From removing a slaveholder's mural from a dining hall to nixing the title of "housemaster," each public atonement reveals the magnitude to which racism has always been entangled in America's most sacred institutions—oftentimes, and in this case, as an explicit source of profit.
Last September—amid a series of protests on college campuses nationwide about racism and lack of inclusion—DeGioia convened a group at Georgetown composed of faculty, students, and alumni, including some of the descendants of those slaves, to make recommendations on how to acknowledge the slavery connection. Some of their recommendations included: renaming two halls, a formal apology, creating an institute to study slavery, and developing a public memorial to the enslaved. Their recommendations, however, didn't extend beyond the adjusted admissions policy; they didn't recommend that those accepted be compensated financially through scholarships.
The original sale of the 272 slaves was an example of the institution and America's storied history with racism. But it was also a financial transaction whose benefactor was clear. Addressing the current manifestations of Georgetown's participation in slavery through an admissions policy begets their acknowledgment of their social failure. But Georgetown's cost of attendance totals nearly $70,000—how will it ensure that these students can actually take advantage of the new offer?  Minority families already possess less wealth overall than white families, and minorities and poor students already shoulder the most student debt. There is no real reconciliation in lumping black families into the same broad policy as families that have been sending their kids to Georgetown for generations regardless. It is still unclear what kind of programs and funding will be set aside for these students once admitted.

The policy will undoubtedly help some students gain access to an elite education. But in failing to ensure that the accepted students actually thrive once they get there, it serves as another example of universities falling short of their commitment to educate students of all backgrounds.