From the South Side of Chicago to College
A new documentary chronicles the lives of two young black men as they leave high school and pursue higher education.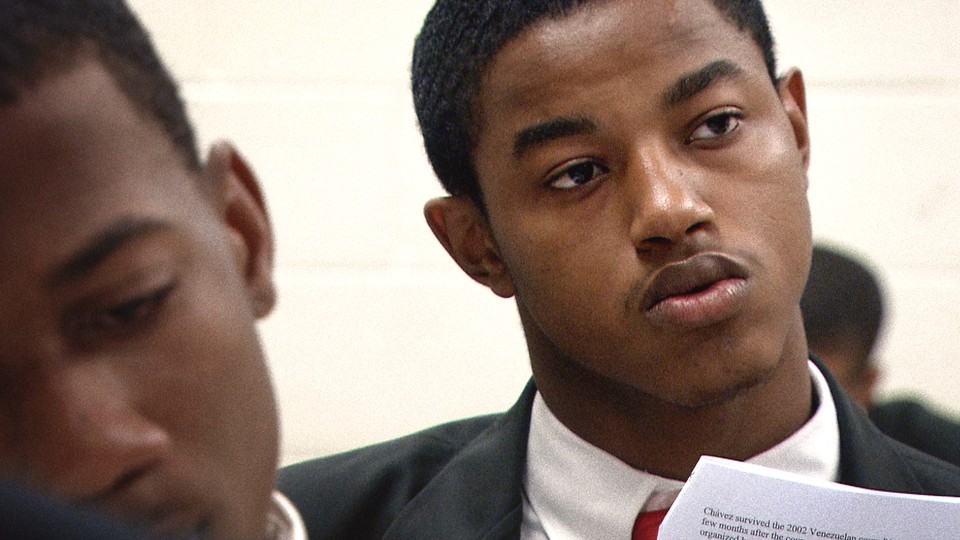 Sixty-five people were shot in Chicago over the Labor Day holiday weekend. Thirteen died, including a retired pastor. It was one of the deadliest holiday weekends in the city, with the top cop pointing to a sense of hopelessness among Chicago's poorest residents.
That's a feeling Krishaun Branch understands, and one education ultimately helped him overcome. "I know I have to get out of here," says Branch, one of the young African American teens featured in the new documentary All the Difference, by the Emmy Award-winning filmmaker Tod Lending.
While All the Difference showcases the success that boys of color from marginalized and neglected communities are capable of achieving when they have access to the right support, the film also serves as a powerful reminder that school resources remain unequal, that bias continues to affect the opportunities black boys have access to, and that simply enrolling first-generation college students in universities is not enough; schools must develop support systems to help them graduate.
The film follows two African American boys in Chicago—Branch and Robert Henderson—who look to escape the violence and poverty that surround them by leaving the city for college. Their challenges are immense.
The executive producers are Wes Moore, known for his New York Times best-seller The Other Wes Moore, and his mother, Joy Thomas Moore. Wes ultimately left his rough Baltimore neighborhood and went on to graduate Phi Beta Kappa from Johns Hopkins University, become a Rhodes Scholar, Army veteran, White House fellow, and investment banker. But his story is far from typical, in part, Moore and his mother think, because of the way young men of color are often perceived.
"There's a tendency we have in trying to decide who is college worthy and who is not," Joy Thomas Moore told me. "More often than not, it's boys of color who are written off and devalued. We want to address the expectations people have about boys of color and what they can contribute to society."
When the film begins, both Branch and Henderson live in the Englewood neighborhood of Chicago, one of the city's most violent and impoverished areas. Branch lives in the housing projects with his single mother and younger brother. Both his mother and father were once active gang members. By the time viewers see the family, his mother works in a laundry center. Henderson lives with his grandmother, a native of Mississippi with a fifth-grade education who comes from a family of sharecroppers. Henderson was only 17 months old when his mother was killed by her boyfriend, Henderson's father. His grandmother took in her daughter's seven kids, including Henderson.
At first sight, the future doesn't look too promising for Branch or Henderson. But they find a sense of hope at school, in part because they have access to teachers, mostly African American men, who believe in them. That they have teachers who look like them, which research suggests can boost learning and engagement, is rare. More than 80 percent of teachers are white, and the vast majority are female, despite the fact that students of color make up a growing portion of K-12 students.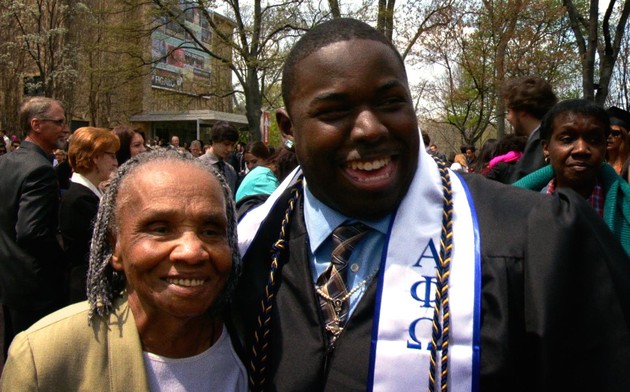 Both boys attend Urban Prep Academy for Young Men–Englewood Campus, which, as the film points out, is the first all-male public charter high school in the country. At Urban Prep, students wear tan slacks, white shirts, ties, and dark suit jackets. They receive college counseling throughout all four years of high school, and even support after graduation, during college.
Tim King, the head of Urban Prep, knows the challenges his students face beyond the schoolhouse walls. He's seen how drugs, gangs, violence, and poverty have claimed the lives of far too many young black men in Chicago. "When he leaves school everyday, he's up against some forces and some people that would much rather see him make poor decisions than make the right decisions," King says in the documentary, of the challenges his young students face.
But he also points out how education can make an important difference. "It only takes one generation to kind of right the course for any family," King adds. "Students whose parents didn't go to college—they attend college, go on to have a career. That changes everything for [a boy's] family from that point forward. We're giving these guys a chance to kind of rewrite the future of their families."
The film follows Branch and Henderson as they graduate from Urban Prep in 2010. The documentary, which is a little under 90 minutes, then chronicles the two young men's journeys through college. Branch attends Fisk University, a historically black college in Nashville, Tennessee, while Henderson goes to Lake Forest College, a predominantly white institution in upscale Lake Forest, Illinois.
Both young men seem well on their way toward reshaping their families' trajectories. But getting into college is just the first step. Both struggle academically and financially. At Urban Prep, Henderson was a three-sport athlete who graduated at the top of his class with a 3.8 GPA. But he fails his first exam at Lake Forest and eventually has to change his major from biology to history and American studies. And although Henderson received nearly $45,000 in scholarships his freshman year, the money is gone by the second semester of his sophomore year and he has to work four jobs and take out student loans to finish school. Branch, too, has to work several jobs and take out $40,000 in loans to complete his college education.
If the academic rigors and financial stress weren't enough, the young men have to navigate new social environments and learn time-management skills. Sometimes it becomes a bit much. But, with their families in mind, they push thoughts of giving up away. "I kept thinking about my grandmother and the community, the people who invested so much time in me, basically," Henderson told me. "I didn't want to let anybody down.That was my motivation."
Branch also felt he "had big shoes to fulfill." "I have to be the one that makes it through college," Branch says in the documentary. "If I don't, what's the outlook for me?"
Both Branch and Henderson graduate from college in four years. Henderson moves to South Carolina where he works as a volunteer in an urban school with City Year. Henderson, now 25, eventually moves to Denver, where he tutors and works as a volunteer firefighter. Branch, 24, returns to Chicago and works at Urban Prep as an admissions counselor, where he remains today.
They defied the statistics, says Wes Moore. "They didn't just make it. They made it through a four-year college in four years coming from the South Side of Chicago where communities are under-resourced and academically deficient," he says. "But that's part of the beauty of the story."
So what made "all the difference" in the lives of these young men?
"What makes all the difference are the supports that these young men get in their lives — from mentors, to teachers that care about them, to academic advisors that are invested in them, to schools that are designed for them, to a grandparent that cares about them, a church where they can go," Lending, the director, who followed Branch and Henderson over five years, told me. "All these are incredibly important supports, and they're simple. This isn't rocket science. These are basic supports but many young men in these communities, they're just not getting it, so they're going to fail. It's that simple."
But such supports are still rare in some communities, particularly impoverished neighborhoods. A recent report from the Government Accountability Office found that the percentage of schools that had mostly black or Hispanic students grew from 9 to 16 percent between 2000 and 2014. It noted that 75 to 100 percent of students in these schools qualified for free- or reduced-price lunch. Also, these schools offered fewer math, science, and college-preparatory courses, but had disproportionately higher rates of suspension and expulsions than other schools.
The documentary suggests that a supportive college environment with caring teachers and counselors can help students earn a diploma and succeed in college. Research backs up the idea that students who have meaningful relationships with the adults around them are more likely to overcome barriers to success. There was also the emotional, and sometimes financial, support from Urban Prep faculty who kept in touch with the students throughout their four years in college. The resiliency of these two young men can't be discounted either. Urban Prep gave them the confidence to believe in themselves, said Joy Thomas Moore.
But schools like Urban Prep shouldn't be seen as a panacea to the educational achievement gap, Wes emphasizes, noting that school in general should be a place of comfort, support, and safety. And while Urban Prep has an alumni program devoted to helping graduates, particularly as they pursue college, few high schools are equipped to continue to support students in any sort of formal way after they earn their diplomas. Even more important is the transition to higher education for students like Branch and Henderson, who come from challenging environments. There should be structural changes in how we administer higher education Wes argues, noting that schools should make sure students receive support—academic, financial, and developmental.
"We cannot understate the transition challenges the young men are going to face—going to school with people who have been in prep schools all their lives, students who don't have to fill out the [federal financial-aid application], because their parents can pay for them to go to school. Institutions have to be able to understand them," says Wes. "How we make this transition regardless of the school, whether they be [historically black colleges and universities], predominantly white traditional schools, or community colleges, this is an important call for all schools to take a real measure of what are we doing and what can we do to better support black boys."
All the Difference airs on PBS September 12.