Free College Is Not a Fantasy
U.S. Education Secretary John King highlighted Tennessee's efforts to expand access to higher education during his back-to-school bus tour.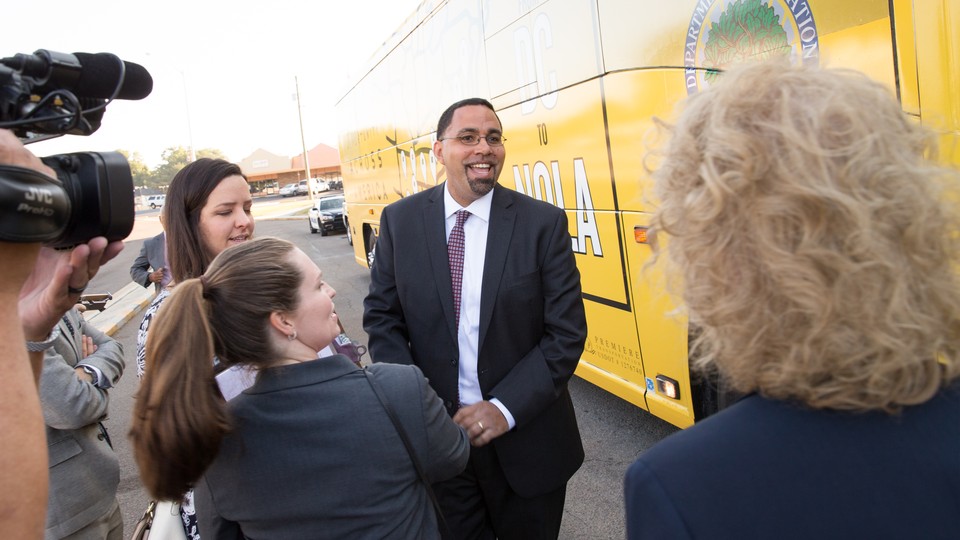 KNOXVILLE, Tenn.—The idea of free college is garnering more attention as presidential hopeful Hillary Clinton works the crowd-pleasing concept into her campaign stump speeches. It was a tenet of Bernie Sanders's attempt to secure the Democratic nomination. And it's a prospect that seems to be gaining broader support from families as college costs and student debt rise.
This week, as he rolled across the country in a big yellow bus on his "back-to-school" tour, U.S. Education Secretary John King used a stop here at Pellissippi State Community College to pay homage to the roots of that idea and to urge a resistant Congress to move toward making free community college a nationwide reality.
Last year, President Obama visited this campus to unveil his proposal for tuition-free community college. The location was no accident. A couple of years ago, Tennessee launched the Tennessee Promise, which covers tuition and fees for two-year degrees and credentials for the state's high-school graduates after Pell grants and a series of other funds and scholarships are exhausted. It is based on a Knoxville plan that had grown to include several other counties in the state. A bipartisan initiative supported by a Republican governor, the idea is to help fill a growing workforce need.
And it seems to be working. There had been concern that as more students who previously might not have considered college took advantage of the program, college retention might decline. But average retention from the fall to spring semester last school year was above 80 percent, slightly higher than it was before the rollout. And Pellissippi president Anthony Wise said during King's visit that the college's Promise students—2,705 of about 10,244 students total—are faring even better academically than many of their non-Promise peers.
"We want to build on what's happening here," King said during a roundtable with students, noting that more than 30 similar programs have cropped up across the country in the last couple of years, including a recently announced plan in Los Angeles.
Yet not everyone is convinced the strategy can be scaled successfully, or that expanding it to cover four-year degrees, as Clinton's plan would, makes sense. Robert Boyd, a professor at Pellissippi who brought students in his African American literature class to hear King speak, said he and some of his fellow professors have struggled with how to teach students who arrive on campus unprepared for college-level work. He worries that expanding access to college for more students could exacerbate that problem. "It's a great idea," Boyd said of free college, "but the gap is too wide."
King himself noted the need to do more to prepare young people for college during the roundtable, saying, "I think there's more we need to do in K-12 to make sure students are successful."
And Wise, the school president, acknowledged during a conversation after the roundtable that there are serious challenges in taking a program like the Tennessee Promise nationwide, even at just the community-college level. One of the reasons it's been so successful is that the students who participate—many of them the first in their families to pursue higher education—meet regularly with mentors who help demystify the college-going process. The mentors check in ahead of deadlines, prod students to talk to professors, and urge students to apply early for internships and other opportunities. In short, they offer support and assurance to each student that someone is personally invested in their success. Lots of research suggests those connections have a very profound impact on graduation rates. But while finding enough mentors to support students hasn't been an insurmountable obstacle locally, identifying mentors to do so nationwide is a daunting task.
As the bus, bright yellow and emblazoned with the phrase "Honk if you love teachers," pulled out of Knoxville en route to Chattanooga, the secretary acknowledged the challenges for colleges in ensuring all students are successful, but pointed out that schools can apply for federal grants to pay for resources, such as mentoring, that help more students persist through graduation.
Wise also pointed out that there are other steps schools can take to support new students. At Pellissippi, he said, enrolling students who need to take remedial courses in those classes at the same time as they take courses for credit that they are "passionate about" has proven to be an effective way to motivate students who might otherwise get frustrated and quit. The school's summer bridge program, he said, has given many Promise students who had never been on a college campus a head start and a chance to meet friends and professors who can support them when they struggle. Those programs don't require a one-to-one ratio and could be easier for other colleges to implement.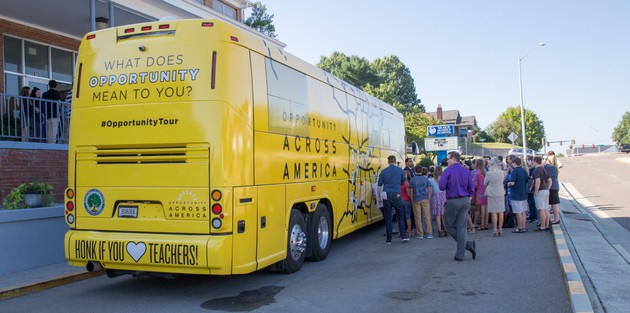 And while expanding access to college may ultimately mean that some schools find themselves addressing needs—hunger, childcare demands, a lack of internet access, for instance—they haven't previously had to consider, King said that colleges need to "make an investment" in their students. The return, he added, is significant.
The half-dozen young people who spoke with King during the roundtable agree. Several said they likely wouldn't be in college without the Tennessee Promise, and while they all work part-time, they said not having to work full-time to pay tuition allowed them to volunteer and complete internships that will advance their careers.
Makayla Edwards, a second-year student at Pellissippi studying mechanical-engineering technology who plans to transfer to a four-year school, said the Promise will help her "go further" in her education.
King knows he's on a tight timeline with the Obama administration ending in January. But he insisted that there is still time to push lawmakers at the federal level to expand access to college. "Big things," he said, "happen in the fourth quarter."