Disrupting the One-Teacher Standard
In a perfect world, education experts would shrink class sizes and children would learn from multiple teachers.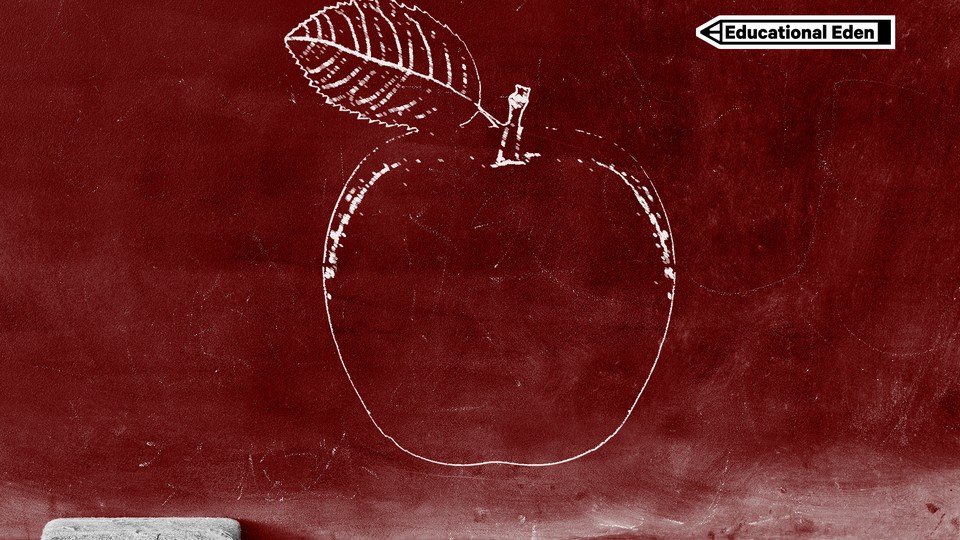 This is the fourth installment in our series about school in a perfect world. Read previous entries on calendars, content and homework.
We asked prominent voices in education—from policy makers and teachers to activists and parents—to look beyond laws, politics, and funding and imagine a utopian system of learning. They went back to the drawing board—and the chalkboard—to build an educational Garden of Eden. We're publishing their answers to one question each day this week. Responses have been lightly edited for clarity and length.
Today's assignment: The Teachers. Will one instructor teach every subject or will students have a different teacher for each class?
---
Rita Pin Ahrens, the director of education policy for the Southeast Asia Resource Action Center
We need to disrupt the idea of having only one teacher in front of a group of students at once. With so many different learning styles and students at different places in their learning within a grade and within subjects, students and schools will benefit greatly from co-teaching models. Depending on the complexity of the topic and how the concepts are integrated into the curriculum, students might have teams of two, three, or four teachers at once. If students are learning about the recent recession, for example, they will have a math or economics specialist tag teaming with a historian. If students are learning how to write a persuasive essay, they will benefit from having multiple language-arts specialists each provide their own unique perspective and response to students' writing and approaches. Individual teachers will not be responsible for individual students as much as the team of teachers will be responsible for the learning outcomes of each student they touch within the school day.
---
Nicholson Baker, the author of Substitute: Going to School With a Thousand Kids
The good thing about having several teachers is that if one of them is not very good, you only have him or her for part of the day. Also, shuffling from class to class breaks up the monotony and allows for brief jokey chats in the hallway.
During class, side conversations seem to sprout when a class goes above five students. Chaos is logarithmic. One micro-class made up of one, or two, or three students, plus a sympathetic tutor, can get more done in an hour than a roomful of 25 bored, loud fidgeters plus a shouting, pleading instructor can accomplish in a week.
---
Carol Burris, the executive director of the Network for Public Education
Ask elementary-school parents if they prefer their child be in a class of 15 or a class of 30, and you can bet what their answer will be! If you want to know whether low class size is valued, just look at the class sizes of exclusive private schools.
Lower class size has been associated with higher achievement, better test scores, higher student self esteem, lower dropout rates, and other positive outcomes. The effects of lower class size are especially beneficial for disadvantaged students, especially in the early grades. The most extensive study ever on class size, the Tennessee STAR study, showed that the positive effects of smaller class sizes were doubled for poor and minority students.
In a recent research brief on class size, the National Education Policy Center identified class sizes of 15-18 to be ideal, with the understanding that there would be some variation in some classes, such as larger classes for band or for physical education.
Ideally, every classroom will have two teachers, or at least one teacher and a well-trained assistant. An extra set of eyes on the work of learners can provide invaluable feedback and assistance to the lead teacher.
---
Catherine Cushinberry, the executive director of Parents for Public Schools
I like the idea of team teaching, especially for subjects like science and math where students could benefit from more one-on-one attention from teachers. I don't think teachers always feel like they can, singularly, meet the needs of all of their students. There will be a ratio of no more than 1:16 for cooperative learning, so students can be broken down into groups of four or even dyads. For younger students, 3- to 7-year-olds, the classroom sizes would have a ratio of 1:5 in order to foster the development of relationships between the teacher and younger students. I would avoid a 1:1 ratio because it would exclude the social engagement and development students benefit from as part of the learning experience.
---
Michael Horn, the co-founder of the Clayton Christensen Institute
The notion of "teacher" will change significantly in the future. The growing number of formal and informal learning options is causing an unbundling of the teacher role. Whereas in the traditional, one-size-fits-all learning model, teachers are responsible for everything that happens in the classroom, as blended learning—online learning in schools—grows, students will experience multiple learning modalities originating from multiple sources. Sometimes they will connect with a teacher online to learn something, and other times they'll work with a teacher in person to understand a concept. This creates opportunities for teachers to specialize, particularly in schools where teachers work in teams in the same learning environment. In the future, we will see teachers choose among a variety of options, including:
Content experts who focus on developing curriculum
Small-group leaders who provide direct instruction
Project designers to supplement online learning with hands-on application

Mentors who provide wisdom, social capital, and guidance
Evaluators to whom other educators can give the responsibility of grading assignments and, in some cases, designing assessments
Data experts
---
Richard Kahlenberg, a senior fellow at The Century Foundation
The configuration of teachers—the number per classroom, the number of students for which teachers will be responsible, the assignment of teacher by subject matter—will be decided with input from teachers themselves according to the needs of students in a particular school. In many cases, this will mean more team teaching that allows collaboration among teachers.
The original inspiration from charter schools—publicly funded schools that allow for experimentation—was that rank-and-file teachers have some of the most promising ideas about how best to educate a particular group of students. Albert Shanker, the longtime president of the American Federation of Teachers (AFT), visited a school in Cologne, Germany, in which teachers taught in teams (larger classrooms with two teachers), and teachers stayed with the same set of students for six years, capitalizing on their knowledge of the individual needs of students.
Giving teachers a say in how teachers are assigned to students will not only increase the generation of good educational ideas, but will also model for students the very essence of democracy: Not all good ideas come from a single authority figure who bosses everyone else around but rather from the collective wisdom of front-line professionals.  Today, AFT president Randi Weingarten likewise argues that education reform—including ideas about how teachers will be assigned to students—should be done with educators, not to them.
---
Michelle Rhee, the founder of StudentsFirst and the former chancellor of Washington, D.C., public schools
Elementary-aged children will have one primary teacher, with opportunities to learn from other teachers, specialists, and paraprofessionals on special projects or themes outside the classroom curriculum. Further, parents and community members will be invited to the classroom to share in learning with students and engage kids in real-world applications of the topics they are discussing. At the middle- and high-school levels, students will have high-quality teachers for each subject and be exposed to a variety of teaching methodologies, personalities, and structures. There will also be opportunities for "combination" classes that teach skills of multiple subjects within one content area, such as a world-studies class that tackles both English and history.
---
Randi Weingarten, the president of the American Federation of Teachers
Educators will teach the content they have studied and know. For an elementary teacher, that will often mean broad competency in academic subjects, with a focus on child development. For a high-school physics teacher, well, he or she should be a content expert in physics.
But being an expert in your field doesn't make you a great educator. We need to ensure our teacher-training programs are designed to meaningfully prepare teachers for the classroom, that schools provide support and mentoring for new teachers, that teachers have time to collaborate and innovate with their peers, that paraprofessionals have a career ladder to climb, that veteran teachers have opportunity for growth, and that all educators are treated with the respect they deserve as professionals.
---
Check back tomorrow for the next installment in this series.