Bill de Blasio's Pre-K Crusade
In New York City, every 4-year-old has access to free early education—even those whose families make up the 1 percent.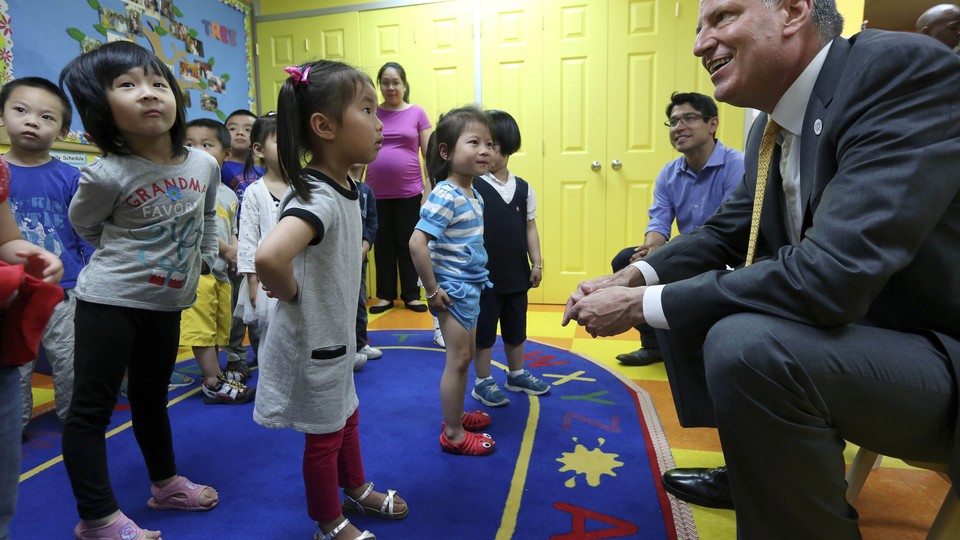 On a sunny afternoon in April, I sat on a bench at New York's City Hall, waiting to interview Mayor Bill de Blasio. He breezed by in shirtsleeves, surrounded by grim-looking advisers. The mayor, too, was frowning.
That morning's papers carried the news that de Blasio's fundraising activities were being investigated by U.S. Attorney Preet Bharara, the Manhattan district attorney Cyrus Vance, and a state commission on public ethics. The mayor's new initiative to combat homelessness was being drowned out by media coverage of the investigations. De Blasio had gathered his team at City Hall and given them a pep talk, asking them to stay focused. He reminded the staff of their victories: Ending stop and frisk. Convincing a reluctant city council to pass an affordable housing plan. Shootings were at a historic low.
And then there was Pre-K For All, arguably first among de Blasio's accomplishments. When he came into office in 2014, there were 20,000 free, full-day pre-k seats in New York City. Today, that number is 70,000. At a time of gridlock in Washington, de Blasio has quickly created a new entitlement in the nation's largest city: an extension of the K-12 school system into an additional year of free, academically rigorous public education and childcare. It is available to every New York 4-year-old, whether their parents are living in a homeless shelter or working at a hedge fund. The program is so popular that suburban legislators have demanded state funding to provide their constituents with the same benefit.
Hillary Clinton has made the needs of families with young children central to her presidential campaign, citing de Blasio's Pre-K For All as a model initiative. Nationally, somewhere between a third and half of American 4-year-olds are not enrolled in preschool, and polls show 70 percent of Americans would support the federal government making a large investment in early education. De Blasio's Pre-K For All is the biggest and boldest recent model for how to do that. And yet, some policy experts believe it isn't the right one.
By the time I was summoned into the mayor's office to talk about pre-k, he was smiling broadly. He is famously tall: 6'5". When you sit down with him, he hunches over, folding himself into a size that resembles your own. "I'm in pleasant shock that we got this far and this effectively," he said. He spoke persuasively about Pre-K For All's play-based pedagogy, "helping kids learn their numbers, working on their phonics, and learning their letters … I think there's an assumption that a rigorous curriculum somehow comes with draconian measures in the classroom," he continued. "[Our classrooms] are filled with play and creativity and art and music. They're very uplifting. They're very open. There's lots of choice for kids."
In 2016 there is one central debate, between the left and center-left, about the role of government in America. Can the widening gap in opportunity and life outcomes between the rich and the poor be closed using the dominant policy tools of the last 30 years: tax credits that are supposed to encourage minimum-wage work, and stigmatized, underfunded social programs that serve only the poorest of the poor, like Medicaid, food stamps, and Head Start, the federal preschool program? Or, does the country need to return to an older, and until very recently, largely unpopular idea: taxing the rich to create big, new government entitlements, like pre-k, free college, or single-payer health care—entitlements available to everyone, including the affluent who currently have little trouble procuring such services on the private market?
This was the crux of the debate between Bernie Sanders and Hillary Clinton. The signature Sanders policy proposal was a plan to make public college free for all. Even for the children of Donald Trump, as Clinton pointed out in one primary debate. Clinton became the Democratic Party standard-bearer, and after negotiations with Sanders, announced her own plan to make in-state public college free, but only for families earning under $125,000 per year.
There are few places in the United States to look for big, new experiments in universal government entitlements. One of them is New York City under de Blasio. The mayor issued a late-in-the-game primary endorsement of Clinton—he was the manager of her 2000 Senate campaign—but his Pre-K For All program is, notably, in the Sanders style: unabashedly free-for-all. Some American social programs, like Medicare and Social Security, serve everyone, and have proven to be relatively popular and politically sacrosanct. Others, like Medicaid, Head Start, food stamps, and cash welfare, are available only to the destitute, and are under constant threat of budget cuts. Pre-K For All is for the poor, the rich, and everyone in between. The mayor would rather speak about the program's educational quality than its political strategy, but if prodded, will concede, "anything that has a broad constituency will also have more sustainability." Simply put, it is difficult for politicians to retract a benefit that the politically powerful upper-middle class enjoys.
De Blasio's first elected office was as a school-board member in District 15, the swath of brownstone Brooklyn that includes Park Slope, where he and his wife, Chirlane McCray, lived. They sent their daughter and son to public school. His focus on pre-k reflects a longtime skepticism of some of the other education-reform enthusiasms of the last two decades, like standardized testing and charter schools. When the state of New York granted de Blasio's predecessor as mayor, Michael Bloomberg, control of the city's schools, Bloomberg abolished neighborhood school boards like the one on which de Blasio served. Bloomberg's education agenda was based around the concepts of choice and competition. He opened new charter schools and gave all schools letter grades based largely on their students' test scores. Bloomberg also created 4,000 new pre-k seats, but they were open only to the poorest children. That strategy has been the norm. In recent years, cities like Denver and San Antonio reserved new public pre-k seats for the neediest kids. Even Boston's public pre-k program, considered a national model, does not guarantee every 4-year-old a seat.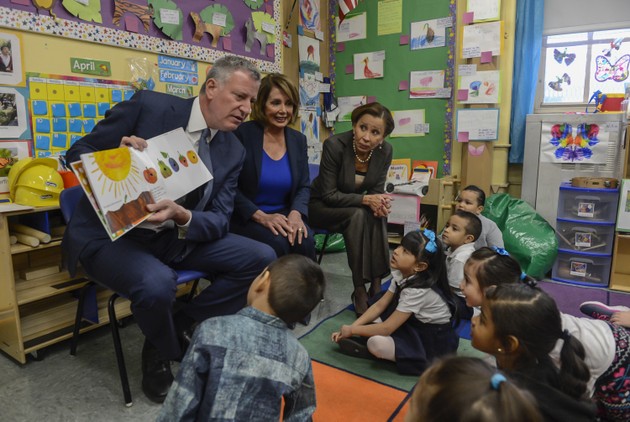 De Blasio wants all children, even the children of the financially secure, to benefit from public services. He speaks often about how difficult it is to afford rent, child care, and other basic necessities of life in New York City, not just for the impoverished, but also for the middle and upper-middle class. "A hedge-fund manager, maybe they're not struggling, but the vast majority of people [are]," de Blasio told me. "The cost of living in this town has continued to go up and up, so I can't tell you how many middle-class parents have told me what it meant to save $10,000 or $15,000" on pre-K, "how fundamental that was for their ability to live in the city."
In 2012, when de Blasio was serving as New York City's public advocate, a sort of city ombudsman, his office produced a report showing a huge unmet demand for free pre-k. Only half of New York City 3- and 4-year-olds were enrolled in pre-k, either public or private. Every neighborhood had more young children than public-school pre-k spots, but in areas such as affluent brownstone Brooklyn, middle-class Bay Ridge, and immigrant-heavy Central Queens, there were as many as eight applicants per seat. The problem was a national one: Only 41 percent of American 4-year-olds, and 16 percent of 3-year-olds, are being served by publicly funded pre-k, according to the latest data.
To expand access, de Blasio proposed a tax increase of less than 1 percent on income over $500,000. That idea became the centerpiece of his 2013 mayoral bid, a key to remedying what he decried as "the tale of two cities": huge opportunity gaps between the super rich and everybody else. A New Yorker earning $600,000 annually would have paid an additional $530 in taxes to fund universal pre-k. This provoked outrage from the Partnership for New York City, a network of CEOs. The group's president said the tax proposal showed a "lack of sensitivity to the city's biggest revenue providers and job creators."
Many of de Blasio's fellow progressives were skeptical such a big idea could ever become reality. Randi Weingarten, the president of the American Federation of Teachers, called de Blasio's universal pre-k plan "non-serious," and New York City's teachers' union endorsed another mayoral candidate in the Democratic primary. But regular New Yorkers liked de Blasio's ambition. Private pre-k costs, on average, over $12,000 per year in New York City, and up to $40,000 for an elite program. (The city's median household income is about $51,000.) Polls suggested that, along with his promise to end stop-and-frisk and his artful, optimistic embrace of his family's biracial identity, the promise of free pre-k was why voters preferred de Blasio to his rivals. He won the election and immediately began lobbying Albany to make the idea a reality; the mayor would need the support of the state legislature to enact his pre-k funding scheme. Governor Andrew Cuomo, a Democratic tax-cutter, did not want de Blasio's tax proposal to come to a vote. Still, the mayor's boldness had changed the terms of the debate. Cuomo, somewhat mysteriously, reached into the state budget and found $340 million per year to fund the program for five years.
From there, the de Blasio administration managed to launch Pre-K For All in less than six months. By the program's second school year, 2015-16, it had reached its original enrollment target. Pre-K For All serves 68 percent of the city's 4-year-olds, and 85 percent of those who are likely to enroll in public-school kindergarten. In the city of Washington, D.C., 86 percent of all 4-year-olds and 64 percent of all 3-year-olds, are enrolled in public pre-k, outpacing New York onpercentage of children served. But D.C. first launched its universal pre-k program in 2008 and allowed six years for full implementation. In comparison, New York City has moved at remarkable speed, while serving more than five times as many students.
Across the five boroughs, playgrounds and subway cars were plastered with billboards encouraging parents to learn more about Pre-K For All. To recruit students, a team of 38 outreach specialists canvassed housing projects, homeless shelters, community fairs, and church events. Because there would not be enough space to host every new pre-k student indistrict public schools, the city Department of Education asked all sorts of schools—public, for-profit, nonprofit, and charter—to submit proposals to provide tuition-free, full-day pre-k. The process was competitive; only 60 percent of potential sites were accepted, according to a department official. Though many of these schools offered pre-k previously, paid for through private tuition or state and federal subsidies that target the poor, now that they're part of the city's program, they have to meet an exacting, new set of standards. The administration is requiring them to improve teacher training, enrich the curriculum, and use play-based best practices in child development. Participating schools agree to adhere to a 120-page book of guidelines, with city and state regulations on everything from the amount of juice (4 ounces) and sodium (1,700 milligrams) allowed per child per day to the number of minutes of daily free play (140) and screen time (no more than 15). (The strict rules have raised the ire of some in the charter-school sector, which is accustomed to operating with more independence.)
Implementing a new education program this quickly often comes at the expense of quality, and there are certainly big differences across the more than 1,200 sites participating in Pre-K For All.K-280 is a gorgeous public-school pre-k in leafy Windsor Terrace, Brooklyn, opened in 2014 as part of de Blasio's program. Students sing and dance in a "movement room" as a music teacher plays piano. There are full-time science teachers and art specialists. The curriculum is built around the concept of inquiry, or learning through child-directed question asking. Last December, bulletin boards displayed the questions children brainstormed to prepare for a classroom visit from a plumber. How do pipes connect? How do the workers cut the pipes? How does the pipe get the water to the part in the sink? How did that pipe get black?
Four miles away at a private Pre-K For All site catering to the children of recent Russian immigrants, classrooms were arrayed along a cramped hallway, and students danced to recorded music. Bulletin boards were holiday themed, displaying rows of menorahs and Christmas trees. Though the school is a popular choice because of its commitment to Russian culture and its bilingual teachers, in 2015, city assessors scored its teaching as below average.
Despite these gaps, the first round of research on Pre-K For All is encouraging. On two different measures of pre-k quality, New York's schools are ranking equal to or higher than the national mean, including in the key areas of support for literacy and meaningful adult-child interactions. On instructional support for children, New York's program outranks Washington, D.C.'s, which is six years older. It's unclear how many of the city's 4-year-olds remain outside of any pre-k program—estimates range from several thousand to over 10,000—but de Blasio hopes to reach them all with an argument about how institutional preschool is superior, socially and academically, to homecare. He has also been making the case for a national push on early education. Since Pre-K For All launched two years ago, Philadelphia, Seattle, and the state of Minnesota have announced plans to expand access to public preschool.
"I want to keep proselytizing to all my fellow parents," de Blasio said. "Because this is an irreplaceable opportunity to foster your child's development at a point where it's literally without parallel. If you can reach them at the age of 4, you can do extraordinary things that you just can't do even a few years later." And he isn't content with one year of free pre-k, either. "Over time we want to see anything we can do to reach the children even younger."
* * *
Elisa Colon, a nurse, lives in Sheepshead Bay, a waterfront enclave in southernmost Brooklyn, near Coney Island. Her son, Joel, was being cared for at home by family but will enroll in Pre-K For All this September. Nine years ago, Joel's older brother attended a state-funded preschool that dismissed before lunch, and his parents had to pay for additional after-school childcare. Because Colon works nights, she will now be able to pick up Joel herself around 3 p.m., saving many thousands of dollars per year. "I appreciate now that it's full day—I just wish we had more options within walking distance," she said.
Pre-K For All is essentially a school-choice initiative, which means that, similar to the city's high-school system, students are not automatically assigned to a zoned school. Instead, parents fill out an application on which they are allowed to rank up to 12 programs. Kids are then matched to a site based on a computer algorithm that weighs parental preference against geographic proximity and whether families have a pre-existing relationship with a program site through an older child, daycare, or summer camp that may be located there. (Charter school pre-ks require separate applications.) The system is complex and can be difficult for parents to navigate. The city offers free information sessions and drop-in centers to answer questions about the admissions process, but when it comes to researching individual schools, many parents rely on word of mouth or online reviews. Parents with means can pay to facilitate their research; one popular consultant charges families $200 per hour to help them understand the various Pre-K For All options in their neighborhoods.
Colon didn't have that kind of assistance and filled out only two of the 12 available spots on the Pre-K For All application, selecting a public school and a Catholic school. Joel wasn't accepted at either of them. PS 254, the nearby, well-regarded public school where Joel will attend kindergarten, didn't have enough pre-k seats to accommodate all the children who applied. Still, the city guarantees a seat to all children. Joel was placed at a site 20 minutes away on foot from the family's home, which Colon worries will be too long of a walk for Joel's grandmother, who will be dropping him off in the mornings. Colon is still hoping Joel is admitted off the waitlist at PS 254.
Sheepshead Bay needs more pre-k seats. Regardless, the fact that the Colon family, which is not poor, is eligible for Pre-K For All, represents one of the program's most controversial features. Several prominent education policy experts have complained that de Blasio is subsidizing the middle class and the rich.
"When you spread the money around across everybody, there is less to spend for the families who need it most," said Grover Whitehurst, a senior fellow at the Brookings Institution. "For example, some could benefit from a two-year program instead of a one-year program. Some could benefit from a 12-month program instead of nine months, or from pull-outs for special services that would allow the program to fulfill their needs better."
Bruce Fuller, an education researcher at UC-Berkeley, called Pre-K For All "regressive," and credits Mayor Bloomberg with focusing his own pre-k expansion on the poorest families. Fuller has produced several reports showing that while the number of pre-k seats has grown across the city under de Blasio, middle-class neighborhoods have seen more growth than poorer ones, despite having fewer 4-year-olds.
Data from the New York City Department of Education shows that since Pre-K For All launched in 2014, the biggest leap in enrollment occurred in neighborhoods with average household incomes of $47,000 to $60,000—pretty much the exact median. This is squarely the group of voters whom de Blasio says is struggling to make it in New York City, despite not being eligible for most existing forms of public assistance, like Head Start. (There are still thousands of poor children who aren't attending pre-k, but it is not clear why, since they are eligible for a range of free public programs. Some parents remain unaware of their options, while others, particularly in immigrant communities, may prefer home or family care to institutional early education.)
Given the fact that Pre-K For All is free for everyone, a key question is whether middle-class children like Joel, in Sheepshead Bay, will benefit from the program academically and socially, in a way that justifies the average cost to taxpayers of $11,900 per pupil. The Nobel Prize-winning economist James Heckman estimates that each dollar invested in quality preschool for low-income children yields savings of 7 to 10 percent in government spending annually, because such children are less likely to be incarcerated as adults, and are likely to earn more money than peers who did not attend pre-k. But the 123 subjects of that oft-cited research attended a small pre-k program in Ypsilanti, Michigan, in the 1960s, and debate rages over whether such results can be replicated on a large scale, or whether there are similar gains for middle-class kids.
New research from Tulsa, Oklahoma, and Boston shows that quality pre-k can help all kids make strides, including those who are not poor. In Tulsa, non-poor students who participated in universal pre-k entered kindergarten seven months ahead of non-poor peers who didn't enroll in pre-k. Low-income children in Tulsa experienced even bigger gains. Researchers continue to track whether those gains persist over time, as children proceed through their education and enter young adulthood.
De Blasio's team cites these studies, but the mayor's case for universal preschool reaches beyond the debate over whether pre-k attendance raises a child's standardized test scores in third or fourth grade, the traditional measure of success. De Blasio sees Pre-K For All as a social leveler. By making the program educationally strong, and thus attractive to all parents, he hopes to foster racial and socioeconomic diversity at the classroom level and bridge divides between New York City's haves and have-nots. "There are great virtues to universality," he said. "I've always believed there's a lift-all-boats dynamic in terms of kids learning from each other across cultures, across backgrounds." He continued, "Let's take a classic example of a kid who may come from a middle-class or upper-middle-class white family, that, absent this, might have gone to a different kind of option that might not have been so diverse. This is good for the future of New York City."
* * *
Before Pre-K For All, the city's limited free pre-k options clustered poor children of color together. Has Pre-K For All led to the integration de Blasio seeks? The demographics of the new program roughly match the city's K-12 public schools. Thirty-nine percent of children are Hispanic, 25 percent are black, 18 percent are white, and 15 percent are Asian. Nearly two-thirds come from families at or below the city's median income. Yet there is a lack of citywide data on the diversity within individual pre-k classrooms, and the design of the student-placement algorithm may be working against the mayor's stated integration goals.
This year, first-round pre-k applications were due on March 9, and in the weeks leading up to the deadline, parents who were able rearranged schedules to attend site tours across the city. At 10:30 a.m on a Thursday in February, I filed into Explorers Academy with a few dozen of them. It is a for-profit private daycare and pre-k housed in a historic Quaker meetinghouse in downtown Brooklyn, with giant windows, plant-filled classrooms, and a small outdoor playground. The program includes yoga, science and art instruction from specialist teachers, and what the school founder describes as "completely farm-to-table," GMO-free meals. Most of the students live in nearby neighborhoods—some of Brooklyn's most expensive—like Brooklyn Heights and Cobble Hill.
To enroll a 3-year-old here five days per week, it costs $26,400 annually, more than half of Brooklyn's median family income. But because the school is participating in Pre-K For All, Explorers Academy costs the parents of 4-year-olds—for the most part, the same parents who paid $26,400 the year before—absolutely nothing.
Seated in the meetinghouse's chapel, we heard about the program's progressive pedagogy. There is no "robotic, flashcard-style" instruction, promised Christine Roland, the school's pre-k director. The city's Department of Education provides the school with curricular themes, like transportation and light, and encourages a "creative, play-oriented" experience, Roland said.
I raised my hand and asked the enrollment director, Alyssa Schafer, what the odds were of winning a seat. There are only 20 universal pre-k spots at Explorers Academy, she said. And because the city's placement algorithm allows the school to prioritize children who have already been enrolled at Explorers as either 3-year-olds or in the on-site summer camp, in 2015, only one child was accepted into the universal pre-k program who did not already have a relationship with the school.
As Schaefer shared these admissions stats—which hadn't been available on the city's Pre-K For All website—parents on the tour glanced at one another with raised eyebrows. Some had taken off work to be here. Now they were hearing that the chance of enrolling their child was infinitesimal. The cost of a free, universal pre-k seat at Explorers Academy is, effectively, the five-figure cost of the 3-year-old program, or enrollment in a summer camp whose fee runs $250 to $500 per week. The children of the parents on this tour would gain a spot somewhere, but it likely wouldn't be here. There would be more time off work and more tours, or perhaps some rushed Internet research and a thrown-together application.
Kisha Edwards-Gandsy, the founder of Explorers Academy, struggles with this contradiction. There are 350 children on the waiting list for universal pre-k at her school. "It doesn't feel right," she said, especially knowing that "all our clients who had just paid private tuition [for their 3-year-olds] and were able to would now benefit from this government program." Because she supports classroom diversity as a matter of principle—a large body of research shows academic and social-emotional benefits of learning alongside students of varying classes and races—the school provides a few scholarships to 3-year-olds and allows other parents to barter in exchange for reduced tuition. Even so, city data shows that while less than half of Explorers Academy students are white, none come from families who would be classified as "poor," meaning they receive some form of public assistance.
Edwards-Gandsy wouldn't mind if the city forced her hand. "Fix the algorithm," she suggested. "Programs [could be forced] to provide spots to ensure economic diversity—say, 10 percent of your spots to children who are on food stamps."
Josh Wallack, the deputy chancellor for strategy and policy at the city's Department of Education, said the algorithm prioritizes prior enrollment in a school because research shows that educational "transitions" can slow children's progress, and there are benefits to parents and schools building a relationship over time. "Some families make a choice for their children early on and we want to honor the commitment they made," he wrote in an email.
* * *
According to the city, 74 percent of applicants are admitted to their first-choice pre-k site. Savvy parents are applying strategically, listing schools with lots of empty seats, where they know their child is likely to get accepted. Andrew Greene, an education-technology specialist who lives in downtown Brooklyn, visited four or five pre-k sites before he and his wife filled out their son Teddy's Pre-K For All application, carefully ranking their options. Teddy was accepted at his parents' top choice, P.S. 307 in the DUMBO neighborhood, which is a magnet school for STEM studies: science, technology, engineering, and math. "On the tour, I liked the structure," Greene said, mentioning project-based learning and a music class with keyboards.
Kimara Laveille of East Flatbush, a nurse, was initially interested in placing her son Christian in a public-school pre-k with a French-English dual-language program; the family is Haitian American. But while there are 30 dual-language schools participating in Pre-K For All, there are no French-English sites in Brooklyn, despite its large Caribbean population. In the end, Laveille and her husband put only a single school on Christian's application, a private one where they knew a friend's child had been enrolled. Christian was admitted. Laveille said she hopes Pre-K For All will give her son access to teachers who "push him" and help him earn a top score on the city's gifted-and-talented exam. That would open up additional public-school options for kindergarten, including some outside East Flatbush, which is working class and over 90 percent black.
Yet across the country, child-development experts have decried what they've termed "academic pushdown" into pre-k, with too much emphasis on concrete skills and future test scores, and not enough on learning through play, which is the most effective strategy for this age group. Pre-K For All is built around play-based best practices. At sites participating in the program, the city Department of Education recommends two child-directed, uninterrupted play periods of at least 70 minutes each.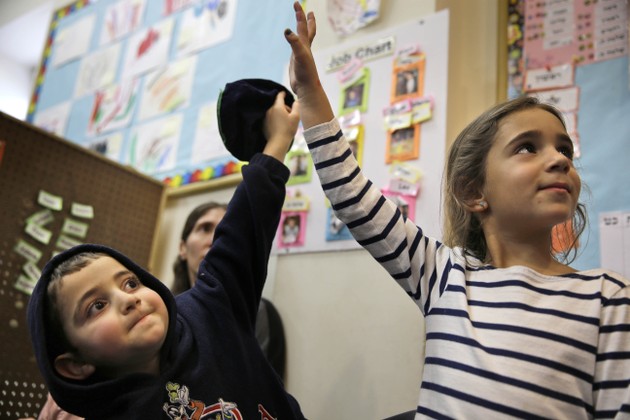 Parents and teachers sometimes resist these principles. A city survey of pre-k parents found that some wanted the program to give homework to 4-year-olds, and to have a more explicitly academic focus. Pamela Deych works for the city as a pre-k instructional coach, visiting classrooms and helping teachers improve their practice. Teachers "think parents want worksheets," she said—an attitude she works hard to counteract. One mother told Deych she believed her child should be "connecting the dots" on a piece of paper in order to learn to write letters. "But connecting dots doesn't mean they know the letter, what sound it makes, how to apply it in conversation. You have to think out loud next to the child and model what to know about the letter 'A.'"
Deych tries to demonstrate to teachers and parents that deeper learning occurs through interaction. She gave the example of two children she saw playing with slime, a gooey, Play-Doh-like substance. "They were looking at how the slime changed, and the teacher was there to facilitate conversation as they played. They made a story about working in a restaurant. That was a seven-minute long conversation," one that included "scientific learning, personal and social learning, because they were sharing."
Some pre-k providers do espouse the values Deych and the de Blasio program endorse. Nicole Cherasard works as a teacher at the Morris Koppelman Early Childhood Education Center in Brownsville, a low-income, largely black neighborhood in central Brooklyn. The school is housed in a two-story building situated under an elevated train line. The nonprofit that runs this pre-k and several others in Brooklyn, SCO Family of Services, is considered one of the top early education providers in New York City. "Our unit of care is the family," said the school's director,Mathew Moura, a Teach For America alumnus who went on to earn a master's degree in early education from the Erikson Institute in Chicago. The school offers parents fitness and nutrition classes, CSA deliveries of local vegetables, and help in financial planning, as well as free smoke and carbon-monoxide detectors. Pre-K For All funds can't cover those extras, but the school also receives philanthropic support. One-hundred students are on a waitlist to enroll.
There are no white students at Morris Koppelman, and about 65 percent of the school's Pre-K For All students come from families that receive public assistance. But, as at the Explorers Academy, there is yoga here, and the classrooms look similar. As the city mandates, there are "centers" for themed play, such as a "literacy" nook with bookshelves and a soft carpet for reading, a block area, an "art gallery" displaying the children's finger painting, a "drama" corner with costumes, and a little sandbox and tub of water for "sensory exploration."
According to Cherasard, this is the first year of pre-k for many of her students. "What the parents are really looking for is a focus on literacy," she said. Flashcards are not verboten. I visited Cherasard's classroom on a day when the "morning meeting" focused on the letter L. Eighteen children clustered at her feet as she showed them a series of cards with words and pictures: lion, lemon, alligator. She asked individual students to pronounce the words they saw, emphasizing the "luh" sound.
Four-year-olds can't handle more than about 20 minutes of this type of direct instruction, in which teachers stand at the front of the room addressing the whole class. Cherasard's "L" lesson transitioned quickly into 90 minutes of unstructured play time. Cherasard noticed a group of students, including Carlos, playing with blocks. Carlos speaks Spanish at home. He understands most of the English he hears, but tends to freeze up when his teacher prompts him to speak. So Cherasard was delighted, she told me later, to overhear Carlos chatting contentedly with his peers in the blocks corner, in English.
It was soon time for Cherasard to read aloud, a book about a family taking a train trip into a big city. The children wiggled with excitement, sharing their own stories of subway rides, and then drew these memories in their journals. At lunchtime, several of the students were assigned to wipe down tables and set out milk and napkins. City guidelines call for a "family-style instructional lunch" in which children serve themselves and eat alongside their teachers while engaging in conversation. The menu was a green salad with blueberries, rice and beans, orange wedges, and chunks of pineapple. The kids and their teachers dug in. Brandon, a boy sporting a neat mohawk, looked at his salad thoughtfully. "I've never had these before. I've only had red berries."
"What is a red berry?" Cherasard asked.
"A raspberry," Brandon said.
"And what does that look like?"
A girl named Taja interjected. "A raspberry is red with bumps."
Carlos gestured toward the rice and beans and quietly asked Cherasard, "Can I have more?" Cherasard grinned. While the children napped after lunch, she was still thinking about Carlos' progress. She couldn't wait to tell his parents how much English he had spoken that day. "Whenever there's a milestone, I get all excited," she said. "You have to get the mind thinking, thinking constantly. All the time."
* * *
Increasing the number of American children enrolled in high-quality, publicly funded pre-ks like this one will require a huge investment in recruiting, training, and paying educators, a big challenge in New York City, too.
Cherasard has a master's degree in early-childhood education and has been teaching for over a decade. But approximately 15 percent of Pre-K For All teachers at the public-school sites, and a third of teachers at the private and nonprofit sites, are in their first year. Some may have taught in another school system previously, but most are likely novices. To train them, de Blasio's administration has contracted with three local colleges, which have provided a summer training institute and professional development throughout the school year. Thousands of veteran daycare and pre-k teachers who have worked outside of the public-school system are being retrained to meet Pre-K For All's higher standards. Lead classroom teachers must hold at least a bachelor's degree, as well as a New York State teaching certification in early-childhood education, which entails passing a series of written exams and performance evaluations that assess a teacher's work inside the classroom.
Pre-K For All requirements are "daunting" for many existing early-childhood teachers, said Kym Vanderbilt, a professor of early-childhood education who has prepared teachers studying at Lehman College in the Bronx and Hunter College in Manhattan, both part of the City University of New York system. Vanderbilt described her typical student as a woman of color in her mid 20s to early 30s, with children at home, sometimes living in public housing. These women work full-time as teachers in low-income neighborhoods while studying for a master's degree in early childhood education at night and on the weekends. The most challenging state certification exams are those that require writing and algebra, Vanderbilt said. Many of her students are not native English-speakers, and while they all hold bachelor's degrees, the quality of their undergraduate educations may have been poor.
"It's okay to have standards," Vanderbilt said. "But we are going to see a wicked teacher shortage in the not-too-distant future." She is especially concerned about losing teachers fluent in Spanish and other immigrant languages. According to research, children learning English advance more quickly in both English and their native languages when both languages are used within the pre-k classroom.
The city hopes to recruit great teachers by raising pay, especially at pre-k sites that are not located within public schools. Currently, Pre-K For All teachers working at community nonprofit or private schools earn $44,000 a year with a bachelor's degree and $50,000 with a master's degree, compared to a starting salary in public schools of $49,908 with a bachelor's and $56,104 with a master's. After 10 years on the job, a pre-k teacher in a public school could earn up to $34,000 more than a colleague working for a community-based organization.
These pay disparities between pre-k and K-12 educators are a national constraint on increasing the quality and capacity of early-childhood education. Last year, to help close this gap, the New York City Department of Education announced signing and retention bonuses for Pre-K For All teachers working outside public schools. But not all of the partner sites wanted the extra money. At some community preschools, site directors may earn only $50,000 themselves, making it awkward to pay teachers as much as their bosses. And many site directors say it affects staff morale when Pre-K For All teachers earn more than their colleagues who work with younger children, especially because the Pre-K For All day ends at 3 p.m., while daycare hours for infants and toddlers may extend until 6 or 7 p.m.
With more public funding, teachers could earn more across the board, and so could the site directors whose work is crucial to the program's success. The school day could be extended to match most parents' work schedules. Maybe 3-year-olds could be served by tuition-free pre-k, or novice teachers could be paid to develop their skills over the course of a full year, instead of a short summer program or crash course while they're working full-time. This is why the universality of Pre-K For All is controversial. If affluent parents like the ones at Explorers Academy weren't receiving a generous public subsidy, there might be more to spend on improving the pre-k workforce serving the city's neediest neighborhoods and poorest children.
Or there might not be. Because without the enthusiasm of the middle-class and the rich, generously funded public pre-k might not exist at all. The program's universality is smart politics, said Shael Polakow-Suransky, a former senior official in the Bloomberg-era New York City Department of Education and now the president of Bank Street College, a private graduate school that is training Pre-K For All teachers. When a social service is available only to the poor, "it is often vulnerable to ideologically motivated budget cuts. We hear rhetoric like the 'undeserving poor' don't deserve the benefit or 'aren't working hard enough,' or, when it comes to childcare, women in poverty who need this support are accused of being bad mothers. You name it."
Sixty-four percent of American mothers with children under the age of 6 are employed. Married and single mothers work at near-equal rates. Even so, partisan ideologies about gender and family life often come into the discussion about whether and how to fund pre-k. House Republicans have proposed $14.6 billion in education budget cuts, with reductions focused on programs that serve the children of poor, often single mothers, including Head Start. In 2011, when Frederick County, Maryland, ended its local funding commitment to the federal preschool program, the Republican official Paul Smith said, "I had a lot of kids, and my wife stayed home, at significant sacrifice, during those early years, because she knew she had to be with those kids at that critical age. I know everybody isn't able to survive doing that, but clearly, [if] we can strengthen marriage, we can decrease the children that we have to reach."
Hillary Clinton has called for high-quality pre-k for "every 4-year-old in America" within the next decade, and has committed to paying pre-k teachers a salary on par with kindergarten teachers. De Blasio mentioned to me that Clinton began her career working at the Children's Defense Fund. As first lady of Arkansas, she helped launch a state program in which teachers visited preschool-aged children at home, training parents on how to develop early literacy skills. "I think she would be the first American president to understand [pre-k] so deeply as to make it a fundamental priority," de Blasio said. "That's one of the reasons why I think it could get done" on a national scale.
To find federal funding, he would like to see higher taxes on the rich, something similar to the plan he initially presented in New York, which Governor Cuomo refused to advance. "I'll tell you to this day: The tax made total sense," de Blasio said. Does Hillary Clinton agree? She has committed to paying for childcare and pre-k through raising taxes on the wealthy. But her vision has important distinctions from de Blasio's, in that it is not truly universal. As of August, her campaign materials said pre-k should be free only for "children from low-income homes and homes with limited English speaking."
In Washington, this piecemeal approach, focused on poor families, has proven limited. Stimulus funding allowed the Obama administration to help states create stronger pre-k quality standards and data systems, but millions of children remain totally unserved. Congressional Republicans have shown little interest in President Obama's request for a new cigarette tax to provide pre-k to all low- and middle-income children. Yet at the local level, there is a conservative case for preschool, perhaps especially when it is available to everyone, including the affluent. Georgia became the first state to provide universal pre-k to all 4-year-olds, in 1995. The plan had been championed by Democrats but eventually won support from Republicans, and was paid for through the state's lottery system. Michael Volmer, who helped build Georgia pre-k from the ground up when he worked as an aide to Governor Zell Miller, has said that the keys to winning conservative support were marketing universal pre-k as an example of "school choice"—since, as in New York's program, seats in Georgia are located in both public and private settings—and allowing any family to participate, regardless of income. Legislators won't "say anything negative—in a public manner anyway. Because they've got too many [middle-class] families…that are utilizing the program," Volmer told a researcher. In Oklahoma in 1998, state Republicans signed onto universal, tuition-free pre-k paid for by extra funds floating around in the kindergarten system.
The Oklahoma and Georgia experiments date to an earlier political era, a time before the Tea Party's revolt on centrist social spending. De Blasio has helped put universality back on the political agenda. Hirokazu Yoshikawa is a professor of globalization and education at New York University, who has studied pre-k systems across the United States and around the world. "The scale of this is larger than pretty much any other city, and the speed of it is faster," he said. The United Nations Sustainable Development Goals call for all children in the world to have access to quality preschool by 2030. New York's experiment is crucial, Yoshikawa noted, because "if there are places that can increase access with quality rapidly, that is an extremely important policy advance."
Perhaps in the future, excluding 4-year-olds from free, public education will seem as quaint as excluding 5-year-olds. But educational change often comes slowly. Though the kindergarten movement began in Germany in the early-19th century and by the Progressive Era was popular in American cities, it was not until the 1980s that every state funded kindergarten.
* * *
Bill de Blasio has not been easy to love. He is scandal prone and has awkward relationships with Democratic Party leaders. He spends political capital on favors for unpopular campaign contributors, like animal-rights activists intent on removing horse-drawn carriages from Central Park, and the owners of taxi fleets, who are in a war against Uber.*
Still, as de Blasio gears up for reelection, it would be difficult to argue that he isn't among the nation's more efficient progressive policymakers. His major contribution to the universal pre-k movement may have been his lack of fear. Being the mayor of a left-leaning city like New York helps; he doesn't have to be as scared as Hillary Clinton does of being labeled a tax-and-spend liberal who wants government to usurp parents in raising young children. On the other hand, perhaps those categories are themselves outdated. Even Donald Trump has vowed to protect certain elements of the social safety net. De Blasio embraced the biggest pre-k idea possible and then got it done quickly. In doing so, he has tried to make a case for Big Government itself.
Pre-K For All isn't perfect. Like the nation's K-12 schools and its neighborhoods, it is too racially and socioeconomically segregated. Parents find the admissions process overwhelming. Many teachers need more support, both financially and instructionally. But in two years it has accomplished more than almost anyone thought possible. De Blasio is a true believer. "To not aggressively preach it and facilitate it and make it available?" he says. "I think it's a disservice to kids."
---
*This article originally stated that de Blasio does favors for the Taxi and Limousine Commission, which is a government agency. We regret the error.