Why Kindergarteners Might Still Be Suspended in New York City
Mayor de Blasio's proposed "ban" on the disciplinary measure may not be a ban at all.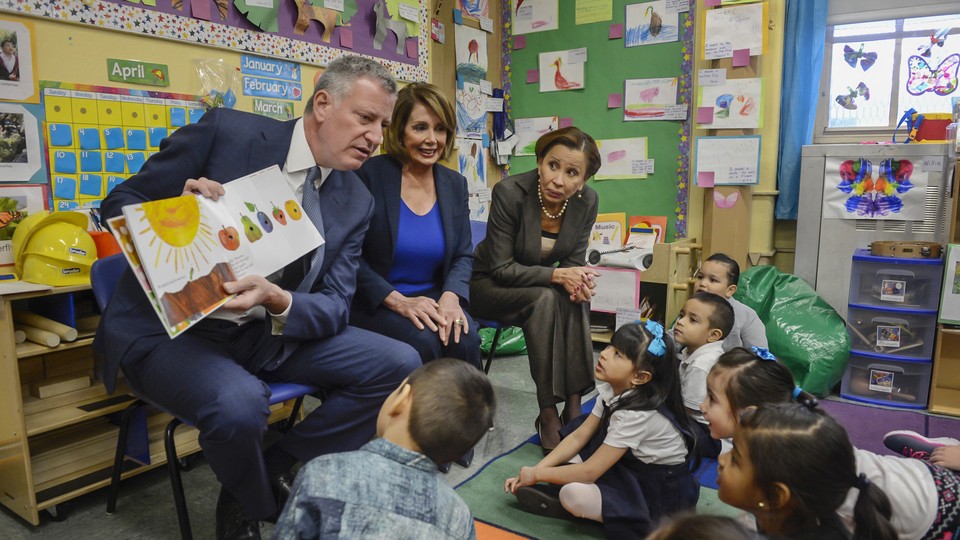 In late July, New York City Mayor Bill de Blasio announced plans to ban school suspensions for students in kindergarten, first, and second grade, pushing schools to opt instead for alternative behavioral redresses, such as counseling. Student, parent, and teacher-reform groups welcomed the news, which was made public along with data showing significant racial disparities in police-student interventions.
But at a hearing on Monday, the de Blasio administration signaled that the suspension ban may come with major loopholes. According to a Department of Education (DOE) presentation, the proposed "ban" may still allow for early-grade suspensions if "a student has already been removed from the classroom three times during a semester or twice during a trimester."
"We are shocked," said Kesi Foster, a reform advocate with the Urban Youth Collaborative. "Yesterday, we felt that, even if the city wasn't ending the school-to-prison pipeline, it was committed to some progress. After last night, we're not sure we've taken a step at all."
In a statement to CityLab, New York City DOE spokesperson Toya Holness said the proposed changes, which could still be further amended, "will put more age-appropriate discipline practices in place to help improve behavior, address underlying issues head on, and keep students in the classroom where they can learn." Holness pointed to the "more than $47 million annually" allocated for "restorative trainings, mental-health programs, and social-emotional supports," among other initiatives.
For school-reform advocates, however, the weak language of the proposal summary shared in the hearing was surprising, given that a full K-2 suspension ban already seemed to be a fairly modest step. The proposed reforms are part of a larger national debate over what should be done about school discipline, which reform advocates say is helping drive students into the criminal-justice system from very early ages.
Research in states across the country has shown that a student's odds of dropping out of school jump significantly after just a single suspension; in turn, dropping out significantly increases a student's chances of getting roped into the criminal-justice system. In New York City, as across the nation, students of color, especially black students, bear the brunt of controversial school-disciplinary practices. Black students are nearly four times more likely to be suspended than white students, according to a 2016 city report.
But de Blasio faces pressure from several interest groups, including the principals' union, the teachers' union, and charter-school advocates, who have, to varying degrees, opposed reforms to the district's disciplinary code.
Prominent charter-school leaders, for example, have opposed discipline reform altogether, arguing that New York City schools are increasingly dangerous, and that the district's minority children need a firm hand. Success Academy charter school CEO Eva Moskowitz, for example, published an Op-Ed in the Wall Street Journal  last year declaring that "minority students are … the most likely to suffer the adverse consequences of lax discipline." Her charter-school chain has since been hit with several civil-rights lawsuits from parents of former students.
Asked why the the New York City DOE seemed to be backpedaling on reforms, Johanna Miller, the advocacy director for the New York Civil Liberties Union, said the agency could be being overly cautious to ensure compliance with state laws on school discipline. However, she remained hopeful the K-2 suspension loophole proposed on Monday would be closed.
"Substantially disruptive behavior when you are 7 years old is part of the educational process," Miller said. She supports the suspension ban in favor of redress methods that show young children the consequences of their actions within the school community. "We shouldn't miss the opportunity to hold the student accountable for the damage they did in the school environment," she said.
Reform advocates also point out that other forms of permitted punitive action against students, such as in-school New York Police Department (NYPD) arrests and summonses, disrupt the health of school environments and drive students even more directly into the criminal-justice system.
In-school arrests and summonses have both dropped significantly under the de Blasio administration, but critics argue that police interventions in schools still target black students disproportionately. In the first quarter of 2016, for example, more than 58 percent of police interventions in schools—including arrests, summonses, and child crisis situations—involved black students, according to NYPD data. Over this same time period, more than 64 percent of students handcuffed in interactions with police were black—yet more than a third of these cases did not even result in arrest.
"As a young black woman, metal detectors made me feel disrespected," said Kadiata Kaba, an organizer with Urban Youth Collaborative, who recently graduated from the High School for Public Service in Brooklyn. "And the presence of police officers in school makes us feel uncomfortable, because it makes us feel like we're criminals, doing something wrong."
A CityLab geographic analysis of 2016 NYPD data illustrates that police-student interventions are most concentrated in certain low-income neighborhoods, including East New York in Brooklyn and Claremont in the Bronx—both of which have sizable black populations.
These racial disparities—and the high-profile police beatings of some students—have prompted calls for funding fewer school-safety officers and more counselors.
These calls, however, have been largely ignored by the de Blasio administration, which has proven hesitant to take on the NYPD. Holness, the DOE spokesperson, declined to comment on the seeming racial disparities in the numbers, saying this was an issue the NYPD could better answer.
"That answer is as ridiculous as it sounds," Miller said. "The Department of Education has 5,200 full-time police officers who work in schools for the NYPD, but doesn't any keep records itself on what they do. … If the DOE doesn't have its eye on arrests or police tactics that are disruptive to educating children, then they are not doing their job."
For some, transformative school-discipline reforms that do not include contact with the police still seem a long way off—especially given the apparent difficulty of winning a suspension ban for kids as young as 5 years old.
"We've got to first make sure they're going to ban K-2 suspensions when they say they're going to, then move on to summons and arrests," said Billy Easton, the executive director of the Alliance for Quality Education, which pushes to end the school-to-prison pipeline. "Banning K-2 suspension is really simple, so it is pretty mystifying how something so clear and can become so fuzzy."
---
This article appears courtesy of CityLab.