Why Britain Said 'Yes' to Universal Preschool
Divided by Brexit, the country is nonetheless united in offering universal early education for 3- and 4-year-olds.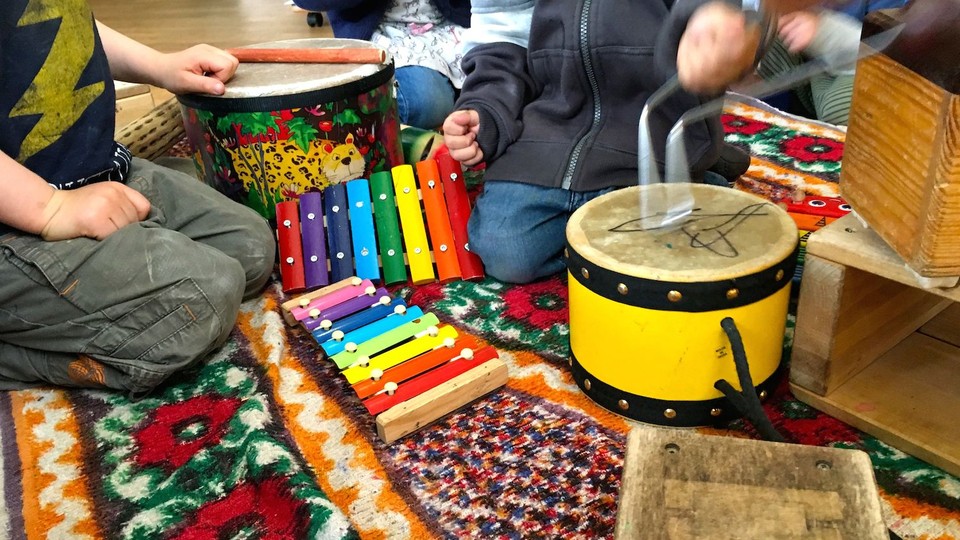 This story is the fourth in a series about public preschools that will also examine the condition of preschool teachers and the political future of preschool. The first story, about how little the U.S. invests in young children, can be found here. The second story, about how Boston's preschool success is "percolating up" to later grades, can be found here. The third story, about the struggle to improve Head Start, can be found here. The fourth story, about the underestimation of America's preschool teachers, can be found here.
BRISTOL, England—Any child in England who has turned 3 by Sept. 1 is guaranteed 15 hours a week of free childcare or preschool for 38 weeks a year, or 570 hours total, paid for by the national government.
"We don't think of it as socialism at all," said the Oxford University professor Edward Melhuish, who studies child development and was instrumental in conducting the research that largely led to England's current policies. "We think of it as common sense."
Apparently, so do most parents—94 percent of whom take the government up on its offer of free education starting at age 3, according to government data. At age 4, 99 percent of children have started "reception," the English version of kindergarten. Most 4-year-olds attend reception at their local primary school, but parents can choose to send their 3-year-old to a private center, a publicly funded nursery, a state-funded primary school, or a home-based daycare provider. Parents can also spread their 570 hours out over all 52 weeks of the year at centers with year-round enrollment options. Parents who need more coverage pay the difference between tuition and the amount covered by the government.
To better understand how this all plays out in real life, The Hechinger Report, which produced this story in partnership with The Atlantic, spent one week in June visiting preschool programs in Bristol, a fairly typical British city of 449,000 in South West England. Like their counterparts across the country, Bristol's 3-year-olds were forging new skills in a wide variety of settings and neighborhoods. (All of the United Kingdom's member countries—Wales, Scotland, Northern Ireland and England—have similar preschool programs. However, they are not exactly alike because each country has formed its own policies. This story examines the English program.)
On Monday, a petite black girl in the play yard of the Redcliffe Nursery School, a publicly funded program located on the grounds of a housing project, twisted a big wooden swing hanging from a tree. Then she let it go and watched it spin. Redcliffe leaders, in the long tradition of English nursery leaders, believe children learn best when they are taking the lead and exploring the world on their own, complete with the risks that independence carries like, say, a bump on the head from a wooden swing. Nursery schools, which have a long history in England, have also been tapped to help improve the quality of care offered at all of the settings available to parents under the universal plan.
On Tuesday, in a rapidly gentrifying neighborhood of young professionals, a small group of 3- and 4-year-olds enrolled at the Southville Centre, a private, nonprofit community center, made play-dough. They had made play-dough the previous week, too, with their teacher's instruction. This week, they re-concocted the recipe from memory while their teacher fetched ingredients and looked on. To the north that same afternoon, in one of Bristol's oldest middle-class neighborhoods, a mixed-age group of students at the private, for-profit center, The Red House Children's Centre, cut slices of pear with plastic knives for their afternoon snack. Toddlers and children as old as 5 play together at the Red House, in what's meant to be a more natural, family-like environment. Private centers have become increasingly common in England since the late-1980s when women began entering the workforce in growing numbers.
On Wednesday, in a mostly working-class neighborhood, way on the east end of town, a Polish boy selected a book from the kid-sized bookshelf in his classroom and brought it over to his teacher at Badock's Wood Community Primary School. "This is a breakthrough, actually," Ellie Hurley, a veteran teacher, said as the child snuggled to her side and she opened the front cover. The child does not speak English at home, she said. "He's never brought a book to show me." Hurley has been teaching nursery classes for 20 years at this state-funded school that Americans would refer to as a public elementary school. Of all the settings, this preschool looks most like public preschool classes in the U.S., with a more obvious focus on academic skills than the other Bristol programs. The reception class for 4-year-olds was housed in the next classroom down.
Nothing observed in any of these schools is wildly different from what happens in American preschools every day, yet it is striking to consider that the parents of these children have paid either nothing, or only about half the cost of the program their child is attending. This is even more remarkable when contrasted with the economics of child care in the U.S.: An average American family with children under age 5 spends about 9 percent of its income on child care, according to the Center for American Progress, a liberal U.S. think tank. Families living in poverty with children under age 5 in care spend 36 percent of their income on preschool bills.
In England, the country at large is instead investing in the education of young children right from the start. As a result, these children—from different families, different neighborhoods, and different ethnic backgrounds—will reach the age at which most American children start kindergarten with at least a year and a half of state-funded education under their little belts.
"Like the U.S., we have big inequalities," said Sally Jaeckle, the head of early-years services for the city of Bristol. "What gets me up in the morning is trying to get those kids the same opportunities as their middle-class peers."
Leaders of government-funded preschool programs in the U.S., such as Head Start, express a similar sentiment. The difference in England is that the British have taken a completely different approach to improving outcomes for poor children. They've made preschool available to everyone.
The American strategy has long been to provide public preschool only for children from very low-income families. Many early-childhood experts in the U.S., both liberal and conservative, endorse this idea, saying a universal program is politically impractical. Some question whether the government would do any better at universal preschool than it does with universal K-12 education. Others argue that since poor children have the most to gain from preschool, they should be first in line for services.
"In a world of limited resources, we have to set priorities, and I think that the public in general feels that addressing children with the greatest needs makes sense as our first priority," said Katharine Stevens, a resident scholar with a focus on early education at the American Enterprise Institute, a conservative think tank.
No country can serve as a perfect comparison to the U.S., which is much larger and more diverse and has a more diffuse system of national government than many Organization for Economic Cooperation and Development countries. Still, England shares many cultural and economic similarities, certainly more than the Scandinavian countries often cited as having ideal educational systems. And, as recently as the mid-1990s, the early-education policies of the U.S. and the U.K. weren't that different. Studies showing the importance of early-childhood brain development and the potential of early-education programs were also available in both countries.
But in England, the reaction to that research was dramatically different. Just over a decade ago, in 2004, Parliament reviewed the research on the multiple benefits of preschool for 3-year-olds—presented in a multi-year study by Melhuish and his team—and decided only one conclusion could be drawn: The government should pay for preschool for all 3-year-olds. Primary school has started with reception at age 4 for most children for decades, according to Melhuish. In 1998, it became mandatory for primary schools to offer reception, something most were already doing.
The study in question, called Effective Pre-school, Primary and Secondary Education (EPPSE), tracked 3,000 children from the mid-1990s through 2008. The government funded the study and made policy decisions based on its results. Melhuish explained this as if it were unremarkable; he viewed as commonplace a government's decision to recognize new scientific information and change course accordingly.
The types of academic and developmental gains observed in children in the EPPSE study are very similar to those observed in U.S. studies on the effects of preschool. However, the gains seem to carry through as children continue to later grades, with less "fade-out" than has been observed in the U.S.—a finding Melhuish attributes to better primary schools.
Another reason to offer universal preschool, Bristol's Jaeckle said, is to preclude the possibility of a stigma attaching to free preschool. There can be no stigma if everyone gets the same service, she pointed out. Low-income families who need the service most don't have to feel ashamed about enrolling their children in the public program, she argues, because it's the same program is available to all kids, regardless of their socioeconomic status. That is not a concern commonly heard in the U.S. in regards to the uptake of government services.
But mostly, both Jaeckle and Melhuish argue, it makes sense to offer a universal preschool program because it is the best way to ensure quality, something Head Start, the U.S.'s own federally funded public preschool program, has struggled with. "If you have a system which excludes the middle class, that system is almost doomed to be poor quality," Melhuish said. "Without the pressures of various kinds—social and political—that the middle class are able to exert because of their social capital, quality of service will not be maintained."
And though it's not a common position among lawmakers, some experts in the U.S. have reached the same conclusion: Universal access is the only way to ensure quality.
Right now, whether a parent has access to a high-quality preschool program in the U.S. has more to do with that parent's education than anything else, said Steven Barnett, the director of the National Institute for Early Education Research, a U.S. think tank. Even parents with graduate degrees have only a one-in-three chance of enrolling their child in a high-quality program, he added. "And that's after 50 years of a policy of targeted preschool," he said. "I think 50 years is enough. We need to try something different."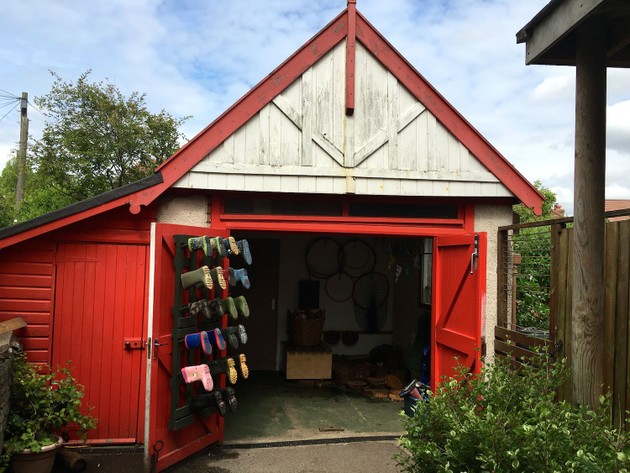 Government data from England is bearing that notion out. By the time English children have finished receptiontheir first year of primary school, 66.3 percent of them have reached a "good level" of development. That includes measures of academic skills like reading, mathematics, and writing as well as measures of non-cognitive skills like self-confidence, imagination, and relationship building. The percentage of children achieving "good development" has increased year over year since the introduction of free preschool 12 years ago. Remember, the age of children attending their first year of primary school in England is typically younger than that of children attending their first year of elementary school in the U.S., so these gains accrue to English children before their American counterparts have even started kindergarten.
Perhaps most spectacularly, the academic achievement gap between rich and poor—yes, there's a gap in England, too—has been shrinking. The gap between children who were eligible for Free School Meals—an indicator of economic disadvantage similar to the Free and Reduced-Price Lunch program in the U.S.—and those who were not shrunk by two percentage points between 2009-10 and 2014-15.
And while the divisive Brexit vote has made it clear that Britain is not exempt from the extreme politics currently pulling Americans apart, Britons are united around the importance of early care and education. The liberal Labour Party introduced the reforms that ushered in universal preschool. When the Conservative Party took control of Parliament in 2010, promising a slimmer national budget, it didn't touch the money allocated for free 3-year-old preschool. Instead, it expanded the guarantee of 15 hours per week of free care to 2-year-olds from families whose annual income is in the bottom 40 percent, which has been popular among parents. And the party is set to expand the 3-year-old free-care provision to 30 hours a week for all working families earning less than 100,000 pounds per year, per parent, in September 2017. (Families with an income about 200,000 pounds will still be eligible for the free 15 hours.), though the start date of this new benefit has been thrown slightly into question by Brexit.
"They see this as part of the good policy for improving the educational capacities of the population and as a part of the infrastructure of economic development," said Melhuish of the Conservatives.
Still, there has been some discord. Preschool heads we met in Bristol were unsure what to think about the advent of the free 30 hours a week for 3-year-olds. Many were concerned about space and staffing and felt that the Conservative leaders championing this change were in it to push more young parents into the workforce and not to provide improved educational programs for their children. Others expressed concern that 30 hours a week would be too many for young children, though many, especially those with middle class professional parents, already attend preschool for at least that many hours.
"I think politics are all about quick wins," said Elizabeth Carruthers, head of Redcliffe Nursery and Children's Centre and Teacher's School, explaining her concerns about the new 30-hour provision. She saw the move to 30 free hours of preschool for working families as a politically expedient way to keep working mums voting Conservative.
Carruthers and every other preschool director we spoke to also worried that the government was offering too little per child and wouldn't to cover the cost of enrollment. And since the amount centers can charge full-time parents to make up the difference will shrink, providers could be expected to meet quality levels they'd no longer be able to afford. However, by mid-August the government had announced a larger reimbursement amount and Jaeckle said that most of the center directors in Bristol were more confident they'd be able to make ends meet under the revised plan. The government also agreed to continue funding nursery schools, like Redcliffe, separately as long as they continued their role in improving the quality of care offered in all of the free settings.
Every preschool head we met in Bristol is worried about the advent of the free 30 hours a week for 3-year-olds. Most feel the amount the government is offering per child won't be enough to cover the cost of enrollment. And the amount centers can charge full-time parents to make up the difference will shrink. They're concerned about space and staffing and feel that the Conservative leaders championing this change are in it to push more young parents into the workforce and not to provide improved educational programs for their children. Others expressed concern that 30 hours a week is too many for young children, though many children, especially those with middle-class professional parents, already attend preschool for at least that many hours.
"I think politics are all about quick wins," said Elizabeth Carruthers, the head of Redcliffe Nursery and Children's Centre and Teacher's School, explaining her concerns about the new 30-hour provision. She sees the move as a politically expedient way to keep working mothers voting Conservative, but feels it will cripple providers expected to meet quality levels they'll no longer be able to afford.
Still, the disagreements about the details feel far removed from the big-picture questions Americans are grappling with about who, if anyone, should get free preschool in the first place. And while the publicly funded programs in Bristol don't appear to be throwing money around, many teachers here are paid on par with primary-school teachers, inexpensive field trips are common, and fresh food is cooked on site. It should be noted that public programs tend to have larger budgets to cover things like comparable teacher pay, and that low pay is still a concern in the private sector. "I think the U.K. is around about halfway along a journey towards a Scandinavian system," Melhuish said. That system, which he considers ideal, took about 40 years to evolve. "We probably are 10 to 15 years away from achieving that level."
And yet, England and the rest of the U.K. countries have made rapid progress. The U.K. nations are among a handful of countries that have made a concentrated push to both expand and improve their early-education systems in the last decade and a half, said Rowena Phair, a project leader of the education and skills directorate at the OECD. Phair listed Japan, Poland, and Australia as examples of other countries that have expanded free preschool programs over the past decade.
When it comes to preschool enrollment, "the U.S. is not one of the lead countries," Phair explained politely. In fact, America ranked 35th among OECD countries for school enrollment for 3- to 5-year-olds in 2012. The following year, the OECD found that 53.7 percent of American 3- to 4-year-olds were enrolled in school. In the U.K. as a whole, that number was 96.3 percent. "Clearly on overall investments, participation, results … well, the results speak for themselves," Phair said. "[The U.S.] is not in the top group of countries on any of those measures."
Nor does the U.S. top in the percentage of women in the workplace. It ranked 19th among OECD countries on this measure, with 62.9 percent of women working in 2014; the United Kingdom ranked 12th with 67.2 percent of women working. Research has shown that at least a third of the difference in female labor force participation between the U.S. and other European countries is due to America's family leave and early-education policies.
Because of a lack of high-quality and affordable child care, "many folks don't have options," said Sarah Jane Glynn, the director of women's economic policy at the Center for American Progress, a progressive think tank. "Folks who are very wealthy are really the only ones who can make those decisions. For most families, they aren't making free choices about what works best for them."
In England, several policies combine to lessen the financial burden on families as they try to make choices on how to cover child care for children under 3 years old. Mothers are offered nine months of at least partially paid maternity leave and three more months unpaid. Combined with the provisions for free child care, the length of time families have to pay for child care out of their own pockets before the government steps in to help is down to about two years. In the U.S., that length of time is closer to five years in most communities.
The parents hurriedly dropping off their children at the Redcliffe Children's Centre in Bristol last June didn't have much time to chat with an American reporter about the state of preschool in their country. Has universal preschool helped them make ends meet? Encouraged them to keep their job? Advanced their child's learning? Annoyed them in some way? "Sorry," they said, "I'd love to talk but I'm off to work." And with a hug, a kiss, a wave for their kid, they were out the door; just another day in a country with free preschool.
---
This post appears courtesy of The Hechinger Report.