The Most Segregating School-District Borders in America
A new report identifies 50 places where schools are geographically adjacent but resourcefully juxtaposed.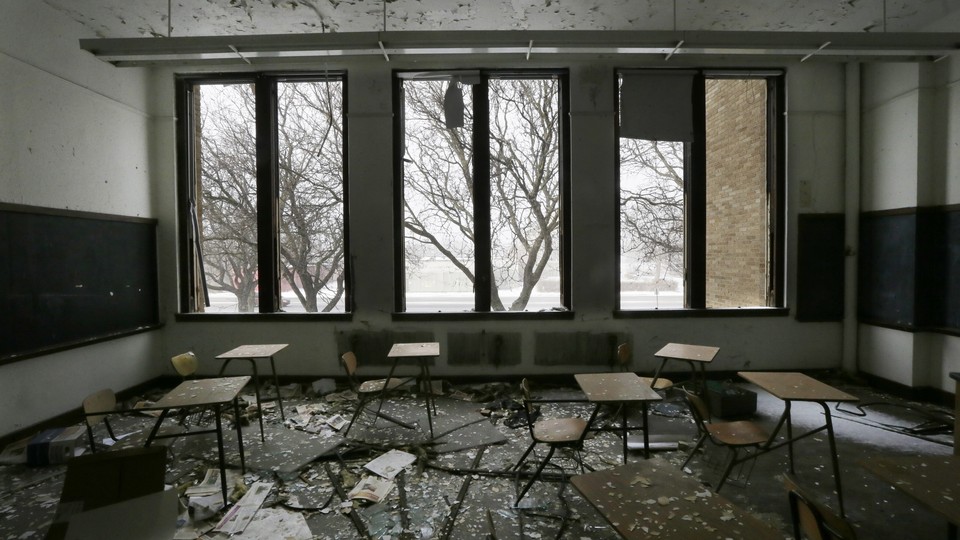 A few blocks away from Bernita Bradley's house, the Detroit Public School district ends and the Grosse Pointe Public School System begins. The border is invisible, but with a 12-year-old daughter enrolled in DPS, the reminders for Bradley are impossible to ignore. Every student seems to have a Macbook. There's the annual Grosse Pointe toy drive, which distributes free bicycles to kids who need them. And there are the parks with shiny new playground equipment, where parents routinely ask Bradley, "Do you live around here?"
"Ours are torn down and dilapidated," Bradley says. "Just seeing theirs makes me feel bad."
According to a new report and interactive map by the education think tank EdBuild, the district border that Bradley navigates as a parent and an activist (she helped launch Enroll Detroit, which distributes information about school enrollment requirements to families) is the most income-segregating in the nation. The median property value in DPS is $45,100, versus $220,100 in suburban Grosse Pointe, and roughly half of the city student population lives in poverty, compared to one out of every 15 students across the district line—a difference of 42 percentage points. Local per-pupil public revenue is about the same, at around $4,650 per student, but that's because Detroit now taxes properties at a rate of 8.7 percent each year to pay for its schools. This is 47 percent higher than the rate paid in Grosse Pointe, "where, it goes without saying, there are most likely no vermin carcasses under the desks," says Rebecca Sibilia, the founder and CEO of EdBuild, in an email to CityLab.
EdBuild's report ranked the country's top 50 segregating school-district borders. More than 60 percent of these borders are in Rust Belt cities in upstate New York, Pennsylvania, Ohio, Michigan, eastern Wisconsin, and Illinois, which have suffered from patterns of disinvestment similar to those in Detroit. As the city underwent decades of depopulation, hundreds of Detroit's public schools closed, leaving properties abandoned and blighted. DPS now struggles with a budget deficit of nearly $300 million, along with frequent teacher shortages and staff walk-outs. Research shows that students coming from profound disadvantage need even more resources from schools than their wealthier peers to achieve equal outcomes—yet DPS cannot meet those needs, even with additional state funding.
As EdBuild argues, Detroit's woes helped open the door to the urban-suburban district divides now seen nationwide. In 1970, a group of Detroit families partnered with the NAACP in a lawsuit against the state of Michigan over racial segregation in their school district. A local judge ordered a cross-district desegregation plan involving busing students between neighborhood school systems, but Grosse Pointe, along with other suburban districts, refused to participate. In 1974, the U.S. Supreme Court heard an appeal and ruled that integration efforts were only permissible within school districts, not between them. That helped turn district borders across the U.S. into unbreakable piggy banks: It allowed economic divides between school systems to grow and grow along inviolable lines, a pattern encouraged by the property-tax-based school finance system.
"This incentivizes income segregation, especially in the 38 states that allow school districts to be drawn along non-county lines, because affluent communities can keep their resources in schools that serve their own children, locking out neighboring students in need," the EdBuild report reads.
A similar story plays out in Ohio, which has nine district borders in the top 50—more than any other state. For example, the difference in school-age poverty rates between the Dayton City School District and the suburban Beavercreek City School District is 40.7 percentage points. As in Detroit, the loss of the Dayton's manufacturing sector and middle-class tax base at the end of the 20th century sucked funding out of center-city schools. In the absence of any mandate to redraw district borders to respond to these demographic changes, the impermeability of school-district borders has worsened these problems, Sibilia says.
It also doesn't help that suburban districts often put up additional barriers. Many Dayton City students are within walking distance to Beavercreek and other suburban schools, but those districts don't participate in the state's inter-district enrollment programs, as the EdBuild report highlights.
Elsewhere in the country, other local conditions exacerbate district divides. In Alabama, which has six district borders in the report's top 50, many wealthier suburban school systems have chosen to secede from their county districts, worsening the economic segregation between them. Despite the fact that nearly half of the students enrolled in Arizona's Balsz Elementary School District on the east side of Phoenix are English language learners, Balsz receives some 30 percent less in state and local funding than its wealthy neighbor Scottsdale Unified.
Should such district borders be dissolved and students economically integrated by force? Not necessarily, Sibilia says. "What we call for is a lessened importance of school-district lines by creating a larger tax pool that can fairly resource schools," she says. "You can still have locally governed schools where you've got your own district standards, board of education, and superintendent. But if we can start to spread out differences in local revenue, then it disincentivizes schools from walling-off their money. And it could also lead to integration."
Bradley's desires echo that thought. She's reluctant to bus her daughter to another community—but she does believe that her child deserves the same opportunities as the kids in Grosse Pointe.
"I want my daughter to be in DPS because I want all DPS schools to have all the same benefits as other schools," she says. "We want the same kinds of libraries, the same after-school programs, the same kinds of textbooks. And we deserve them."
---
This post appears courtesy of CityLab.