A New Effort to Teach Low-Income Students Marketable Skills
The Department of Education is encouraging corporations in high-demand fields to partner with universities.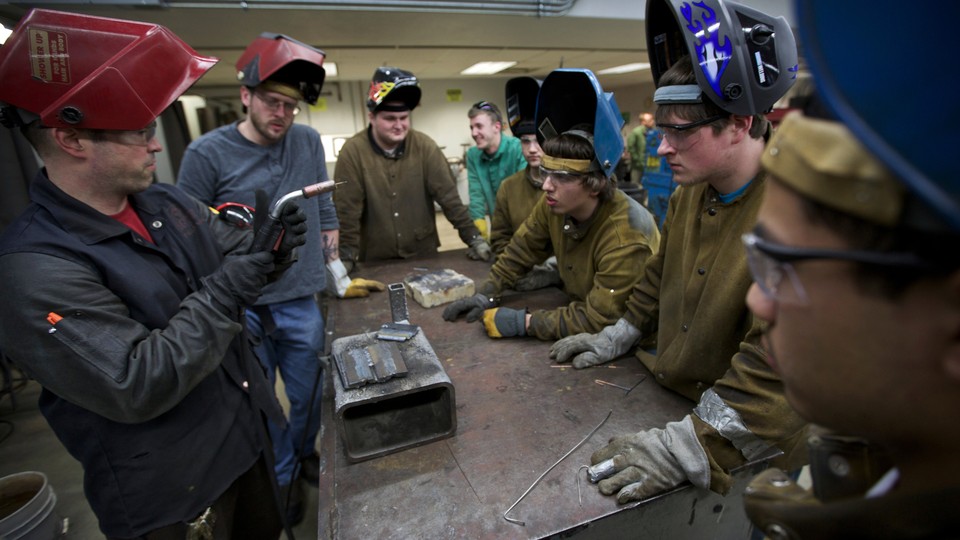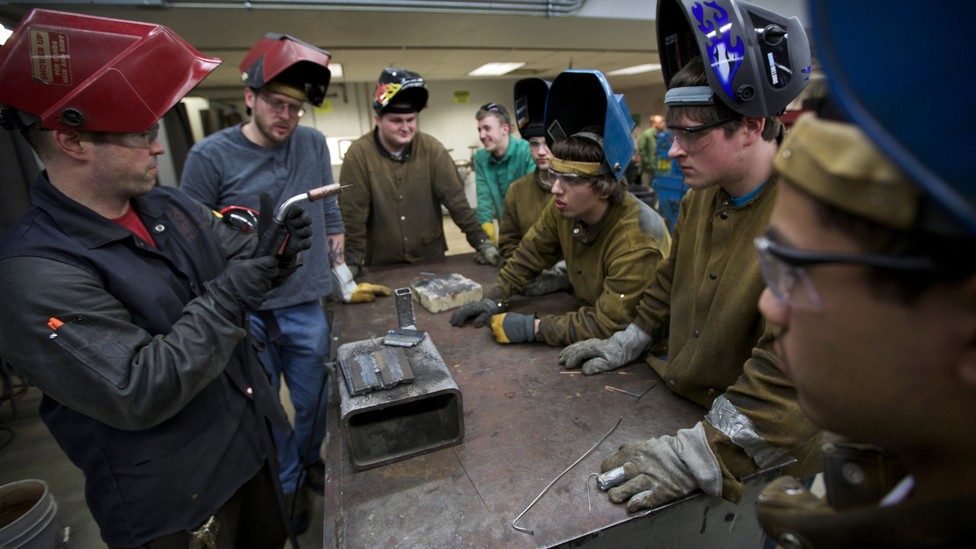 The Obama administration is rolling out an experimental plan that will allow employers and training programs to partner with accredited universities to teach students work-related skills. This pilot will enable students to receive federal financial aid for programs that are typically ineligible for these funds, like coding boot camps.
By pairing traditional universities with companies that train workers for in-demand fields like computer coding and advanced manufacturing, the U.S. Department of Education hopes to create a new model for delivering high-quality academic credentials to workers in a shorter period of time.
Educational Quality through Innovation Partnerships (EQUIP), as the program is being called, is starting small: Just eight colleges and their non-academic collaborators will take part in the experiment and will educate up to 1,500 students. The program is also not ready to run immediately: The accreditors of the colleges and universities need to approve their plans, meaning they won't debut until fall or spring of the upcoming school year.
Still, the effort may shed new light on how watchdogs can hold colleges accountable for the workforce success of their students. Unlike current evaluations that measure how well colleges educate their students, EQUIP will measure programs by the jobs students receive and their earnings.
Administration officials are framing the trial program as a new tool to address the growing gap in educational attainment and wages in the U.S. In addition to bachelor's degrees, many employers are seeking workers with shorter-term certificates who are ready to enter into employment fully prepared. In response to that demand, a slew of education providers have emerged promising mastery of coding languages.
During a call with reporters, Under Secretary of Education Ted Mitchell said "Today's average student is no longer the 18-years-old whose parents drive her up to State U in a minivan stuffed with boxes. Instead, the new normal student may be … a 36-year-old single mother, a part-time student juggling work and college, or a first-generation college student."
"Unfortunately, in too many cases, low-income students have been unable to afford to go to these programs, in part because they can't access federal financial aid to attend," Mitchell added.
The program will cost at least $5 million in its first year—money that will cover the Pell grants students will use to pay for tuition. Federal funds will be permitted because EQUIP is lifting the ban on using such resources for partnerships in which less than half of the costs are shouldered by education providers who aren't eligible for federal money, like coding academies. Mitchell said affordability will vary by program, with some costing low enough that Pell grants—which have maximum awards of almost $6,000—can pay for tuition fully. Each partnership includes an evaluator that will measure the learning and career outcomes of students.
Mitchell also said EQUIP will have safety nets in place should the programs yield poor results for students: "The nontraditional provider will provide tuition refunds if there's no job at the end of the program," he said. "And that's the most typical kind of backstop. In addition, we will maintain, through the quality assurance providers, a rigorous evaluation of how things are going and, when necessary, work to wind these program down."
In one program, Colorado State University-Global Campus will partner with Guild Education to provide a one-year certificate in management and leadership, "aimed at helping students advance from low-wage roles into supervisory roles," according to a press release. In another, The University of Texas at Austin aims to partner with a coding boot camp to offer a 13-week certificate in web development, including skills such as JavaScript.
"We are facing a shortage of people skilled in advanced manufacturing, and in order to bring manufacturing back to the United States, we need to focus on the advanced aspects that require skills, that require expertise," said Northeastern University President Joseph Aoun. "Higher education cannot keep doing things they way it has for the past 300 years. We have to integrate the classroom experience with the world experience and the work experience."
His campus is partnering with General Electric to provide an "accelerated bachelor of science in advanced manufacturing" that will initially be available to as many as 50 students who are already General Electric employees. From there, Aoun said, Northeastern will eye expanding the program nationally.
Early reviews for the plan are mixed. Ben Miller, senior director for postsecondary education at the Center for American Progress, said that "given the small scale of the experiment, trying different outcomes measures makes sense," but he cautioned that much of the program's success depends on how the department defines student progress. In his experience, "some people are very clear that placement must mean a full-time job for Pell for a certain amount of time, (and) it's definitely paid. Others could be weaker and say if it's something you do for a day, that might count."
Additionally, some critics are not convinced the program will provide any meaningful outcomes at all.
"I am quite skeptical about this initiative," said Barmak Nassirian, the director of federal relations and policy analysis for the American Association of State Colleges and Universities. "For starters, why is the federal government experimenting on live subjects?" He also said that because the program features many reputable schools that are outliers in the large universe of college providers, the experiment's results "will make anything gleaned from all this useless for policy purposes."
"I just don't see what conclusions one could draw from this misadventure," he added.
One of the quality assurance evaluators tied to EQUIP thinks the program will offer new insight into partnerships between businesses and academic institutions. The program's "end goal, of course, is to … demonstrate how well it can meet rigorous standards and how it can improve on the measures that define and support student success," said Deb Adair, the CEO of Quality Matters. Her organization will review a partnership between Thomas Edison State University and Study.com to provide a bachelor's of science on business administration and a bachelor's of arts in liberal studies through "online, self-paced video courses."
---
This article appears courtesy of the Education Writers Association.