The Junk Playground of New York City
Where children tinker with saws and hammers while parents stand on the sidelines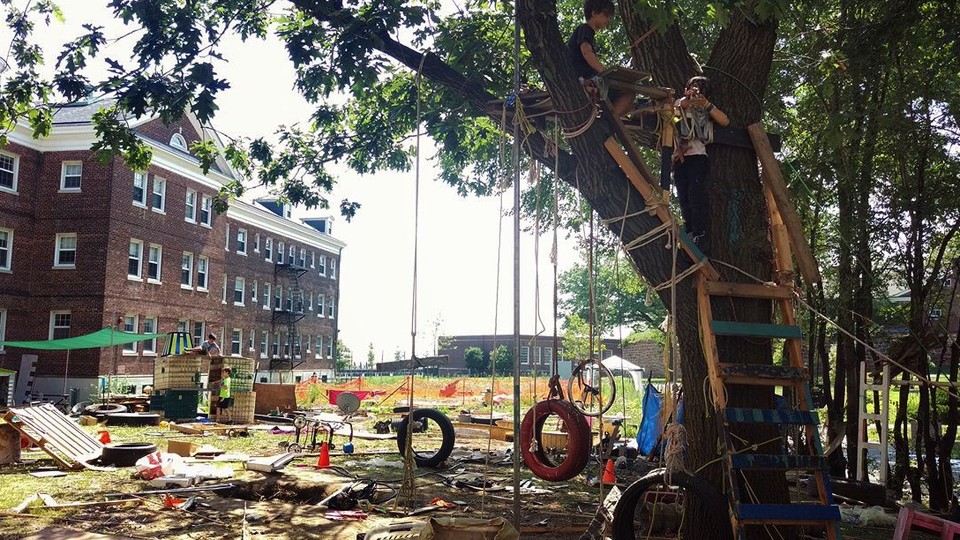 "It looks like a dumpster playground," my wife told me, as we pushed our double stroller down a hill on Governor's Island in New York City. "Like some slum."
In front of us was an area that looked like—to my eyes, at least—an Occupy Wall Street campground, with shoddy constructions of plywood, wooden palates, and blue tarp. I counted 10 children, who were roaming a space about half the size of a soccer field littered with car tires, plastic crates, orange cones, and a sea of unidentifiable debris.
My family and I live in Finland, but I had read something in The Atlantic about this quirky place months ago, and I was determined to see it up close during our summer trip to New York City. This "adventure playground" opened in May, thanks to the work of play:groundNYC.
In 1943, the first adventure playground ("junk playground") was piloted in the city of Copenhagen, Denmark, which was under Nazi occupation. From then on, the concept was embraced around the world, especially in Europe. A professional methodology called "playwork" was established in the United Kingdom, in which trained adults ("playworkers") would run these environments. One of the world's most famous adventure playgrounds today—known as "The Land"—is located in Wales. In fact, Hanna Rosin, a national correspondent for The Atlantic, investigated the site in 2014, where she found children arriving at the playground parentless making fires, rolling car tires into a creek, and doing "mad flips" on dirty mattresses while playworkers rarely intervened.
Still, despite their global popularity, adventure playgrounds have struggled to gain traction in the U.S. In the 1970s, New York City had at least three junk playgrounds, run by playworkers, but today that number is just one—that on Governor's Island, according to Reilly Wilson, the board chair of play:groundNYC and an environmental psychology Ph.D. student. Playworker-run adventure playgrounds haven't caught on in America partially because there's a lack of willingness to fund these places, Wilson told me over email.
But funding isn't the only obstacle.
Peter Gray, a psychology research professor at Boston College, wrote in the American Journal of Play that free play—"activity that is freely chosen and directed by the participants and undertaken for its own sake"—has declined over the past half century in America, and he inferred that a high level of parental fear about the safety of children and the rise of "adult-directed, school-like activities" are two of the major causes.
I found myself personally confronting these tensions when my wife, two preschool-aged children, and I recently headed on the crowded ferry ride from Manhattan to Governor's Island for a family adventure.
* * *
Underneath a tent by the entrance to the playground, we met a man in his 20s dressed in a neon vest and reclining behind a table. He was one of four playworkers on duty, and the designated gatekeeper of the hour. The junkyard had been divided  with orange mesh fencing into two sections: the "Family Playground" (recommended for ages 3 and up, with adults required) and the "Adventure Playground" (recommended for 6 and up). The significant difference between the Adventure Playground and the Family Playground had to do with riskiness. The former had real tools available for the children to use—such as hammers and handsaws—and significantly more junk covering the ground.
After my wife and I completed permission forms for both of our two children (a 4-year-old and a 2-year-old), I wondered if we'd later regret that decision, given all the metal tools and stray junk lying around. We never planned to simply drop off our kids and leave them to their own devices—even with our supervision the play area seemed intimidating—but when my wife attempted to lead our children through the tent to the Adventure Playground, we quickly realized that we didn't have a choice. "Sorry, parents aren't allowed on this side,"said the man behind the table.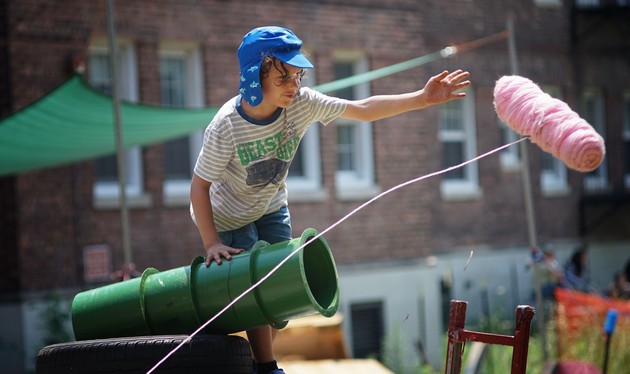 The playworker eventually let me enter alongside my 4-year-old son after  I told him I was writing a story about this junk playground, but he made the rules clear: "We tell the press to try not to intervene with the children," he warned. I got the message.
Predictably, my son led me to the heart of the action, the spot in front of the toolshed, where most of the children were sawing and hammering. Abby Oulton—a 25-year-old playworker sporting a wide-brimmed hat and black shirt featuring a red hammer between the words "I" and "playground"—had been assigned to assist with their play.
But an adult presence didn't necessarily make it "safe": Within a few seconds of observing, I watched one boy, wearing Crocs and holding a handsaw, step into a bucket of nails. He seemed fine, but a handful of nails spilled onto the ground—creating a "near-death trap" for anyone who ventured near the scene.
Leaning against the toolshed was a large green piece of plywood, on which nails had been hammered and tools had been hung. A sign directed children to "Please Ask for Tools," but I witnessed several instances in which children fetched hammers and handsaws on their own. The children gravitated toward different projects around the playground—a broken bike, a dilapidated boat, or hideouts, for example—sometimes taking tools away from the toolshed area. (I watched one tiny boy, in a Superman shirt, carry a handsaw over his right shoulder while holding a construction helmet in his other hand. He traveled from one side of the playground to the other, wobbling over the debris, and I held my breath.)
For a few minutes, my son and I stood in front of the toolshed, captivated by the sawing and hammering before us. But when I nudged him to participate he refused, saying, and continuing to repeat, that he was scared. When I asked him why, he mentioned the children. Typically, strangers and risky situations do not intimidate my 4-year-old, but on this occasion, he looked paralyzed.
I felt conflicted. I got into this adventure playground as a writer, not as a parent. And given the male playworker's earlier warning, the idea of helping my son get settled, as harsh as this sounds, didn't seem right. It would go against the philosophy of this place, where parents aren't allowed and kids are free to roam. Plus, how could I write an article about this adventure playground yet disrespect its rules?
I was also curious to see how my 4-year-old would adjust to this playground without my handholding. If I took the initiative for him (by fetching a hammer, for example, and showing him exactly where to pound the nails), I'd never get to see what he could do without me, and neither would he. So I suggested to my son what seemed like a reasonable compromise: My 4-year-old could ask Oulton, the playworker, for assistance.
My son immediately refused and continued to mope around the toolshed, and suddenly, my writing assignment had gotten personal: In this environment where children appeared fearless and playworkers seemed comfortable in their modest supporting roles, I couldn't help but notice my son's timidity. I started to wonder if I had trained my son, unintentionally, to let me take initiative for him, even when he was capable of doing so on his own. Then I heard a whimper.
Through his tears, he said angrily, "YES, grownups are allowed!" We exited the Adventure Playground and traveled to the Family Playground, where my boy stopped crying, and I proposed a new plan. With my foot, I drew a huge circle in the dirt and told my son that I would stand in it, watching him on this side of the fence, while he received support on the other side from Oulton the playworker, on his own accord. Initially, my son rejected this plan, but when I lifted the orange mesh fence, creating an opening for him to slip under, he reentered. My son trudged over the rubbish, right up to Oulton. Then he muttered something.
"Sure," Oulton said, "I can help you." After my child made a request I couldn't hear, I watched Oulton fetch two hammers—a large one and a small one—and offer them to my son. He grabbed the little hammer. "Want some nails?" Oulton asked. He nodded, and the playworker helped him find a good place to work on a piece of two-by-four. Within seconds, the thumping of my son's hammer brought three boys to the toolshed area.
Two minutes later, my 4-year-old traded in his hammer for a handsaw, which he snatched on his own. As my child pushed the teeth of the saw against a piece of plywood, Oulton stood by him offering support until my son seemed somewhat steady. When another child needed Oulton's assistance, she turned her back on him for a few moments, presenting me with an image I didn't expect to see that afternoon: My son was happily sawing a piece of wood without a single adult hovering over his shoulder.
"Coming, Daddy?" shouted my 4-year-old in the toolshed area. Finally, he had noticed me after five minutes of hammering and sawing, and I stepped out of the circle in the dirt to return to the Adventure Playground.
On my way to reunite with my son, I passed two little girls deep in play (they looked about four), a pony-tailed blonde and a frizzy-haired brunette. They were playing the roles of "mommy" and "child" on a rickety wooden structure—three long pieces of two by four laid across three gigantic wooden spools—and pretending it was their home. "I think we have to go to the kitchen underneath to do more work," said the frizzy-haired girl, after which the two enthusiastically hammered on the foundation of their house. Then they stumbled upon a tattered piece of ribbon, and pretended it was a flower, perfect for home decor. When I reached the toolshed area, one boy yelled: "Teddy! We need your help clearing the hideout!" I couldn't help but laugh, because the task seemed impossible in a playground full of dirt and rubbish, but these boys, along with those girls, overlooked the junkyard's aesthetics as they played.
On the ferry ride back to Manhattan, I reflected on how four  simple ingredients—junk, tools, physical space, and playworkers—could create such a powerful learning environment, where children appeared to develop their "Four Cs" (communication, collaboration, critical thinking, and creativity) for hours on end. Indeed, these Four Cs were the key "21st-century skills" that many American schools strived to sharpen in their students, but at the junk playground, this development seemed to happen rather effortlessly through self-directed play, supported by well-trained playworkers. A 2007 American Academy of Pediatrics (AAP) report appears to corroborate my findings on Governor's Island:
Undirected play allows children to learn how to work in groups, to share, to negotiate, to resolve conflicts, and to learn self-advocacy skills. When play is allowed to be child driven, children practice decision-making skills, move at their own pace, discover their own areas of interest, and ultimately engage fully in the passions they wish to pursue.
It is ideal when play involves adults (such as the playworkers at the junk playground), says the AAP report, except "when play is controlled by adults." Under this condition, children accept the rules and worries of grownups, and several of the benefits of play are lost, specifically "in developing creativity, leadership, and group skills."
* * *
The day after our trip to the junk playground, I visited a Connecticut children's museum with our two kids. It cost a small fortune to get in, and judging by the long line on a Sunday morning, my expectations were pretty high.
"Play is the only way the highest intelligence of humankind can unfold," said one  sentence on the museum's wall—a quote from the childhood-development expert Joseph Chilton Pearce. "As they play," declared another sign, "[children] are exploring new spaces, using their senses, and collaborating with others." But all that trumpeting of play (there was lots more of it) didn't exactly match the design of the place. It felt like everything in the children's museum had been designed not for risky, self-directed play, like the junk playground, but for aesthetics, order, and safety. "Parents must accompany children of any age," said a friendly voice on the PA system.
The sharpest contrast I found between the junk playground and the children's museum was evident in the museum's building exhibit, where kids were directed to "tile the walls" and "paint the walls," but I could only find several rubbery, magnetic tiles for the kids to adhere to a particular section of the play structure, and there wasn't any paint available—only dry paint rollers lying around.  It featured a picture of a happy child in an orange vest, wearing work gloves and gripping a construction helmet. Around the play structure (a miniature model of a house), I found four signs with the same message. "Play it safe: A clean construction site is a safe construction site." This poster was especially strange because I could find nothing unsafe about this exhibit.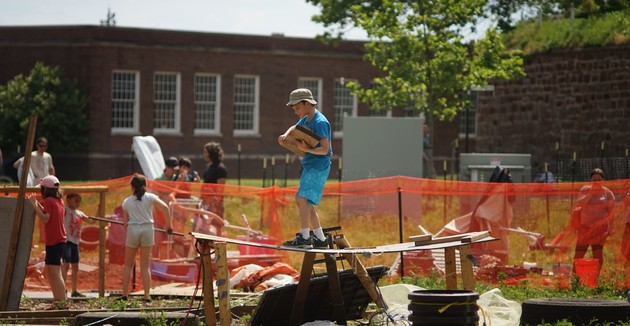 That children's museum seemed to represent how many American parents and teachers think about how to best raise kids. In an effort to ensure safety and success, freedom gets limited and play gets structured.
Reilly Wilson, of play:groundNYC, believes America is headed in the direction of playworker-run adventure playgrounds. "The pressures that parents are facing are extreme. There is palpable fear about letting children play unsupervised, and recess periods have been cut down to absurd levels," Wilson told me. "Young people are coming home from school having not had reasonable opportunities to use their bodies or minds in self-directed ways, and then parents and caregivers are forced to police their activities further to ensure that they complete their homework."
Oulton echoed a similar sentiment to me in an email: "So long as we live in a fear-based, control-obsessed, litigation culture, [the United States] will probably keep seeing the padded, safe playgrounds that have become the U.S. norm. But if we as a society could hold on a little more loosely, we could get to a future where Adventure Playgrounds are the norm."

Not only do I think playworker-run junk playgrounds represent the future of playgrounds, they seem to provide a glimpse into the future of schooling, too. Today, teachers—especially in America—are gravitating toward more active, child-directed pedagogical methods that look similar to what I observed on the junk playground: "project-based learning," "makerspaces,"and "genius hour." Finland, the Nordic nation that's often praised as a leader in public education, is implementing its newest national core curricula this fall, in which playful learning and developing student agency are emphasized. Although it may be some time before adventure playgrounds become the norm and playful, student-directed classroom practices becomes mainstream in schools, it's never too early for parents and teachers to start thinking like playworkers.
Initially, I wondered if the playworkers I observed on Governor's Island were permissive bohemian-types who were fine with kids doing whatever. But as I watched Oulton and the three playworkers, I developed a hunch that they were guided by a particular pedagogical mindset, in which they intervened in little, tactful ways.
"We wait to be invited before joining in,"  Morgan Leichter-Saxby—a veteran playworker and a Ph.D. student who researches adventure playgrounds—emailed me. In playworker training, Leichter-Saxby said, adults adopt a vocabulary for discussing play and a set of skills for assisting children in their play, without controlling them.
At one point during our visit, my wife passed a fruit smoothie over the fence to my 4-year-old son, and he brought it straight to me, complaining that the straw was broken. Impulsively, I started to fix the straw, which had been chewed by his 2-year-old sister. Oulton's impulse, on the other hand, was to suggest to my son that he could use a pair of scissors (from the toolshed), so he could do his own trouble-shooting.
I asked Oulton over email if she had any advice for parents, like me, who want to cultivate the playworker's mindset. "Stay aware that your kid will learn more from how you interact with them than what you say in those interactions," she said. "They'll feel it if you trust yourself, and they'll feel it if you trust them. You have the power to model self-reflection, asking for help, communicating and listening effectively, navigating influence, staying curious and playful."
During my trip to the junk playground on Governor's Island, I met one playworker named Tyjahay—a 17-year-old girl in cornrows—and we also discussed the playworker's mindset. I wondered if she, too, had any tips for parents. "Try not to micromanage your kids so much," she said, "because if you do, they might have a shell around them, and they won't be able to experience what it feels like to actually be a child and to actually have fun and connect with others."
Then my 4-year-old son appeared before us, interrupting our conversation. "I'm done," he said, proudly, leading me to the area in front of the toolshed. "It went really well!" He showed me the nail he had (mostly) hammered into his piece of two-by-four—and then, a little band-aid on his middle finger.