The Struggle to Save New Orleans's Musical Identity
A charter-dominated school system grapples with embracing its city's jazz roots.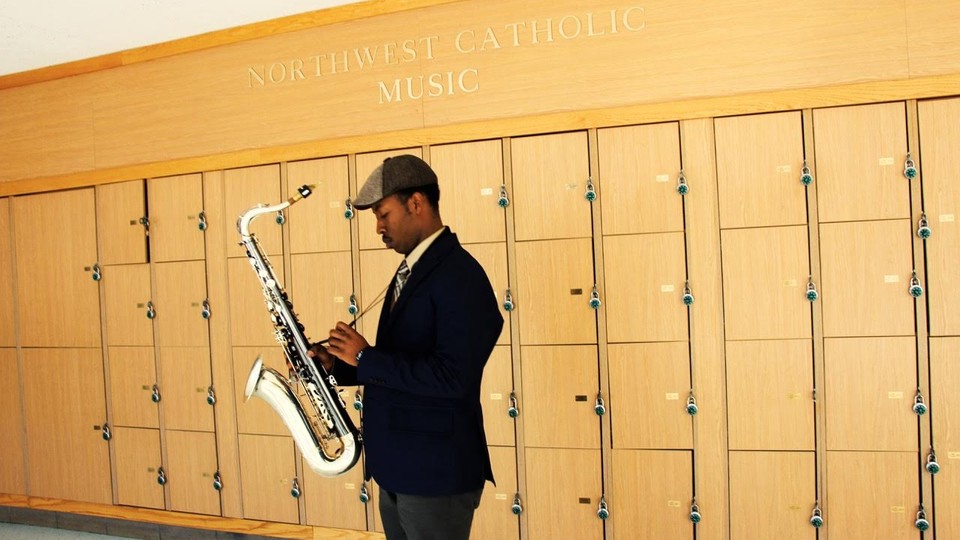 Nine-year-old Caidyn is perched on the front porch steps of a house in The Ninth Ward of New Orleans, in a neighborhood known as the Musicians' Village. He attempts to play "Gloryland" on his trumpet while his 7-year-old cousin Mike pounds away at his drum with makeshift sticks. A few feet away, Calvin Johnson and Shamarr Allen, both established local musicians, keep the beat. It's not a scheduled music lesson: Both Johnson and Allen were coming home from rehearsal when the kids approached them for help learning the hymn they wanted to play at an aunt's funeral the next morning.
Johnson, 30, a bandleader who also teaches in the K-12 system, says, "When you go back to the various Nations of Africa, there were tribal communities. The village took it upon themselves to raise individuals, and that's something that has followed [them] through the Trans-Atlantic slave trade. We took that with us to America. We had that in New Orleans until Katrina, which broke up the neighborhoods. But we were recipients of that upbringing. That's what we do because it was done for us."
In a culture where children produce dizzying footwork to Mardi Gras anthems and are often given brass instruments before they can reasonably hold them, music is more than an extracurricular. It is a predominant part of their identities—particularly for black Americans, who make up about 60 percent of the city's population. The reverence for rhythm stems from a legacy that began in the early 1800s. New Orleans—Congo Square, to be exact—was the first place slaves and free people of color were permitted to congregate, dance, and play music. Here, West African beats were woven into European sounds, influencing the birth of jazz around a century later and merely a few blocks away.
Nationally, the struggle to retain or expand art and music programming in public education has intensified in the past decade, and that's been especially true in post-Katrina New Orleans. "Music has not been a priority for New Orleans schools struggling to reconstruct buildings and entire academic programs," wrote the music critic Jon Pareles in a 2007 New York Times piece about high-school band culture before and after the storm. But limited funding isn't what's incited the most concern; the public-school system had limited music-education funds long before Katrina. More than a decade after Hurricane Katrina, the post-disaster upheaval of the community-based teaching approach is what many say has posed the biggest threat.
The rigorous back-to-basics education-reform movement that New Orleans experienced directly following the storm gave charter schools the autonomy to focus on traditional academics rather than arts and music education. Meanwhile, in the 110 out of 126 schools in the city that were damaged by Katrina, instruments were lost or destroyed, and veteran band instructors were displaced. In the city's school system, which is now 92 percent charters, music instructors often hailed from other cities and were unfamiliar with New Orleans's musical traditions.
Residents of all racial backgrounds want their children to retain the culture of the city, though, and it's an effort that has been gaining some traction as of late. This duty has largely rested upon the city's professional musicians—many of whom teach, sometimes to supplement their income, but with the intention of perpetuating a tradition of music mentorship. And while the country has looked to the sometimes inaccurately projected statistics regarding improved academic performance of this reform and marveled, it is in fact this city's technique to sustain community-based music education that could veritably be the model worth examining.
* * *
In late 2015, President Obama signed the Every Student Succeeds Act (ESSA), which builds on and amends the Elementary and Secondary Education Act of 1965. Essentially, in efforts to encourage more well-rounded curricula, the law states that arts- and music-education programs will be eligible for Title 1 funds—a huge pot of money aimed at ensuring equitable access to education for all students. Arts advocates are hopeful that the law will mean more funding for music programming in New Orleans, particularly for the younger students.
In recent years, many high schools started to re-establish their music-education programming with the goal of revitalizing their marching bands, which have been a cultural staple for the city's families and have often kept children out of trouble—but such opportunities are still scarce at the elementary-school level. More arts funding for younger students could be a binding force in the city's still-suffering education system, asserts Tonya Boyd-Cannon, 36, a vocalist, former contestant on The Voice, and educator in New Orleans.
The law could also signal a chance to bring local musicians into New Orleans's classrooms. Boyd-Cannon for her part used to work as a music teacher at KIPP McDonogh 15, a charter elementary school, implementing an "ARTcedemics" curriculum that combined music with core subjects, before being let go in 2013 because the school was moving in a "different direction." Her dismissal is hauntingly reminiscent of the phase that followed Katrina a decade ago, when 7,500 teachers were fired in New Orleans, as The New York Times cites, "most of them black, damaging the city's black middle-class economically and politically."
The new charter administrations made room for well-meaning but often savior-minded young recruits from all over the country, with little to no knowledge of the city's culture. This recruitment might work elsewhere, but New Orleans has a dialect of its own, which affects learning styles, as well as cultural rituals specific to the city. Take Mardi Gras, which warrants its own weeklong vacation from classes. (The district that oversees charter schools in New Orleans did not respond to a request for comment.)
Melissa Lopez, who has a background in music and performing-arts education, moved from Brooklyn two years ago to teach theater at KIPP New Orleans' Leadership Primary. Emphasizing her school's focus on creativity (all students are required to take music classes), Lopez says the differences in culture require a deep level of investment from "outsider" teachers.
Lopez's classes in Brooklyn consisted of students from an array of backgrounds—African American, West Indian, white, Asian, and Hispanic, for example. The kids at KIPP Leadership Primary are almost all African American whose families have lived in New Orleans for generations. "When you have a more homogeneous circumstance, it feels like a much deeper culture. They all like the same kind of music; they all like the same kind of dancing," she says. "Obviously, you're going to integrate that [culture into your teaching] to get their attention ... if you want to reach them." This past July, the school's administration created a professional-development component that encourages teachers to integrate lessons on black New Orleans culture into the curriculum as part of an effort to make learning more culturally relevant for its students. The progress is promising, albeit delayed: For those students and families who have made their way through a less culturally sensitive system, this acknowledgment from the administration feels 11 years late.
Whereas New Orleans's charter-dominated education system in many ways seeks to control the volume and manner of students' expression through strict policies such as "no excuses" discipline, music classrooms, according to Johnson, offer students an important outlet. For one, Johnson says it's easier to keep a student focused by using music than by enforcing rules of conduct. Plus, as highlighted in an Education Week study from 2013, a "nonacademic setting can give students who have behavioral problems in school a different way to focus on the skills of discipline and commitment"; the study concluded that students can benefit from communicating emotion without words. "You know there's that cliche that kids should be seen and not heard," says Boyd-Cannon. "I disagree with that. Kids should be seen and heard."
Ultimately, experts say that in order for students to feel invested in their practice, they need guidance from experienced musicians. By learning about all aspects of the music—reading, writing, and performance—students are educated as professionals rather than as children. One of the city's foremost music educators and saxophonists, Sir Edward "Kidd" Jordan, now 81, played with Ray Charles and taught visionaries like Branford Marsalis and Donald Harrison when they were teenagers. Now the artistic director of the Louis "Satchmo" Armstrong Summer Jazz Camp, a nonprofit program in New Orleans open to youth from across the country, Jordan is deeply concerned about the quality of music instruction students are getting in school.
"When Calvin [Johnson] and them were coming up, there were some people who were really into the whole teaching process," he says. "Nowadays they get people who go out and teach without being able to perform themselves and they call themselves music educators."
So Jordan and his team curate carefully. The Jazz Camp aims to develop the next generation of jazz artists by hosting high-profile musicians to teach the history of the genre while leading master classes. Johnson is on the teaching faculty while some past artists-in-residence include Nicholas Payton and Wynton Marsalis—both of whom are from New Orleans.
Jordan also rallies for a stronger focus on music instruction because of the sense of purpose that comes along with it. "If you get into the instrument you won't be running around the streets doing this and that," he says. "You're thinking about how much time you need to be practicing, how you're going to get better and the challenges you'll deal with."
As idealistic as it sounds, the sounds heard on Frenchman Street or driving around in The Seventh Ward—bounce, blues, gospel, jazz, zydeco—are a salve of sorts. "Violence is everywhere, that's a given. However, when you give a baby a trumpet, that is their peace. When you give a baby a pair of drumsticks, that is their healing," says Boyd-Cannon. "It's important that our kids in New Orleans are given other outlets."