What If High School Were More Like Kindergarten?
Students in the U.S. are being taught to focus only on becoming educated.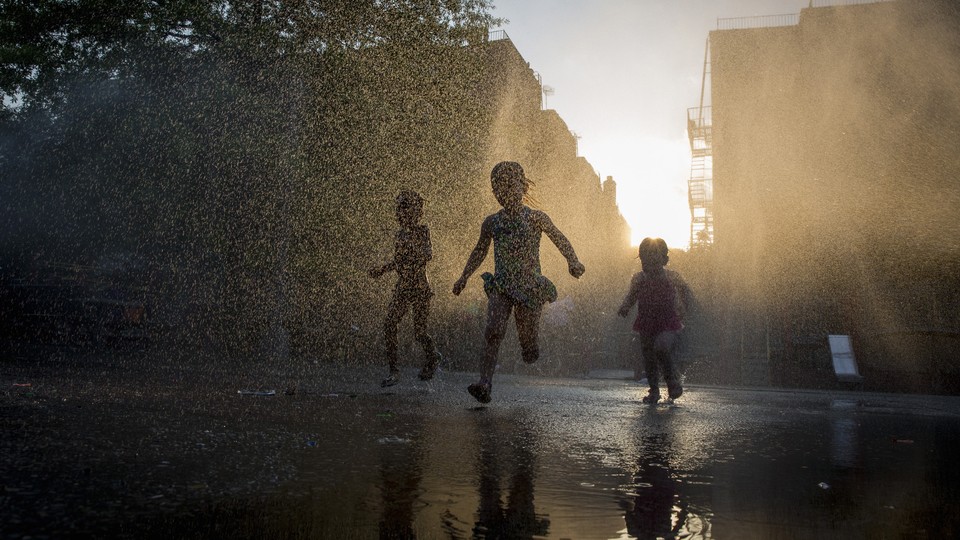 I have a strange-looking, handmade bust of Yoda sitting atop my desk at school. I made this statue in a high-school art class because the teacher asked us to create a life-like bust of a human face. While molding my sculpture, I was exploring a little and pulled the ears into a point. I laughed to myself because it looked just like Yoda. Suddenly, the task transformed from a school assignment to a fun experiment. When I finished, I proudly presented my art to my teacher, who promptly failed me for not following instructions. As a 17-year-old kid, his response cut me to the bone. I had never failed an assignment before, and I thought I would win points for creativity. My piece stood out from the others, and I had taken a risk. This was art class after all.
Instead, I was chastised for not following the "rules." I've kept this Yoda on my desk for 10 years now as a reminder that rules aren't everything and that sometimes people should receive points for trying something new, for breaking the rules, and for engaging in playful curiosity. In the past few years of my teaching career, I've inevitably found myself facing a jury of questioning teenagers who wonder why they're doing something they've never had to do before. They aren't used to play, and they want their worksheets. Year after year, I give what I call my "Yoda Speech." I hold up my Yoda bust and tell the story of his creation. I tell my students that it's a reminder to always question the way things are, to take risks, to learn for the sake of learning. I watch as their expressions change from frustration to understanding to respect because they've each encountered someone who didn't understand when they tried to do something new. It is at this moment when I think they realize how much they have missed learning as play.
I recently returned from a trip to Finland and the Hague with EF Education First for the Global Student Leaders Summit. I traveled with five of my fellow state Teachers of the Year and other educators from around the country who wanted to learn about global education. During the trip, we spoke with teachers, professors, and business leaders and visited schools. The entire experience validated my "Yoda" philosophy of teaching, but one person in particular spoke to my way of thinking. Lauri Jarvilehto is a former employee of Rovio (of Angry Birds fame) who has created a company called Lighneer, which is focused on educational games. Lauri believes—and I agree—that "education is important, but learning matters more."
Too often, I see high-school students break down in tears over grades or pile on advanced and AP classes because "that's what colleges want to see." In fact, a recent survey of a nationally representative sample of 22,000 high-school students conducted by Marc Brackett at Yale indicated that high-school students felt stressed 80 percent of the time. Yet, companies have begun to recognize that traditional education does not always equate to success in the business world. Google has said that it has found no correlation between GPAs and test scores and employees who thrive, and therefore has stopped looking at those academic qualifications altogether. Goldman Sachs has made an effort to hire beyond Ivy League schools, finding that a "top quality" education didn't really provide top quality job candidates. Some companies such as Deloitte no longer require college degrees at all—even for professional positions. And if that weren't enough proof that traditional paths to career success can be misleading, seldom do current measures of high-school success guarantee success in college. In fact, according to a Gallup poll of high-school students, the No. 1 measure of college success is a sense of hope for the future. How can America's students feel hope for the future when they are so stressed from trying to achieve future success that they break down in tears?
After visiting a Finnish kindergarten, I felt anxiety thinking of my hyper-stressed high-schoolers. The kindergarten classroom had little seating; in fact, we were told that there were never more than eight chairs in it at a time. Instead, there were pillows and small stools placed haphazardly around the room. A large, beautiful, wooden tree created a canopy over a cozy carpet in one corner. A nook in another corner provided a quiet space for students who wanted time to reflect by themselves. Musical instruments, books, and art supplies were readily available at eye level for little hands ready to grab them.
As I observed this student-centered classroom created for independent learning and play, I wished it for my students; and even stronger still, I wished it for my own 1- and 3-year-old children. Because even though I am a public-school teacher who has an undying commitment to public education, I still worry about my own children entering school. I worry that years of driving toward academic achievement will morph them into tear-filled teenagers who have forgotten how to play. In fact, according to a separate Gallup survey, 79 percent of elementary-aged children feel engaged in school, while only 43 percent of high-schoolers do. This breaks my heart. Like Lauri Jarvilehto, I think learning matters more than education, and somewhere along the way, students in the U.S. are being taught to forget to learn and focus only on becoming educated. Even in Finland, many high-school students still find school boring, but Finland takes the issue of student boredom seriously. Recently, the country has begun a reform to rid high-schools of mandatory subjects altogether, leaning instead on "phenomenon-based" curriculum.
The same night we observed the kindergarten classroom, I went back to my hotel room and saw a picture of my own daughter on her preschool classroom's Facebook page. The class was studying the ocean, and my child, who's not even yet 2 years old, was shown in the photo standing on top of a table pouring water into a bin full of sand. The teacher assisted her, while other kids around her watched. The finished product was a sand- and water-filled bin with plastic sea animals the class created together. It was collaborative and playful, and stretched the thinking of toddlers who had no concept of "ocean" (we are landlocked in Kentucky, after all).
It reminded me of a classroom I visited this past spring belonging to a phenomenal Russellville, Kentucky, elementary-school teacher named Cassie Reding. By noon the day of my visit, her fourth-graders had planned, measured, and cut wood for a raised garden bed, outlined projects to better the habitat surrounding their school, reflected on their work at each stage, used Google's classroom apps to manage their work, and spoke as if they were adults adults with Kentucky state Senator Whitney Westerfield for a campaign called Policy Together. And when our interview with Cassie and her legislator was interrupted because students had set up an impromptu band outside her door, Cassie didn't tell them to quiet down so adults could do "important things." Instead, we stopped the interview cold and stepped outside the room to enjoy the music. Here was a teacher who had masterfully balanced play with high levels of learning.
There are schools in America doing play and learning for learning's sake very well, and not only in elementary schools. I've seen examples of secondary classrooms in my home state where teachers place students' humanity and personal needs ahead of academic achievement. I've visited a school that is structured around a "village" concept, with students focusing on the subjects that interest them more than traditional subjects mandated by adults. At the beginning of last year, the faculty at the school set up a simulated plane crash with an actual plane outside its building, while each village took on the necessary roles to manage the crisis. Media-arts students covered the breaking news story while biomedical engineering students took forensic samples. I can imagine that as more and more companies like Google and Goldman Sachs recognize the need to divert from traditional methods of hiring, students like those attending these kinds of schools will have an edge over students from more achievement-driven environments. And the students probably feel more hope for the future, too, because they are engaged in learning, rather than bored and stressed. But these high-school experiences are in the minority—across Kentucky and the rest of the country.
So I will take my experience in Finland and the inspiration I have found in American educators' classrooms to my own classroom this fall. I will strive to stretch the "Yoda" philosophy and put a little bit more kindergarten into my high-school English class. Hopefully, my students will be a little less educated and much more inspired in the end.